Are you looking for a headset with a a RJ-9/RJ-11 modular jack for your office desktop phone?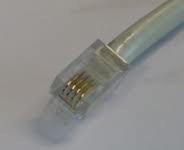 Look no further. Go HERE, you will find many RJ-9 headsets for various phones on the direct connect headset page.  From various manufacturers like Cisco, Nortel, Avaya, Polycom, NEC, or Mitel.  HeadsetPlus.com stock both Plantronics, and Jabra corded headsets and wireless headsets for these phones.  Price ranges anywhere from $70- $300, depending on your budget.
Desktop phones with RJ-9 headset jacks already have an amplifier built into the phone, so no additional headset amplifier is needed.  Simply go to the sub-section of your phone manufacturer and pick out a headset.
Here are some examples of phones that have dedicated headset jacks:
Northern Telecom (Nortel): Meridian SL1 models M3903, M3904, M3905; Meridian Norstar models M7310, M7208, M7308, M7316, T7208, T7316, T7316e, M7324, M2216, M7900, M8001, M8003, NT8B20, NT8B30, NT8B40, NT8B50; SL100 model NTZK23AA, AB: (M2216):ACDI
NEC: Electra Elite Dterm Series E models DTU-8, DTU-8D, DTU-16, DTU-16D, DTU-32, DTU-32D, DTP-8, DTP-8D, DTP-16, DTP-16D, DTP-32, DTP-32D; Dterm Series i; Aspire , DSX
Mitel: SuperSet 4000 Series models 4015, 4025, 4125, 4150 (rev G or newer); IP Phone: models 5010, 5020, 5040, 5055, 5140, 5201, 5205, 5207, 5210, 5212, 5215, 5220, 5224, 5230, 5235, 5240, 5250, 5312, 5324, 5330, 5340, 5550
Aastra: 480e, 480i, 53i, 55i, 57i, 57iCT, 5370, 5370i, 5380, 5380i, 6739i, 6753i, 6755i, 6757i, 6757i CT, 6771, 6773, 6773ip, 6775, 6775ip, 7434ip, 7446ip, 9112i, 9133i, 9143i, 9480i
Siemens: Optiset E (CA or HA Option Module)
GE: Model 2-9451
3Com: Model 3102, 3103
Toshiba: DKT 3001, 3010S, 3020S, 3020SD, 3014SDL, Strata CIX, DP5022-SD, DP5023-SD, DP5018-S, DP5000-series (note: DKT3000 series phones require Toshiba "BHEU ADAPTER" (sold by Toshiba)
Inter-Tel: 8520, 8560, 8600, 8620, 8660, 8662, 8690
ShoreTel: IP100, IP212K, IP230, IP265, IP530, IP560, IP560G, IP565G, 565, 565G
Iwatsu: IX 12KTD-3 and IX 24KTD-3
Uniden: 420 and 450
Packet8 (8×8):  6753i, 6755i, 6757i
ESI 48-Key IP Phone, 48-Key Digital Phone, 40D,, 40IP, 60D, 60IP
Allworx: IP 9112, 9204, 9212, 9222, 9224 IP Phones
Unfortunately it's not always easy to find the compatible headset for your phone.  Some phones are especially difficult like Polycom, SNOM, or Yealink require special "bottom cables" for it to be 100% compatible.  After vising the website, if you're still confused call one of our headset experts at 877-999-3838, they can guide you to the right headset and cable for your phone.