Smartphones (iPhone, Androids) have become so ubiquitous in our day to day lives that many business and consumers alike have shunned the need for traditional land lines and have decided to forge through life wirelessly. Smart technology has disrupted so many entrenched industries and improved the way we can communicate but sometimes there is no replacing a simple phone call. For those who make and receive dozens of calls each day, a headset is needed in order to maximize the flexibility the smart phone tech has provided us.
Plantronics HW540 + Plantronics 3.5mm Headset Smartphone Cable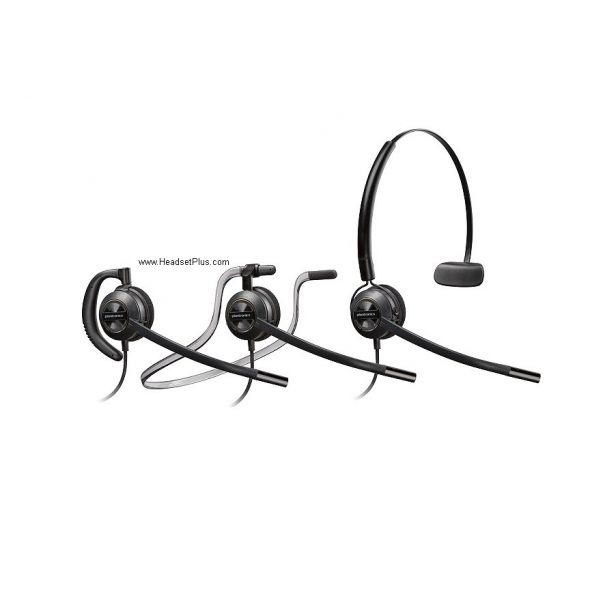 Hands down, the most comfortable headset for smart phones, the Plantronics HW540 has comfort and quality built into its DNA. The HW540 is one of the lighter headsets on the market, and boasts all day comfort. The HW540 has the superior sound quality and noise cancellation that Plantronics is renowned for but offers a unique 3-in-1 headset design that allows you to choose your wearing styles. Don't like how one fits? Switch it to different one. The HW540 is designed for heavy use and the HW540's laser welded construction and metal joints work together in providing toughness and durability that cannot be matched.  Add the Plantronics 3.5mm Smartphone Cable  you can use it for almost any smartphone.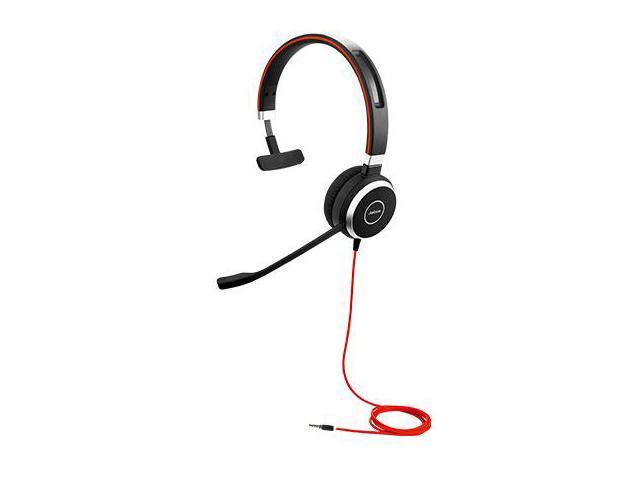 The Jabra Evolve 40 Mono is a great mid level headset for your smartphone. It has a 3.5mm jack on it. It goes over the head and covers one ear. It has a nice noise canceling microphone and good sound quality. Has Digital Signal Processing and is the replacement headset for the Jabra Evolve 40 Mono, it does not come with the controller. It comes with a 2 year manufacturer's warranty. Click here to buy now.
The Jabra Evolve 40 Stereo is another great headset. It's just about identical to the Jabra Evolve 40 Mono, but it covers both ears. It is again, a great mid level corded headset. It has a great noise canceling microphone and nice Hi-Fi wideband frequency response. This headset is the replacement headset for the Jabra Evolve 40 Stereo so it doesn't come with a controller. Comes with a 1 year manufacturer's warranty. Click here to buy now.
Plantronics Blackwire 5210 USB-C, 3.5mm Headset, MS Skype Cert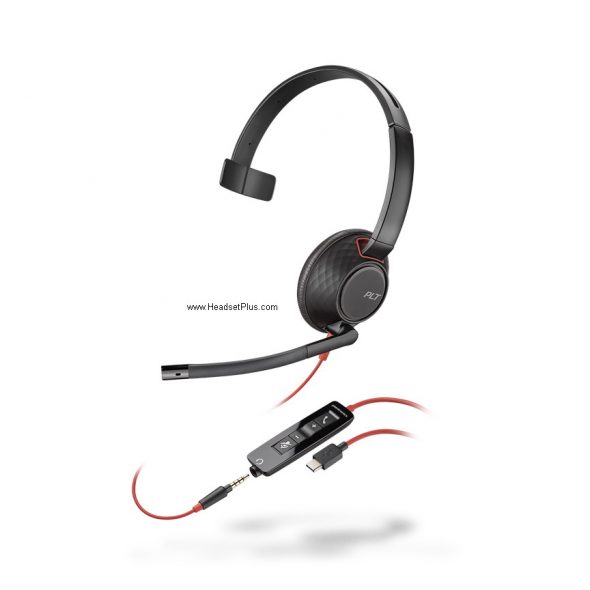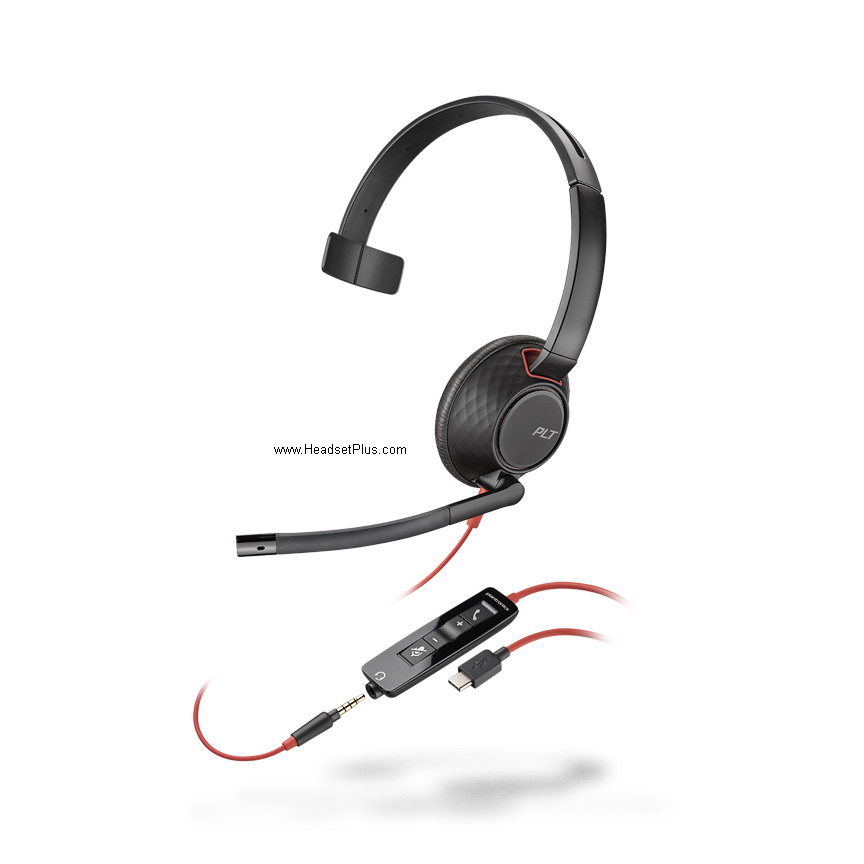 The Blackwire 5210 is next step in evolution in the Plantronics Blackwire series. Ergonomically designed, the 5210 is perfect for all-day usage or long conference calls without discomfort. The headband is cushioned metal that provides durability as well as comfort. Connect to many different devices; with a USB/USB-C and 3.5mm connections, the Blackwire 5210 is one of the more versatile headsets on the market. The 5210's noise cancelling microphone and passive noise reduction technology ensure private phone conversations. The 5210's PC wideband audio makes it ideal for multi-media or soft phone applications. The 5210 is perfect for your busy workday.
Plantronics Blackwire 5220 USB-C, 3.5mm Headset, MS Skype Cert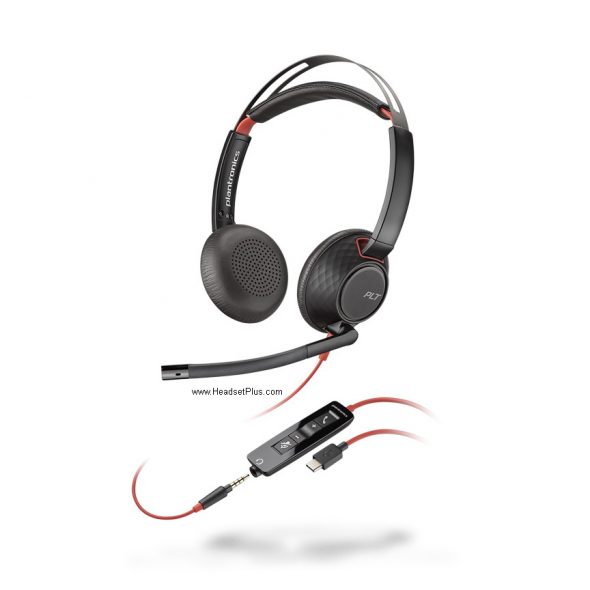 The 5220 Blackwire headset is the perfect headset for work or play. The leatherette cushions keep your ears cool and are meant for all-day use. Answer or end phone calls or adjust the volume from the 5220's audio control button. The 5220 has foldable ear cushions and is equipped with a carrying case that makes it easy to take with you on the go. The wideband HD audio and digital signal processing technology create lifelike phone conversations. The 5220 has dynamic EQ which automatically adjust audio settings between phone calls or listening to music while also protecting your ears from unexpected spikes in audio. The 5220 was designed for UC applications and soft phones and will work with Avaya, Microsoft Lync, Skype for Business, Cisco, etc.
Plantronics Voyager Legend Bluetooth Mobile Headset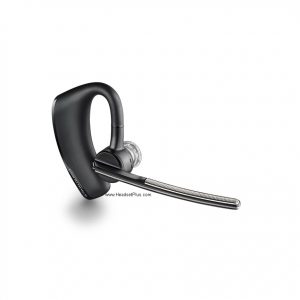 And here it is the best headset for smartphones. The Voyager Legend is truly the first of its kind, a Smart Bluetooth headset. It combines the power of three microphones – noise and wind cancellation, voice command and Smart Sensor technology. To put it simply, the Voyager legend understands how and when you want talk. Sensors react when you put on the headset, allowing you answer phone calls without a click. When wearing the headset, it announces who is calling and waits for your commands. Say "answer" to answer, "ignore" to ignore. The Voyager Legend offers snap-fit magnetic charging connection makes charging quick and easy. The Voyager Legend offers superior experience and it is the best Headset for smart phones on the market.