These are compatible headsets for Polycom IP Phones models IP 320, IP 321, IP 330, IP 331.
For Polycom modesl IP 300, 301, 335, 430, 450, 500, 501, 550, 560, 600, 601, 650, 670 GO HERE instead
Plantronics Corded Headsets: Select any Plantronics H-Series Headset with a Plantronics 2.5mm Quick Disconnect Coil Cable 10ft . These two parts make one headset solution for Polycom Phone.
Jabra/GN Corded Headsets: Choose any model from the Jabra/GN Headsets page PLUS a GN Netcom 2.5mm to QD Adapter 6ft cable
Wireless Headsets: Both Plantronics and Jabra/GN Netcom wireless headsets are compatible with Nortel phones. For remote answering on the Cisco phones you need a Plantronics HL10 Lifter + Plantronics Lifter Accessory for Polycom IP Phones.
Electronic Hookwitch: See below cross-reference chart:
*The 320/321 and 330/331 require a 2.5mm to RJ-9 adapter available from Polycom (part# 2200-11095-002). Go HERE
*If you are using a Plantronics APP-5, you can also use the Plantronics 2.5mm to RJ9 Adapter Cable as an alternative to the Polycom adapter (part# 2200-11095-002) - see installation diagram below. This solution DOES NOT work with APP-51 (or APP-50) or Jabra Link 17.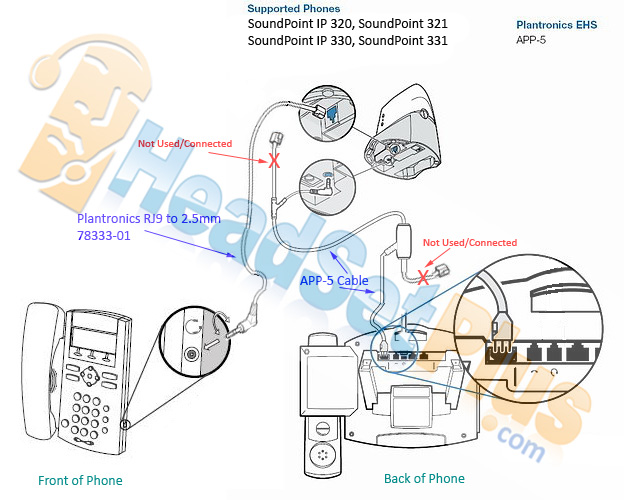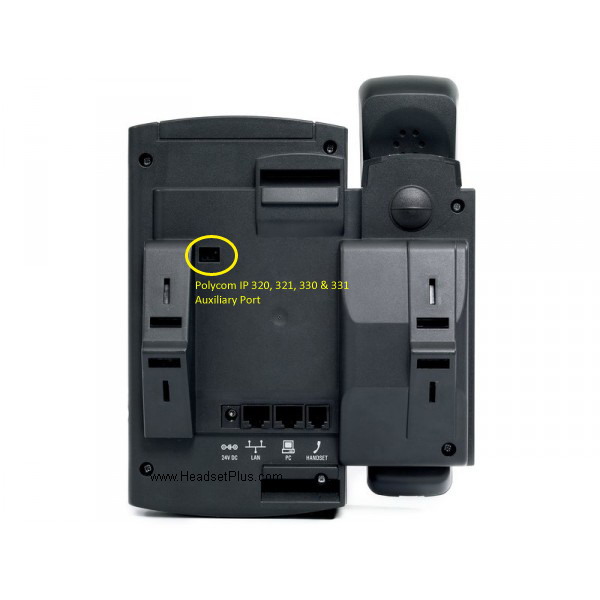 Note: if you have the Polycom Soundpoint SE220 or SE225, these headsets are not compatible. We suggest the Plantronics M175C or Plantronics CS55 wireless headset
Some of our best selling Polycom IP 320, 321, 330, 331 Phone headsets are listed below: