Poly's (Plantronics) latest wireless headset line up not only looks good but can perform. In this post I'll break down some of the key features and lay out the main differences in the lineup. The first notable thing is the styling. Somewhat reminiscent of Beats headphones, they have a sleek and simplistic design, but with a refined business aesthetic. Large soft padded earphones and head bands mean all day comfort. They also come with a wonderful suite of intuitive on board controls. This series doesn't just have the looks. It has the hardware and features to thrive in any work space. Whether in a private office or on a busy open floor.
Dual noise cancelling microphone for excellent call quality.
32mm speakers for clarity and solid music performance.
Up to 98ft range for UC models and up to 300ft range for Office models.
Swiveling adjustable boom mic for right/left side preferred use.
Intuitive onboard call controls and music control. Answer/end, volume up/down, mute, pause/play, skip/rewind.
12 hours of talk time for all day use (1.5 hours to fully charge).
On-call Indicator via red flashing lights on the side of the headset.
110 gram (Mono) / 150 gram (Duo) total weight to virtually eliminate discomfort or fatigue during long wearing times.
Supports Amazon Alexa while connected to a smart device.*
Works seamlessly with Tile Tracker App.*
*Supported by UC versions only
Plantronics Voyager 4210 Office Bluetooth Headset 1-Way Base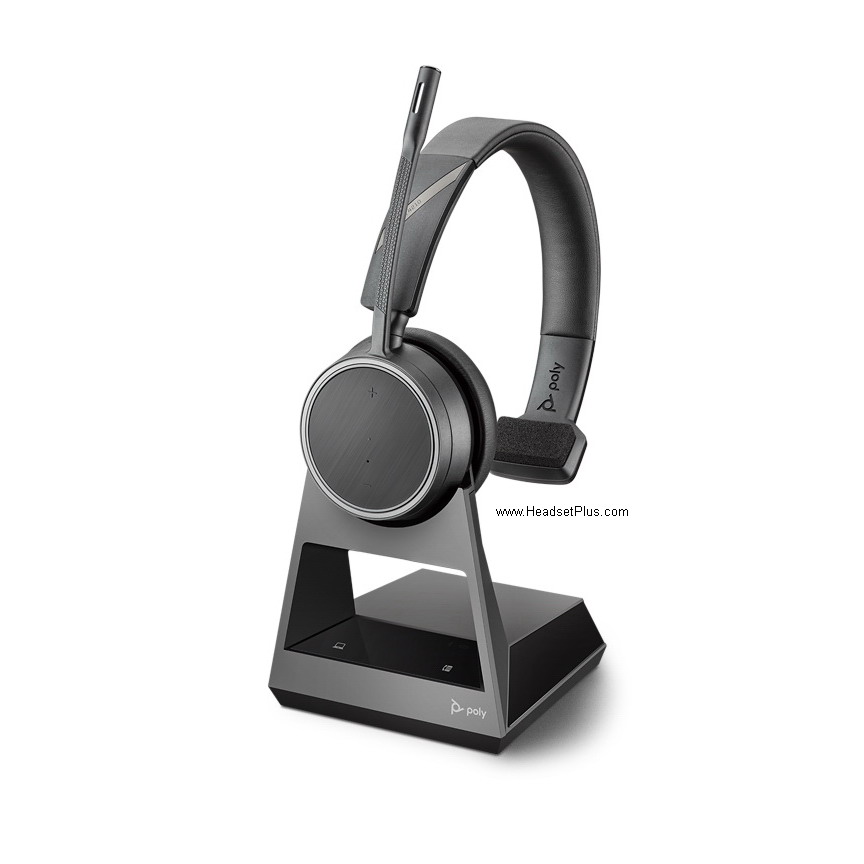 First up in the Voyager 4200 Series from Poly is the 4210 Office which is a mono (single ear) headset with a call center focus that still comes with the same comfort and longevity but without the same smart features as the UC versions. Overall a great headset with excellent noise cancellation that Poly (Plantronics) is known for, a large battery for all day use, and superior build quality. This unit is for use with just your desk phone (1 Way Base). For multi connectivity (desk phone and pc/mac) a 2 way base is needed.
Plantronics Voyager 4220 Office Stereo Bluetooth Headset 1-Way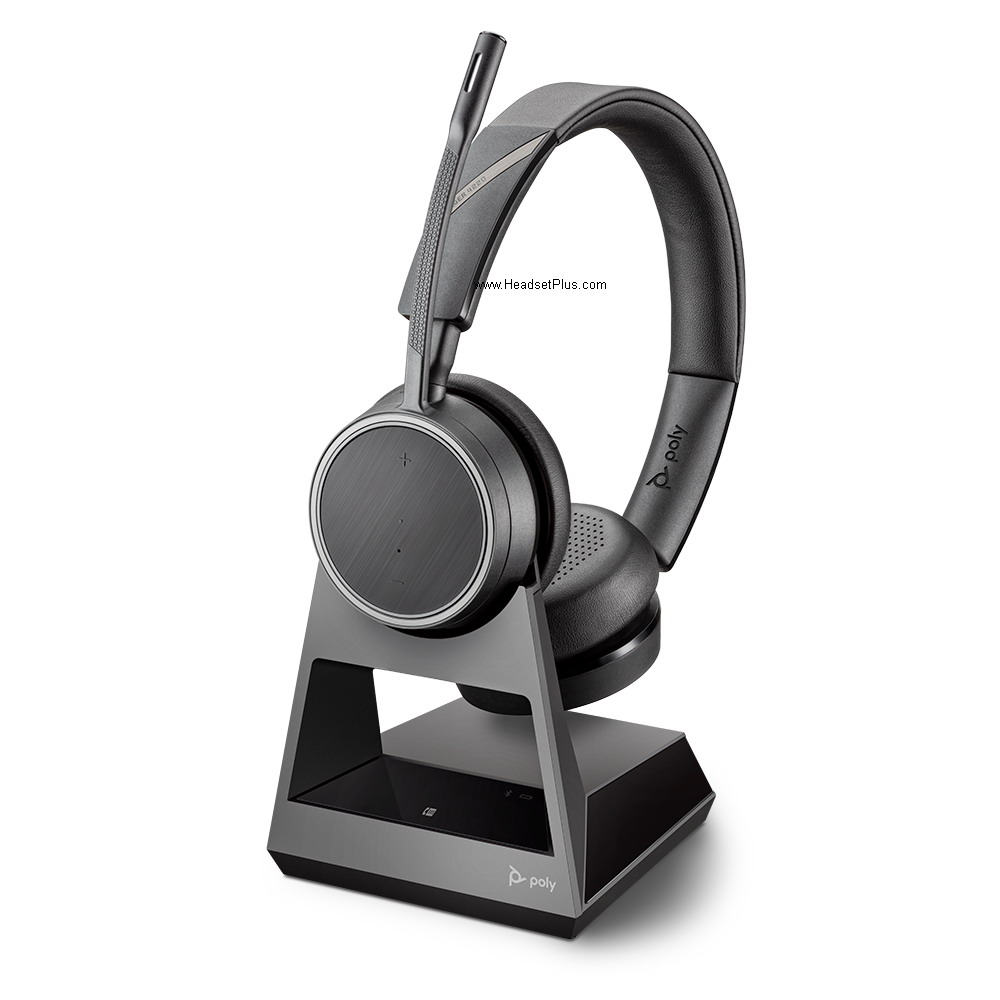 The Poly Voyager 4220 Office is the same headset as the 4210 just in stereo (Duo) configuration. A better choice over the 4210 if you're in a loud office setting so you can accurately hear exactly what the other person on the line is saying or if you just want to block out everything else with some music via Bluetooth to a smart device.
Poly Voyager 4210 Mono Office Bluetooth Headset 2-Way Base, USB-A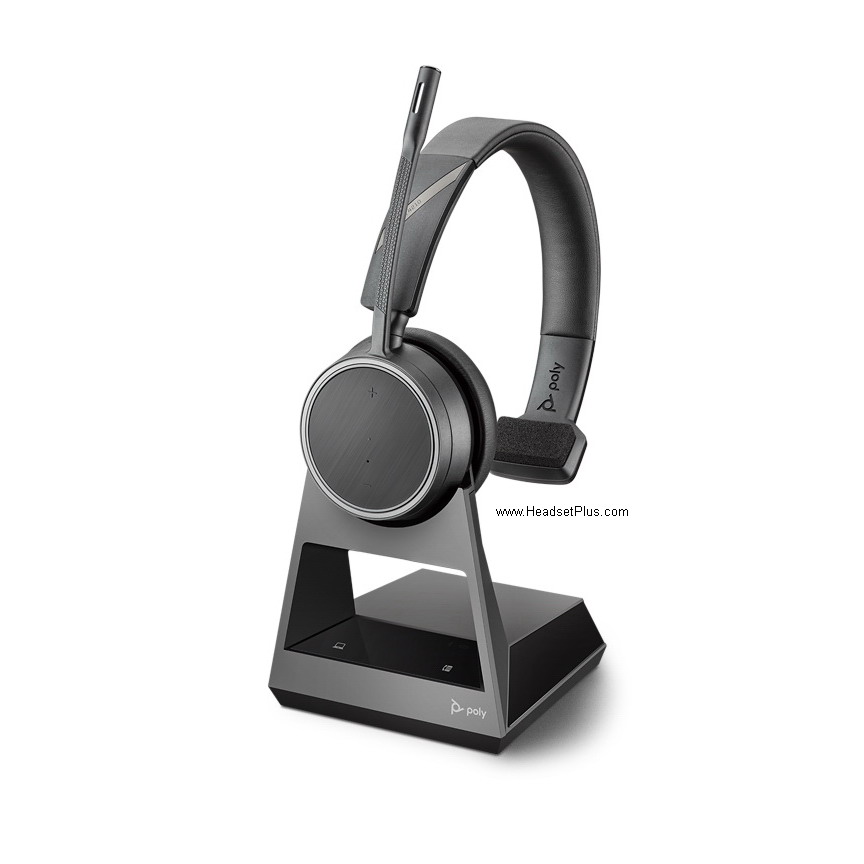 The 4210 Mono with 2 way base comes with all of the same great features as the one way base but, gets a little better in the connectivity department. The 2 way base allows you to connect to your desk phone, smart device, and now your computer for all of your soft phone needs. Be the master of multi tasking and swap between desk phone and soft phone calls  simply by touching the respective button on the 2 way base.
Poly Voyager 4220 Office Stereo Bluetooth Headset 2-Way USB-A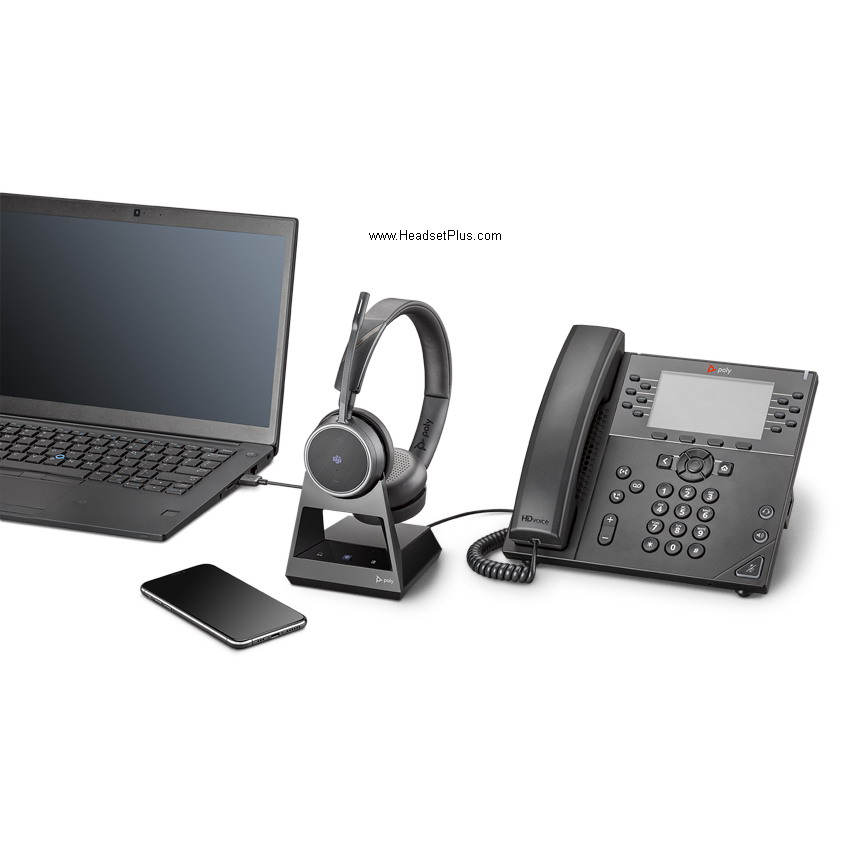 Last but not least the 4220 Duo with the two way base is here to handle all of your desk phone, soft phone, and media needs. My personal favorite in this line for the seamless transition between listening to music on my computer and swapping over to take a call. The Voyager 4200 series of headsets from Poly (Plantronics) makes it all so easy I've wondered what I was doing before all of this convenience.
All of the Voyager 4200 Series 2 way bases or UC variants come in optional USB-A or USB-C connectors for your softphone applications. I'm pretty impressed overall with this line. From the sound quality to the large host of features it really is an all in one solution. Great battery life, great styling, simple intuitive on board controls, and durability puts this line pretty high on my recommendation list. Whether you're working in a constantly noisy call center, office, or just looking for a great headset the Poly (Plantronics) 4200 series line of headsets is a fantastic choice.
If you have any questions about these headsets or any of our other products give us a call at 1-877-999-3838 We'd love to help.