The office headset has actually ended up being greater than just a need, and also more than simply a great techie gizmo. Headsets have become crucial to individuals at work, individuals that operate a radio, a mobile phone, or perhaps a regular phone. Companies and businesses all over the world have discovered that headsets are important to ensure work mobility and efficiency. That's why more businesses are looking for wireless headsets with the best quality. [Read more…]
Range in wireless headsets are an important factor to consider. Mobility in the office is very important to ensure efficiency in multitasking and increase work productivity. With a long effective headset range you will be able to move and work freely in the office. That is why finding a quality headset with a good range is very important. Some offices use the best Bluetooth office headsets for more mobility and some use top quality office headsets for work efficiency and range.  Here is a list of our top 4 Wireless Headsets with the Best Range:
Jabra Engage 75 Mono Wireless Headset System (staff favorite)
The new Jabra Engage 75 series claims to have a whopping 490 feet of range (optimal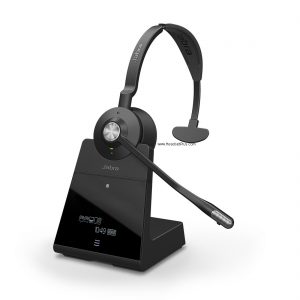 condition of course)!  The most distance any wireless headset on the market today.  It also has 13 hours of battery time, the most of any wireless headset.  Equipped with the new advance noise canceling microphone and a 128-bit encryption technology.  Weight only 64 grams, one of the lightest headsets available.  Jabra Engage 75 allows connection to 5 devices (2 USB, 2 Bluetooth, 1 desk phone).  You can easily switch between any one of the 5 devices with the touch panel on the base.
Key Features:
Wireless Range: Up to 490 ft
Wireless Technology: DECT 1.9 ghz
Connection up to 5 devices (2 USB devices, 2 Bluetooth device and 1 analog desk phone)
Advance Noise cancelling microphone
Certified by Microsoft Skype for Business
Talk Time: Up to 13 hours
Allow up to 120 people using the same headset in the same location.
Jabra Engage 65 Stereo Wireless Headset System
The Jabra Engage 65 Stereo Wireless Headset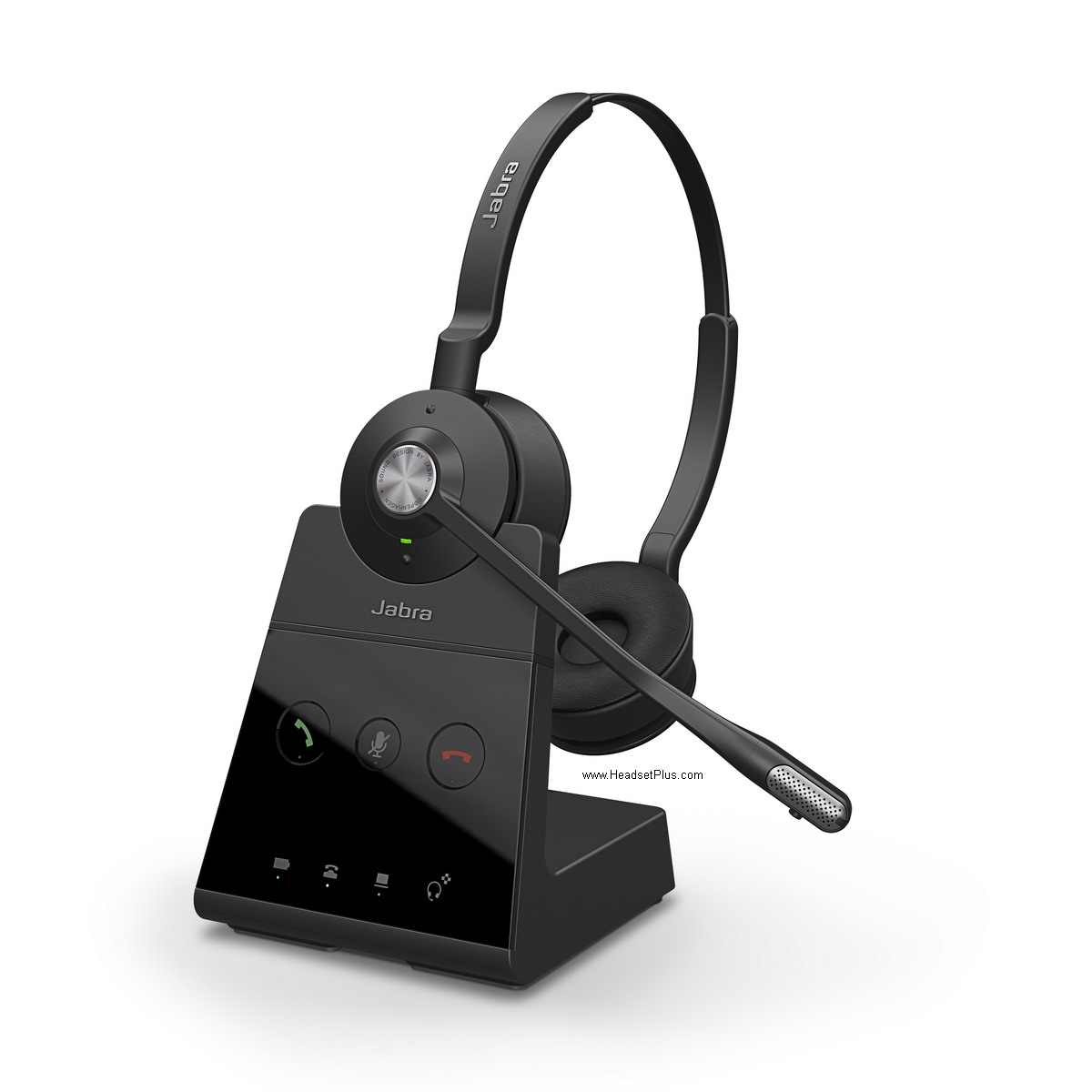 System is one of the most competitive and reliable headsets in the market for for loud and noisy workplaces and a top choice for work environments that use blended telephony. A wireless headset with two speakers that allows workers to accept calls from their office desks and soft-phone all with one headset, it has an effective talk range of up to 490 feet and 13 hours of talk time.
The Engage 65 Stereo headset offers one of the lightest headsets in the market, really comfortable and easy to use with just 83g of weight, considered one of the top of the lines from Jabra the Engage 65 Stereo also allow up to 3 times more wireless headset users in the same location without interference, specially designed for open office environment.
The Engage 65 come with an impressive noise canceling microphone that can block up to 60% of the background noise and with a built in busy light into it, allowing you to let people know when the user is in a call, making it a nice feature required in open office environments or call centers.
Jabra Engage 75 Convertible Wireless Headset System
The Jabra Engage 75 convertible, replaces the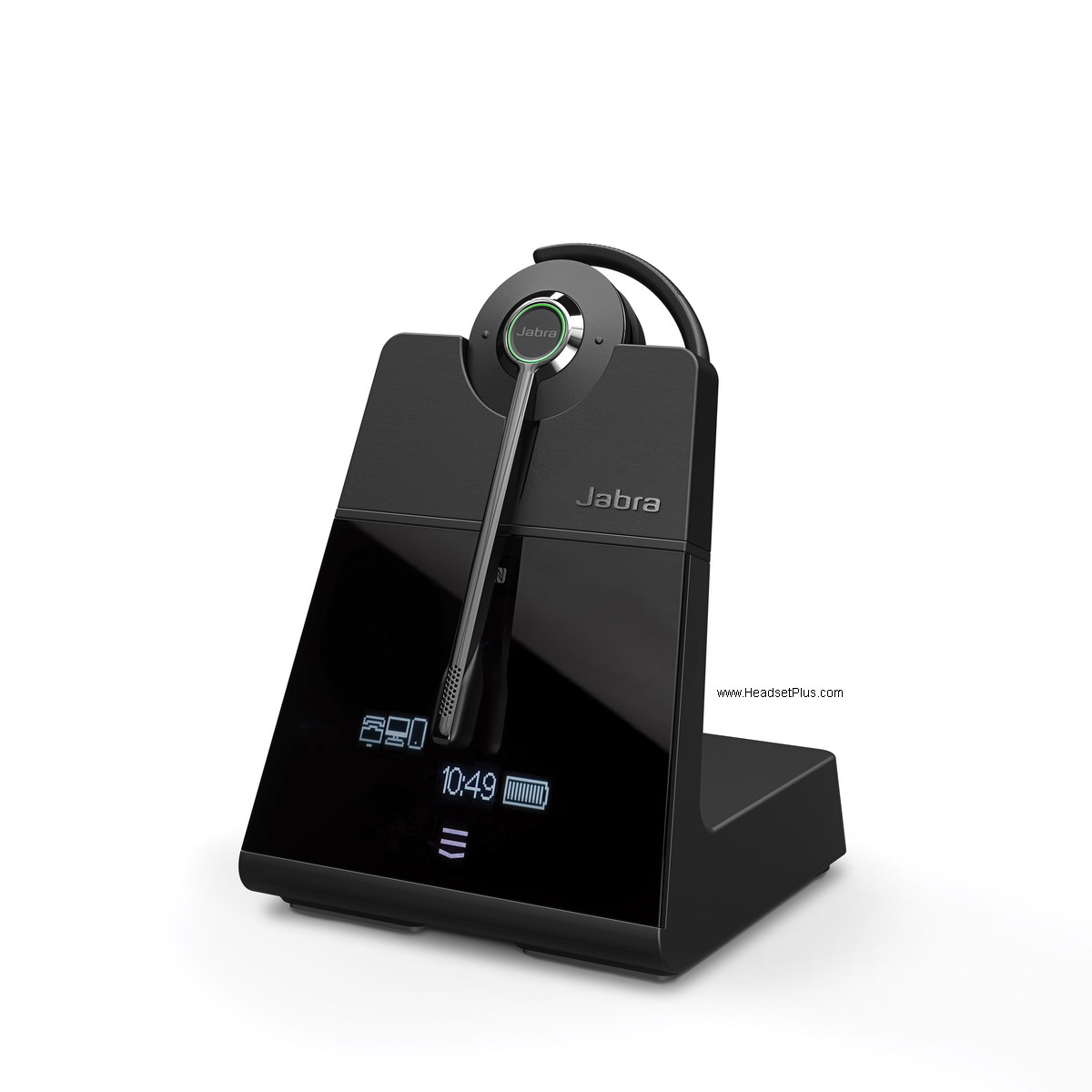 respectable PRO 9470 Monaural Wireless Headset and it bypasses as one of the top of the line headset with wide talking range. It has a maximum range of 150m or 490 ft perfect for fast-paced multitasking office work. It has three different wearing styles, and triple connectivity for use with desk, soft and mobile phones.
Several state-of-the-art sound technologies enable the Jabra Engage 75 Convertible to deliver unrivaled call clarity and safety. A 360 degree boom arm adjustable with advanced noise canceling microphone and busy light , which is a nice feature to have when on the phone most of the time.
Key Features:
Up to 490 feet wireless range
Multiuse connectivity: desk, soft and mobile phones
Intuitive touchscreen base for ease of use, showing connected devices, battery and call controls
Full hearing protection with Jabra PeakStop
Wideband sound (150 Hz – 6,800 Hz)
Sennheiser SDW 5066 Binaural Triple Connect Wireless Headset
This headset from Sennheiser, the SDW 5066 offers a triple connectivity, that allows you to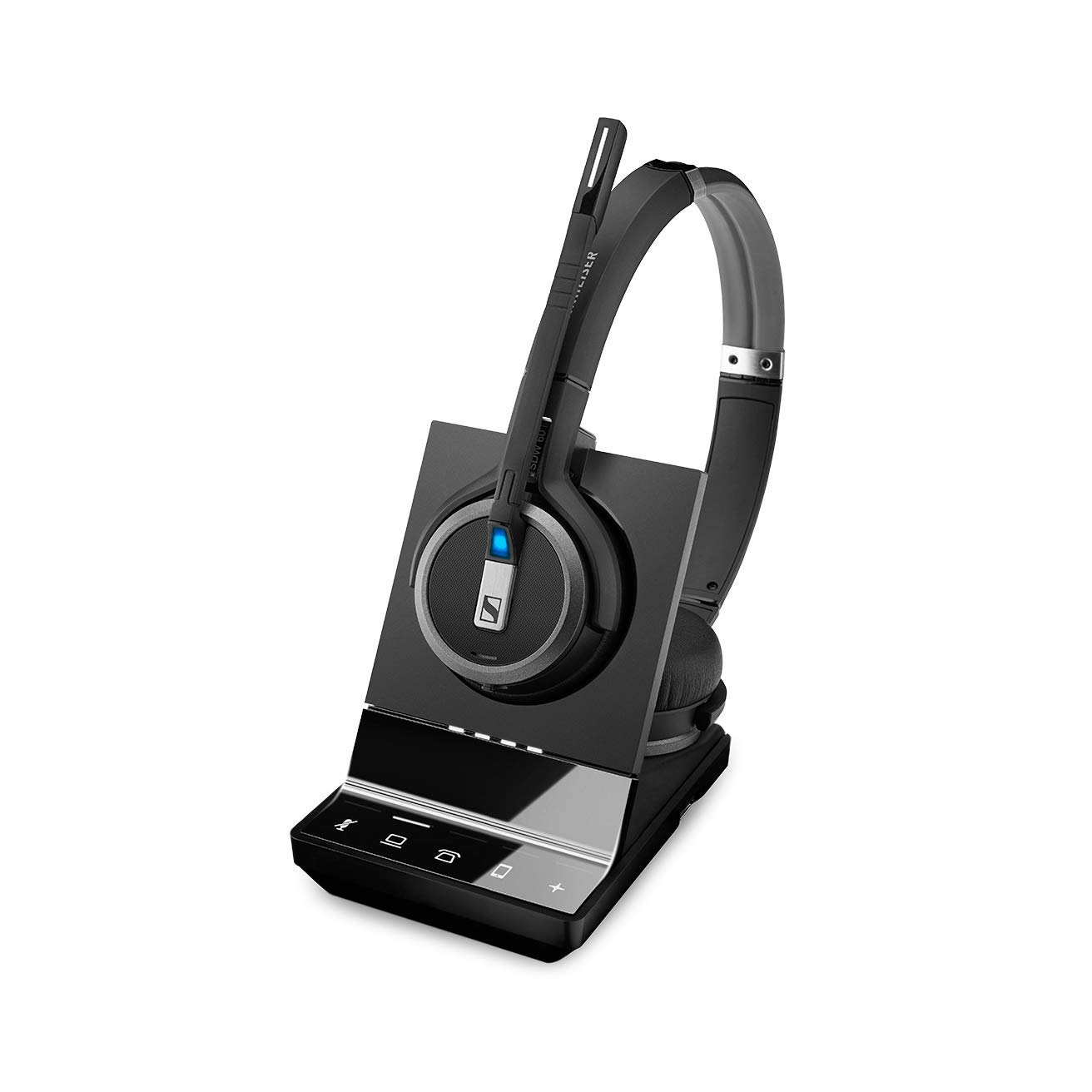 use it with your desk phone, computer and mobile phone, offering the versatility of 2 mobile devices simultaneously. Covering both ears and with Active Noise Canceling giving up to 590ft of range (line of sight) with a respectable battery life of up to 10 hours of talk time and fast charging of up to 100 % in just 1.5 hrs, making it one of the fastest charging headsets available in the market. The SDW 5066 offers the convenience of conference calling of 3 additional wireless headsets to the base, making it an option for people looking for a conference set up for their productivity.
Sennheiser SDW 5015 Convertible Dual Connect Wireless Headset
The SDW 5015 offers the versatility of different wearing style, either over the ear, over the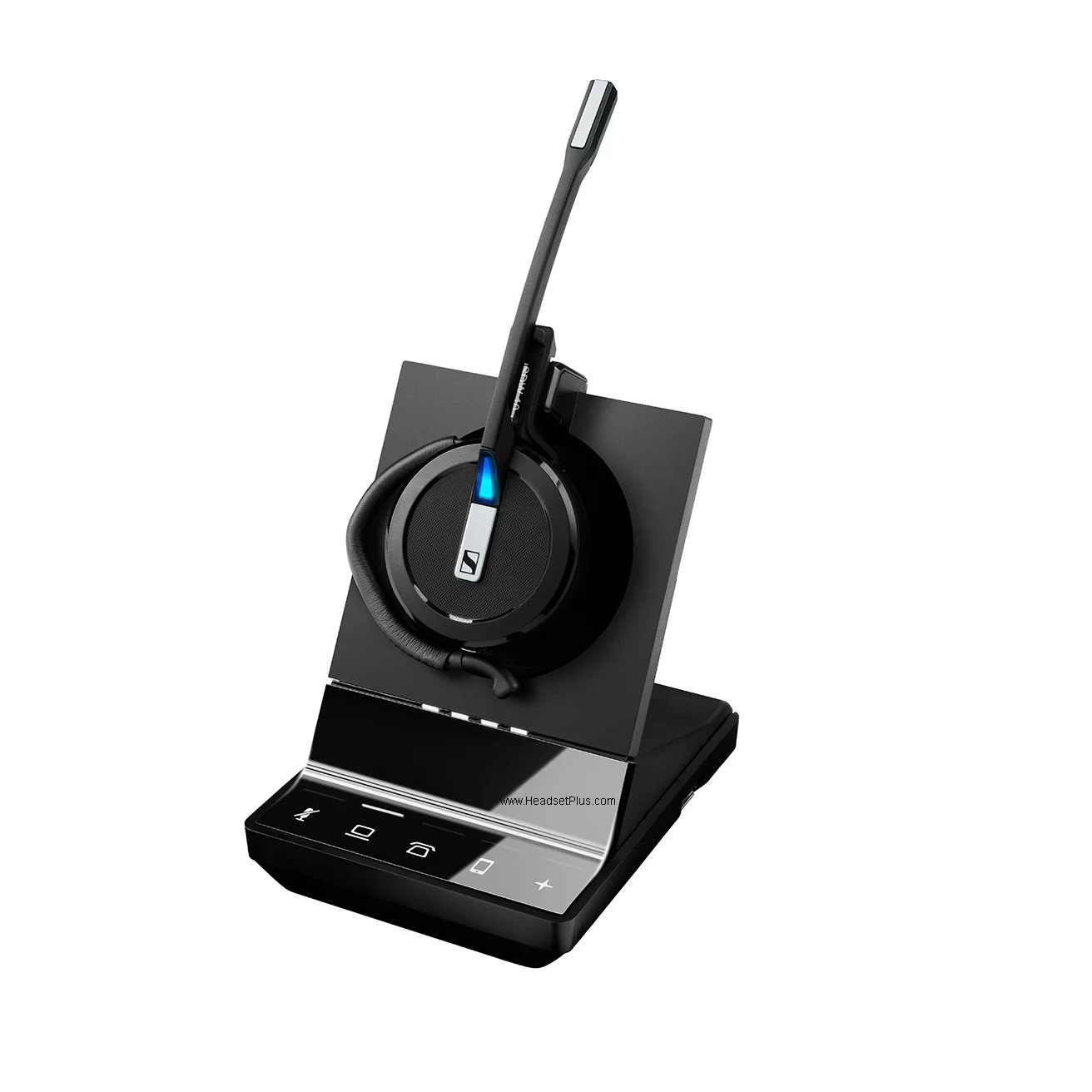 head or behind the neck, giving more options for the user. This headset offers a dual connectivity , so you can use it with your desk phone and your computer using the cables included with it. With a range of 590 ft (line of sight) and a conference calling or training set up, allowing up to 3 additional wireless headsets to be synchronized to the same base. With a talk time of up to 10 hours and a standby time of 48 hours, the Sennheiser SDW 5015 offers its auto sleep mode after 12 hours and being out of range to save battery. Fast charging is one of the qualities of this headset giving up to 50 % in 30 minutes, and with Sennheiser's ActivGard technology that protects the users from injuries caused by the sound bursts on the line.
Most modern office environment is quick paced, with numerous competitive demands on your time. This generally means that like never before, you have to depend on multitasking in the work environment to accomplish things on time. The two most basic tasks that are done at the same time are chatting on the telephone via internet voice chat with customer and typing. To be able to effectively multitask in the office, there has been a significant increase in the use of headsets, which permits you to speak with clients or associates on the telephone and keep your hands free to do other tasks. That's why more offices are looking for the top wireless office headsets and the best wireless headsets for customer service to increase productivity and work efficiency.  or the affordable corded office headsets if you're not looking for wireless or on a super tight budget.