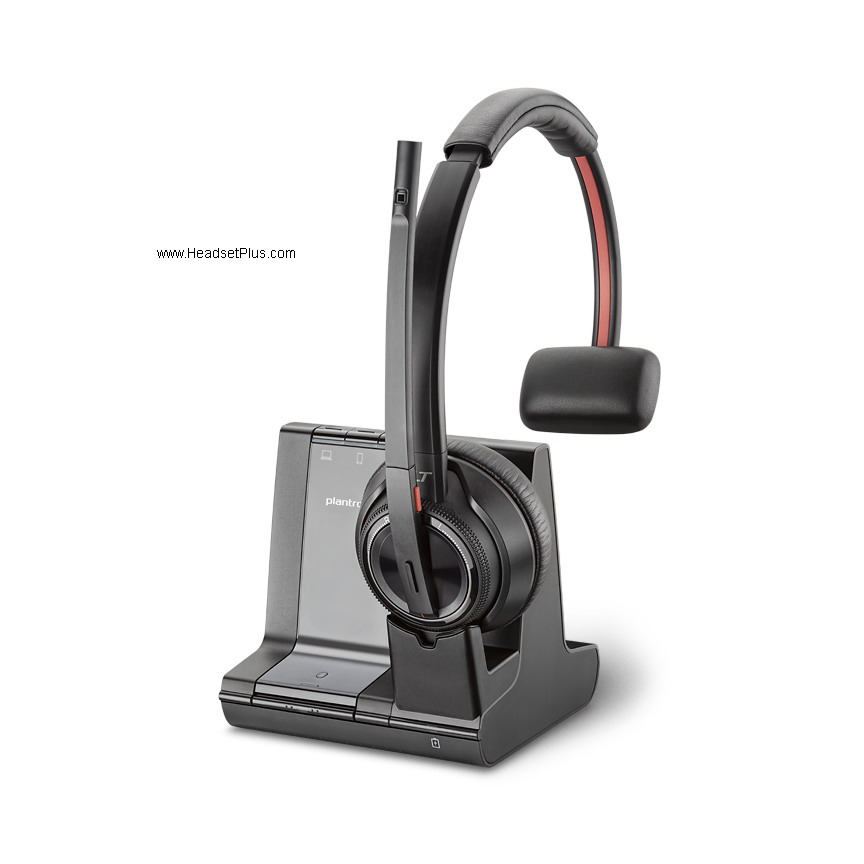 Wearing style: Over the head covering one ear
Active noise canceling: No
Talk time: 13hrs
Range: 490ft line of sight
Connectivity: Desk phone, computer, cell phone
This headset would be ideal for a front desk / receptionist type user in a loud environment. When is it good to have a single earphone with noise canceling? When you work in reception/cashier/etc. Sometimes it's good to have an ear open when you have to multitask. It is a little heavier than your traditional single ear headset. It will connect to a desk phone, computer, and Bluetooth device. Great noise canceling microphone. Click here to buy now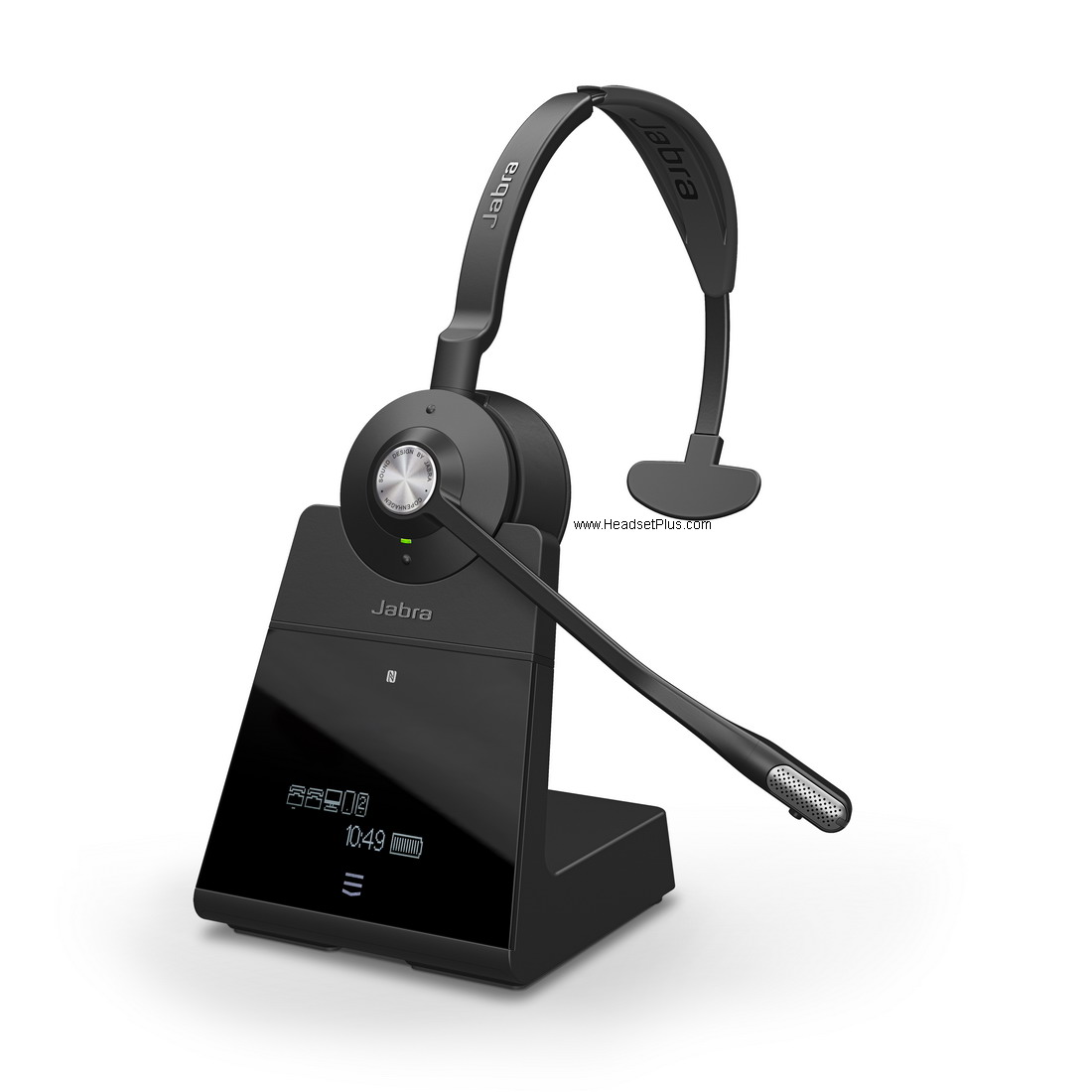 Wearing style: Over the head covering one ear
Active noise canceling: No
Talk time: 13hrs
Range: 490ft line of sight
Connectivity: Desk phone, (2) computer, (2) Bluetooth devices
The Jabra Engage 75 is ideal for the tech savvy worker with too many devices on their desk. Since this headset connects to 5 devices simultaneously, you can be the ultra productive worker. It doesn't have active noise canceling in the earphone, but it has a great noise canceling microphone. It is much lighter than the Plantronics Savi 8210, but if you work in a loud environment, opt for the Savi 8210. Click here to buy now
Plantronics Savi 8220 Wireless Headset Binaural Savi 8200  (staff pick)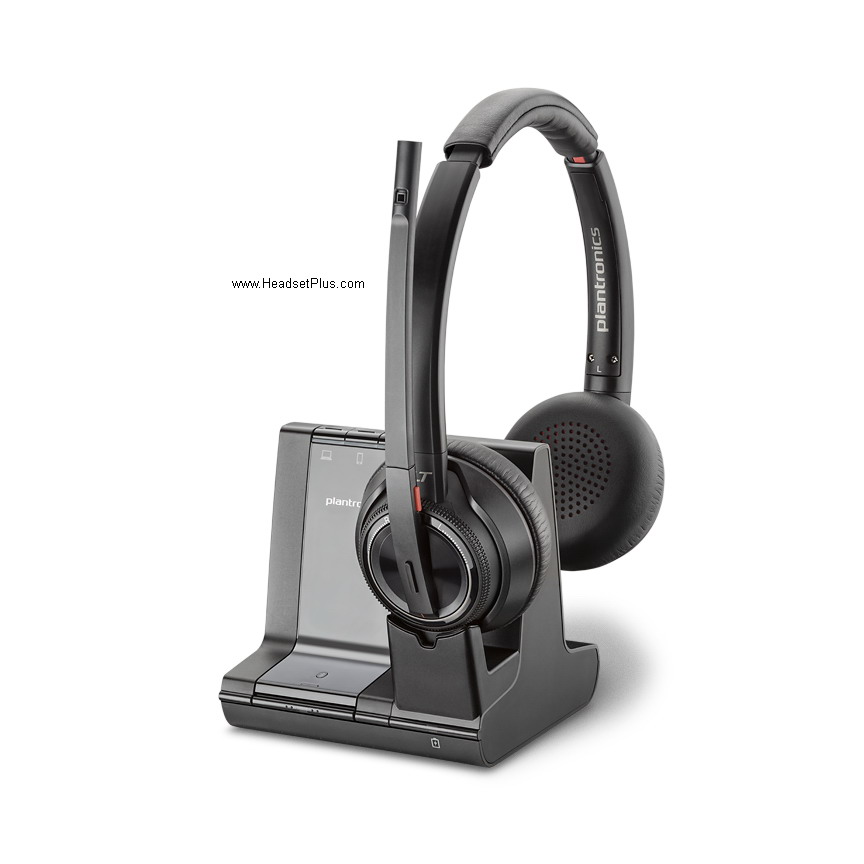 Wearing style: Over the head covering both ears
Active noise canceling: Yes
Talk time: 13hrs
Range: 490ft line of sight
Connectivity: Desk phone, computer, cell phone
This headset would be ideal for user in a loud environment such as open office or call center environment. It is a little heavier than your traditional single ear headset, but that is due to the active noise canceling in the ear cup. It will connect to a desk phone, computer, and Bluetooth device. Great noise canceling microphone. Click here to buy now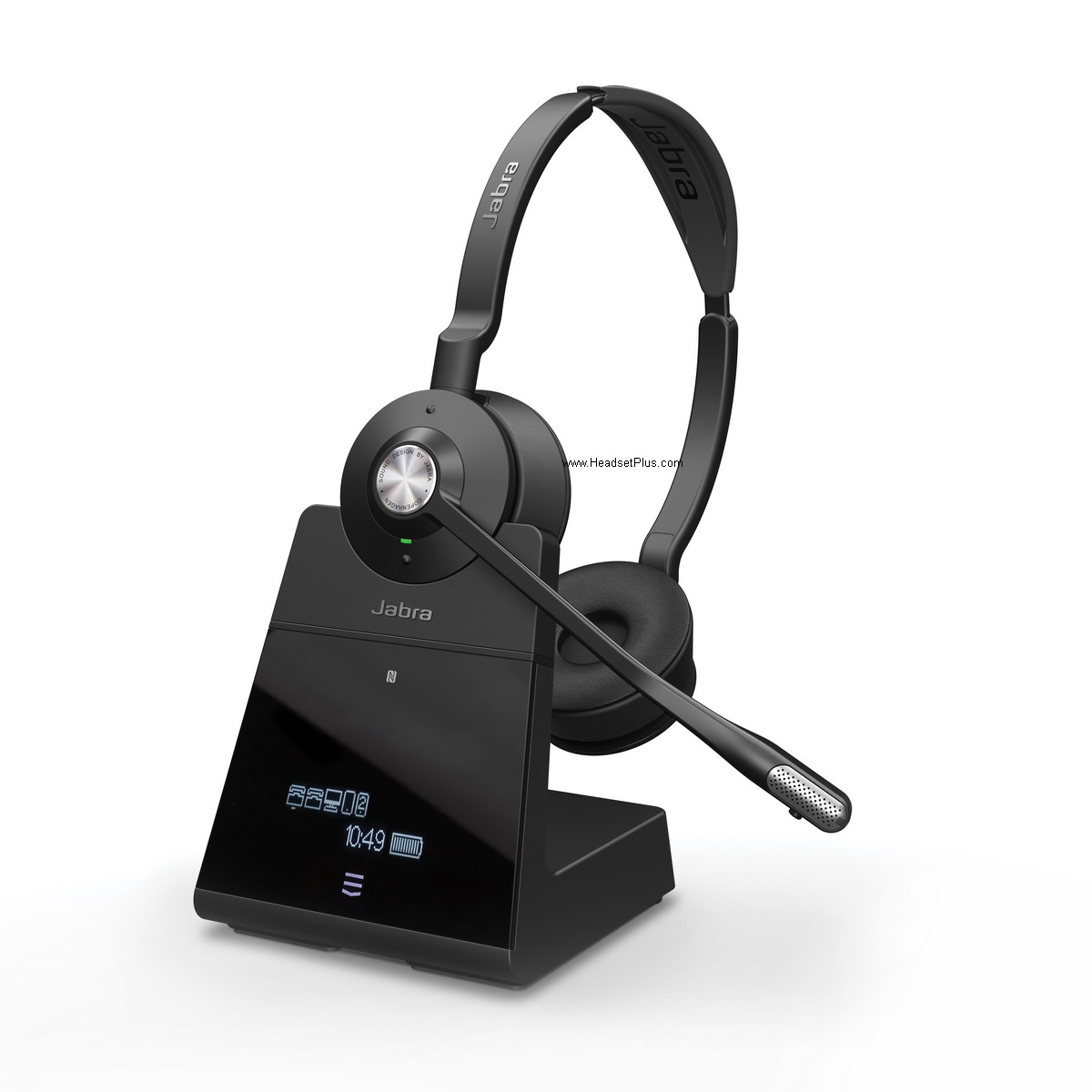 Wearing style: Over the head covering two ears
Active noise canceling: No
Talk time: 13hrs
Range: 490ft line of sight
Connectivity: Desk phone, (2) computer, (2) Bluetooth devices
The Jabra Engage 75 Stereo. is identical to the the Engage 75 Mono except that it covers both ears. Again, it is ideal for the tech savvy worker with too many devices on their desk. It will connect to 5 devices to eliminate the need for multiple headsets to fumble around with. It does NOT have active noise canceling in the earphones, but it has a great noise canceling microphone. I would recommend this headset if you're in a semi loud environment but still need to hear others around you. It is much lighter than the Plantronics Savi 8220, but if you work in a very loud environment, opt for the Savi 8220. Click here to buy now
Plantronics Savi 8220-M Microsoft Stereo Wireless Headset, 8200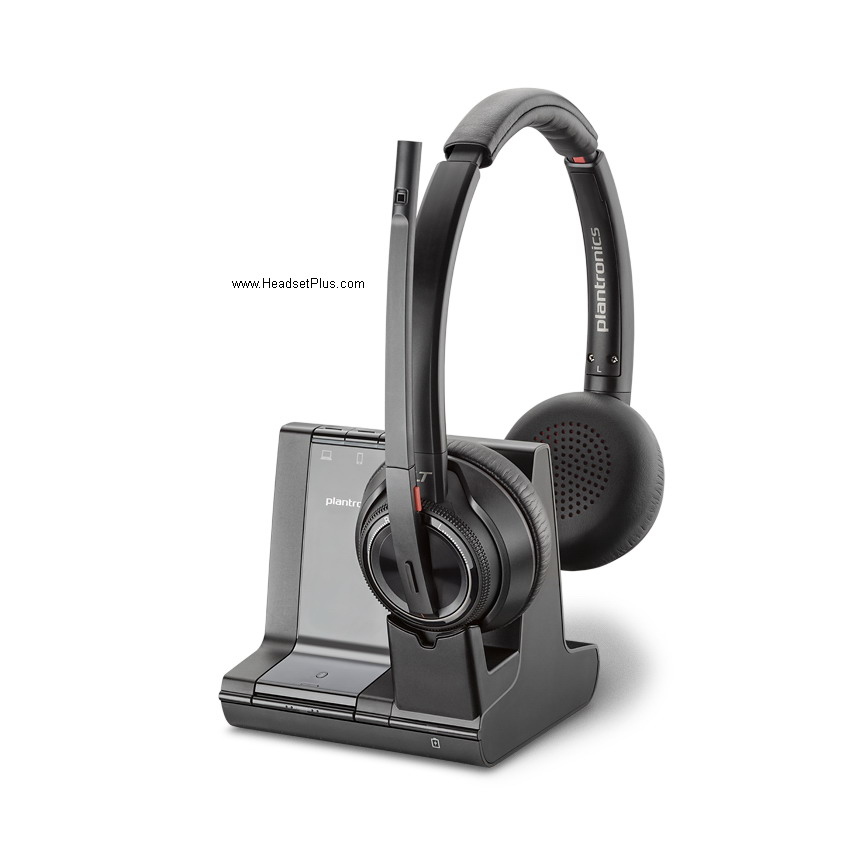 Wearing style: Over the head covering both ears
Active noise canceling: Yes
Talk time: 13hrs
Range: 490ft line of sight
Connectivity: Desk phone, computer, cell phone
This headset is identical to the Savi 8220 except, it comes loaded with the firmware necessary for Microsoft Skype. You can plug this headset in and not have to download any software on your computer.  It would be ideal for user in a loud environment such as open office or call center environment. It is a little heavier than your traditional dual ear headset, but that is due to the active noise canceling in the ear cups. It will connect to a desk phone, computer, and Bluetooth device. reat noise canceling microphone. Click here to buy now
All in all, these are all great headsets. You can't go wrong if you buy any of these. The real thing to consider is how  loud your environment is. If noise isn't a factor, go for the Engage series. I use the Engage and I love it, but I'm not in a terribly loud environment. Sometimes it gets loud and here and I wish that I had ANC. Comfortability is another factor. Sometimes it's hot in the office, I mean 90 degrees in here and I wish I had a single ear headset. Pick and choose based on your environment. 
If you have any questions or would like to place an order, give us a call I'd be happy to help you. I'll make sure you're getting the right product for the right application, ask for Jimmy.
Jimmy@HeadsetPlus.com
Best Headsets for Noisy, Loud Office or Call Center, Reviews and Recommendations
Are you looking for a headset for a noisy office or loud call center with lots of people talking on the phone at the same time?  Are you having problems concentrating on the phone and your caller because it's so loud and noisy?  This is a very common problem in a large call center or office where office workers are situated close to each other in cubicles.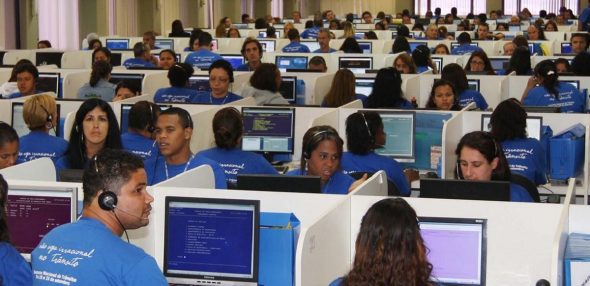 HeadsetPlus.com have noise canceling headsets that could help you.  Depending how loud is your "noisy office", almost all the headsets nowadays have noise canceling microphones, so it eliminates most (about 60-80%) of the background noise for your "listener", so the person on the other end of the phone call don't pick up the background chatter.  However, a noise canceling microphone does nothing to block out the noise for "you" when you're on the phone.  In order to "block out" all the office noise for you, you will need a binaural headset with double ear cups to cover both ears, here are some options:
Plantronics HW261N SupraPlus Noise Canceling Headset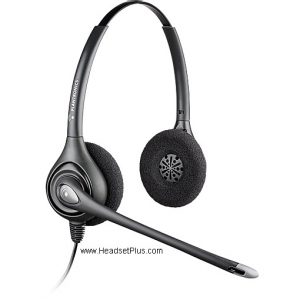 Plantronics HW261N is adequate If your office is "not too noisy", Small office with a room with only 5-6 people talking at the same time.  The double speakers covers both ears and the foam ear cushions that can help eliminate "some" of your background noise, so you can focus more on the phone conversation.  Go HERE to see more details
Plantronics HW720 EncorePro Noise-canceling Headset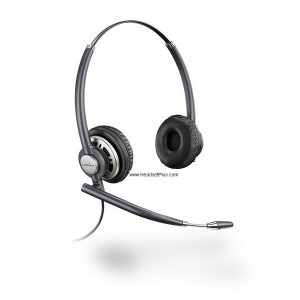 The Plantronics HW720 is the next model up from the  HW261N.  It has a larger ear cup and leatherette ear cushions to further reduce office noise.  If you find  the HW261N inadequate, the Plantronics HW720 is the next best headste to reduce noise in a noisy office.  GO HERE to see more pictures and order the HW720
Plantronics HW261N +  Plantronics Circumaural Leather Ear Cushions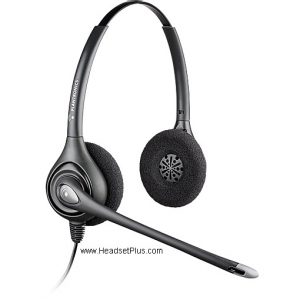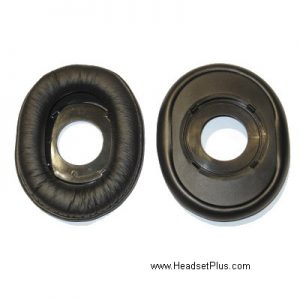 The next solution is to "enlarge" the ear-cup of the Plantronics HW261N by adding these Circumaural Leather Ear Cushions.  see pic below: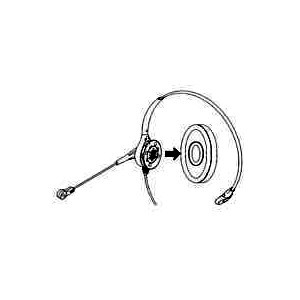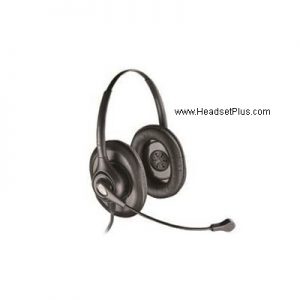 Circumaural means the speakers "surrounds" or "encompasses" both ear to further help block out office noise.  simply snap on these circumaural ear cushions onto the Plantronics HW261N.  It will greatly improve concentration in the office while on the phone.
Plantronics SHR2083-01 Rugged Noise-Canceling Headset (my pick)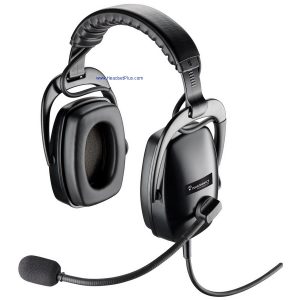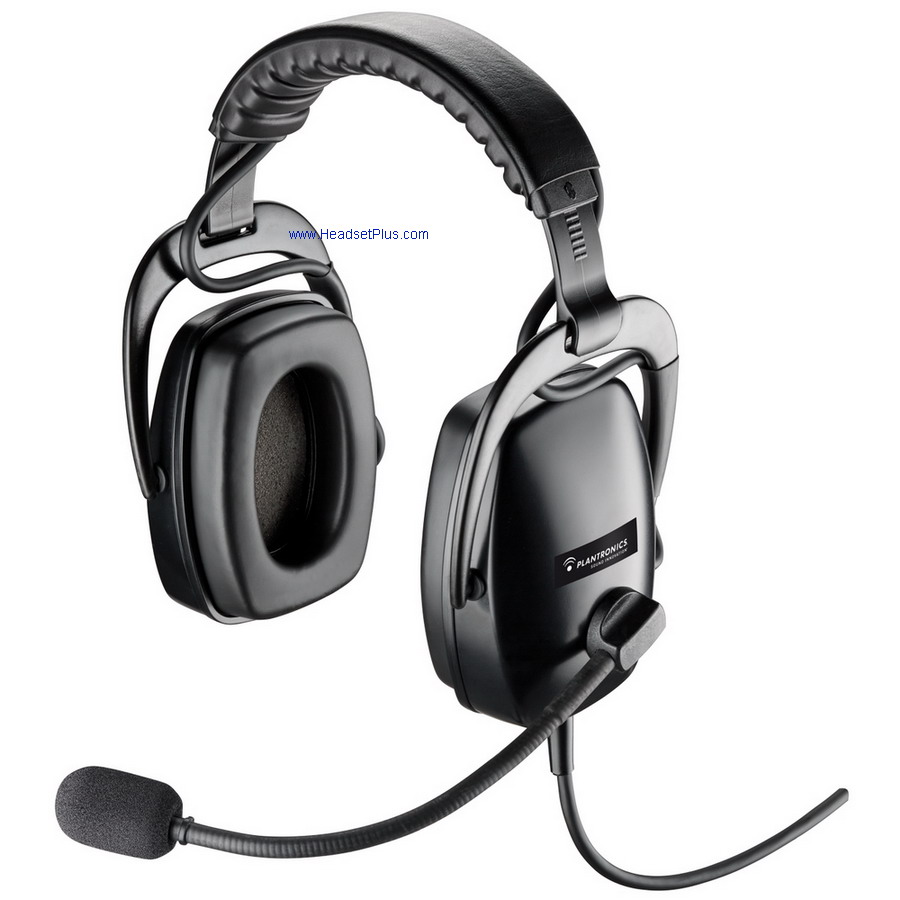 If your call center office is so loud with hundreds of people all talking at the same time. You might consider this SHR2083-01 headset instead. These are typically sold to workers working in an airport or the navy seaman on an US aircraft carrier.  It blocks out 22dB of noise from the ear cup.  It's also very rugged to take any beating so it will last for many years longer than other headsets on the market.  The only catch is that these headset are custom order headset and it's not returnable, and it's littler heavier compare to the others.  Go HERE for more details or place an order.  It's by far my favorite if you are in a crowded office with lots of noise.
Plantronics Blackwire 7225 + Plantronics MDA220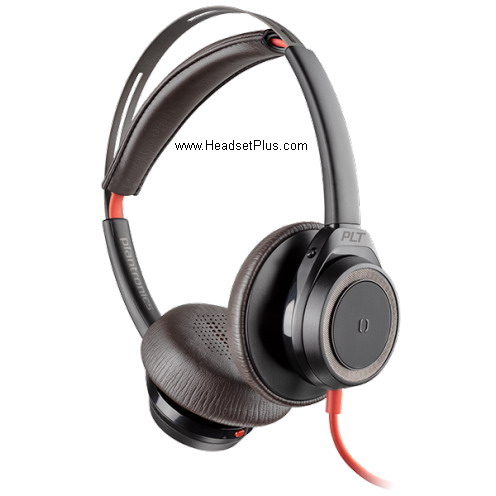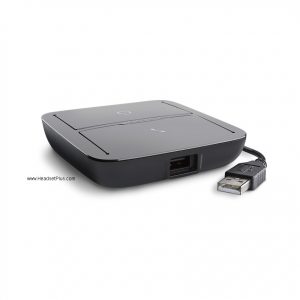 The newest addition from Plantronics, a nice Boomless headset, the Blackwire 7225 offers active noise canceling on a corded headset. Can be used directly with computers via USB and has built in mute light in the same port. The Blackwire 7225 offers Answer/End call, Mute, and volume controls built in to the headset by itself. Comes with its soft travel case for the easy transportation without harming the unit. The active noise canceling is highly recommended in really loud office spaces. The Hi Fi stereo sound is one of the best for listening music.
WIRELESS HEADSETS
Plantronics CS520 Wireless Headset, Binaural Headset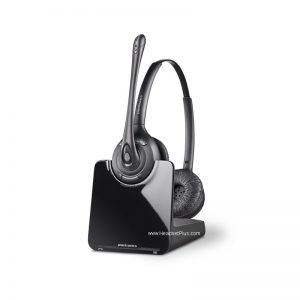 The Plantronics CS520 is a binuaral headset (with leatherette ear cushions) with speakers that cover both ears.  It will help drown out most of the background noise in a normal office, depending on how loud your office is.  In most office it's adequate for most people.  By simply having both ears cover and sound coming out of both speakers, it helps the office professional concentrate on the phone call.  Go HERE for more details on the CS520.  It does not have the ANC (active noise canceling) speakers the more advance wireless headsets below with noise block technology:
Plantronics Savi 8220 Binaural Wireless Headset <= my favorite wireless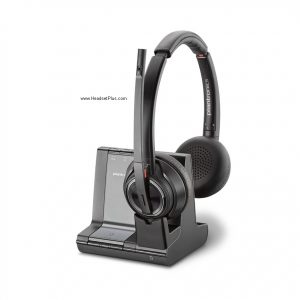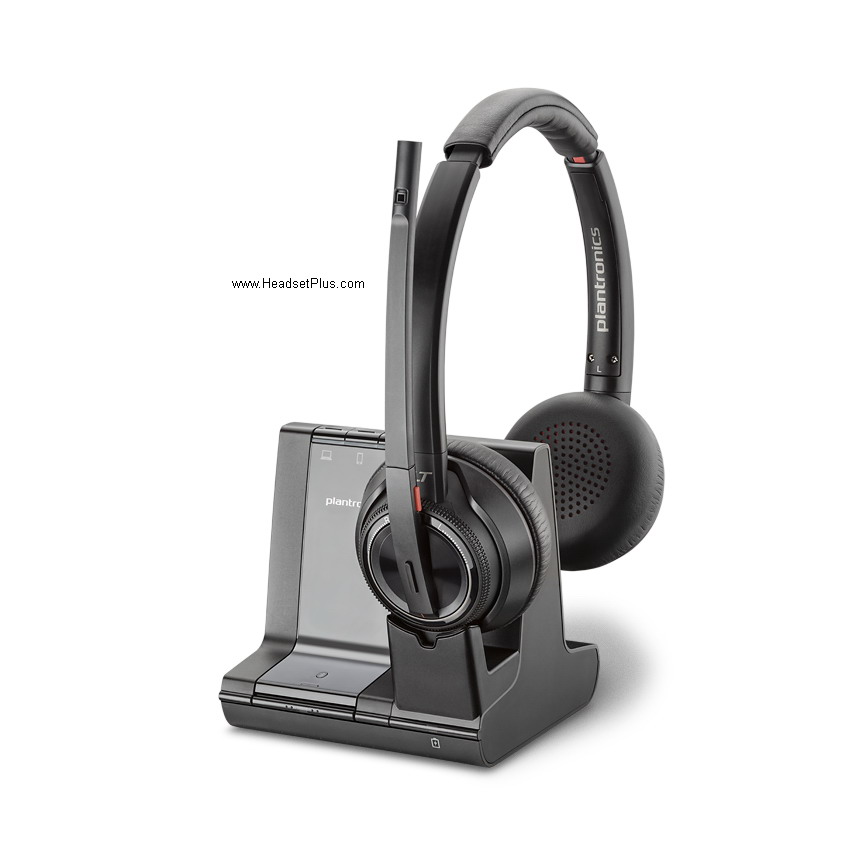 In my opinion, this is the is best the wireless solution for a noisy office.  The Plantronics Savi 8220 is a binaural (dual ear) wireless headset is compatible with almost all office desk phones – regardless of brand or model using the telephone's "handset" jack.  The Plantronics Savi 8220 speakers has Active Noise Canceling technology (similar to the Bose headphone) to eliminate most of the background unwanted office noise so you can focus on the call.  The Savi 8220 boom microphone can be folded upwards so it becomes a quality stereo headphone when paired to a Bluetooth smartphone device such as an iPhone.  Bear in mind, the Bluetooth is on the base of the Savi 8200 series.  The headset itself is not Bluetooth.  The headset use the latest DECT technology which has the range of up to 590ft (line of sight).  When the battery is full, you can "talk" non-stop for 13 hours without running out of battery.  50 hours of standby time when not turned on.  In addition, it comes with a USB cable for PC/computer/Mac connectivity so you can also use the same headset for computer use.  For more details or to order Go HERE for call me, I can answer any questions you may have – John 650-306-9768.
Plantronics Voyager 8200 UC + Plantronics MDA220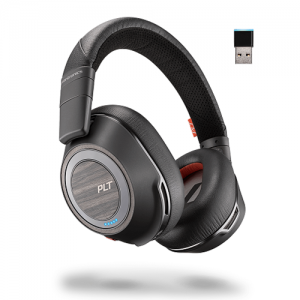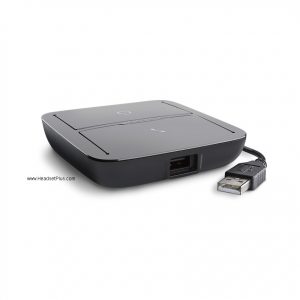 The Plantronics Voyager 8200 UC is the newest addition to the Plantronics "noise canceling" family of headsets.  When you add the Plantronics MDA220 to your deskphone, it becomes the most advance noise canceling wireless headset on the market for your office phone.  It has the most advance active noise canceling speakers and a boom-less omni-directional microphone. Not only do you have noise canceling in the microphone, you have a dual mode active noise canceling (ANC) in the ear cups (speakers).  Making the Voyager 8200 the most advance nose canceling wireless headset on the market today.  It will drown out up to 90% of the background noise wherever you are.  When you're not on the phone. it becomes a awesome wireless Bluetooth stereo HD hi-fi headphone for music
If you have further questions on any of these headsets or how to connect these headsets to your phone, call HeadsetPlus.com at  877-999-3838 and ask for John.