Today we will review and discuss 2 wireless solutions for the office worker in a loud environment, the Plantronics Savi 8220 and the new Focus 2 Office. Both of this solutions coming from the same manufacturer but with different capabilities. Both of these headsets offer multi connectivity, so allows you to use it with a desk phone, a computer and a smart phone or tablet. Really useful for people trying to only have to use one headset without switching to a different one while working at the office.
Plantronics bought Polycom on 2018 and by end of 2020 they renamed as Poly, so there is a big chance that you have seen some headsets as the Savi 8220 under Plantronics brand and under Poly, both are the same so no need to get confused in that. First we will analyze the Plantronics Savi 8220:
Plantronics Savi 8220 Wireless Headset Binaural Savi 8200 series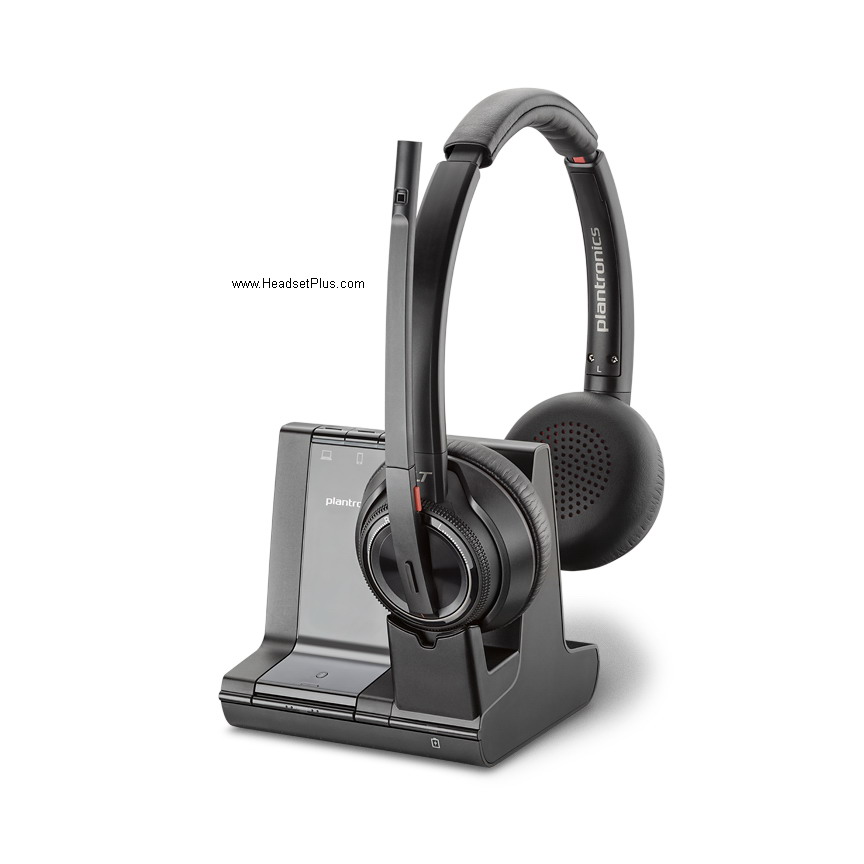 Plantronics Savi 8220 is a good relievable wireless DECT headset covering both ears with Active Noise Canceling, making it a good option for a loud environment. Leatherette earcups fit on the users ears and stays in place thanks to its over the head headband. Thanks to its DECT frequency, you can roam up to 400-500 feet on line of sight, making it a good option if people needs to walk around the office. Point that want to add here is that this model is one of the few wireless headsets in the market that is Telecoil Hearing Aid compatible, which gives it an advantage.
Where Plantronics Savi 8220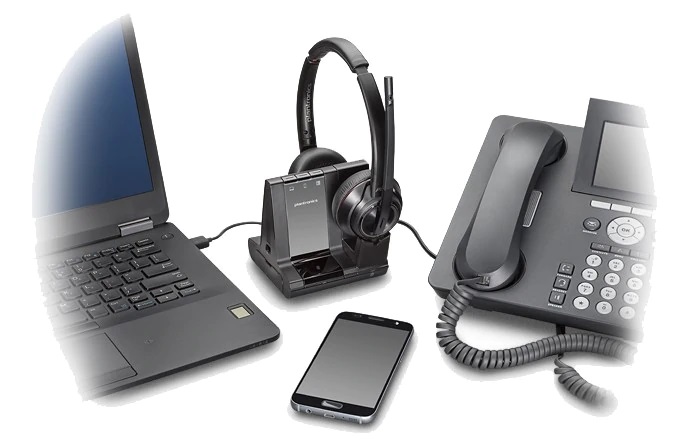 falls short here is its age can show it in its design and functions. The headset design is a little outdated compared with newer models, the Bluetooth capability is built in the base of the headset, so in order to be able to use your smart phone and have the best connection the smart phone has to be closer to the base. The ANC function only has ON/OFF feature. Battery life is of 13 hours of talk time, which is a reasonable amount, but when compared with other options you can find it a little disappointing. The design of the headset can get a little annoying, specially for people with big heads or people wearing thick frame glasses, as the headset can make pressure on the user's temple. The Poly Savi 8220 is a good contender and for its advantages gets a solid "B" in our review. Get yours HERE.

Poly Voyager Focus 2 Office USB-A Bluetooth Stereo Headset (staff favorite)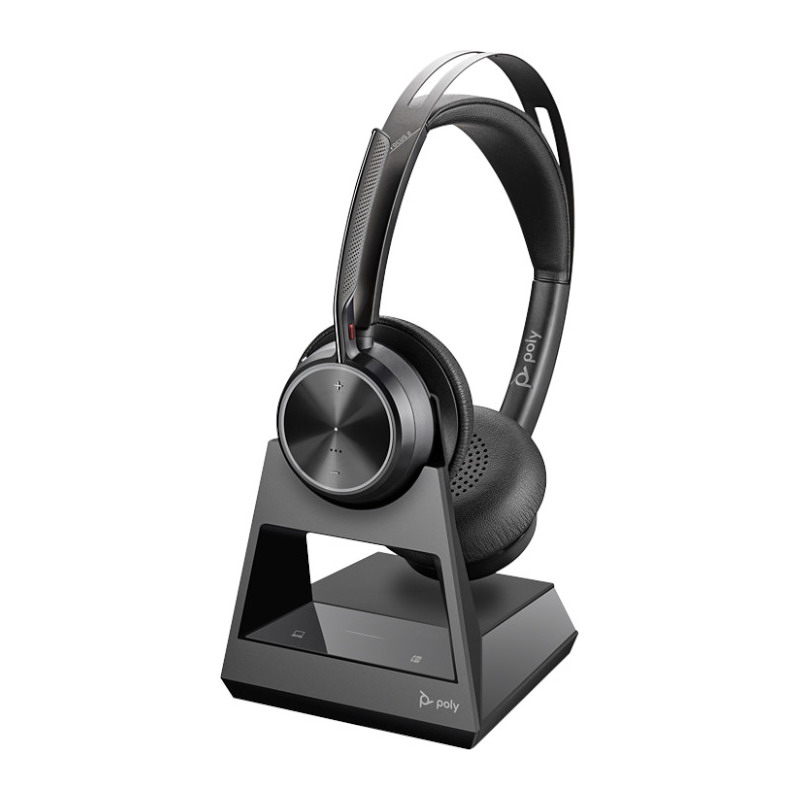 The sparking brand new Poly Voyager Focus 2 Offers the latest technologies available in telecommunications. The headset is a Bluetooth Class 1 headset, that offers a range of up to 300 feet on line of sight, and for the same reason you can use it with a desk phone, a computer and a smart phone and in this case you can take the headset with you and keep using it down the road or even at home! The Focus 2 offers the new Digital Hybrid Active Noise Canceling that compared with the 8220, allows you to modulate the ANC with 3 different levels.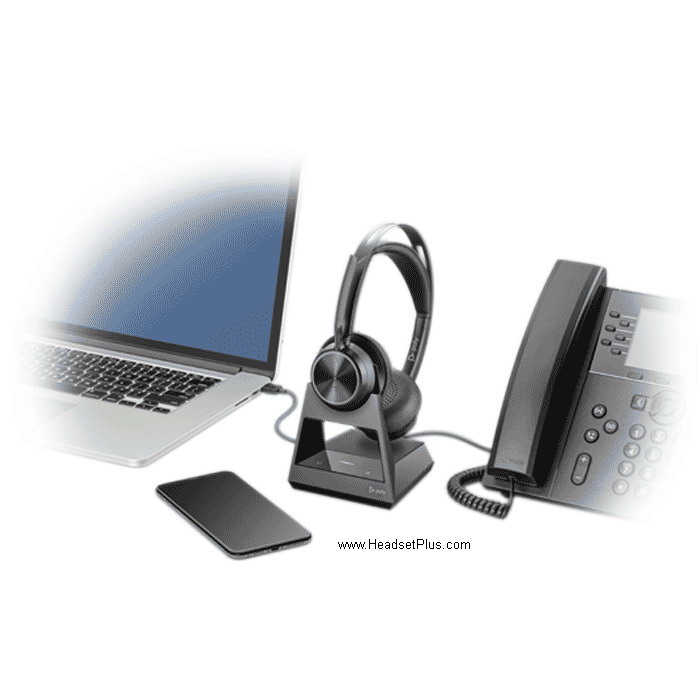 The microphone boom has the newest Acoustic Fence technology that blocks a little further background noises than the one found on Plantronics Savi 8220. And we have a shorter boom with muting function by moving the boom up or down. The built in busy light is more noticeable than the one fund in the Plantronics 8220 and the design of the headset is a little better built and more comfortable, even when wearing glasses! For the same reason you can take the headset with you, it comes with a carry case, giving it a nice additional touch.
Where the Poly Focus 2 Office falls short here is that for same that is a Bluetooth headset, it doesn't offer a steady and further connection with the base and if the office has many walls, the performance can get compromised. Another point against it is that all this new technology is not Telecoil Hearing Aid compatible, so folks with them will have to look towards the Plantronics Savi 8220. We find a good talk time of 19 hours in a single charge which gets affected when using the ANC feature to 16 hours. After testing and comparing we will give the Focus 2 Office a solid "A-". Order yours HERE.
Active Noise Canceling Explained:
Polys Acoustic Fence Technology explained: