Range in wireless headsets are an important factor to consider. Mobility in the office is very important to ensure efficiency in multitasking and increase work productivity. With a long effective headset range you will be able to move and work freely in the office. That is why finding a quality headset with a good range is very important. Some offices use the best Bluetooth office headsets for more mobility and some use top quality office headsets for work efficiency and range.  Here is a list of our top 4 Wireless Headsets with the Best Range:
Jabra Engage 75 Mono Wireless Headset System (my favorite)
The new Jabra Engage 75 series claims to have a whopping 490 feet of range (optimal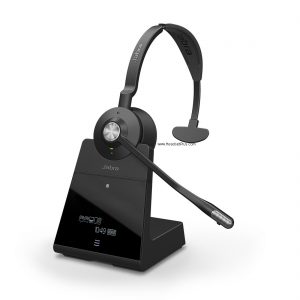 condition of course)!  The most distance any wireless headset on the market today.  It also has 13 hours of battery time, the most of any wireless headset.  Equipped with the new advance noise canceling microphone and a 128-bit encryption technology.  Weight only 64 grams, one of the lightest headsets available.  Jabra Engage 75 allows connection to 5 devices (2 USB, 2 Bluetooth, 1 desk phone).  You can easily switch between any one of the 5 devices with the touch panel on the base.
Key Features:
Wireless Range: Up to 490 ft
Wireless Technology: DECT 1.9 ghz
Connection up to 5 devices (2 USB devices, 2 Bluetooth device and 1 analog desk phone)
Advance Noise cancelling microphone
Certified by Microsoft Skype for Business
Talk Time: Up to 13 hours
Allow up to 120 people using the same headset in the same location.
Jabra 9450 Duo (2 ears) Wireless Headset System
The Jabra PRO 9450 Duo is ideal for loud and noisy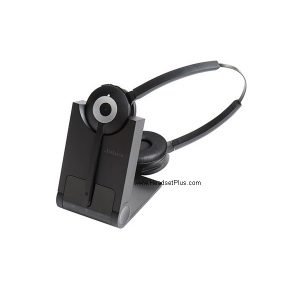 workplaces and a top choice for work environments that use blended telephony. A wireless headset with two speakers that allows workers to accept calls from their office desks and softphone all with one headset, it has an effective talk range of up to 450 feet and 10 hours of talk time. This is what makes the Jabra 9450 an excellent headset to use for effective multitasking in the office.
The Pro 9450 wireless headset's flexible set-up permits workers to utilize it comfortably to increase their work efficiency. They can decide to handle calls straightforwardly from the headset, by means of the computer or the touch screen, and the interactive set-up feature that guarantees a quick and comfortable setup process. You can also choose from the best Jabra headset systems to find the headset that suits you best.
Key Features:
Talk Range: Up to 450 ft
Wireless Technology: DECT 1.9
Direct connect to desk phone / This device is connected via USB
Up to 4 headsets can be joined to one base at the same time for conferencing call purposes
Microphone Type: Noise cancel
Certified by Microsoft, Cisco, and Avaya
Talk Time: Up to 10 hours
Jabra Pro 9460 Duo (2-ears) Wireless Headset
The two ear PRO 9460 Duo has a state-of-the-art noise canceling/reduction microphone and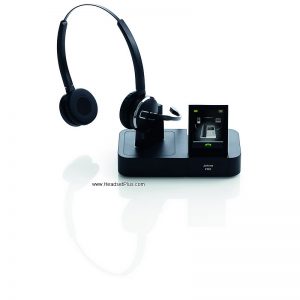 can be utilized with both office desk telephones and UC softphones. It has two gadgets – desk and softphone – that are conveniently connected by a stylishly functional touch screen base. The base connects with your headset by means of DECT – a technology portrayed by its dependable, long range capacities – offering a wireless range of up to 450 feet.
There are several top of the line sound technology used in the Jabra PRO 9460 Duo Wireless Headset to convey unrivaled call clarity and security. The blend of a flex boom and noise canceling receiver with cutting edge Digital Signal Processing mean your voice can be heard clearly at all times. Wideband quality guarantees that the sound you hear is completely clear, while Safetone engineering protects the users' hearing.
Key Features:
Multiuse connectivity: desk and softphone
Touch screen base with SmartSetup wizard
Up to 450 feet wireless range
Full hearing protection with Jabra SafeTone
Noise-canceling microphone and Digital Signal Processing
Minimal energy-consumption with Jabra IntelliPower
Jabra Pro 9465 Duo Wireless Headset
The Jabra PRO 9465 is one of the headsets that has the widest talking range available today. With a 150m talking range it is one of the top choices for companies and offices. It also has a long boom arm that allows optimum voice pick-up for a clearer reception and the Duo headset that channels sound to both ears also guarantees to decrease background office noise.
The wideband sound quality of the PRO 9465 ensures that the sound you hear is completely clear, while Safetone is designed to guarantee your hearing is protected. It also comes with a microphone that has advanced digital signal processing that helps your voice to be heard clearly on the other end.
The Jabra PRO 9465 Duo has a easy and stylish, touch screen base which connects your desk, mobile and softphone. Similarly as with other Jabra PRO 9400 headsets, the Smartsetup wizard on the PRO 9465 gives a straightforward and easy manual to comfortably connect your phones and choose your preferences.
Key Features:
Up to 150m wireless range
Wideband sound (150 Hz – 6,800 Hz)
Full hearing protection with Jabra SafeTone
Multi use connectivity: desk, mobile and softphone
Noise-canceling microphone and Digital Signal Processing
Touch screen base with simple SmartSetup wizard
Jabra PRO 9470 Monaural Wireless Headset
The Jabra PRO 9470 Monaural Wireless Headset is another top of the line headset with wide talking range. It has a maximum range of 150m or 490 ft perfect for fast-paced multitasking office work. It has three different wearing styles, a dual microphone with Noise Blackout technology, and triple connectivity for use with desk, soft and mobile phones.
Several state-of-the-art sound technologies enable the Jabra PRO 9470 to deliver unrivaled call clarity and safety. A dual microphone Noise Blackout system with advanced Digital Signal Processing practically eliminates all background noise, so your voice can always be heard clearly.
Key Features:
Up to 450 feet wireless range
Multiuse connectivity: desk, soft and mobile phones
Touch screen base with SmartSetup wizard
Dual microphone Noise Blackout system
Full hearing protection with Jabra SafeTone
Wideband sound (150 Hz – 6,800 Hz)
Minimal energy-consumption with Jabra IntelliPower