Utilizing a Bluetooth cordless headset enables lots of benefits in your frantic office VoIP soft phone environment. Bluetooth makes life hassle-free by removing the need for a telephone cord which limits your mobility in the office. Because of this, you can move openly in your space or workplace as well as multitask such as typing on your computer or searching for a file while chatting on your phone. That's why it's important to find Bluetooth headsets with the best sound quality to increase work mobility and efficiency.
A Bluetooth cordless headset is also good for keeping the user healthy. Essentially, people keep their phone in between their head and also shoulder while driving or working multiple tasks in the office. Using a Bluetooth wireless headset lowers the muscle strain as you are not holding your phone in your hands or in between the head and the shoulders. This is quite useful for those that spend lengthy hrs in front of computer systems as well as on the phone.
Basically, a Bluetooth cordless headset guarantees that you are loosened up thereby assisting in enhancing your work performance. By enabling you to carry on with your job undisturbed, a Bluetooth cordless headset additionally brings about an effective work atmosphere and more productivity in the office that is why choosing the best Bluetooth headset is very important. There are also wireless headsets with the best quality that gives decent range and sound quality similar to Bluetooth cordless headsets that you can use as alternatives.
Here are our 10 Best Bluetooth Wireless Headsets for the Office VoIP computer phone:
Jabra Evolve2 75 UC Stereo Bluetooth Wireless Headset USB-A w Stand
The Jabra Evolve2 75 is the latest addition to the Jabra Evolve2 Headset lineup.  Designed for the busy VoIP call center.  It's equipped with Class 1 (100ft range) and the new adjustable Jabra Advanced Active Noise Cancelation in the speakers to drown up unwanted background office noise and regulate it depending location. The new microphone boom that has 2 modes, in Discreet mode it hides in the headset and still allows to use the headset as a boom less mic, while in Performance mode with the boom arm out gives the best crystal clear calls and on both modes the Evolve2 75 meets the Microsoft Open Office requirements.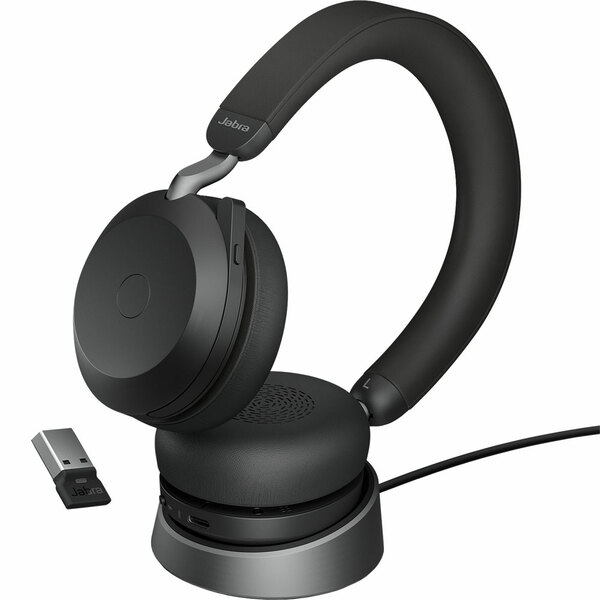 Jabra Evolve2 75 allow connect to 2 Bluetooth devices at once, simply press the call button to switch between the Bluetooth devices.
Key Features:
36 hours of talk time once fully charged
Adjustable Active Noise Suppression technology in the speakers to block out noise
Jabra link 380 Bluetooth USB adapter included for the PC
Compatible with Bluetooth-enabled smart phones
Mic boom can be hidden in the ear cup and still make calls and be used as a boom less headset
Charging stand included
Go HERE to order and for more detail information on the Jabra Evolve2 75
Jabra Evolve2 85UC Stereo USB-A Headset w/Stand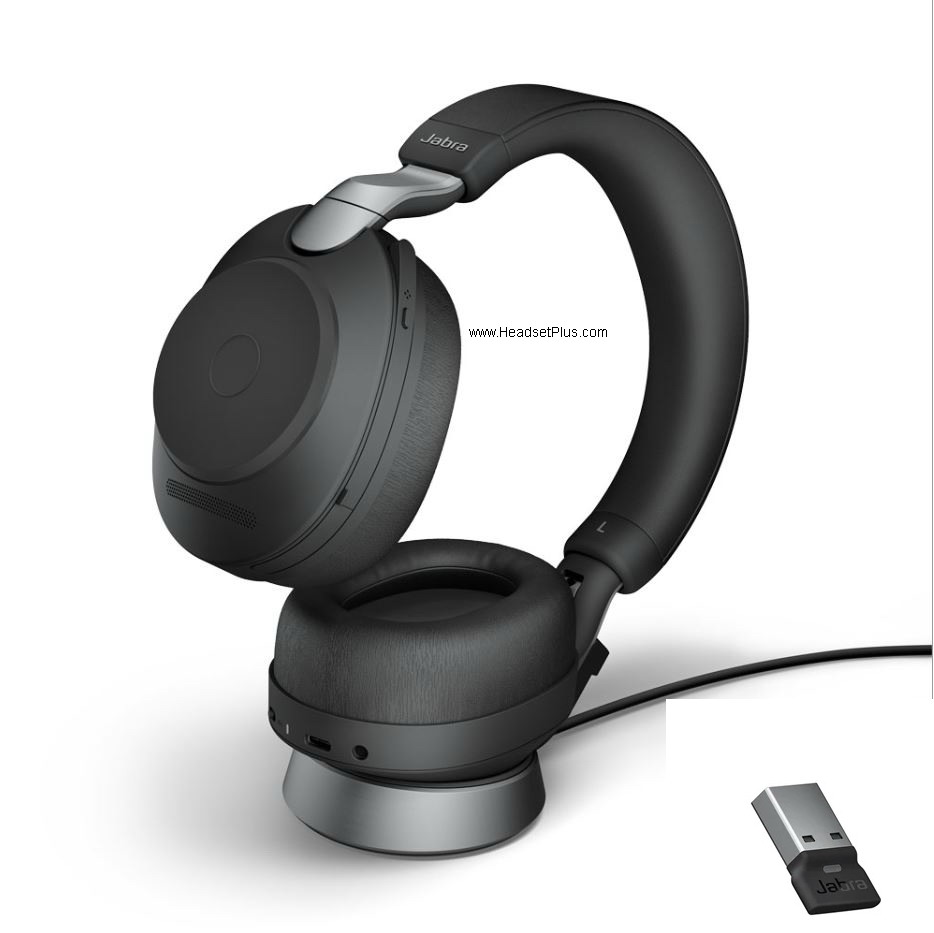 One of the best headsets for Unified Communications , with a discrete design, the Jabra Evolve2 85 cover the complete ear and it has Active Noise Canceling, which allows the headset to block most of the noises in the environment. The microphone boom arm can be stored away and the headset can be used as a boom less mic headset or with the arm out in order to get the best performance in the microphone. Up to 37 hours of battery time when fully charged. The Evolve2 85 can be used as a corded headset thanks to the 3.5mm cable included.
The headset's Busy light sign additionally makes sure that you avoid disruptions. Comes with a 2 year manufacturer warranty and a foldable design, making it easy to transport everywhere.
Key Features:
Wireless Technology: Built in Bluetooth
Talk Range: Up to 100 ft from the computer
Bluetooth version: 5.0
Talk Time: Up to 30 hours
Operating System: Mac/Windows
Jabra EVOLVE2 Buds USB-A Bluetooth Earset UC Cert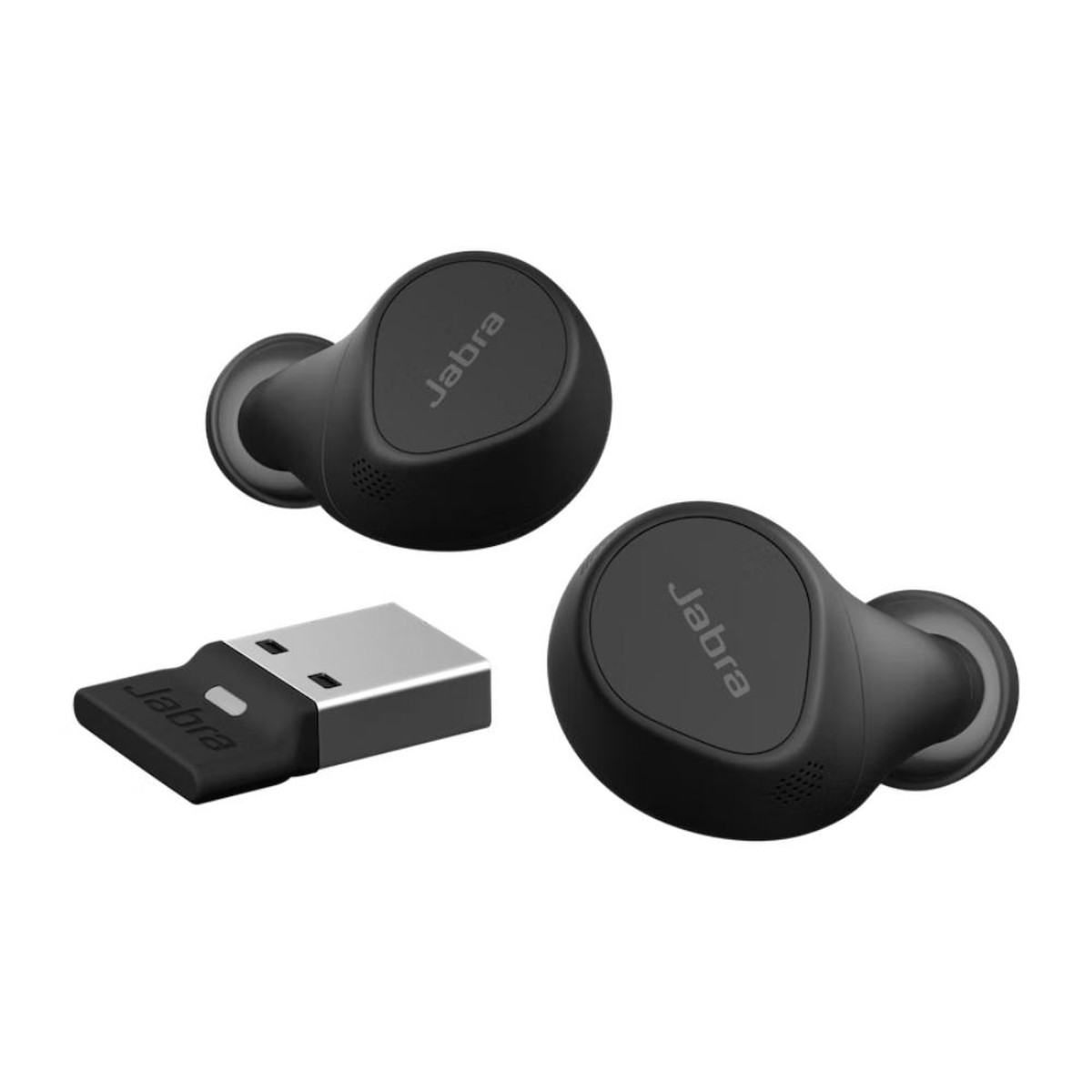 Jabra has introduced its new Evolve2 Buds, being a huge improvement over the old Evolve 65t. The Evolve2 Buds now offer a more comfortable design over the outgoing, something that is welcome specially for people who wears the earbuds all day long. The new EVOLVE2 Buds now have Active Noise Canceling, which is an improvement as some road workers need that feature as the environment can become noisy and challenging while on a call. The new redesigned case allows the user to have both earbuds, plus the Link 380 all inside it, making a huge improvement as the majority of the time, people can misplace the Link 380, and another improvement is that the case is Qi compatible so wireless charging is always welcome. A nice feature fund now is that the user can choose if want to use either earbud in a call or both, that's appreciated as the previous generation the only earbud that would control calls was the right one.
The Poly Voyager 4310 headset is a great new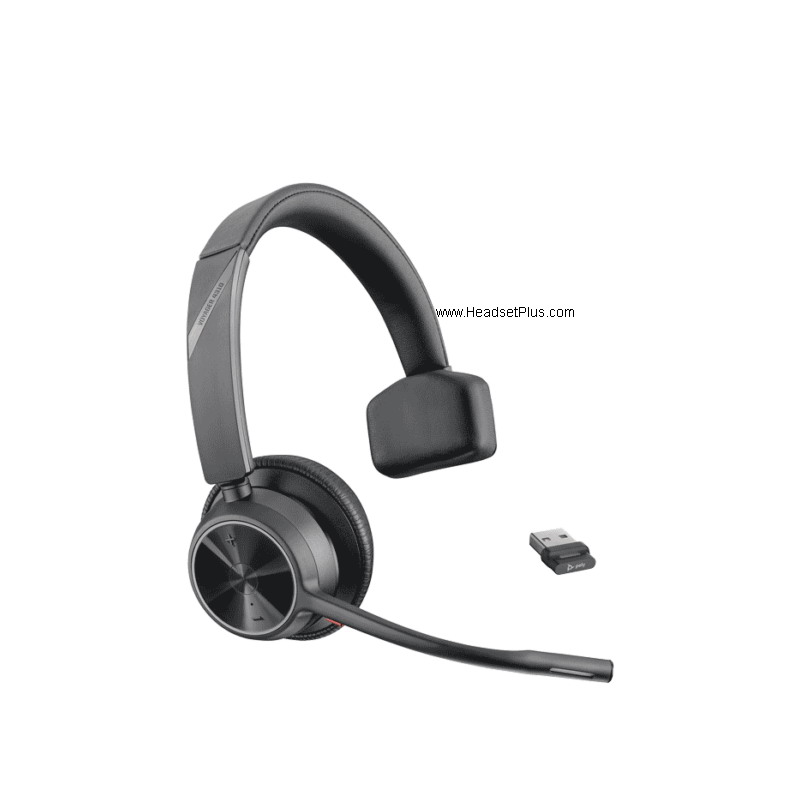 Bluetooth headset. And the new entry level for a wireless headset, fully compatible with mayor UC platforms. You can connect it to 2 devices, 1 computer and 1 Bluetooth devices. You get around 160 ft wireless range via Bluetooth dongle, and around 30 ft wireless range with a cell phone. It has great sound and great noise canceling microphone with Acoustic Fence Technology . This is one of the newest wireless headsets on the market certified for Skype for Business.   Click here to buy now.
Key Features:
Simple USB connectivity to your PC/Apple or Bluetooth to a cell phone.
24 Hours battery life, 50 days of standby time
160 ft wireless range via dongle
Call controls
Bluetooth v5.2 version
2 year warranty
Jabra Evolve2 65 UC Stereo Bluetooth Wireless USB-A Headset
One of the latest additions from Jabra, the second generation of the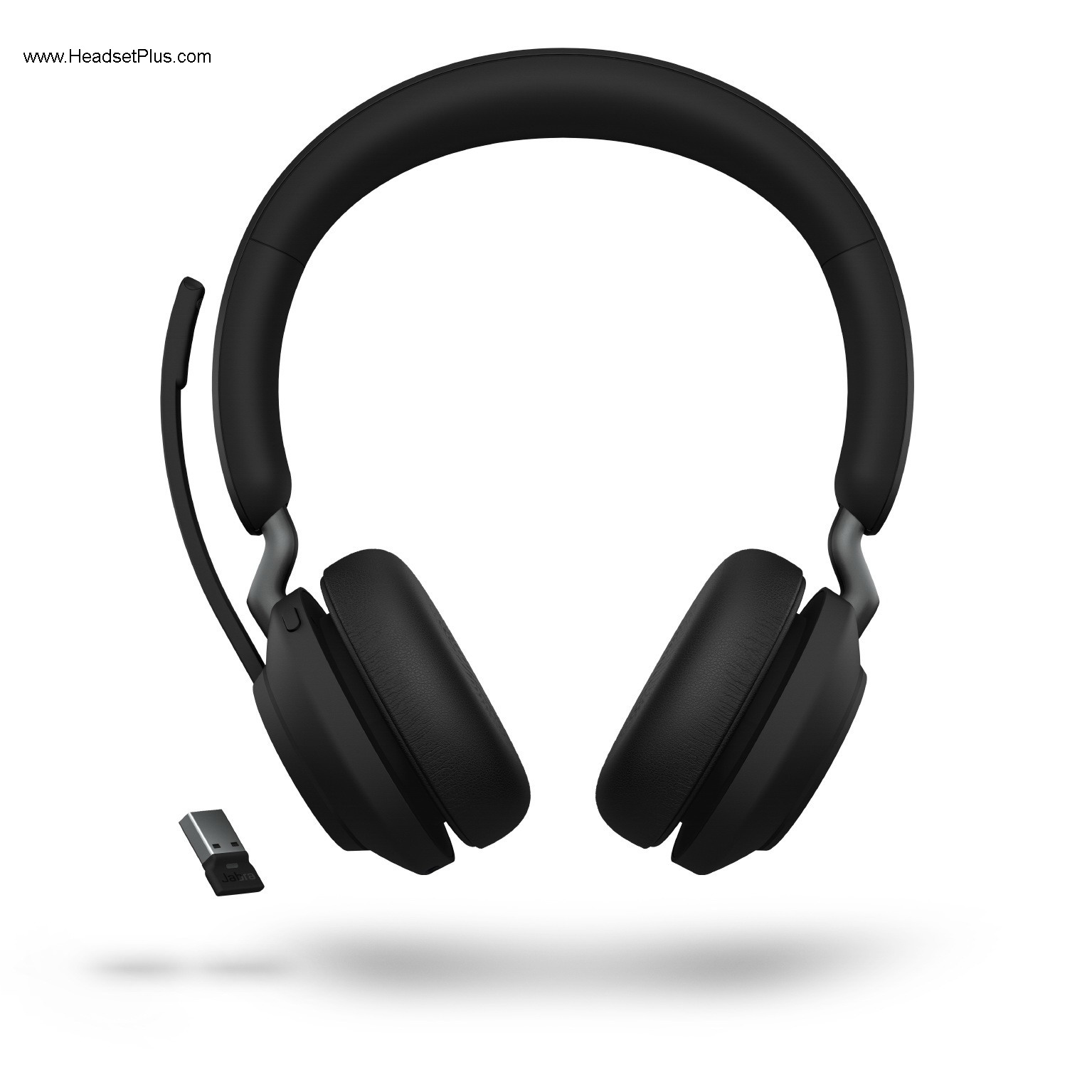 Evolve 65 headset now comes with an improved battery talk time of up to 37 hours, being one of the best ones in the market for people looking the best while using their headset. The improved buys light now its in a better place and more noticeable, so now allows you to let people now easier when in a call or use. Memory foam cushions welcome your ears allowing you to easily find a comfortable spot in a snap. One of the best features from Jabra is the muting of the microphone when in a call by simply bringing the microphone boom up, making it a nice feature without complications.
Key Features:
Dual Connectivity – connect to 2 Bluetooth devices simultaneously.
37 hours of battery time (talk time)

Noise canceling microphone – Eliminated background noise

100ft of Bluetooth range

Motion sensors detect when headset is worn

40mm speakers with isolating foam to block out noise
Jabra Evolve2 65 MS Stereo Bluetooth Wireless USB-A Headset
Jabra offers the new Evolve2 65 MS that is is designed to work seamless with Microsoft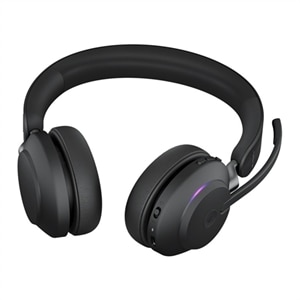 Team, formerly know as Skype for Business. The large 40 mm soft leather ear cushions have awesome passive noise isolating speakers. The Evolve2 65 MS can alert you as soon as you get a call using Microsoft Teams with its dedicated color blinking or even if you got a missing call, the MS Team light will alert you of that matter. As the UC version, offering the same 37 hour talk time and the motion sensors that detect when the headset is worn. Including, new for this model, the Microphone muting by simply lifting the microphone boom while in a call.
Plantronics Voyager Focus UC Bluetooth Wireless, No Stand B825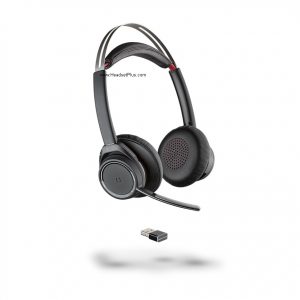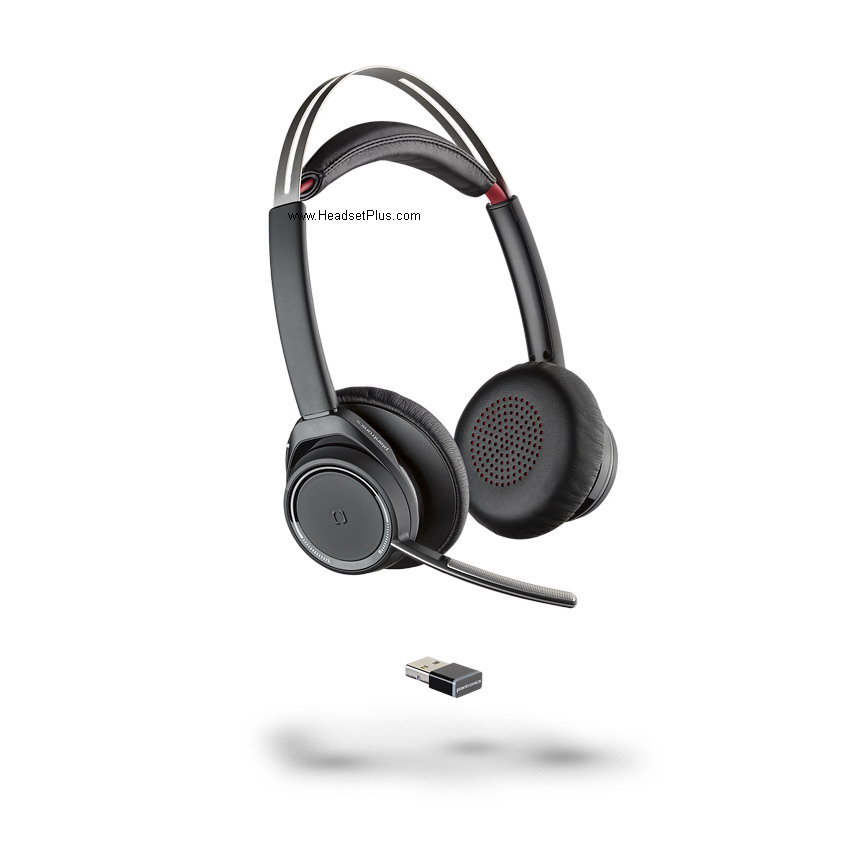 The Plantronics Voyager Focus is famous because it has Active Noise Canceling (ANC) built into the speakers.  So it can block out most if not all of the unwanted background noise in your office.  If you work in a loud office environment, this is the headset solution for you.  In addition, it's a great stereo headphone for music out of the office.  Excellent HD hi-fi sound for any music.  You can also choose from our top picks of the best Plantronics office headsets as an alternative.
Key Features:
Plantronics Active noise cancelling technology
Compatible with most VoIP softphones from Avaya, Cisco, IBM, Skype and more
Battery time: Up to 12 hours talk time; 15 hours of music streaming
Class 1 Bluetooth USB dongle with adaptive power (up to 150ft range)
Smart sensors know when the headset is on or off
Smart microphone boom
Hi-fi stereo sound
Open microphone button allows you to hear your surroundings if needed.
Leatherette ear cushions
Folding ear cushions and included carrying case for travel
No desktop charging stand, charging cable only
EPOS Sennheiser Adapt 660 UC Bluetooth Headset USB-A, MS Teams
The latest addition from Sennheiser (now EPOS) comes in the shape of the EPOS Adapt 660 UC Wireless Bluetooth Headset. This is a boom less microphone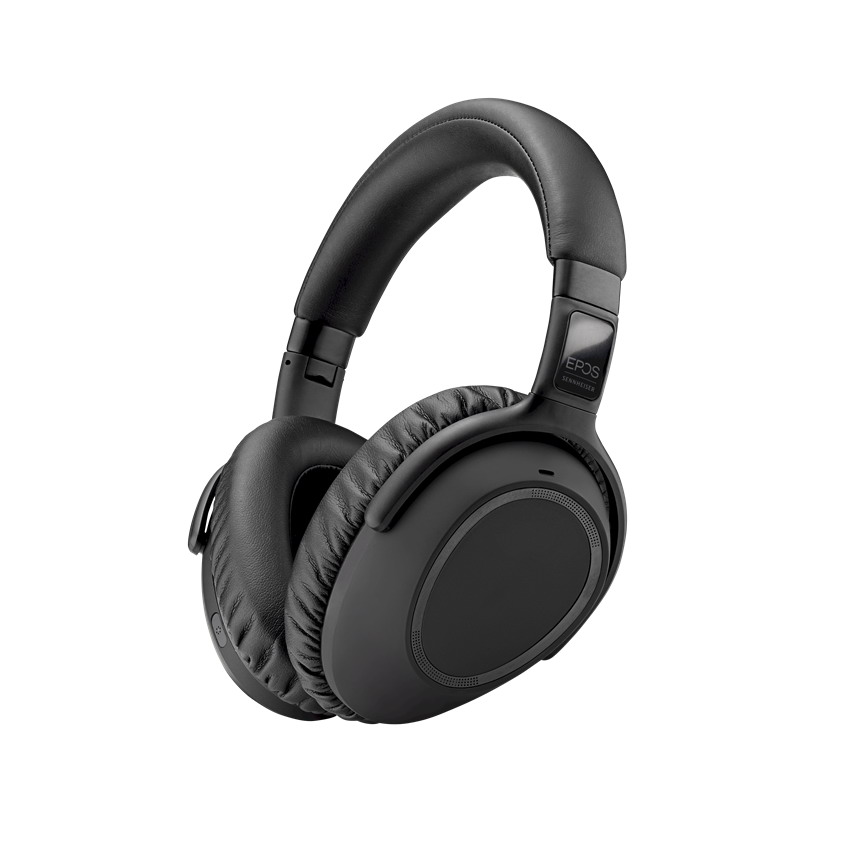 headset with 3 digital noise canceling microphones, having Active Noise Canceling with EPOS' new NoiseGard technology, that constantly monitors the background noise and modulates the ANC from the ear cups , depending on the noise level. Microsoft Teams certified and with a fordable design, making easy to transport in its included hard case. Giving you a battery time of 30 hours when fully charged.  It also comes with a 3.5mm smart phone (i.e. iPhone) cord.
Key Features:
3 digital noise canceling microphones (boom less)
30 hour battery time, 15 days on stand by
Talk Through technology – listen to co-worker without taking off the headset
Microsoft Teams Certified
Full 2-year warranty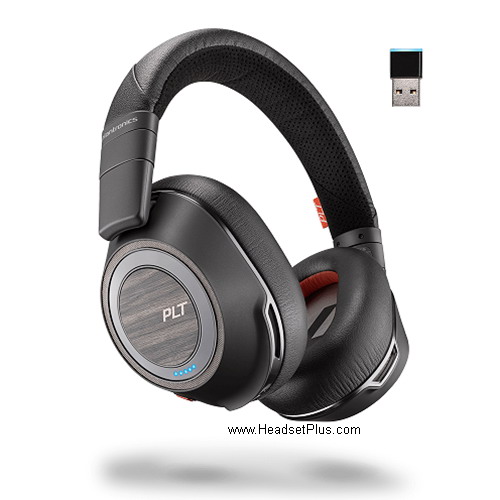 The Voyager 8200 is a beast of a headset. It is a great headset for noisy environments. It has a noise canceling boomless mic design so you won't have a boom microphone in your face constantly. It is a little larger than most of the wireless headsets (10oz), but that's due to the excellent active noise canceling earphones. This crazy headset has 24 hours of making calls or listening to music. Yes, 24 hours. Connect this to your computer or any Bluetooth device and get ready to rock. Click here to buy now
Multi use – connect up to computer and cell phone at the same time
Dual-Mode active noise canceling technology
24 Hrs talk time
100 ft wireless range
Open Mic button will allow you to hear your surroundings with the press of a button.
Busy Light indicator let people know you're on the phone
Bluetooth version 4.1
Poly Voyager Focus 2 UC USB-A Bluetooth Stereo w/Charging Stand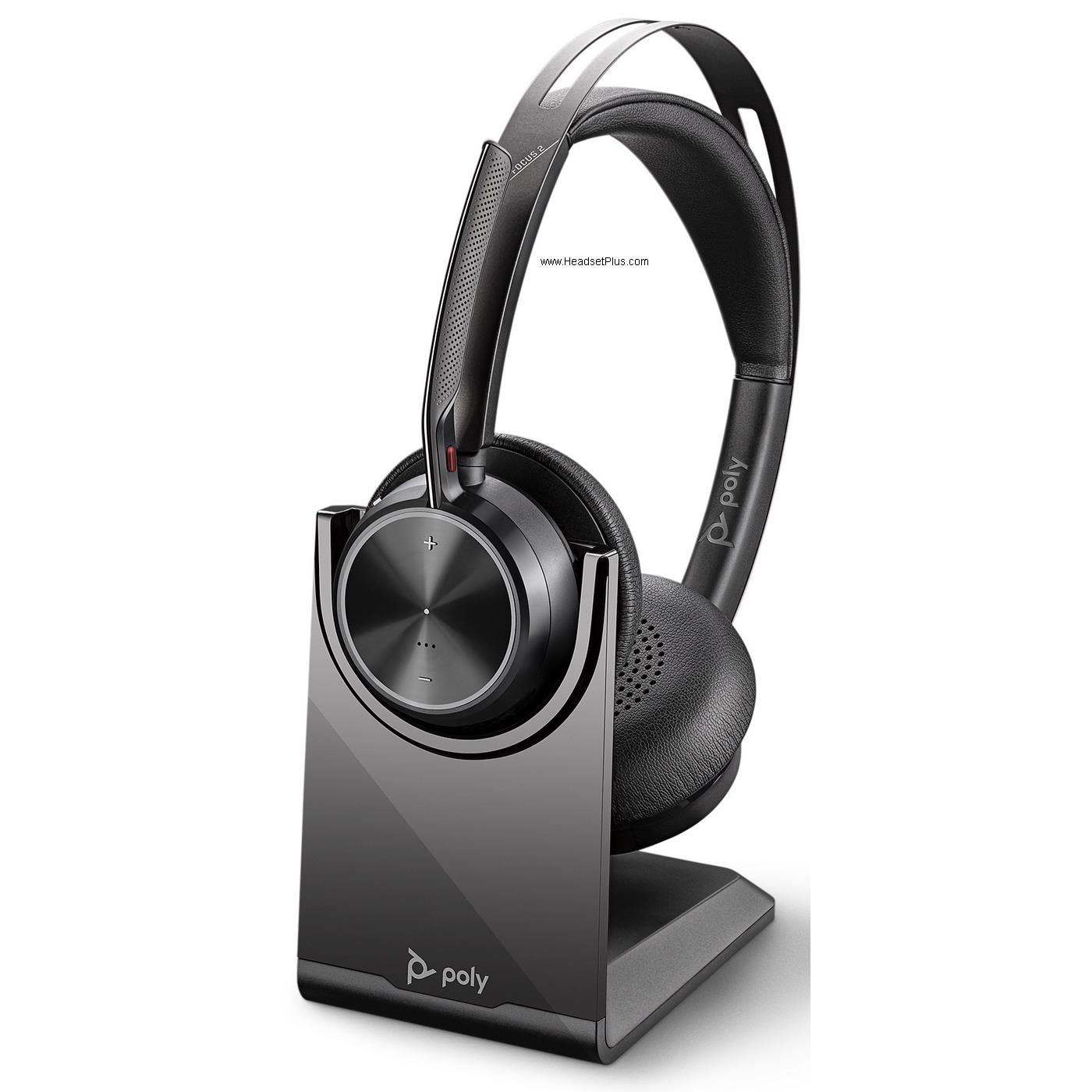 Poly, formerly known as Plantronics offers the second generation of Voyager Focus. With the new for model Advanced Digital Hybrid Noise Canceling with 3 levels of graduation, allowing the user to adjust it at will depending on location. New Noise Canceling microphone with Acoustic Fence technology helping in having a more crystal clear sound into the microphone. Muting feature that allows you to mute it by rotating the microphone boom up and down. Smart sensors allows you to answer a call by putting on the headset and mute or pause music by taking it off.
Key Features:
Advanced Digital Hybrid Active Noise Canceling (ANC)
Compatible with most VoIP softphones from Avaya, Cisco, IBM, Skype and more
Battery time: Up to 19 hours talk time
Class 1 Bluetooth USB BT 700 dongle with a range of up to 160 feet
Smart sensors knows when the headset is on or off; user can be easily answered by simply putting on the headset; pause music for incoming calls, or mute a call by taking the headset off
Microphone boom arm that can be worn on either side and maintain location of R/L stereo
Online busy indicator on ear pad lets others know when you are on a call
Include charging stand
Travel case included
Poly Voyager Foucs 2 Features:
Active Noise Canceling Explained:
Poly's new Acoustic Fence Technology explained:
Final note:  All these Bluetooth USB headsets can be also used on a regular desk phone (such as Cisco, Avaya, Polycom, NEC, etc).  Just add the Plantronics MDA220 USB switch.  For any questions. give the headset experts a call at 877-999-3838.