Plantronics CS540 keeps you on the Move
Plantronics has been a world leader in headset design and technology for more than 40 years. Research and development has given Plantronics the leading edge. Their products keep you on the move at home, in the office and on the road with a headset that suits your every need. So, why think Plantronics when you need a headset?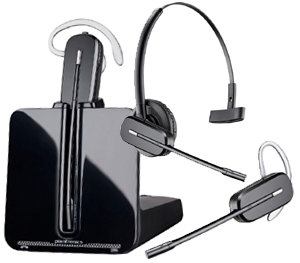 We all know it is impossible to be physically in two places at once, but try the Plantronics CS540 wireless headset and you may just find you can. Brian knows what this is like. He works as a project manager in a financial services office. He spends more than half his working life on the phone, so he is always looking for ways to lighten his load. And the CS540 does that and Brian gets more done in less time.
While Brian is on the phone a lot he spends a lot of time away from is desk – going from meeting to meeting; sorting out reports and acting as his own assistant. The CS540 headset set Brian free. Freedom from his desk. The Plantronics CS5 gives him the freedom to move around the office and still take calls from customers at the press of a button.
Eliminate Neck Pain
Not only has the Plantronics CS540 headset set Brian free, he has noticed he has less neck pain at the end of the day. Brian has always used the telephone handset to answer the phone. "When I am busy I tend to shove the phone between my ear and my shoulder to leave my hands free. By the end of the day there was always muscle pain through my neck and across my shoulders."
Brian says he no longer has that muscular tension and leaves his headset on for most of the day. With the CS540, Brian does not have to worry about leaving his desk and missing an important call.
Why your Staff needs the Freedom to Move
Brian says the first time his colleagues saw him with the CS540 headset on they all stopped and asked him about it. "Now they see how convenient the CS540 makes my job everyone else wants one too. Even my boss is impressed at how it has improved my productivity and I am far more accessible to my customers. No longer do my customers have to leave voice mail for me to call them back."
Other features Brian likes about the Plantronics CS540 is the noise-canceling technology in the microphone so his clients cannot hear what else is going on in the office, wherever he is. "It is comfortable to wear all day. You can choose from different headband and ear loop sizes so it was easy to find a comfortable fit. I can rely on my Plantronics headset to give me superior communication all the time. No matter where I am at work I can be confident my clients cannot hear my colleagues talking in the background,"
What is even more convenient is Brian looks after the computers for the office. Sometimes he needs talking through the procedures if he comes across any problems. Wearing the CS540 headset leaves his hands free to work, listen and talk at the same time. "This is something that was almost impossible to juggle in the past. I can't believe how much easier life around the office is with the CS540."
Would you give up the Freedom of Wireless?
Wireless technology has set Brian free and there is no chance he is going back to the old ways of balancing a phone handset while try to find information to help his caller. "I remember those old days and they seem light years away. I could never go back. My Plantronics CS540 is truly the best tool I have to help me work well.'
The Plantronics CS540 headset can set you and your staff free too – free to service your customers and get the job done more efficiently to everyone's satisfaction.
Check out the other  wireless headset from Plantronics at HeadsetPlus.com