Your business is running well. Clients are coming back and you have good service backup strategies. You have a good team working for you and now is the time to consider investing in headsets to make their working lives easier. Everything is going well; your business is moving forward so make sure you don't buy the wrong headsets as this can be a costly mistake.
Not all headsets are the same – they vary in sound quality and performance, range and simplicity. Also, make sure you buy from a reputable manufacturer with a reputation for superior customer support.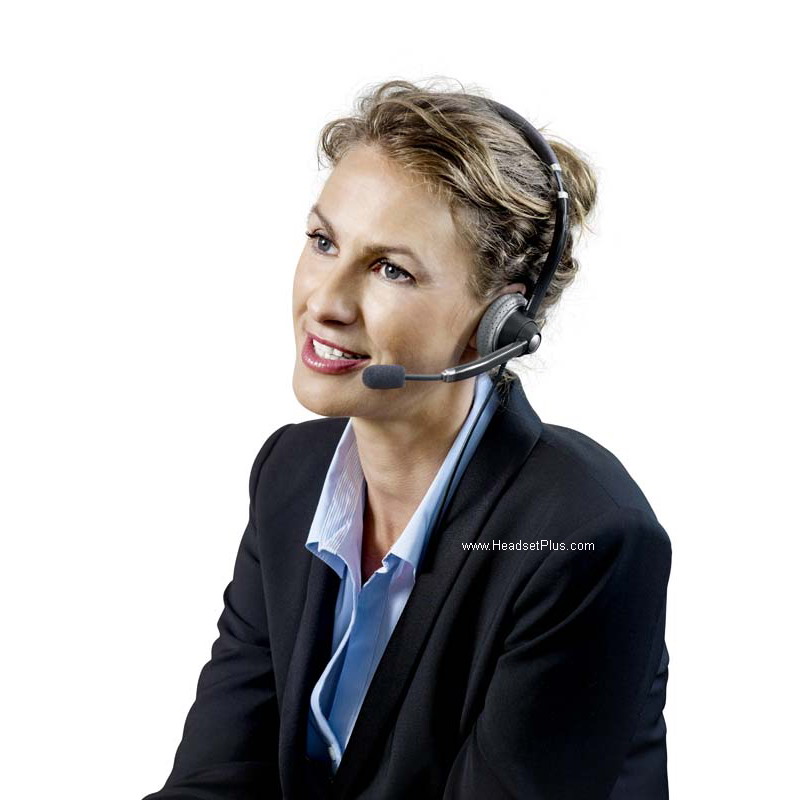 The difference between headsets can make a difference to your employee's performance and comfort as well as increasing overall daily productivity. Jabra is just the solution for you – it outperforms its competitors in every area.
Jabra believes in giving its users the very best quality in every single detail to get the best out of every minute you work. This attitude has given Jabra a reputation for headsets that do not compromise on quality or performance.
Does Comfort Matter?
Try using a headset that does not fit properly and you will soon find out if comfort matters. Uncomfortable headsets will cost you as your staff will fiddle and continually try to adjust them to make them more comfortable. Then comes the flow on effect – the more often your staff fiddles with their headsets the more often they break. Are you starting to see how comfort does matter? Then there is the lost productivity, call losses or long waiting times for your customers. Replacement costs for equipment.
So what makes a headset comfortable? Obviously it is different for each person. The first thing is you want is a lightweight headset. The Jabra GN 2110 SoundTube headset weighs mere 1.73 ounces, and this includes the weight of the cord. This is around 14% lighter than its competitors. Jabra is known for designing comfort into all its models including noise-canceling microphones and voice tubes. Jabra makes such a huge range so there will be a style to keep every staff member comfortable.
There are styles that fit with ear loops, over the head headbands, ear hooks and neckbands. Yes, Jabra has thought of comfort for every individual's needs.
Jabra headsets are environmentally friendly to your health as well. Nickel and latex are not used in Jabra's products to reduce the incidence of allergic reactions to these components.
Customize How your Headset Fits
Jabra's headsets have inbuilt features, such as snap lock headbands which make them easy to adjust to get that perfect fit. The SureFit flexible ear hooks mould into the shape of your ear. Some Jabra models have extra comfort with ear cushion styles using leatherette and soft foam.
For all the choice of styles and models you can want, Jabra just has it all. All headsets are different. It is just a matter of finding what suits you and your staff the best. And you do want the best. You want your staff to give your customers the very best customer service but how can they do that if they cannot hear them properly. How frustrating for your staff, and your customers. Poor quality headsets can let your business down – affect you profits, productivity levels, and the morale of your staff and customers.
Avoid Misconceptions with Inferior Headsets
If you invest in headsets with poor audio quality, you are asking for trouble. They will cost you more than they will make you. If your operators have trouble hearing, they can make costly errors when straining to hear the customer. This can be a highly stressful situation for your customers and staff members.
How much does it cost you when an operator gets shipping details wrong? Time, labor costs, more shipping costs, an upset customer, maybe you will lose the customer altogether – you can hardly afford that.
Asking for continual repeats leaves your operators tied up for longer with each customer leaving other customers waiting.
Superior Sound is good Business
You can use Jabra's products with confidence when communicating with your customers. Jabra headsets deliver natural, clear voice audio to your operators and to your customers. The payback is shorter and shorter calls in a less stressful environment and happier customers. And buying Jabra does not mean paying more.
Are you Sending Customers the Wrong Message?
Jabra uses the latest technology to enhance the superiority of their headsets. The technology includes digital signal processing (DSP) amplifying technology that digitally enhances the incoming signals. DSP technology gives superior two-way sound, eliminates background noise, protects against acoustic shocks and is user adjustable. It also has a microphone that cancels out background noise to add to Jabra's superior sound quality. Your operator's can get it right every time, the first time.
Good Headset Choice for Equipment Compatibility
By choosing a Jabra headset solution, you eliminate any concerns about their compatibility with your equipment. Jabra has a range of headsets that work with many business phones. Jabra's Direct Connect headsets works with all telephones set up with direct connect ports. If you want to use a Plantronics amplifier then all you need is a simple cord to upgrade the connection and it becomes compatible with your Jabra headset. Using Jabra makes sure you never have to worry about what equipment it will work with.
Jabra Connects you to the Future
As Voice over Internet Protocol (VoIP) becomes more widely used, Jabra headsets are already compatible. Jabra products work with IP desk sets and soft phones. Use a USB port to connect your headset into your computer with a GN8110xp USB or 8120 USB adapter. You can even connect a Jabra headset to the sound card in your computer using a GN8050 TCA adapter to give you plug and play quality sound through your phone and computer.
Jabra has such a wide range of headset models that work with HI-Fi and wideband equipment; and some are already wired to connect directly into a USB port. Buy Jabra with confidence – they keep your future in mind with theirs.
Protect your Hearing
As our use of electronic devices rises rapidly, so does the question of how all these sound waves affect our health. While research has not shown up any links between new technology and our health, it is always wise to take steps to protect yourself. Exposure to loud sounds over prolonged periods of time will damage your hearing. Once it is damaged you are stuck with it. Using a good quality headset can help you avoid hearing loss.
Superior Sound for Superior Protection
Jabra headsets comply with the maximum sound pressure levels (SPLs) set out in standards by the Underwriters Laboratories. The recommended maximum standard is 118 dB and all Jabra headsets come in below UL Standard 60950. Jabra's units use PeakStop™ technology which is an intuitive noise control system that intercepts loud noises quickly. It protects you against recurrences longer than its competitors. Their headsets are designed to remove any sound spikes that may be harmful before they reach the headset speaker. This is another good reason to have confidence in Jabra products.
Is Durability Important to You?
When buying a headset durability is just as important as good sound quality and reliability. Jabra has it all. Remember, a good quality durable headset will save you on replacement costs and down time on the job.
Jabra tests every one of their headsets as their focus is to make headsets that don't break. Jabra's standards are tough but the industry is tough on their headsets so they need to be made to last.
Their headsets are built to withstand at least 50,000 rotations, and the Duraflex-II is built to resist 6,000 bends at a single point. The quick disconnect port is built for 50,000 uses in the span of its lifetime. That may sound a lot but if you think about how often you use your headset?
Jabra headsets are smart too. They are designed to be a solution before the problem arises. The Jabra GN2115 and GN2225 binaural headsets are more convenient with their single wire connection and are less likely to tangle up than their double wired counterparts.
The Jabra GN 2110 SoundTube headset  has an innovative single-piece voice tube that can not wear out or beak. Most headsets have a two-piece plastic mouthpiece that tends to wear out quickly with high level use.
Jabra backs its Products all the Way
Jabra backs its products with a two year 'no fine print' warranty. Jabra knows its headsets will live well beyond 2 years. Not only this, the cords and connectors are included in the warranty as well.
You can be confident that buying Jabra is an investment in quality, advanced features and the security of what you buy is what you get. Jabra is the leading supplier of headsets for uncompromising professionals who put comfort and quality audio first.
Check out all the latestJabra Headsets on www.HeadsetPlus.com