As more and more people do the remote work and with the newest software technology such as the one by RingCentral, allowing companies to switch over their phone systems thru computers the end user requires a fully compatible handset or headset with the software as RingCentral software app. Today we will discuss and will suggest some headsets on corded and wireless setup that are fully compatible with the popular softphone RingCentral.
Most of the USB headsets corded or wireless would be by default as an audio device. Thanks to the integration of the headset and the hub from Plantronics, Jabra or Sennheiser enables the Remote Call Control (RCC), that translates in the capability of answering calls from the headset itself, allowing the user to walk around and not having to run back to desk phone if the soft phone rings or using the keyboard or mouse to answer it using RingCentral softphone.
Plantronics Blackwire C3215 USB-A, 3.5mm, MS Skype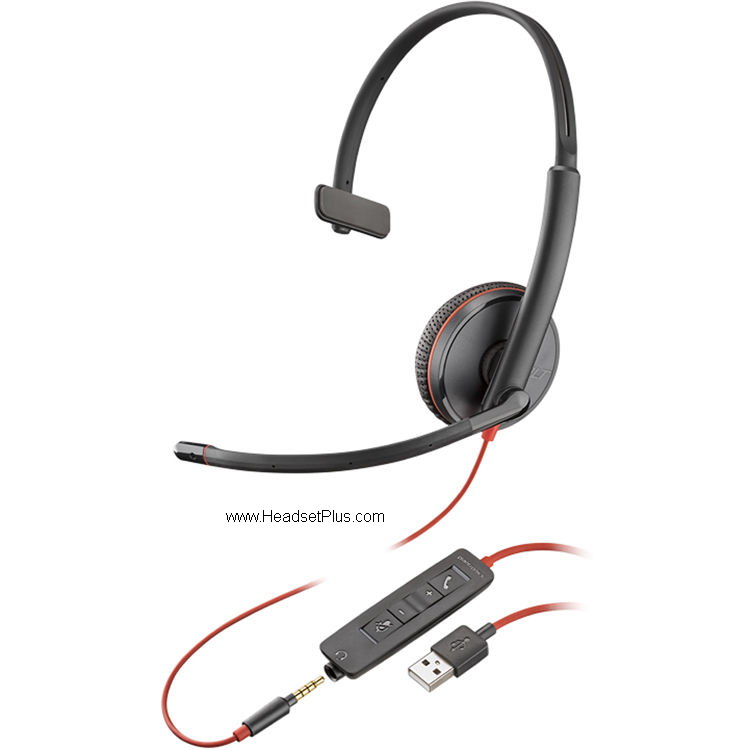 We start our list with the Plantronics C3215, this is a single ear corded USB headset, with volume controls that supports the Remote Call Control when using the headset and downloading the Plantronics Hub, the volume control allows to adjust the volume, mute the microphone, answer and end calls as put calls on hold, depending the soft phone. Noise canceling microphone certified for Skype for Business and supported with RingCentral. The headset can be used with any smart phone by the 3.5mm jack. Get yours HERE.
Poly 3325 Blackwire USB-A Stereo Headset w/3.5mm Jack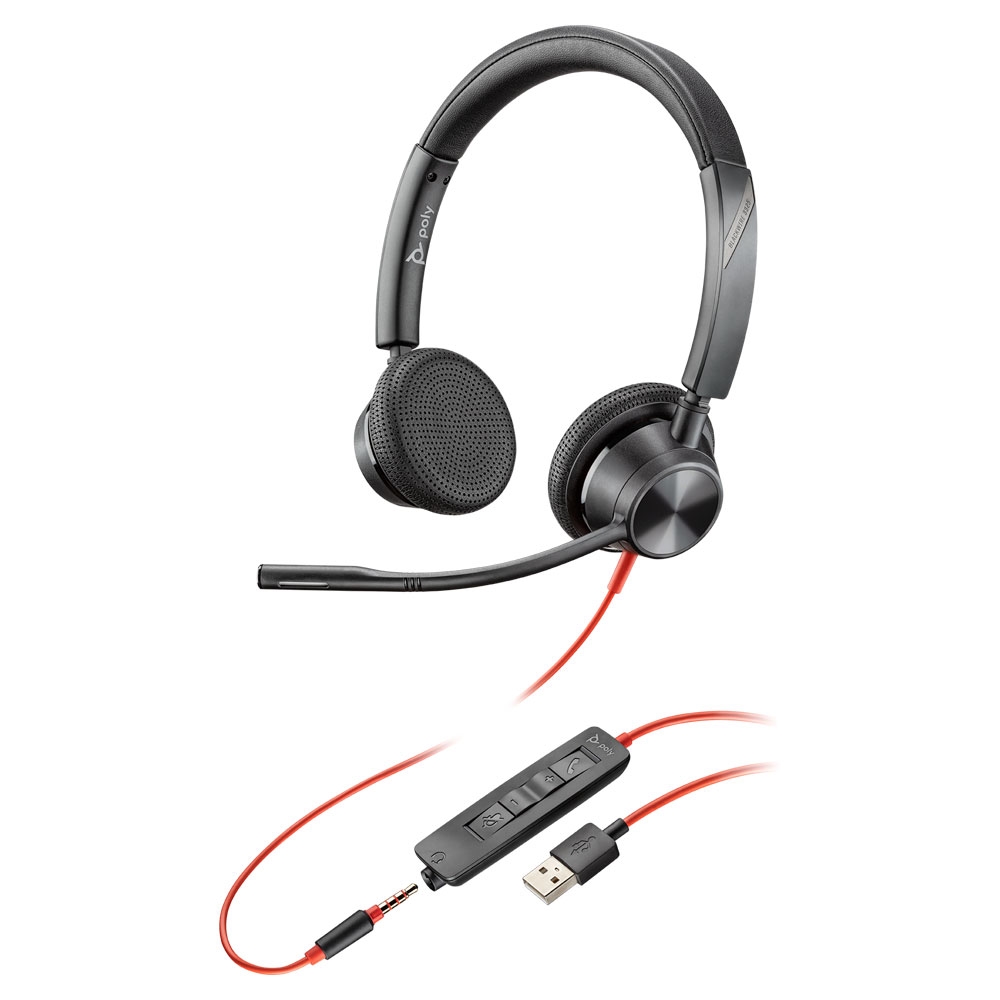 Next on our list for RingCentral we have the new Poly 3325, covering both ear in a rich stereo sound quality, with an easy to use interface in volume controls. Padded headband and pillow soft ear cushions with a fully adjustable 180 degree pivoting speakers and a flexible microphone boom. Fully compatible with Windows and Mac OS, coming with a 3.5mm jack allowing you to use it with your smart phone or tablet via the 3.5mm input, tone alerts for mute on/off and volume maximum/minimum. Order yours for your RingCentral HERE.
Jabra Evolve2 40UC Mono USB-A Wire Headset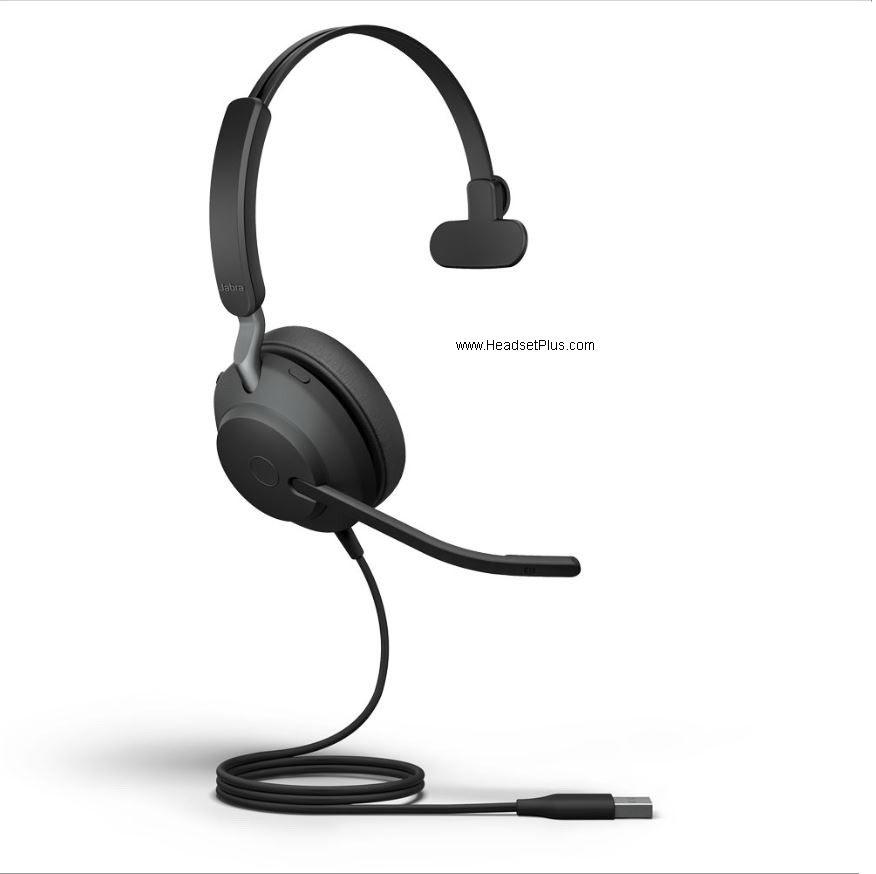 Jabra offers it well built Evolve2 headset which offers volume controls built in the headset with intuitive controls allowing you to answer/end a call, adjust the volume or mute the microphone. The Ear cushion is going to have memory foam which is a nice offer, specially if going to use the headset all day long. Built in Busy light that helps the user to let people know when in a call. The microphone boom has noise canceling microphone and has muting option by bringing the boom up or down, available on USB-A and USB-C. Order yours HERE.
Poly EncorePro EP525 USB-A, USB-C Stereo Headset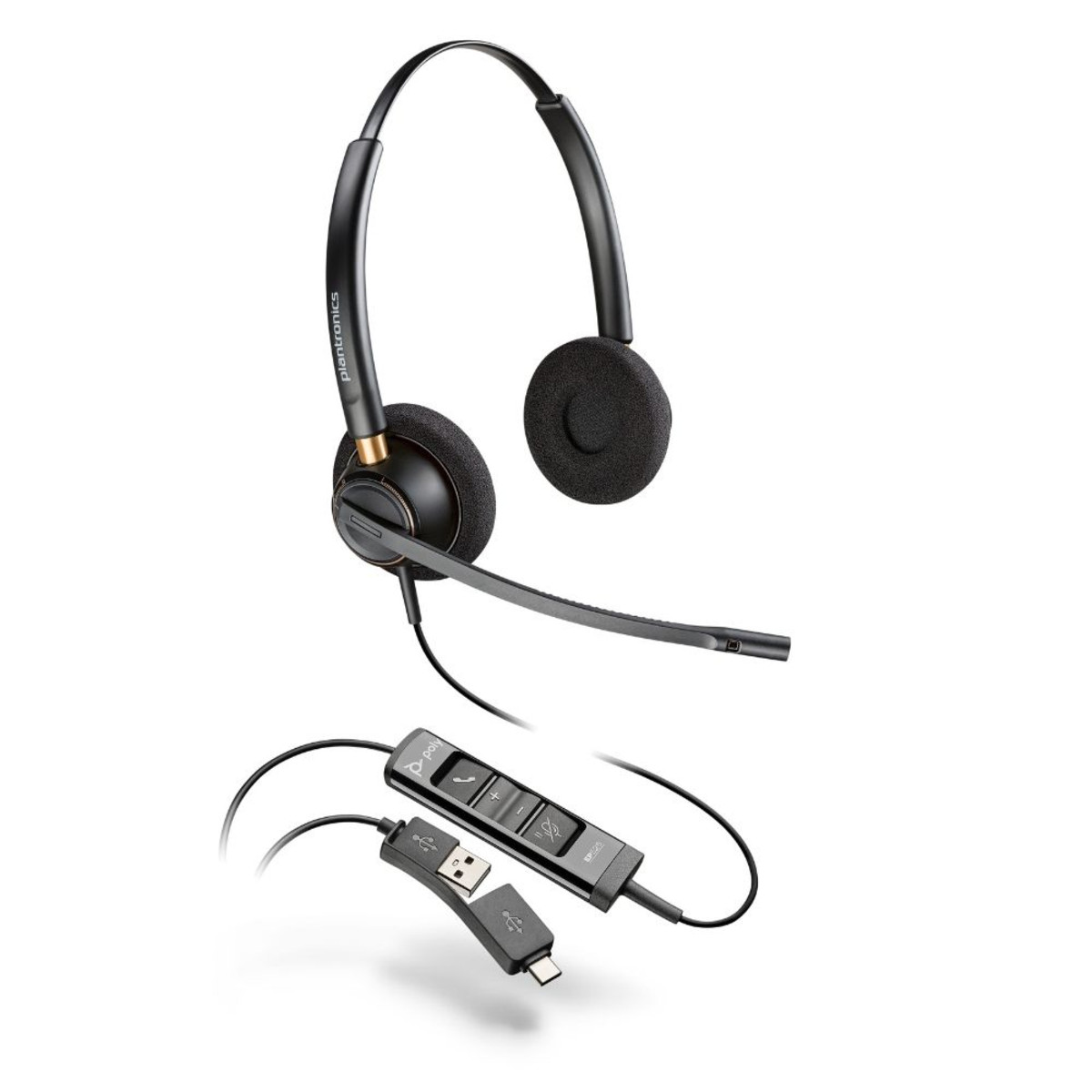 Poly offers the new 525, being a corded headset but with the interface that allows the end user to choose a USB-A or USB-C, which translate into being able to use it on any computer or laptop. Noise canceling microphone from the well known EncorePro family, call control with volume adjustment answer end call, mute microphone and put calls on hold. The EncorePro 525 is a Telecoil Hearing Aid compatible, a nice option for end users looking something compatible with their hearing aids.  Order yours HERE.
Jabra EVOLVE 75 UC Stereo Bluetooth USB Headset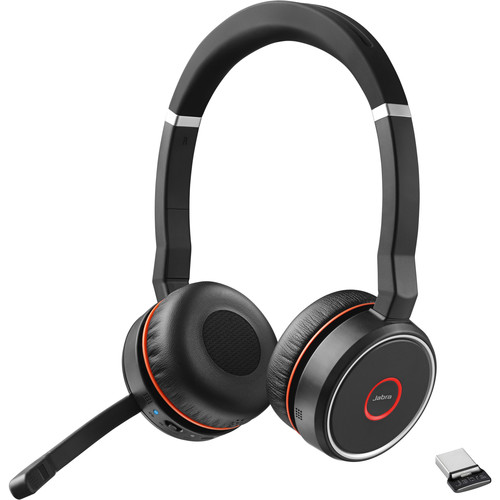 Jabra offers the Evolve 75 in a wireless Bluetooth headset, being a class 1 offers up to 100 feet of range to the Link 370 dongle included, with Active Noise Canceling that allows the user to turn it on if its a really loud environment so the headset blocks most the sounds around the user so can focus on his/her call. Volume controls in the headset and busy light on each side of the headset. Talk through feature that allows you to keep the headset on and hear the environment or even having a face to face conversation. Get yours HERE.
Poly Voyager 4310 UC Bluetooth Mono USB-A Headset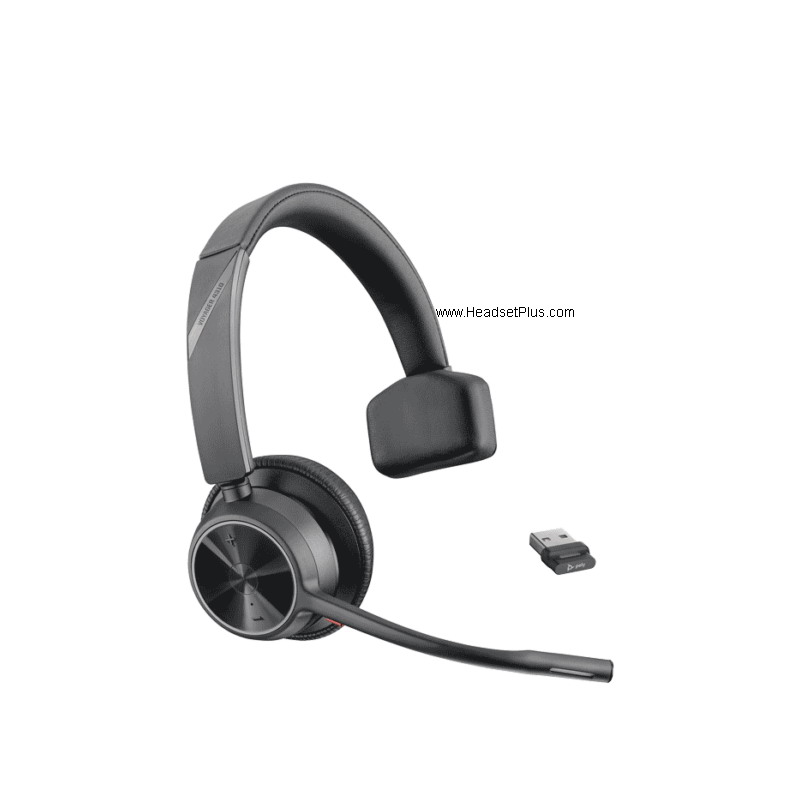 Poly comes with the new model 7310 UC, being a big improvement from the old 4200 series family. With a redesigned BT700 USB-A dongle, being a little more discrete than before so can let it plugged into the laptop and keep it there even if you have to close the laptop and put it in the carrier case. Range of up to 160 feet, acoustic fence technology on the microphone boom that balance the amount of noise coming into the microphone so the headset can focus on getting only the users sound. Talk time of up to 24 hours. Orders yours HERE.
Poly Voyager Focus 2 Office USB-A Bluetooth Stereo Headset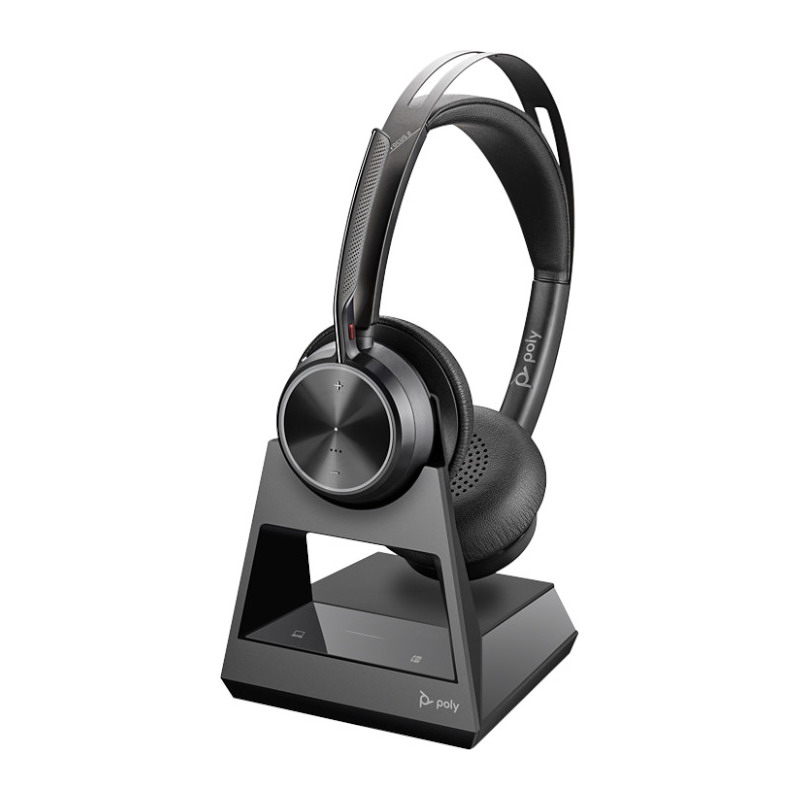 Poly offers the new Focus 2 Office, which is the newest headset from Poly that allows you to use with different devices such as a desk phone, computer and smart phone. Being a Class 1 Bluetooth headset with a range of up to 300 feet thanks to the Office base. New advanced digital hybrid Active Noise Canceling with 3 different levels, that allows you to select how much ANC can be used at will. Microphone boom arm that can be worn on either side with mute function that allows you to mute by bringing the boom up or down. Order yours HERE.