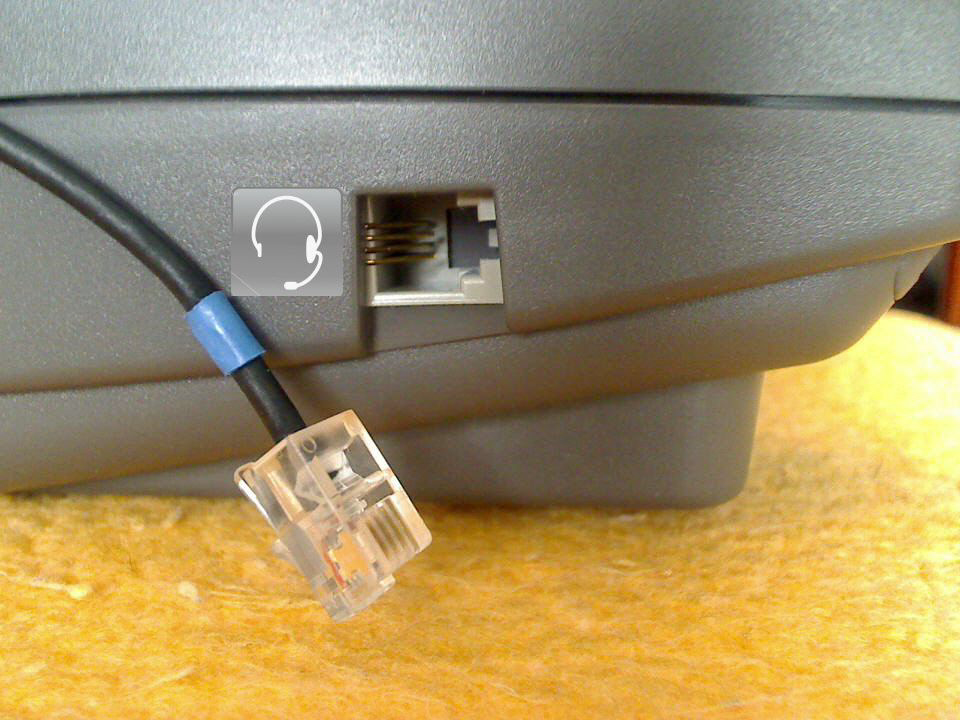 VoIP Phone Compatible Headsets
VoIP (Voice over Internet Protocol) phones are now more and more common in the office than the traditional analog (PTSN) phones.  Major phone manufacturers like Cisco, Avaya, Nortel are now selling more VoIP phones than all the previous models combined! What all these VoIP phones have in common is they are "intelligent" and have built-in "headset" ready jacks equipped with built-in amplifiers for the corded headsets as well as software for EHS (electronic hook-switch) remote answering capabilities for the wireless headsets.
What does that It means?  With these new VoIP phones, if you want to use a headset, you don't need to purchase an amplifier in conjunction with with a corded corded headset like the old days.  You can simply purchase a direct connect headset, already pre-packaged with a RJ-9 (RJ-22) jack that will plug directly into the "headset" jack of your VoIP phone.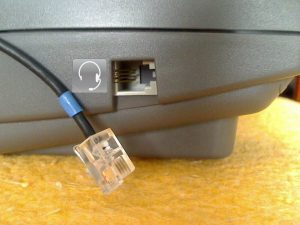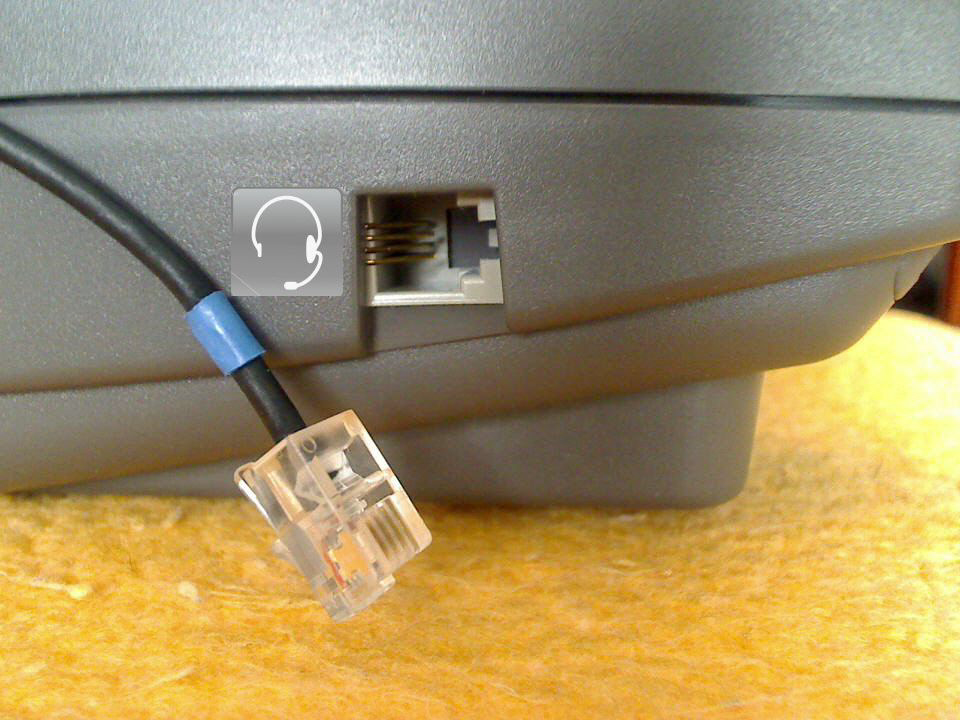 Plantronics HW540-POLY Compatible Headset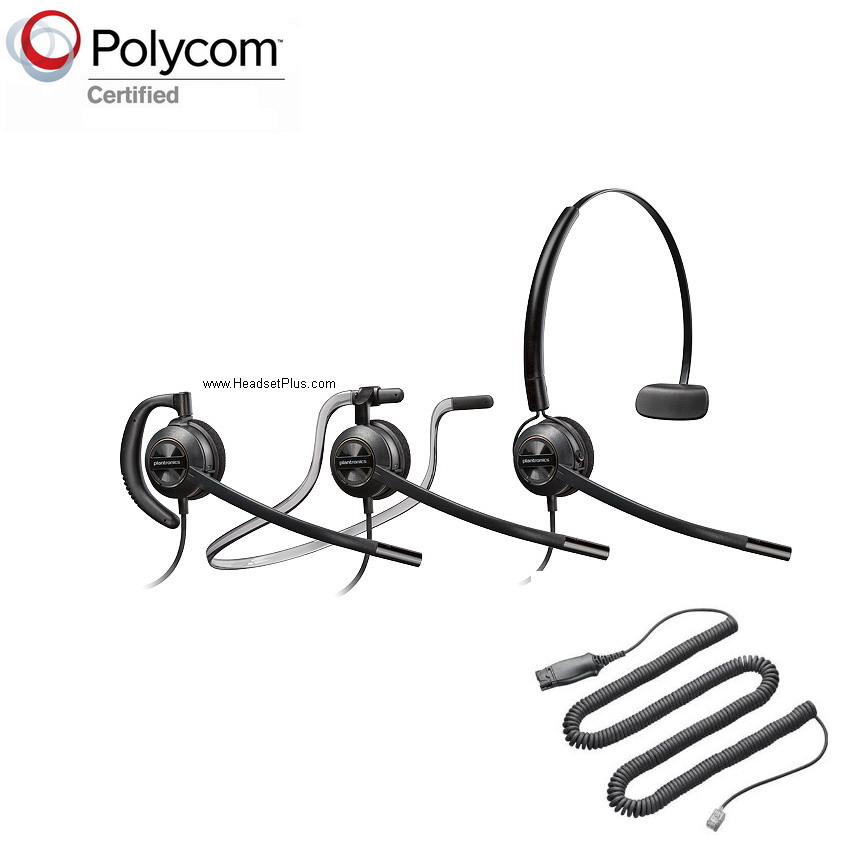 This corded solution from Plantronics is compatible with Polycom desk phones as the VVX and select Soundpoint desk phones, covering one ear in a convertible style, so the user can wear over the head, over the ear or behind the neck. Noise Canceling microphone in the boom arm and an easy to release Quick Disconnect QD. Order yours HERE.
Plantronics HW710-CIS Noise-canceling Cisco IP Phone.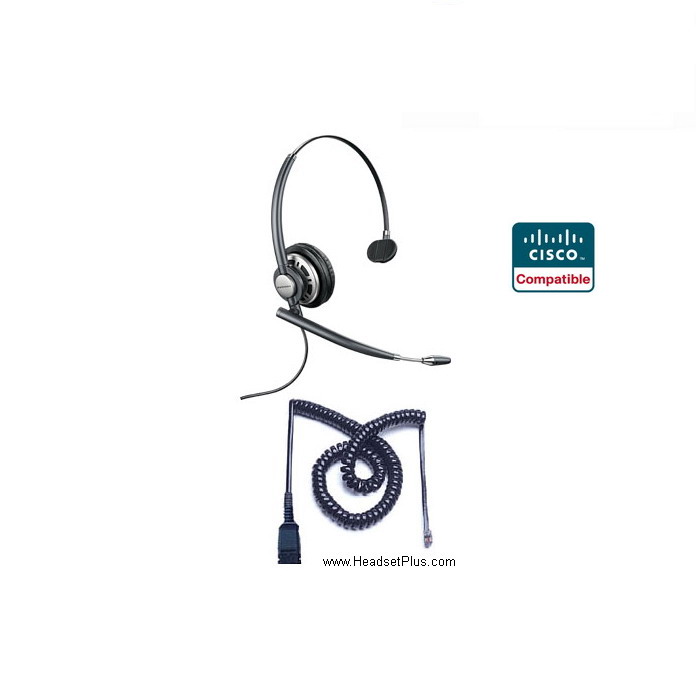 Designed to be compatible with your Cisco desk phone, the HW710 is a step up in corded headsets with leatherette ear cushion and a extendable microphone boom arm. Being this a more luxurious headset, the materials found in it speak by themselves. High-frequency wideband support support prevents repeat ensures and gives crystal clear conversations. Order yours HERE.
Jabra BIZ 2400 II Duo Ultra Noise Canceling Direct Connect Headset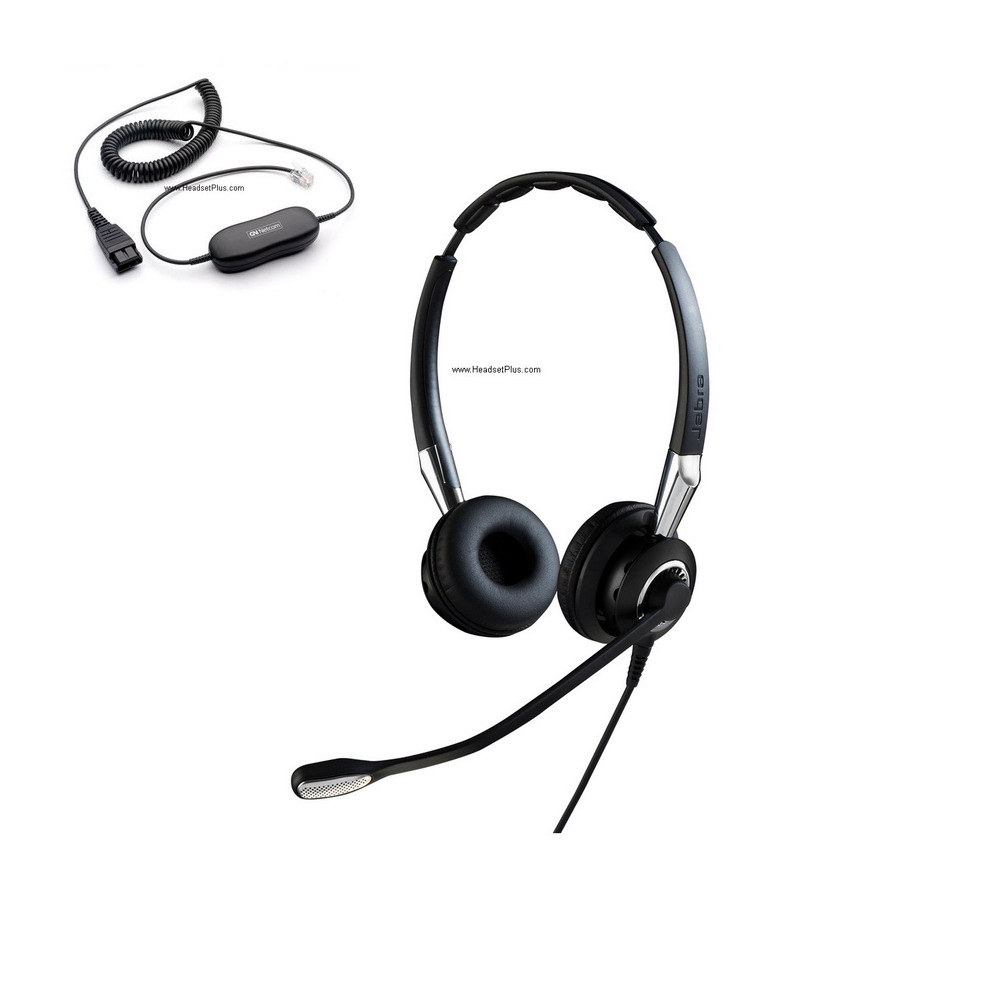 Jabra offers is Biz 2400 II as its top of the line corded headset, compatible with different desk phones as long as they have a headset port and a dedicated headset key commonly found on Yealink desk phones or Avaya to name some brands for example. The microphone boom arm offers a 360 degree rotation and comes with Jabra's own Ultra Noise Canceling Microphone, that is the best in class. Built in Kevlar reinforcement cables and on the headset, allowing the headset to last longer and makes it lighter to be worn all day. Get yours HERE.
If you want to use a wireless headset, Most of these VoIP phones have available EHS cables  you can purchase that allow you to roam the office wirelessly and answer phone remotely without the use of the old fashion "clunky" lifter like the Plantronics HL10 or Jabra GN1000 mechanical lifters we used to use before these VoIP phones came out.  The advantage is that these are no moving parts with the EHS setup, so it will never wear out and rarely malfunction. Furthermore, it works almost "instantaneously" when you want to answer a call 200 ft away. If you use a lifter, typically there is a 1-3 sec delay depending on how far you are away from the phone.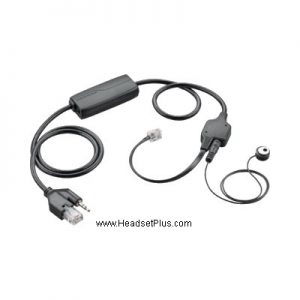 Plantronics CS540+EHS Yealink Certified Wireless Remote Answer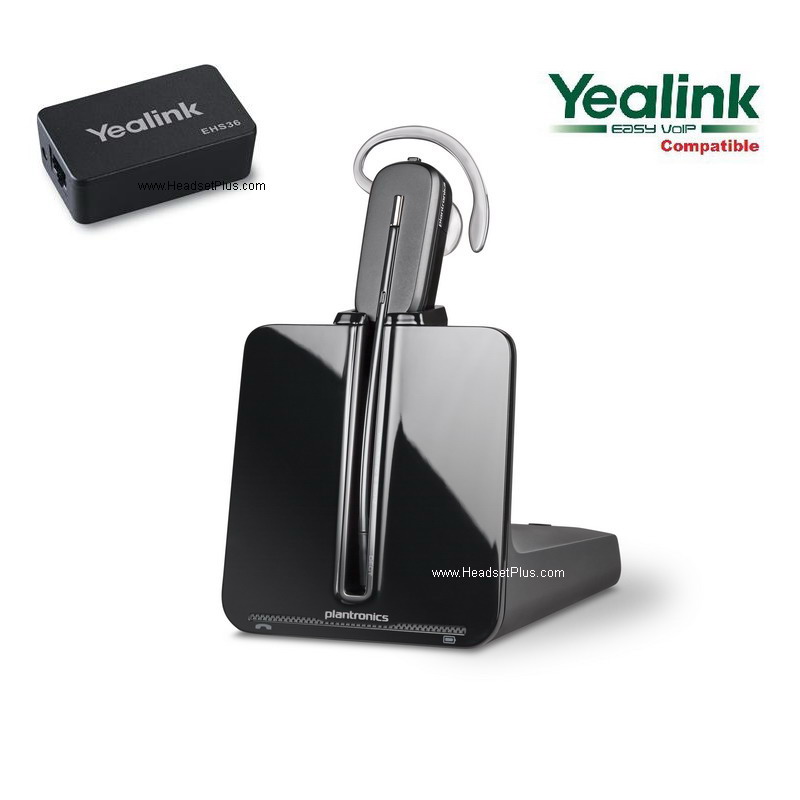 Plantronics offers its CS540 in a convertible wearing style, as it can be worn over the head or over the ear. With a range of up to 350 feet on line of sight on wireless DECT frequency, and compatible with Yealink desk phones, allowing the user to answer and end calls from the distance and with no need to even touch the phone as you have to only tap the headset and the channel will be opened and the call will go thru. Get yours HERE.
Jabra Engage 65 Mono+EHS Avaya J100 1400 9400 9600 Phones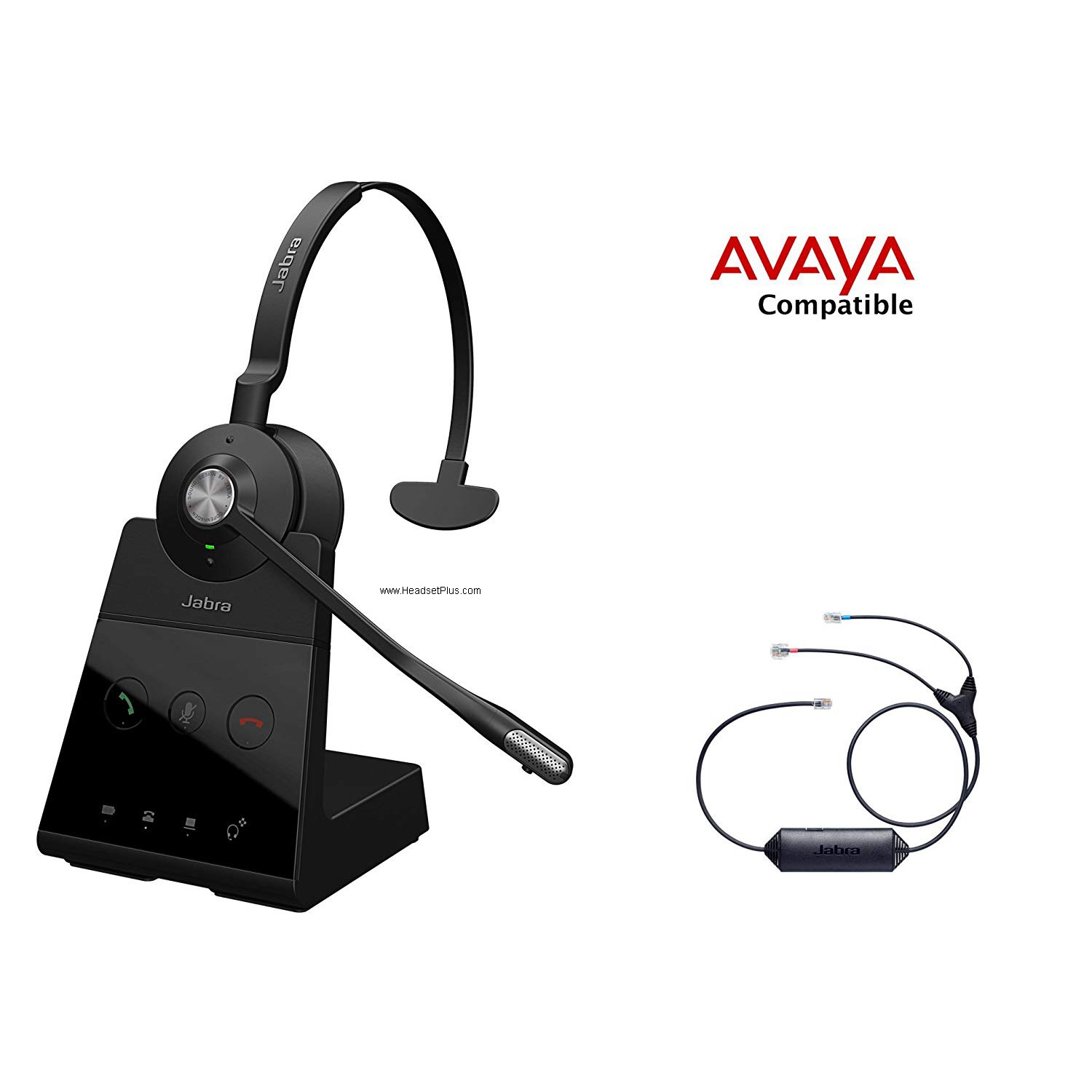 Jabra offers its Engage 65 covering one ear with an over the head headband, this headset works great with any of the Avaya desk phones, plus you can use it in the computer at the same time, designed to work with most of the UC applications and Microsoft Teams certified, easy to use interface and with built in Busy light that allows the user to let people know when on a call. Order yours HERE.
Poly Voyager Focus 2 Office + EHS Remote Answer Cisco IP Phones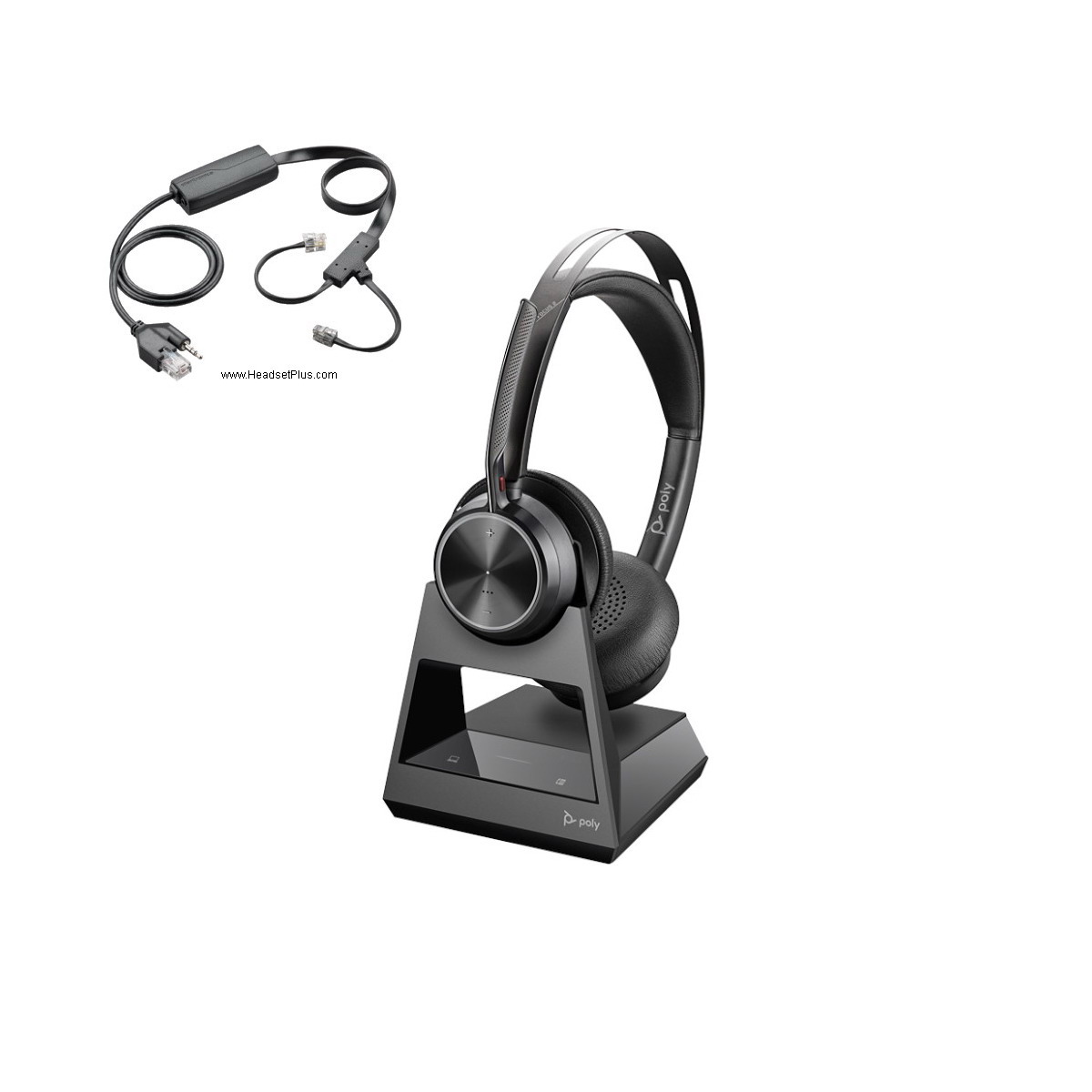 Poly offers the latest variation of the Focus 2 as the Office, with a range of up to 300 feet as a Bluetooth Class 1 headset, allowing the user to take it outside the office and use it with a smart phone or tablet. New Digital Hybrid Active Noise Canceling, that let the user to adjust the ANC depending on the location, Acoustic Fence technology in the boom arm, that blocks virtually any sound in the user environment and with mute function by bringing the boom arm up and down, thanks to its design the Focus 2 Office can be worn on either side and compatible with your Cisco desk phone. Order yours HERE.
If you have any questions on headset compatibly with the VoIP phones, feel free to call one of our headset experts at HeadsetPlus.com 877-999-3838.