8 X 8 is one of the UC provider that had done the transition from a physical desk phone to a virtual phone using a computer and today we will recommend some compatible headsets that allows you to take advantage of this application.
Jabra Evolve2 40 UC Mono USB-A Wire Headset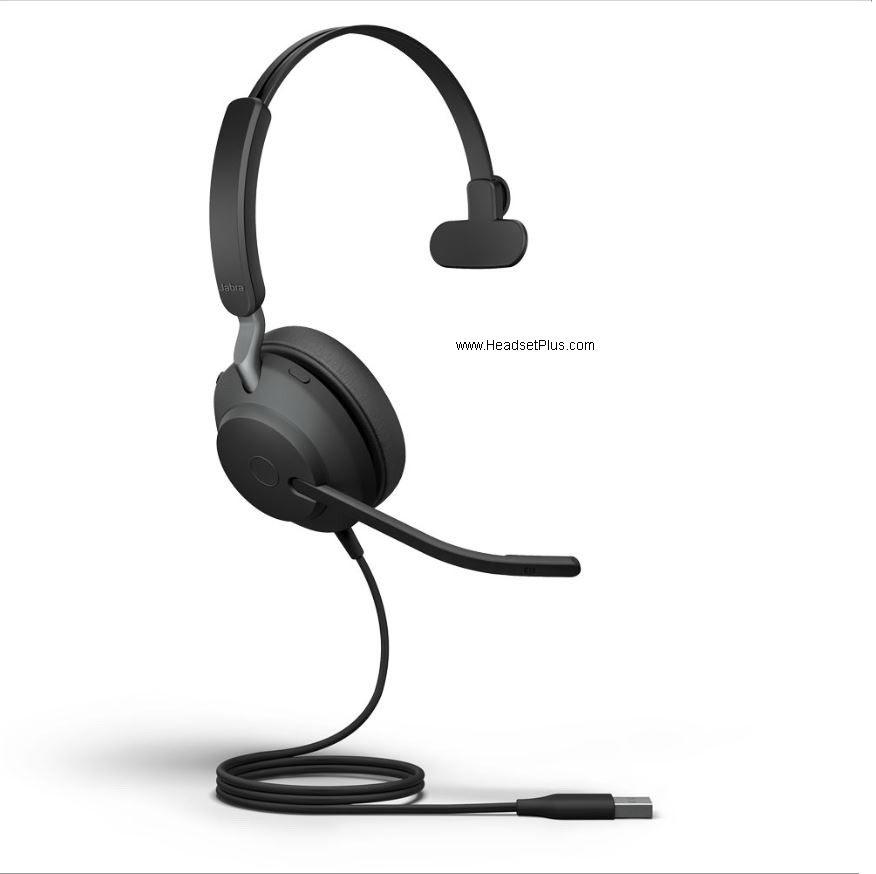 Jabra offers the Evolve2 40 UC as a corded solution compatible with this application, memory foam in the ear cups and noise canceling microphone with muting feature that allows the user to mute the mic by swinging the boom up. Volume Controls are found in the ear cup, making it easy to find the volume and answer/end call key. Built in Busy light very useful as let users know when in a call, the Evolve2 40 has motion sensors as well that detect when headset is worn. Order yours HERE.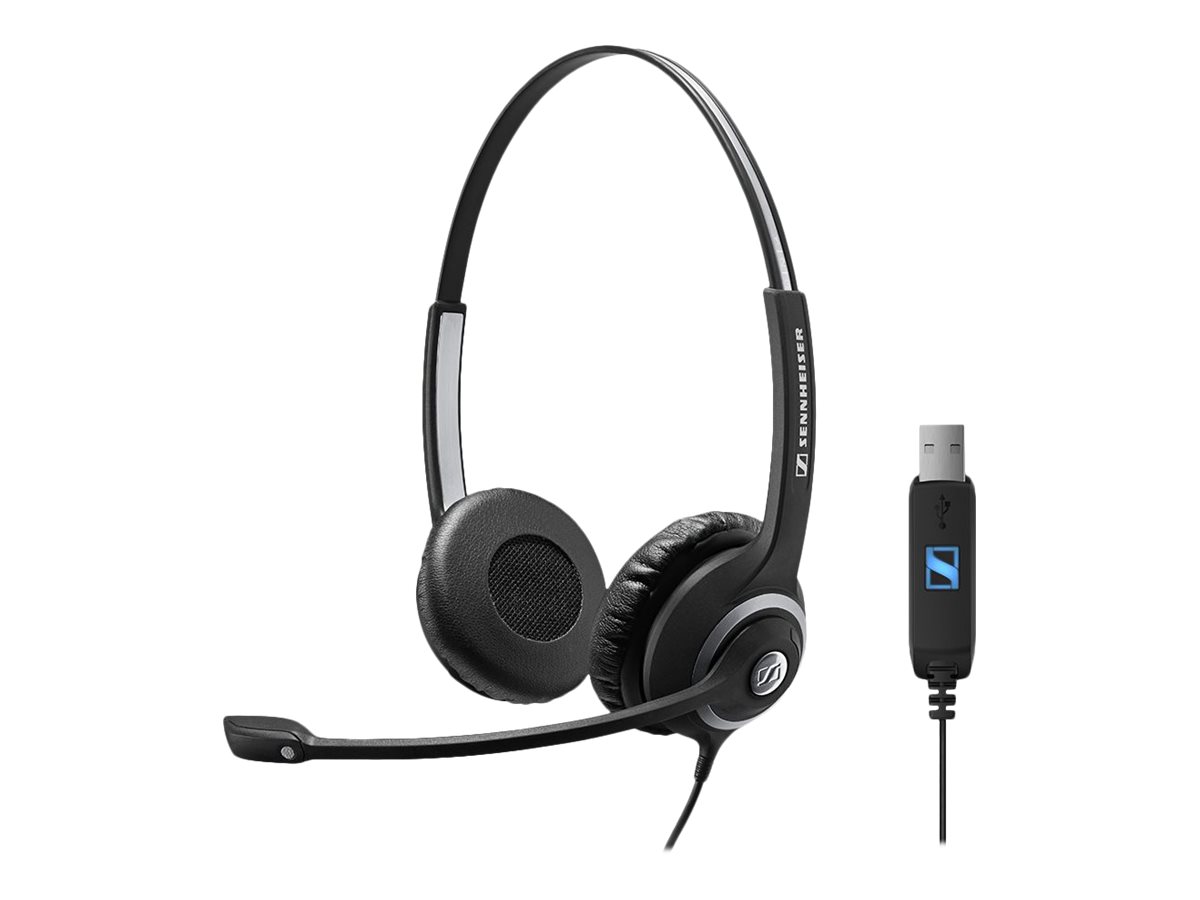 Sennheiser comes with its SC 260, a stereo corded solution with its Noise Canceling microphone and with its HD clarity wideband audio. The pivotable boom rotates through 360 degrees and it offers bendability as well, which ensures microphone optimal position. ActiveGard technology helps the user by protecting him or her from acoustic shock and sudden sound changes. In-line call controls allows you to adjust the volume, mute and answer calls as well. Order yours HERE.
Plantronics Blackwire 5220 USB-A, 3.5mm Headset, MS Skype Cert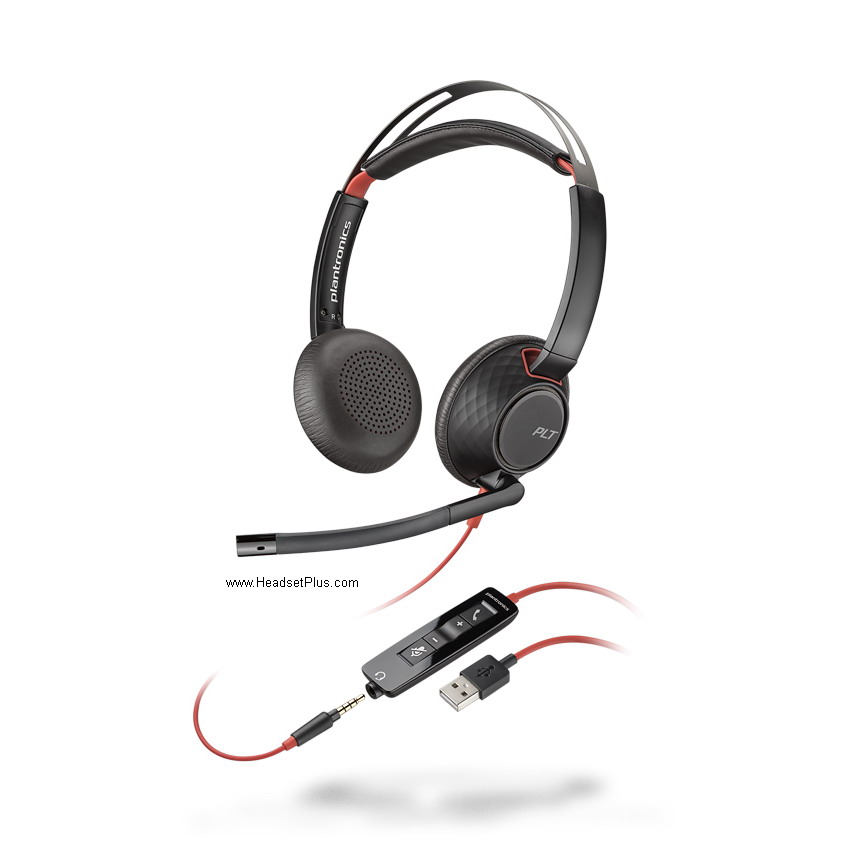 Plantronics offers its Blackwire 5220, covering both ears with leatherette ear cushions. The 5220 offers you USB-A connectivity as a 3.5mm jack, for some users that still have smart phones with the 3.5mm jack. HD sound quality with Digital Signal Processing and with Dynamic EQ that automatically changes the audio settings between phone calls and music. One of the few corded USB headsets that is Telecoil Hearing Aide Compatible. The 5220 comes with a carrying case and foldable earcups for easy storage and portability. Order yours HERE.
Poly Blackwire 8225 USB-A Stereo Wired Headset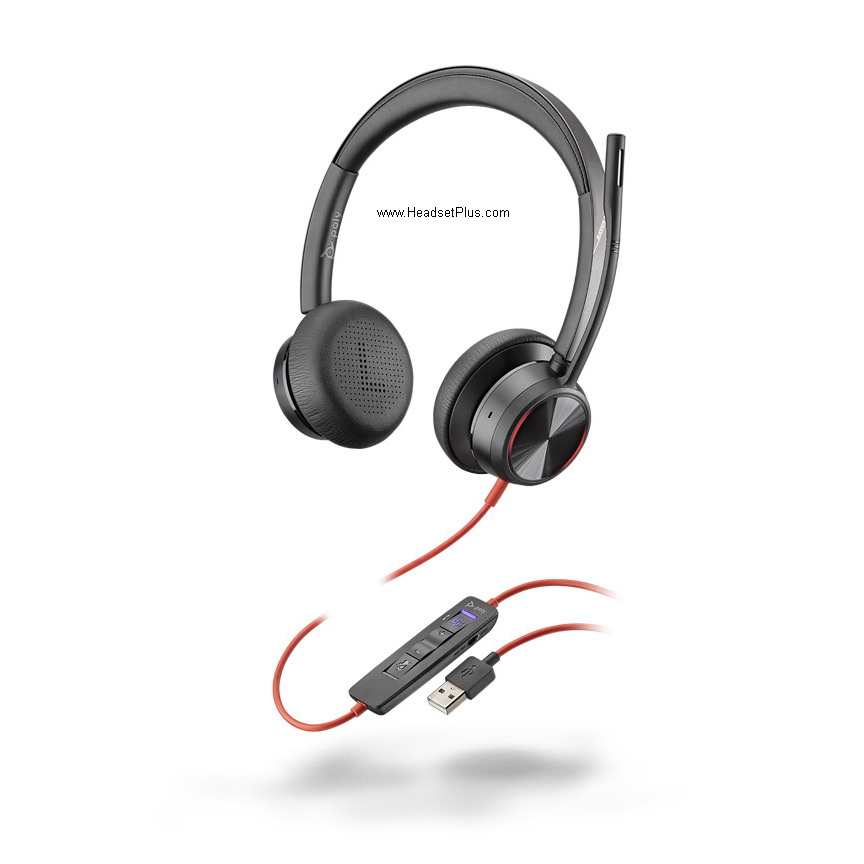 For a louder environment Poly (Plantronics) offers the new Blackwire 8225 which covers both ears but with the new Advanced Hybrid Active Noise Canceling with 3 settings to optimize, in line volume controls for volume modulation and muting. We can find Acoustic Fence technology in the microphone that will block almost all the environment noises like close talkers. The 8225 has a bult in busy light that allows users to let people when in a call and with 180 degree pivoting speakers allowing the user to find the perfect fit without compromising performance. Get yours HERE.
EPOS Sennheiser Adapt 360 USB-A Bluetooth Headset MS Teams Cert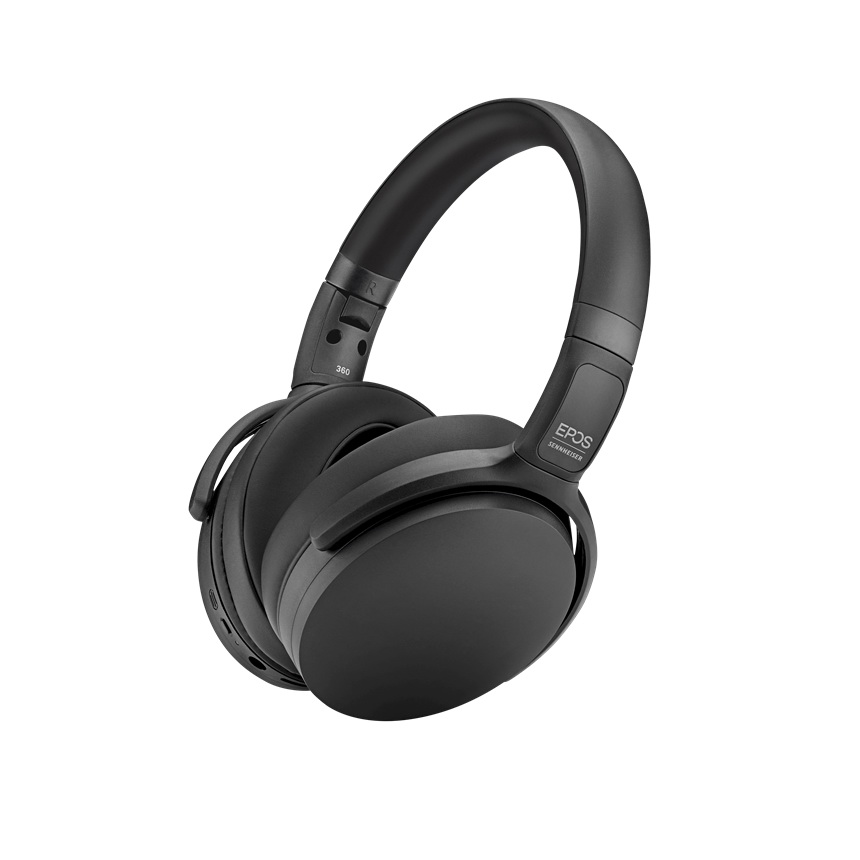 EPOS comes in the wireless field with the Adapt 360, covering both ears in a rich sound quality with a discrete design thanks to 2 boom less microphones built in the ear cups, allow its portability and storing an easy maneuver. The 360 has Active Noise Canceling for those looking to not be interrupted with a loud environment. Offering a listening time of up to 46 hours with the ANC off, besides being a wireless headset the 360 comes with an additional 2.5mm to 3.5mm cable, that allows to be used as a corded headset with devices with a 3.5mm jack. Get yours HERE.
Jabra Evolve2 65 UC Stereo Bluetooth USB-A Headset w/Stand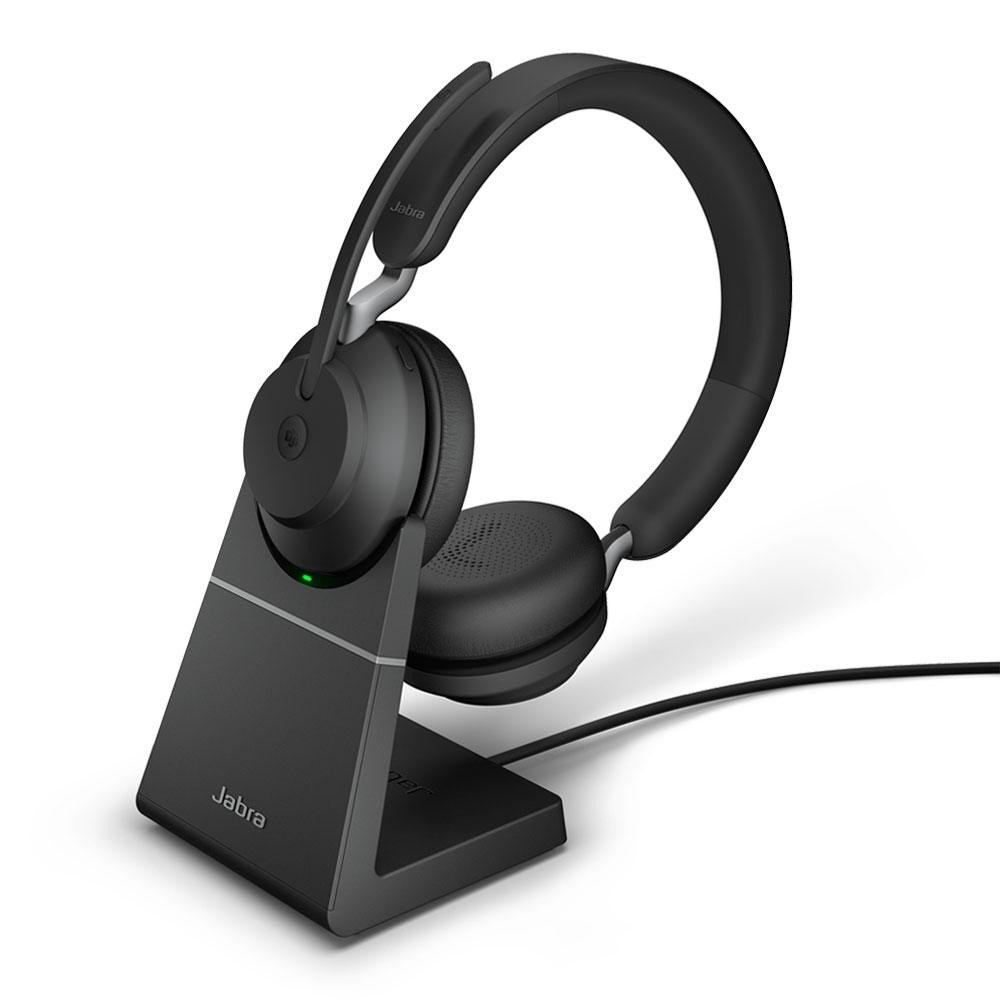 Jabra offers the new Evolve2 65 UC Stereo headset which offers up to 37 hours of talk time with one single charge, making it a nice option for users worried about running out of juice in their headsets when at work. Memory foam can be found in the ear cups and in the paddled headband with an anatomically designed earcups that allows to cover both ears without compromising comfort. Noise Canceling Microphone with muting feature by simply swinging the boom arm up and down. Volume Controls built in the earcup that helps the user to answer/end calls and graduate the volume. Order HERE.
Poly offers the new Voyager 4320 as an affordable entry level wireless headset, with an astonishing talk time of over 24 hours, our testing gave us 25 hours which is impressive for a entry level headset, built in volume controls and answer/end call on the side of the earcups, adjustable paddled headband and fully adjustable microphone boom with Acoustic Fence technology with flexible arm boom. The 4320 can be used as a corded headset as well, thanks to the USB-C to USB-A cable included! Order your HERE.
Poly Voyager Focus 2 UC USB-A Bluetooth Stereo w/Charging Stand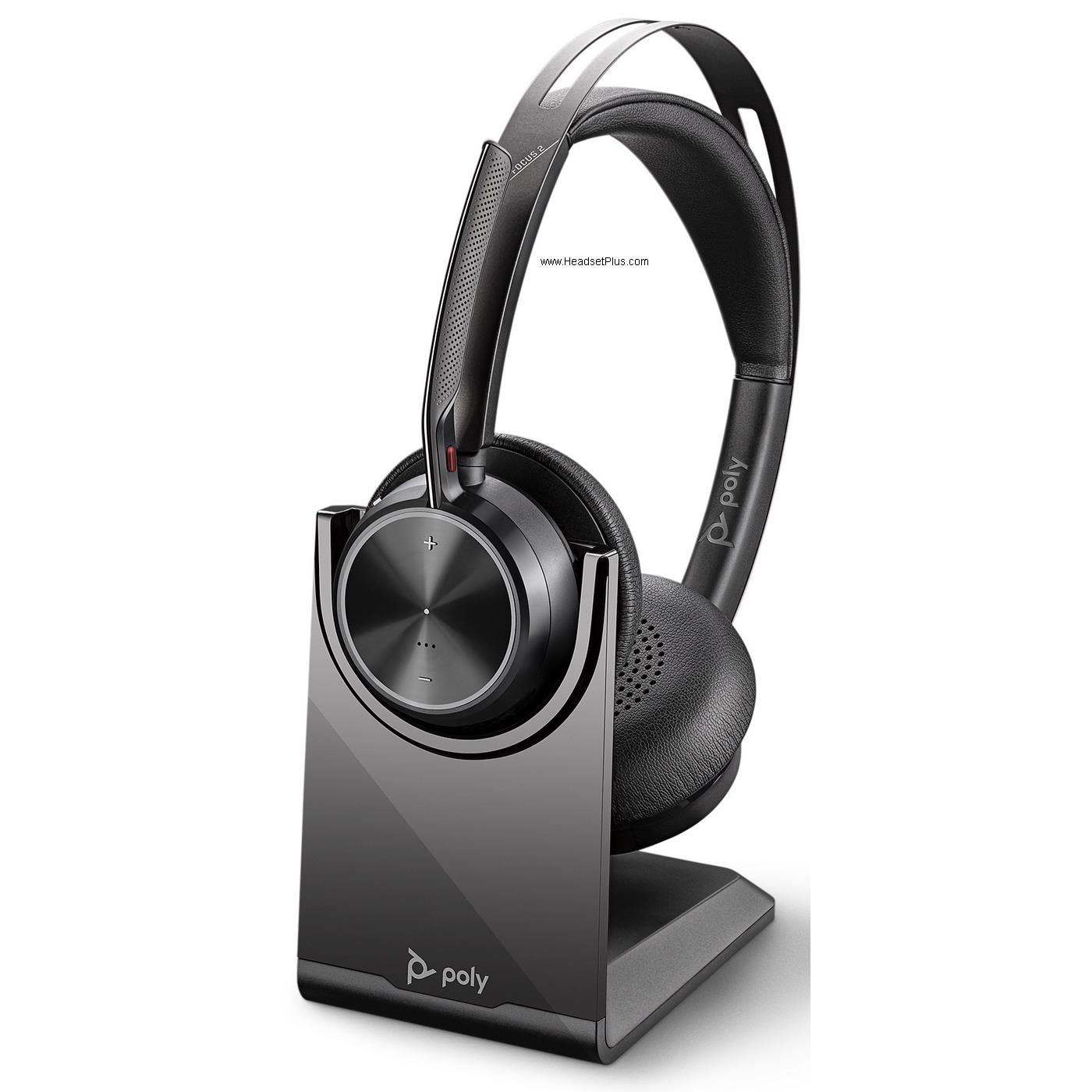 The new Focus 2 takes a step ahead with its new Digital Hybrid Active Noise Canceling with multi levels of adjustment, which is useful for loud environments. The microphone boom arm has an improved Acoustic Fence technology compared to the 4300 series headset. The Focus 2 can be used as a corded headset as the 4300 series headset, thanks to the micro USB to USB-A cord included. The microphone boom arm has the feature of muting the mic by swinging the boom arm up and down and can be worn on either side. Get yours HERE.
Special Note for the 8×8 software app:
All the mentioned headsets will work with your 8 X 8 desktop application, as they are supported by it. The Remote Call Control (RCC) function that allows you to answer from the headset need a special setup. For Jabra and Sennheiser headsets, you can download their respective hubs (Jabra Direct/EPOS Connect) and the application will be fully supported. However for Plantronics headsets, you don't need the Plantronics Hub as it creates conflicts with the RCC from the 8 X 8 application. So its recommended to uninstall the Plantronics Hub and then turn on the RCC from the 8 X 8 settings menu: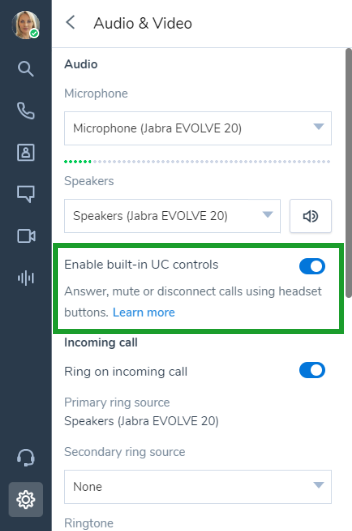 If you are willing to keep your Plantronics Hub, due to updating firmware or inventory control, then its suggested to simply turn off The RCC from the 8 X 8 settings and keep the RCC function on in the Plantronics HUB.