Hello class, today we will be looking at headsets that are compatible for your PC (Windows) and Apple Mac OS. Many businesses today are opting to use their computers in lieu of phones to make phone calls. It's a very cost effective method to reduce spending by using VOIP and other soft phone applications. There are so many options out there, but I will list the ones that stand out most to me. The most important things to consider are the call quality and comfort. All of these headsets below are plug and play, and even someone like myself can install them. If you plan on sitting at the computer and don't need to be mobile, I'd recommend getting a corded. If you need to be more mobile, or just don't want to be tied to your desk, go wireless. Let's begin shall we?
This is a great entry level corded headset. It connects via USB and as a bonus, it comes with a 3.5mm jack so you can connect it to your smart phone, tablet, etc. It has a noise canceling microphone, a built in busy light so your colleagues/friends know if you're on a call, and Hi-Fi wideband frequency response. A great headset for the casual user. Comes with a manufacturer's 2 year warranty. Click here to buy now.
Next up we have the….
Plantronics Savi W440-M Wireless USB Headset for MOC/Lync: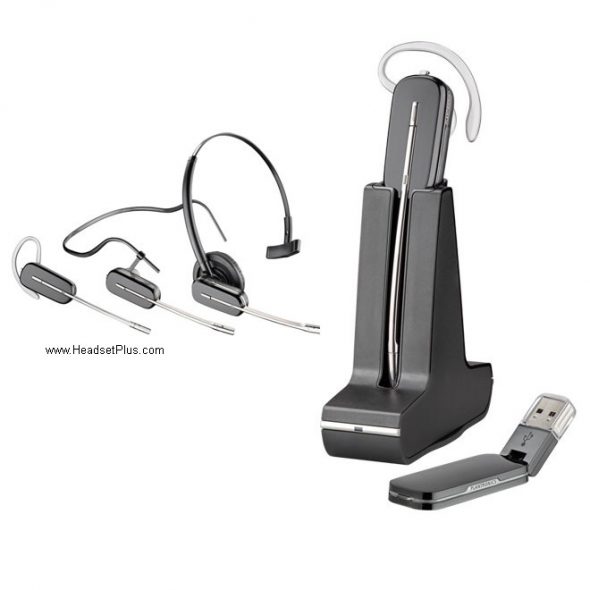 This is quite a unique wireless headset. Generally speaking, wireless USB headsets use Bluetooth connectivity, however, this headset runs on DECT (similar to a cordless phone.) Because of this you get an astonishing range of up to 300ft. This headset has a great noise canceling mic and WideBand audio. As a bonus this headset comes with 3 different wearing styles, headband, ear hook, and neckband. The only downside to this headset is the lack of Bluetooth capability but still an awesome headset. Comes with a 1 year manufacturer's warranty, click here to buy now.
Jabra Evolve2 65 MS Stereo Bluetooth Wireless USB-A Headset  (staff pick)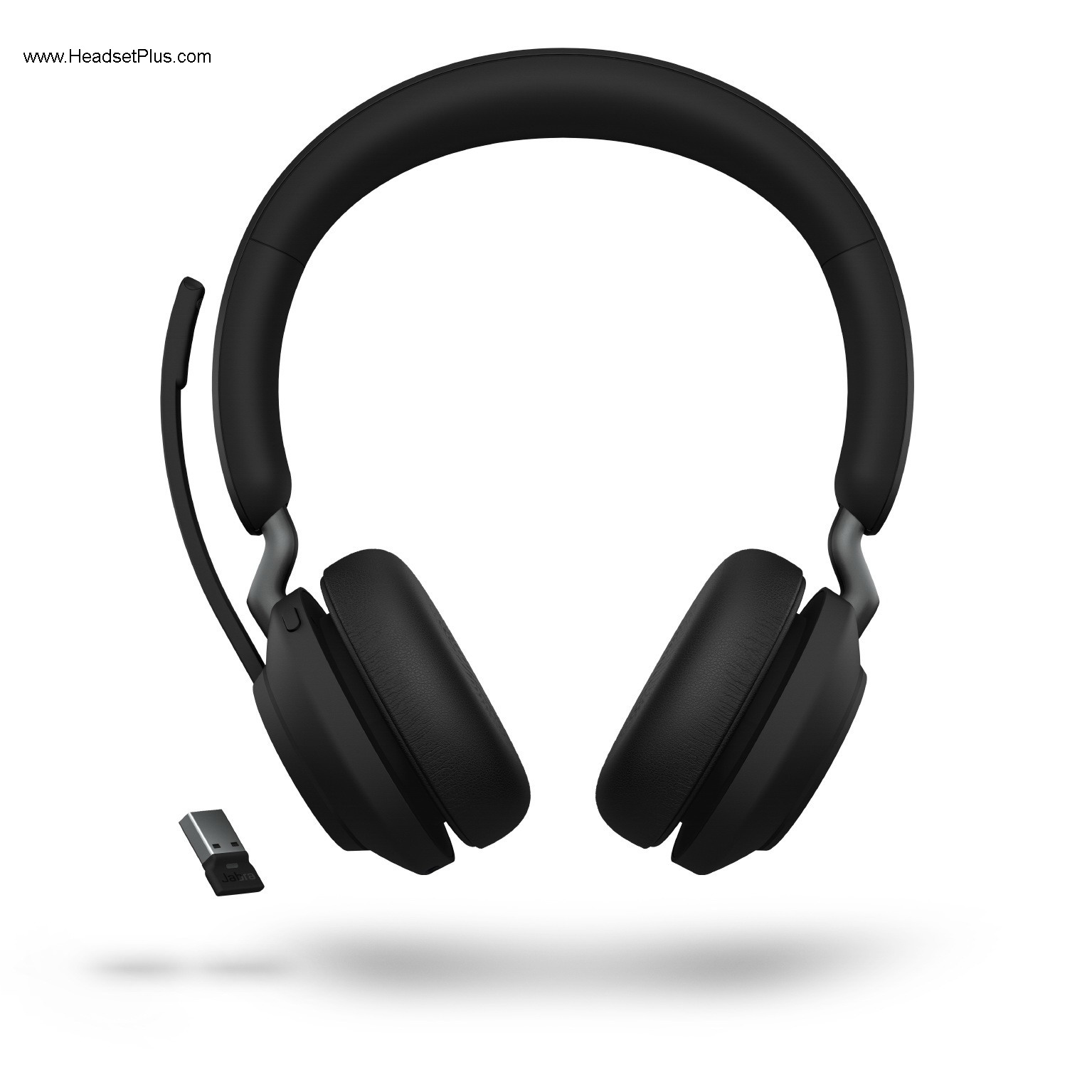 This bad boy is a great wireless headset without breaking the bank. This Bluetooth USB headset is basically an upgraded version of the Evolve 40 series. It comes with a Bluetooth dongle that plugs into your PC or Mac via USB and gives you up to 100 feet Bluetooth range. Up to 37 hours of battery time!  You have a great noise canceling mic, and Hi-definition sound from the large 40mm speakers with soft leatherette ear cushions, which is great for you and your customers. It has a built-in LED in-use light to let the people around you that you're busy or on a call – great feature to have!  If you're not on a call, simply kick back and jam to some tunes. The coolest feature of this headset, is you can connect to your cellphone simultaneously via Bluetooth. Comes with a 2 year manufacturer's warranty. Click here to buy now.
Plantronics Voyager Focus UC Bluetooth USB Headset B825: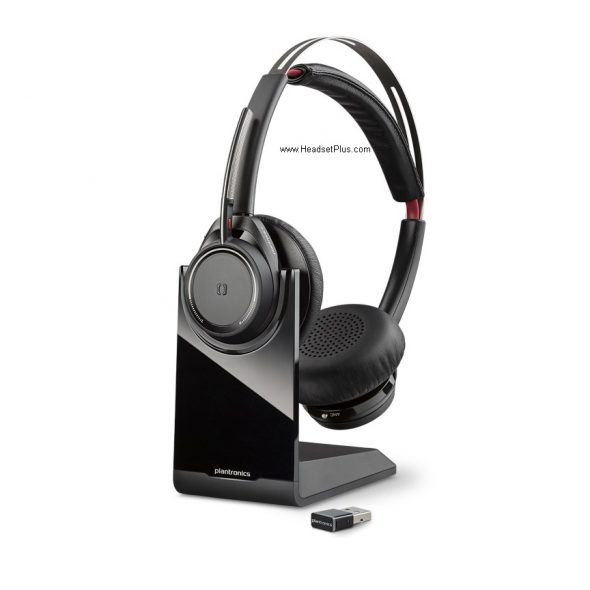 Out of all of the wireless Bluetooth headsets, this headset provides the longest range of up to 150ft through the computer. It has active noise canceling through the ear phones (think of Bose), Wideband audio, great noise canceling microphone, and built in smart sensors which can detect when you put on and take the headset off. You have 12 hours of talk time, and up to 15 hours of music streaming. Comes with a 1 year manufacturer's warranty. Click here to buy now.
And my personal favorite…
Jabra EVOLVE 75 MS Stereo Bluetooth USB Headset w/charging stand: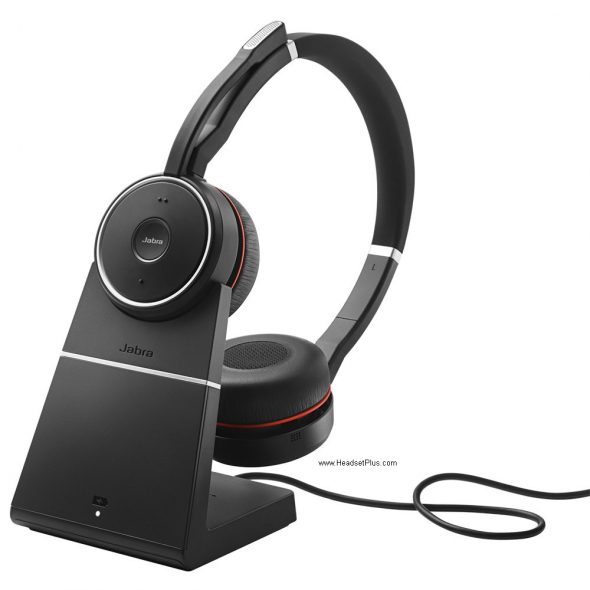 This is a beast of a headset. You have Hi-Fi stereo sound, excellent noise canceling microphone, active noise canceling through the ear phones (think of Bose), and it they just look great all around. Similar to the Evolve 65 you will have up to 100ft wireless range, but an incredible 15 hours of battery on a full charge. Like the above headsets, you just simply plug it in via USB and you're ready to rock. Need to take a long drive or flight somewhere? Take them with you and use enjoy music on your phone! Your customers will love talking to you on this headset. Comes with a 1 year manufacturer's warranty. Click here to buy now.
Pure luxury. . .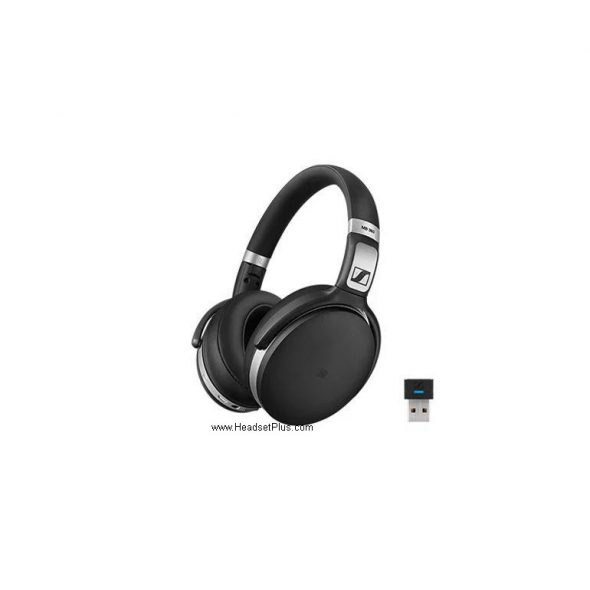 This is a new wireless USB headset by Sennheiser. It's a nice headset for for use with a computer. You can listen to music and take calls. It has a nice dual noise canceling microphone and you get up to 100 ft wireless range. The cool thing about this headset is it has active noise canceling. You can block the unwanted background noise if you're in a loud environment. It has a great battery time of 25 hours. It also comes with a 3.5mm cable for use with a smart phone and a storage pouch. Comes with a 2 year manufacturer's warranty. Click here to buy now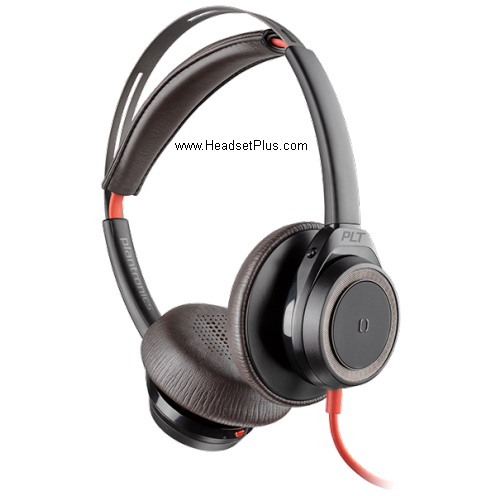 This headset is the newest edition the the Plantronics Blackwire line. It's basically a corded Voyager Focus. This is a corded USB headset with active noise canceling. You don't really see any corded headsets with active noise canceling but here it is. This headset also has a nice omni directional boomless mics to help pick up your voice. The microphones are noise canceling as well. If you're not working, you can still use this headset to listen to music. It has nice Hi-Fi stereo earphones. This wouldn't be my first choice when picking a noise canceling headset, but if you're on a a budget, this might be a good pick for you. Click here to buy now.