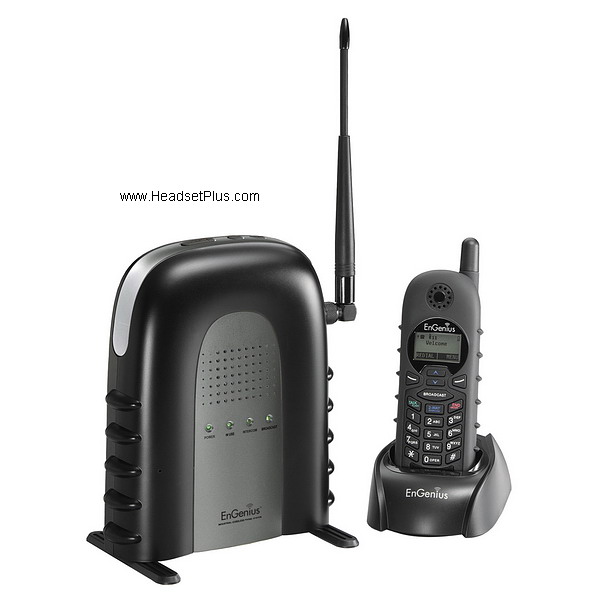 For those that work in maintenance or facilities departments at large corporations know that it can be difficult to keep track of employees sprawled across huge environments. The ability to communicate between team members is essential for every department to be able to function efficiently, and effectively. For very large warehouses and office buildings, long range cordless phones have become an essential tool for communications. Today we are going to go over the best long range cordless phones that would best suit you and your companies needs.
EnGenius FreeStyl1 Long Range Cordless Phone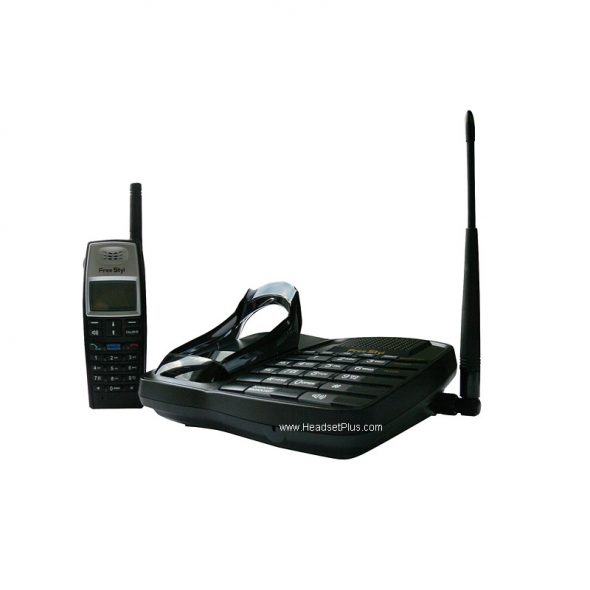 The FreeStyl1 by EnGenius offers range that other cordless phones can't match. It offers up to 25,000 square feet of coverage, will penetrate up to 6 floors of an office building and up to 10 acres of flat land. The FreeStyl1 is simple to install, will be ready in minutes. The FreeStyl1 allows you to pair up to 9 additional handsets to a single base and the ability to connect 4 additional bases, 36 handsets in total. The FreeStyl1 operates on DECT frequencies that will not interfere with Wi-Fi and EnGenius Digital Spread Spectrum Technology guarantees safe and secure communications. The FreeStyl1 is equipped with CallerID, call waiting, has selectable ringtones and you can program up to 50 phone book entries. It also has a two-way radio system built-in and can function as a walkie-talkie, completely independent of the FreeStyl1 base. The handsets come with Rapid Charging technology and Broadcasting. It's a simple and easy solution that would be perfect for large Estates homes, Resorts or Condo and apartment buildings. BUY NOW!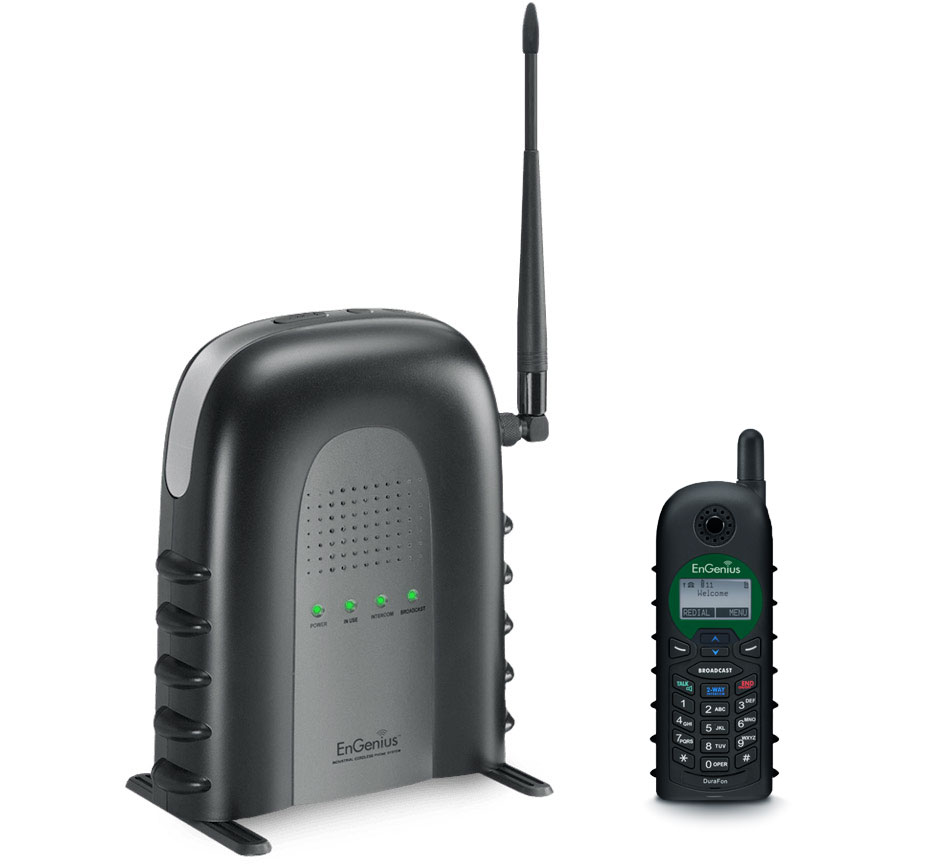 The DuraFon PSL Pro is the next level long range cordless phone system. Sturdy and durable, coated with a shock absorbing finish and fast charge technology — charge a handset in only 90 minutes. The PSL Pro is a single-line phone system that has unbeatable range: offering 6 times more coverage compared to your average cordless phone system and that's including the EnGenius' FreeStyl series. You can have range of up to 250,000 square feet, 12 floors of building penetration and 3,000 acres on flat land (ranches, warehouses, etc). The  PSL Pro will go through metal, concrete, wood and the PSL has the ability to connect 1 or even 2 additional antennas for maximum range. Each PSL handset comes with it's own separate charging cradle that doesn't require a phone connection (A/C powered) and you can pair 90 handsets to a PSL Pro base. The PSL has both Full Duplex and Half Duplex capabilities: you can use it as a 2-way radio, or voice page several other phones. BUY NOW!
EnGenius DuraFon Pro Industrial Cordless Phone System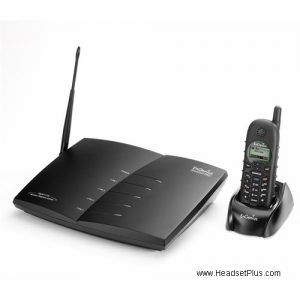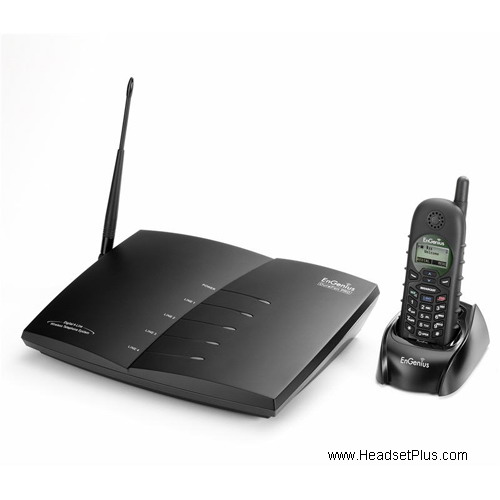 The DuraFon Pro offers all the range and durability that the 1X offers but with additional features that make it the best long range cordless phone system available on the market. The DuraFon Pro, like the 1X you can pair 9 handsets to a single base but unlike the 1X, the Durafon Pro is a multi-line phone system. A single base offers 4 lines and you can connect and expand the system for up to 8 DuraFon Pro bases, 90 handsets maximum. The DuraFon Pro allows for 6 hours of talking time but you to have a separate battery charging at all times, and the ability to swap it out mid conversation. The DuraFon Pro allows you to broadcast from a single port and provides Auto Attendant with call redirect assistance. The DuraFon Pro has the 2-way radio built-in and also allows you to uses either short range or long range antennas depending on your needs. The DuraFon Pro is ideal for oil rigs, warehouses or ranch properties. BUY NOW!
EnGenius DuraFon Pro PIA Phone System Kit (DURAFON-PRO-PIA)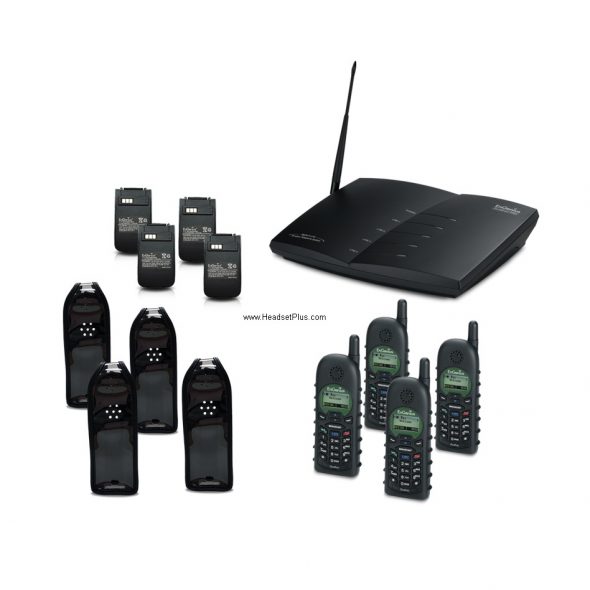 The EnGenius DuraFon Pro PIA phone system kit includes the best long range cordless phone available in the DuraFon Pro and 4 additional handsets. The PIA is considered a one-stop-shop phone kit that comes with a whole array of extras: Long range and short range antennas, 8 Li-On battery packs, 4 of the DuraFon Pro handset pouches, 4 charging cradles, and 4 belt clips. This is a complete kit that will fit the needs of customers with even the largest of properties. If you need to integrate more base units/handsets, the DuraFon Pro can pair additional bases and have them up an running in a matter of minutes. The PIA kit gives you the unmatched range, durability and reliability unlike any other cordless phone and everything you need for your team to be able to communicate easily and efficiently across large properties. BUY NOW!
EnGenius DuraFon-SIP Long Range Cordless Phone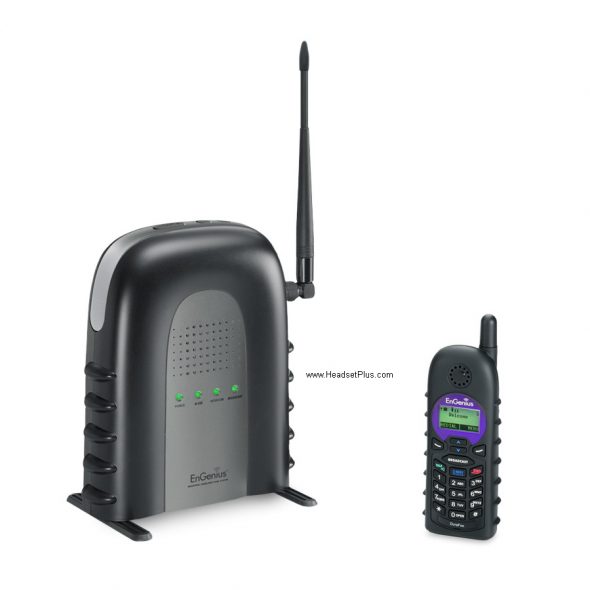 The EnGenius DuraFon SIP is the only long range cordless phone system that will work Voice over internet protocol (VOIP). The SIP phone can connect to any VOIP system and at least 1 analog telephone line and you can have up to 4 concurrent calls (3 VOIP, 1 analog) at any single time. The SIP phone has the same rugged durability as the Pro or the 1X: it's been drop tested from heights up to 6 feet onto concrete floors dozens of times without failing. The SIP can connect to any existing IP-PBX systems such as Cisco, Avaya, or Polycom but will function with any system that follows the standard SIP protocol. The SIP phone also uses ground breaking 900MHz FHSS (Frequency Hopping Spread Spectrum) technology that guarantees privacy and prevents eaves dropping. The DuraFon SIP long range cordless phone is the only long range cordless phone that can work with VOIP and can handle the harshest and most extreme work environments. BUY NOW!
If you have any questions call 877-999-3838. Ask for George!