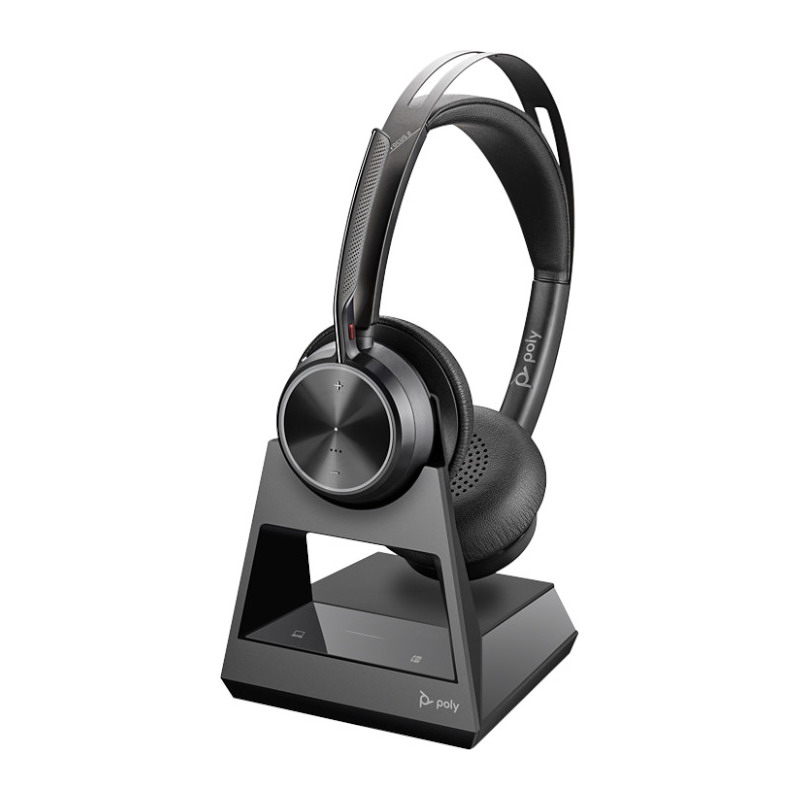 You work in a busy Contact Center or Office?  The sound of one's own thoughts, some dread it but those that work in a crowded office and contact center can attest to how underrated the sound of silence truly is. If you have the misfortune of needing to make a lot of phone calls in a loud or crowded workplace, a good pair of noise-cancelling headphones is invaluable. Every headset seems to offer noise-cancellation but few actually measure up and even fewer offer true Noise Cancellation. Meet the new Voyager Focus 2 Office by Poly, formerly known as Plantronics, with new Digital Hybrid Active Noise Cancellation and Smart Sensor Technology. The Voyager Focus 2 Office provides an unparalleled mix of noise cancellation, studio-level comfort and audio quality not seen in a Bluetooth headset. It's sleek, intuitive design that doesn't sacrifice audio quality for comfort or looks means its equal parts style and substance. Its Smart Sensor technology knows when you are wearing the headset, allowing users complete control of music or phone calls without the need to fumble for buttons or cables. The Voyager Focus 2 Office allows you to mute the mic with Acoustic Fence technology by just moving it up or down, and allows the user to wear the mic boom on either side. Besides, you can take the headset with you down the road and can be used as a Bluetooth headset or as a corded via USB with the included cable that does not compromise performance on microphone or speaker for those times when you can't use Bluetooth or you are using it with another computer.
Thanks to its Office Base, you can skip the old setting of the first generation Focus and the MDA 220, making it one of the best headsets in the market. Get yours HERE.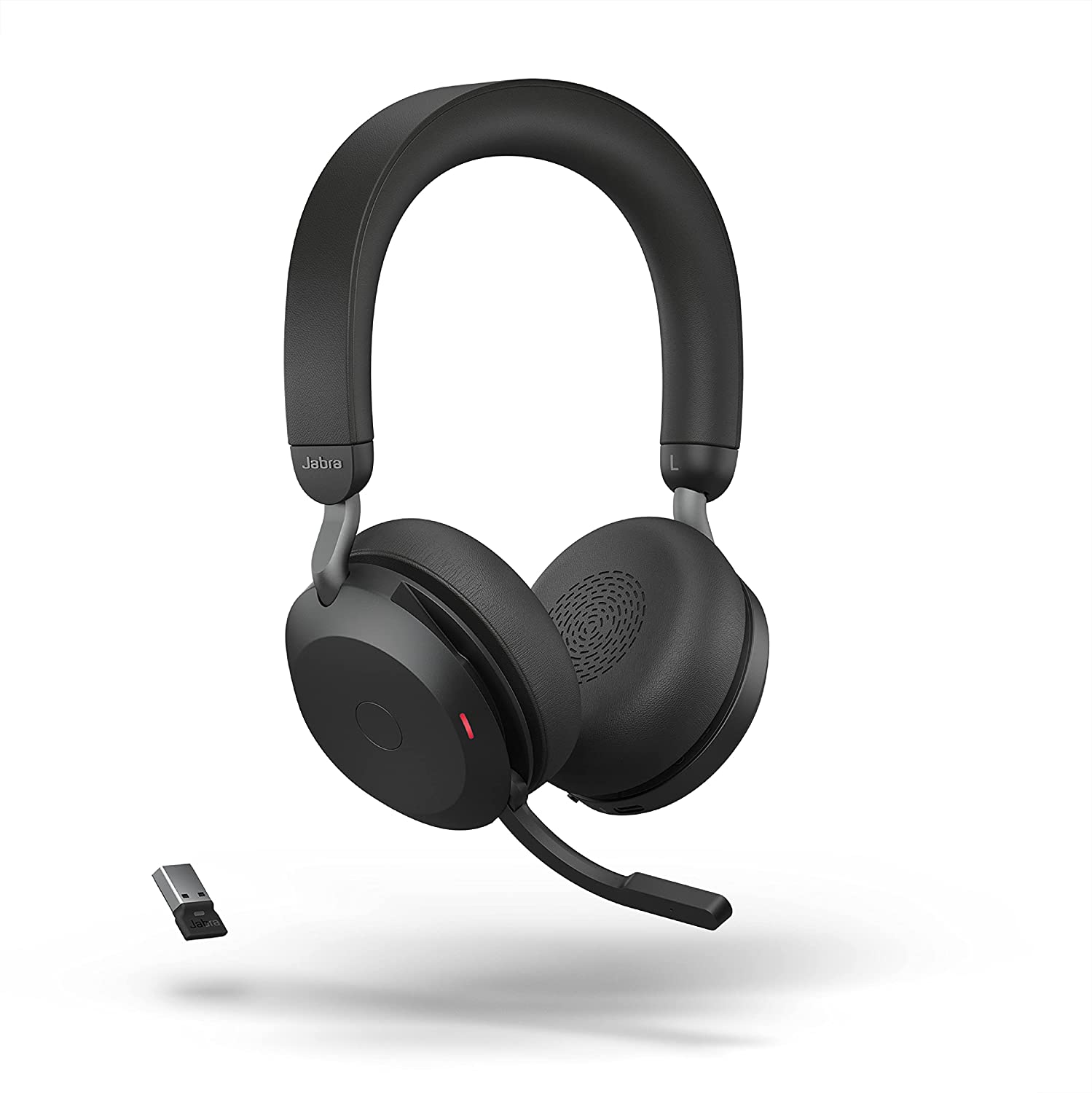 Another option now in the market comes from Jabra, The new Jabra Evolve2 75 is a wireless USB headset, with the new adjustable Jabra Advance Active Noise Canceling which blocks the environment noises and can be graduated so you can focus on your call no matter the environment that is being used. With a fresh and discrete design, easy to use the Jabra Evolve2 75 has a built in busy light that allows you to let everyone know when you are in a call, the microphone boom has 2 setups one that is Performance with the mic boom out that gives the best sound quality during a call and Discreet mode that with the boom arm stored in has built in microphones that allows the user to use it in a more discrete way, and those microphones had met the Microsoft Open Office requirements. New and improved mix of hard and soft foams in order to block the unwanted noises and give a perfect ventilation for cooling.
In order to make your Jabra Evolve2 75 work with virtually any desk phone, you will need the new Jabra Kink 950 , this switch makes possible to plug in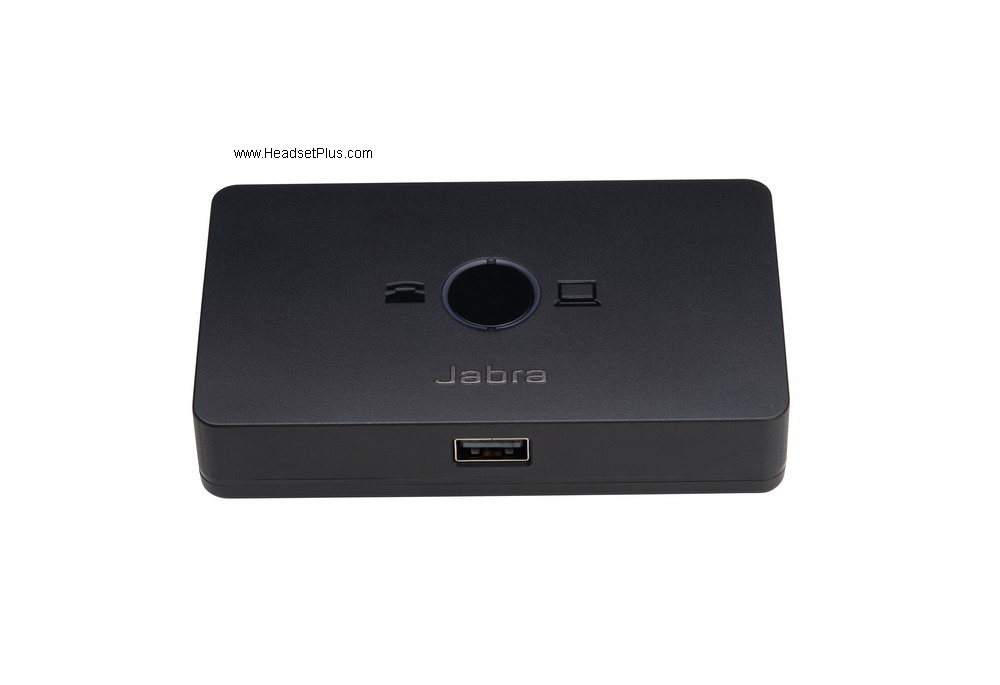 any USB headset (corded or wireless) from Jabra to work with your desk phone and your computer if needed, compatible with Jabra EHS cables, that allows you to remote answer your desk phone makes the Jabra Link 950 one nice option for your Jabra USB corded or wireless headsets.
Another option in this market is the recently launched Plantronics Savi 8220 Wireless Headset Binaural Savi 8200 series, this had been a top seller from Plantronics, compatible with most of corded desk phones, the Savi 8220 offers a easy to turn on and off Active Noise Canceling, built in volume controls to the headset , mute and answer/end calls commands. Offering one of the best ranges with 590ft line of sight, making it one of the longest ranges offers up today. Integration to be used with desk phones, computers and cell phones or tablets via Bluetooth built in to the base. One of the first wireless headsets in the market to be Telecoil hearing aid compatible, making it one nice option in a very competitive market.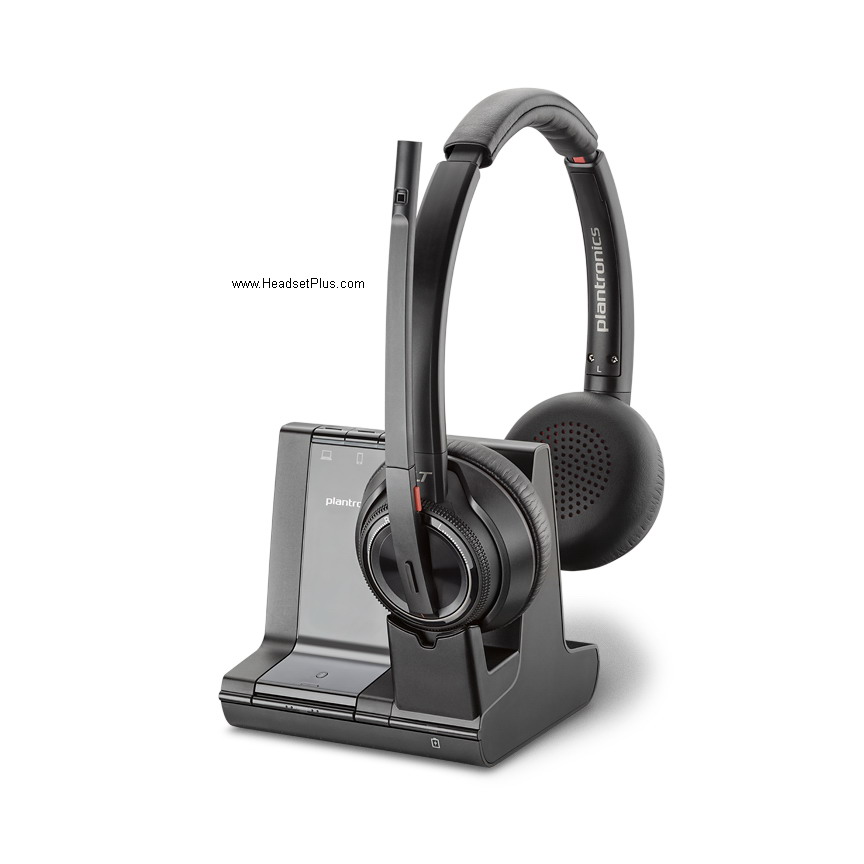 Lastly we have the the new Voyager 4320 from Poly, this is the new entry level for a Bluetooth headset, thanks to Poly the Voyager 4320 offers Acoustic Fence in its flexible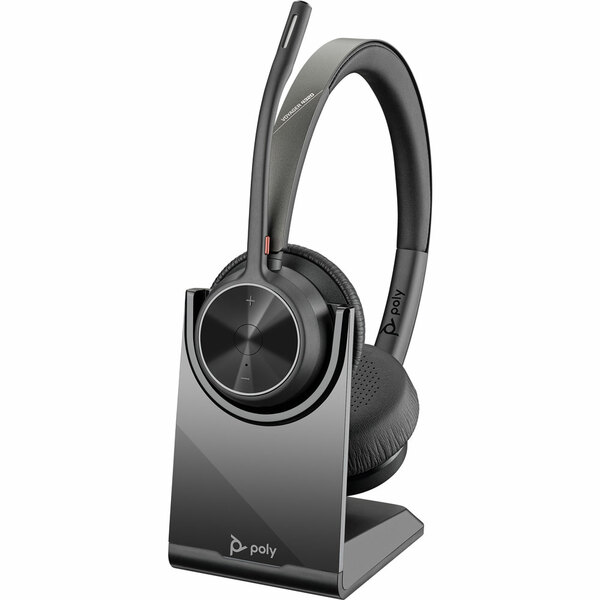 microphone boom arm , with 2 microphones facing the user and one facing the outdoor, with an amazing battery life of up to 24 hours of talk time or 47 of listening. An improved range of up to 164 feet, thanks to its Bluetooth Class 1 dongle and with a fast charging setup that allows you to have a fully charge in about hour and half. The Voyager 4320 can be used as a corded headset as well, thanks to the included USB-C to USB-A cable, allowing the user to use it when either the dongle is not available or can't use Bluetooth. You can use your Voyager 4320 with your desk phone as well by using the MDA 220, which will explain on how to setup next.
What you will need:
To set-up:
On your desk phone, disconnect the receiver from the receiver port and plug in the
the telephone interface cable (included with your MDA220) into the receiver port. Once the interface cable is plugged in to the phone, connect the receiver to the splitter located on the interface cable with the telephone icon. Then connect the interface cable to the RJ-9 Port on the MDA220.
Then power your MDA220 by connecting the USB cable to your Mac or PC, (an AC/DC wall adapter is available if you don't have a computer to connect with).
Then connect the Voyager 4320 USB Bluetooth dongle in the USB port in front of the MDA220 and you are ready to go. It should look something like this: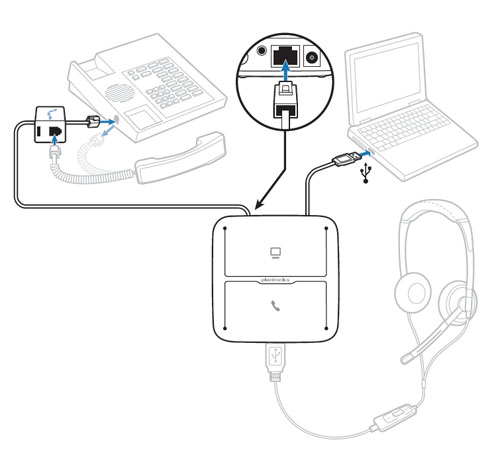 You can now take advantage of the best noise-cancelling headset on the market for your busy contact center.
Feel free to call 877-999-3838 if you have questions on how to select the perfect headset for your office.
Active Noise Canceling Explained:
Polys Acoustic Fence Technology explained: