Clearone Max EX FAQ: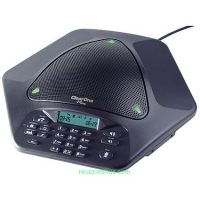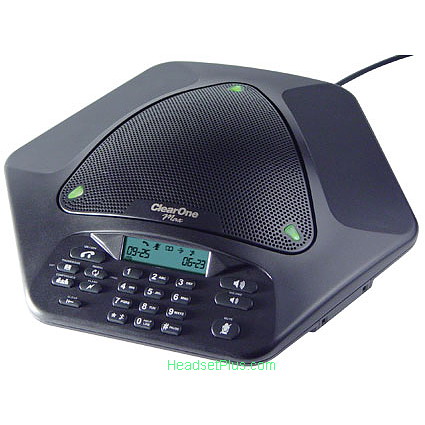 How many ClearOne Max EX Confere Phones can be Linked Together? Up to four (4) ClearOne Conference Phones can be linked together for a large conference room.
What differentiates ClearOne Max EX from Polycom conferencing phones?
ClearOne Max EX conference telephone has multiple expansion capabilities — you can expand with identical phone units, not just microphones (like Polycom conference phones). This setup allows an even spread of microphones and speakers.  See picture below:

For what size of room is ClearOne Max EX design for? ClearOne Max EX is design for a wide variety of room sizes due to its flexibility in its expandability. As a single unit, it is ideal for small conference rooms for up to 8 people. Link additional units (max of 4 total) and it is perfect for medium or large size conference rooms for up to 40 people.
How do I make calls to more than one party? ClearOne Max phones operate like any other telephone when calling out to multiple parties. If you subscribe to three-way calling as part of your telephone service, you can make a three-way call using the flash/hook key on the ClearOne Max phone. You may also use a conference calling service, and may preprogram the phone number to your favorite conferencing service provider into the ClearOne Max phone.
What ClearOne Max wireless frequency does ClearOne Max Wireless use? ClearOne Max Wireless conference phone uses the Digital Enhanced Cordless Telecommunications (DECT) The DECT use 1.880 to 1.9 gigahertz (GHz) frequency using Time Division Multiple Access (TDMA) allowing 120 channels.
Does ClearOne Max Wireless interfere with Wifi?  No. ClearOne use frequency hopping, so it prevents ClearOne Max Wireless phones from interfering with Wifi.
Is ClearOne Max Wireless secure? Yes. ClearOne Max Wireless is designed with digital spread spectrum technology — one of the most reliable wireless technologies available.
Can ClearOne Max Wireless be used in a different room from where the base station is located? Yes. ClearOne Max can be used in any room within 150 feet of its base station.
Can more than one ClearOne Max Wireless be used in the same area? Yes. The ClearOne wireless conference phone and base unit will automatically adjust the frequency to avoid interference even if there are multiple Max Wireless in the same office. You can safely use up to 15 ClearOne Max Wireless in the same office without much interference.
Is the ClearOne Max Wireless expandable? Not expandable, but there there is a ClearOne MaxAttach WIRELESS Conference Telephone  available that consist of two wireless conference phones working simultaneously together without any cords.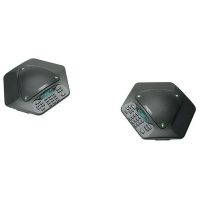 How long will the battery last? The battery will provide 8 hours of talk time or 2 days of standby time before it needs to be recharged.
What happens if the battery begins to run out during a call? The phone provides several alerts when the battery's power begins to run low, including a numeric counter showing the amount of talk time left on the battery's current charge, a battery icon that flashes when the battery requires charging, and an audible tone that sounds periodically as the batter life runs down. If the battery runs low during a call simply plug in the power supply and continue your conference while you recharge the ClearOne Max.
How many times can I charge the battery before it stops taking charges? The battery can be recharged 500-1000 times, which gives it a life of approximately 2-3 years.
What if my ClearOne Max Wireless is not charged when I need to use it? Simply plug in the power supply and charge the phone while you're on the conference call.