If you have a Grandstream phone model GXP2124, GXP2130, GXP2140, GXP2160, GXP2200, GXV3240, GXV3275, you're in luck.  There is a Plantronics EHS APD-80 adapter cable available for your  phone.  Instead of using an old fashion HL10 lifter, you can use the APD-80 EHS cable instead.  There are no mechanic device attached to your phone that lifts the telephone receiver up and down, instead your Grandstream phone communicates with the Plantronics wireless headset "electronically" and more efficiently. By pressing a button on the wireless headset, the phone will answer almost instantaneously. Here are some basic setup instructions:
Install the APD-80 using the shown below: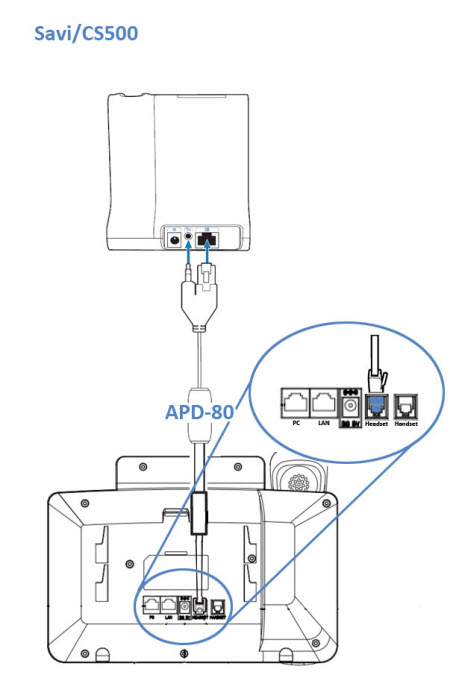 Make sure your Grandstream phone is model GXP2124, GXP2130, GXP2140, GXP2160, GXP2200, GXV3240, GXV3275 or it won't work.  If you have other Grandstream models no on this list, you will need to use HL10 lifter for remote answering.
Make sure your Grandstream phone have a firmware 1.0.4.23 or higher, otherwise it won't work with the Plantronics APD-80.  
Go to your phone's Menu > Config > Headset Type > select "Plantronics EHS"
If needed, purchase an additional 85638-01 extension cable if the APD-80 doesn't reach your Grandstream phone.
Change the setting on the Plantronics wireless headset base to:
| | |
| --- | --- |
| Setting | CS500 Series/Savi 700 Series |
| Compatibility | A |
| Speaking Volume | 2 |
| Listening Volume | 3 |
Additional Grandstream notes:
If you experience an echo (feedback) using a Plantronics wireless headset, you may need to adjust your headset transmit volume on the phone using the following steps It's best the your telephone administrator perform these steps if you're not familiar with the Grandstream phone administrator functions.
1) Using an admin computer (on the same network as the Grandstream phone)

2) Login into the Grandstream's phone IP address. Make sure the Grandstream phone is turned on and shows it's IP address.

3) Open a Web browser (like Internet Explorer) on your computer then enter the Grandstream's phone IP address in the address bar.

4) Enter the administrators login and password to access the Web Configuration Menu

5) Go to the audio control panel. Select headset TX (transmit) gain, adjust the level so is lower your current level (default is 0).  If you're at "0", set it to -1 or -2 until your echo is eliminated and your call can still hear you.

6) Save the new settings by pressing the "Save" or "Save and Apply" button.  Reboot the phone to take effect.
If you have further questions regarding the Grandstream compatible headsets, call HeadsetPlus.com at  877-999-3838, our headset specialist will answer any questions you may have.