One of the best feelings in the world is finding that piece of technology which solves a problem or fulfills a specific needs. One of the worst feelings is spending money on something that no longer fulfills your needs because your work environment has changed.
If you are in a unified communications work environment you need your technology to all be connected. For example, a lot of companies now utilize computers or VOIP in order to communicate with their employees and customers.
For economical companies its important that they utilize as much needed technology as possible while also saving money. For example if a company buys headsets for their employees to use to answer calls from their desk phones it would be beneficial if they could use those headsets with their computers/VOIP software as well.
Plantronics realizes that if a company buys a corded headset for their desk phones there should be a way that enables them to use it with their computers hence the DA40 cable.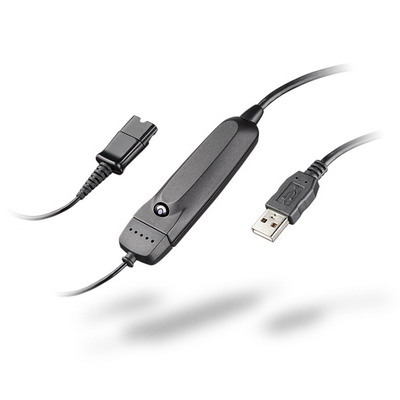 The DA40 cable enables companies that already have Plantronics H-series headsets to connect them to their computers or VOIP software. Simply connect the quick disconnect part of your H-series headset to the quick disconnect part of the DA40 cable. Next, pug the USB part of the DA40 into your computer, allow your computer to recognize and install any additional software and your good to go!
The DA40 is just the first of four cords and as such is the most economical, it does not include the PerSono software nor does it have the inline volume and mute controls.
If you're looking for a better value we have the DA45 which has inline Volume/Mute controls, Call Answer/End, supports "Wideband" audio "Echo" Management, & comes with the PerSono Call Software program.
There is even a cables for companies that are still utilizing the older Polaris headsets. The DA55 will allow you to connect your old Polaris headset to your computer without having to get a whole new headset. The DA60 gives you the added features of inline Volume/Mute controls, Call Answer/End, supports "Wideband" audio "Echo" Management, & comes with the PerSono Call Software program.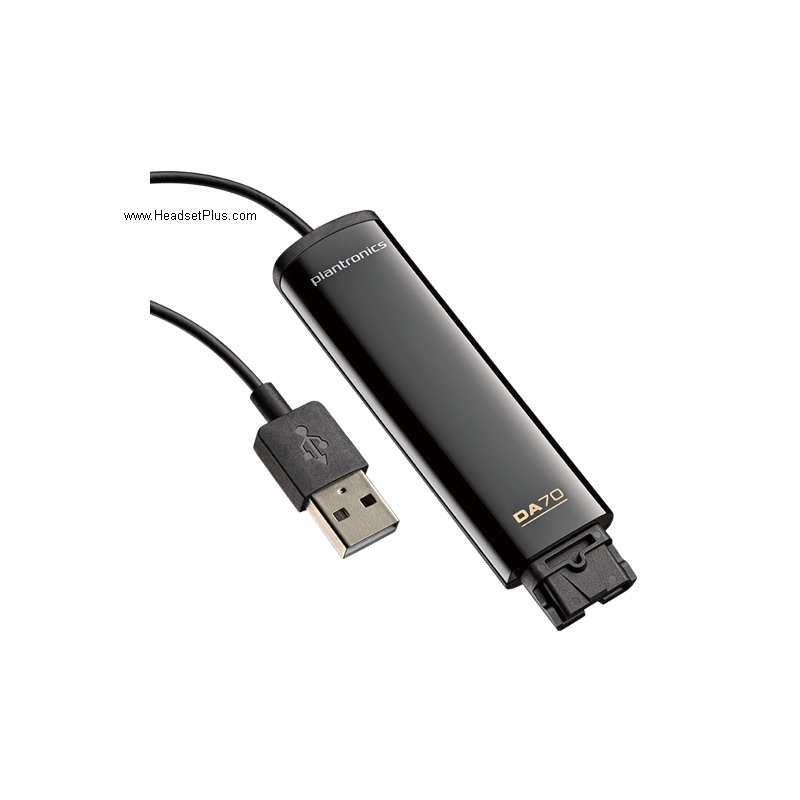 On the newest adapters for any Plantronics H-Series headsets we have the DA70 as the new entry level, with a simple configuration that goes from QD to USB-A, simply plug your Plantronics H-Series headset to it and plug into your computer. Affordable and practical for major deployments. Order yours HERE.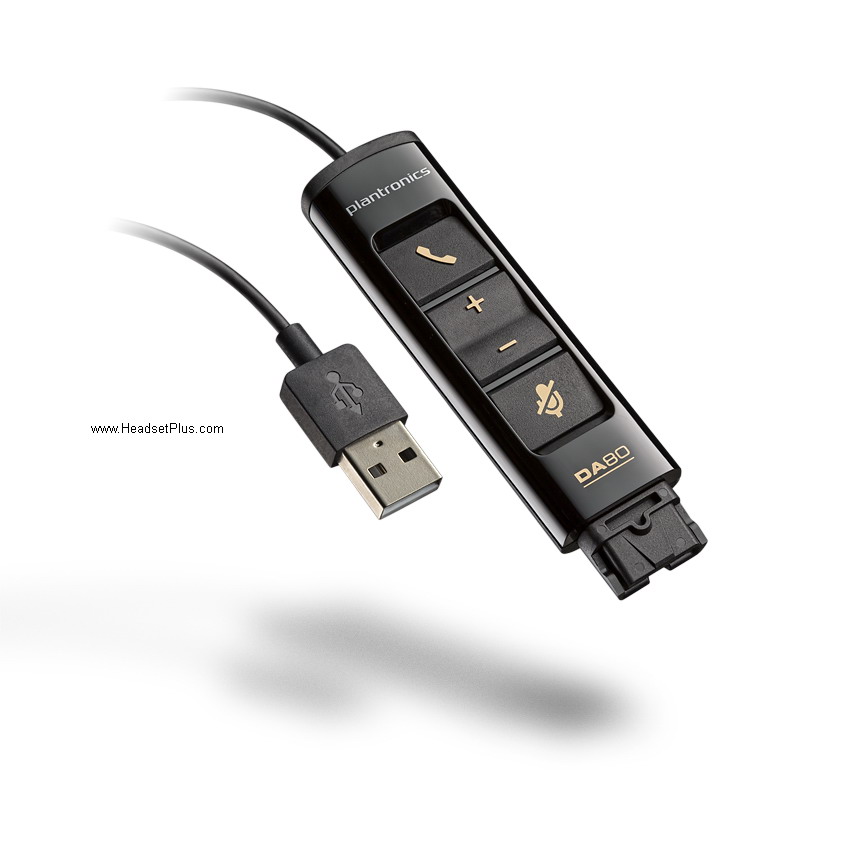 For Call Centers that require Volume control capabilities in their headsets, and capability to mute the microphone , answer/end calls or put calls on hold, depending on the soft phone application , Plantronics has the DA80 which offers those qualities added to the use of any H-Series headset with any computer with USB-A port. Strongly recommended for deployments where people need to take constant calls or need to modulate volume without using the keyboard and/or mouse. Get yours today.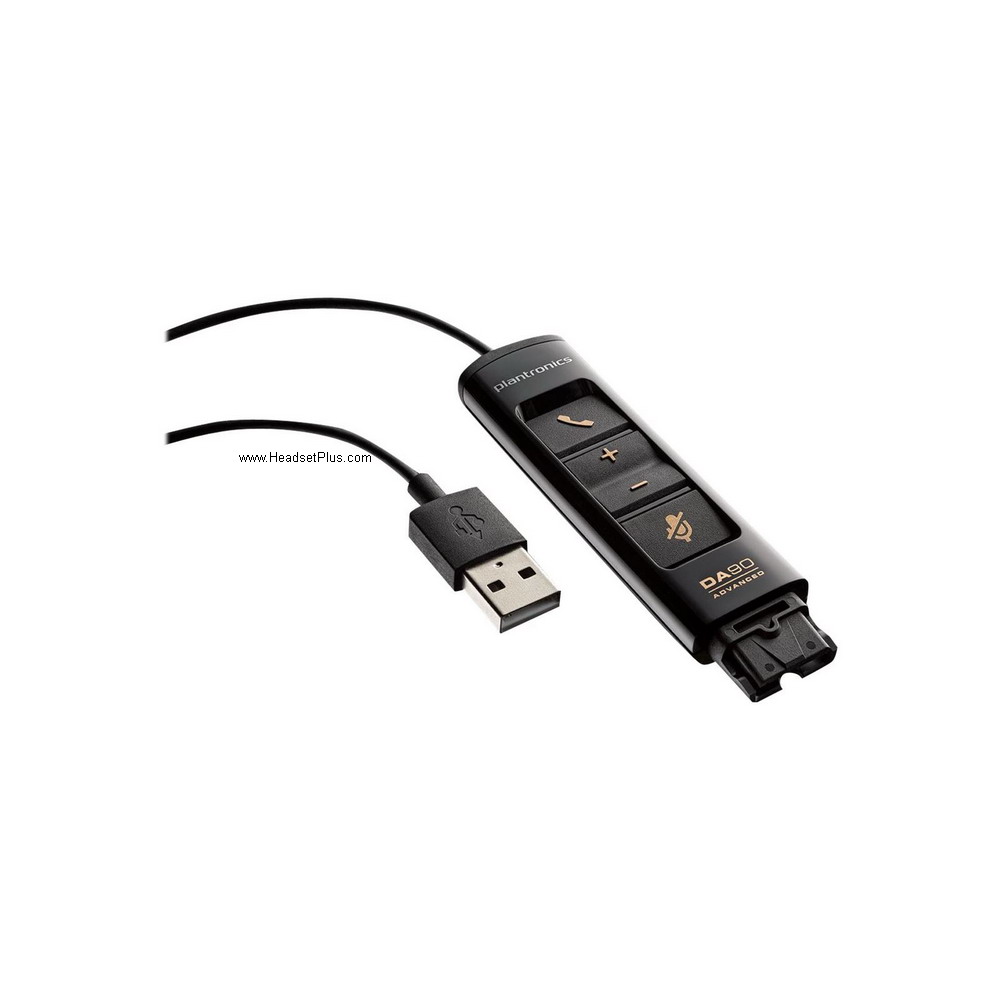 The newest addition by Plantronics is the D90 adapter, this particular adapter is compatible only with 6-Pin Plantronics headsets, which are going to be marked with a "D" at the end of the model number (HW510D, HW540D, HW720D to mention some), the reason of this adapter is the functionality of deployment of Call Centers with Plantronics Manager Pro software that allows companies to provide the best customer service and the best feedback and inventory management either on site or remotely. Order yours HERE.
If you don't want to buy all new headsets but are in an evolving business environment that utilizes unified communications then the DA series cables are what you need in order to connect those headsets to your computer; saving your business time and money.
For more information please contact Jeremy Stahl at jeremy@headsetplus.com, call 1-877-999-3838 to speak with Jeremy or visit www.headsetplus.com.