Plantronics CS540 is our #1 selling office headset. Customer often ask, what is Plantronics CS540-XD and what's the difference?   What does "XD" stand for?  Then there is the Plantronics CS545-XD.  What's the difference. How does that differ from CS540 and CS540-XD.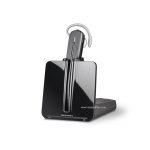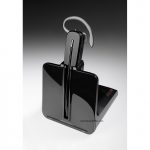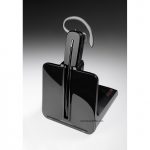 Looking at the pictures, one cannot tell the difference.  Headset looks exactly the same, system base looks exactly the same.  All three models are "convertible" headsets, meaning they can be worn in one of two ways… Either "over-the-head" or "over-the-ear".  Both attachments are included in the package.
The biggest and only difference between these models is the wirleless frequency it operates on, the battery and talk time.
Battery Difference:
Plantronics CS540 has an internal battery that you have to open the earpiece to replace.  Not easily accessible if the battery is running out.  Plantronics CS540-XD and CS545-XD has a quick "snap-on" battery that you can replace within seconds if the battery runs out during a phone call.  Plantronics CS545-XD is sold as a wireless headset with "unlimited talk time" because it includes an extra battery and charger.  So when the battery does run out during the long phone call, you can simply "hot swap" the dying one with a fully charged battery that you have on the side and continue with your phone call.  This is also very useful for a desk that has multiple shifts with different people using the same headset.  It basically allows you to use the same headset 24 x 7.  If you already own the CS540-XD, you can simply order the Plantronics CS540-XD, CS545-XD Battery & AC Charger, your CS540-XD becomes a CS545-XD with "unlimited talk" time.
Wireless Frequency Difference:
Plantronics CS540 operates on a DECT 6.0 or 1.90 Ghz frequency.  CS540-XD and CS545-XD operates on a 900 mhz frequency.  Why the difference in frequency?  "XD" actually stands for "Extra Density". meaning if your office already have 50 Plantronics CS540 in the office and you want to use add more CS540's.  You would use a CS540-XD or CS545-XD instead as additional wireless headsets in the same office or location.  If you use more than 60-70 wireless headsets in the same frequency in the same location, problems will start to occur such as inability to connect, very short range, poor voice quality, etc.  In this scenario is when CS540-XD, CS545-XD using a different frequency comes in play.  So with these two frequencies, you can operate up to 120 wireless headsets in the same office.
If you have further questions regarding these 3 headsets, call HeadsetPlus.com at  877-999-3838, our headset specialist will answer any questions you may have.