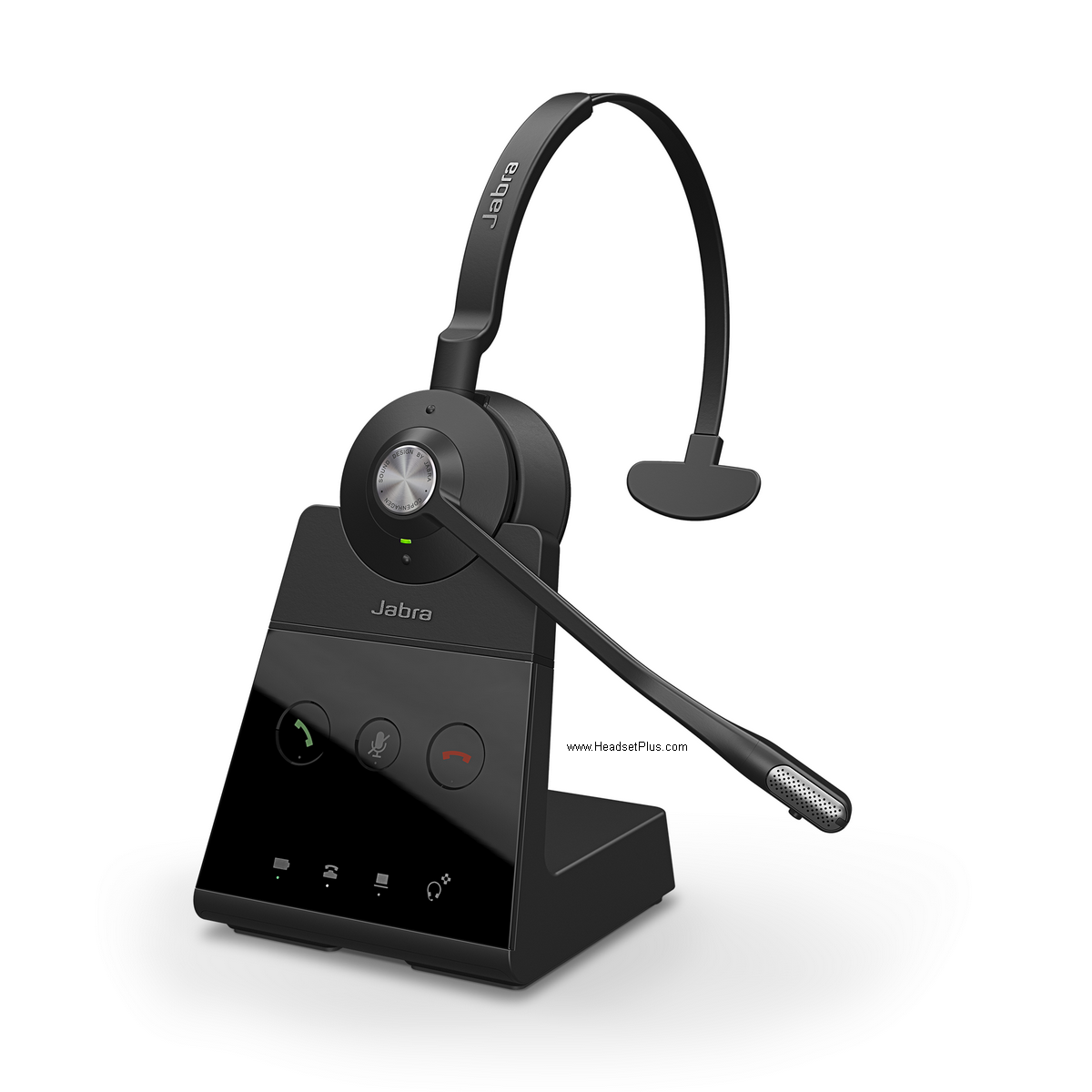 The very new and very best on the market. For many years the Jabra Pro 9400 series was one of the best wireless headsets. Now we have the Engage series. You can think of them as the new and improved version of the 9400 series. Well that's basically what they are. Below you will read about them in more detail. All headsets below are Microsoft Skype for Business Open Office Compatible
Jabra Engage 65 Mono (single ear):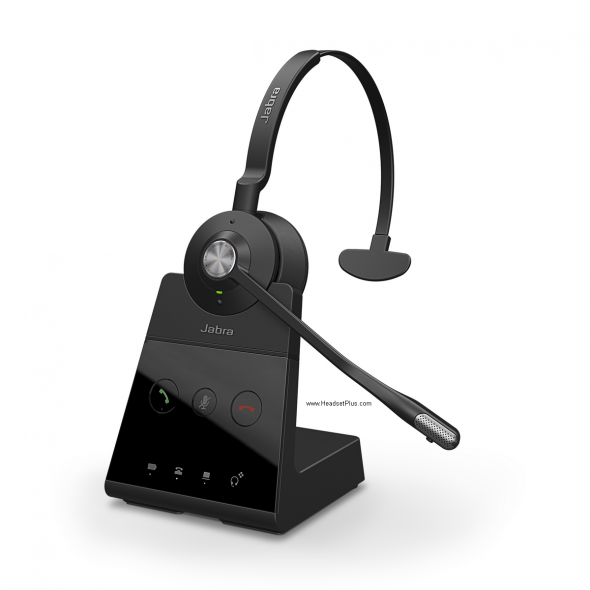 The Engage 65 mono would be my go to headset. I say go to because I'm currently using a the Engage 65 Stereo. My office is not loud enough to warrant the dual earphones, but it is nice to listen to music in stereo. The Engage 65 mono is a monster. You have 13 hours talk time, 490ft wireless range, and a fantastic noise canceling microphone. This headset is the replacement for the Pro 9450. You can connect it to 2 devices, desk phone and computer. If you're in a large office, you don't have to worry about interference. You can have up to 120 of these headsets without fear of interference. This is the most secure wireless headset on the market. It uses Patented pairing. 256-bit AES encryption. 128-bit authentication. DECT Security Level C. The Engage 65 is also very comfortable and light 57g. Another useful feature is the built in busy light. Co-workers/customers no longer have to guess whether or not you're on the phone. You wear it as a headband and it covers 1 ear. Comes with a manufacturer's 1 year warranty. Click here to buy now.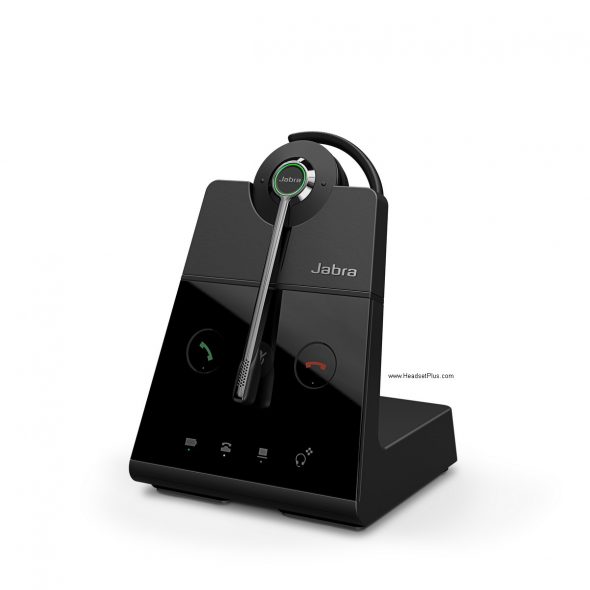 This wireless headset is very similar to the Mono but has some slight differences. The good: You can purchase additional wearing styles for this headset. It comes with an ear hook, (headband and neckband sold separately.) It is much lighter. The bad: talk time is decreased to 9 hours, the wireless range drops to around 330ft, and the battery is NOT replaceable. When your battery eventually dies, you will have to purchase a new headset. Still a great headset. Comes with a manufacturer's 1 year warranty. Click here to buy now.
Jabra Engage 65 Stereo (both ears):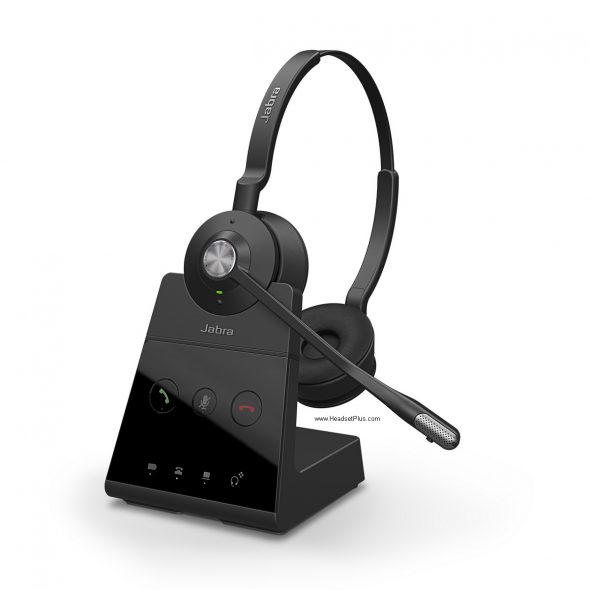 Virtually the same as the 65 Mono, weighs a little more 83g, stereo (2 earphones). With this you will get up to 490ft or roaming range, and 13 hours of talk time. The touch screen base is also a cool feature. You can control or adjust setting right on the base! The real benefit with this headset is the passive noise canceling that is provided by the dual ears. Like I said earlier, this is the headset that I use, and I love it. Sometimes it gets hot in the office, so I would prefer a single ear. At times when everyone is screaming on the phone, I'm glad I have stereo. The stereo headphones are superb for listening to music (listening to Jimi Hendrix right now).  Comes with a manufacturer's 1 year warranty. Click here to buy now.
Jabra Engage 75 Mono (single ear):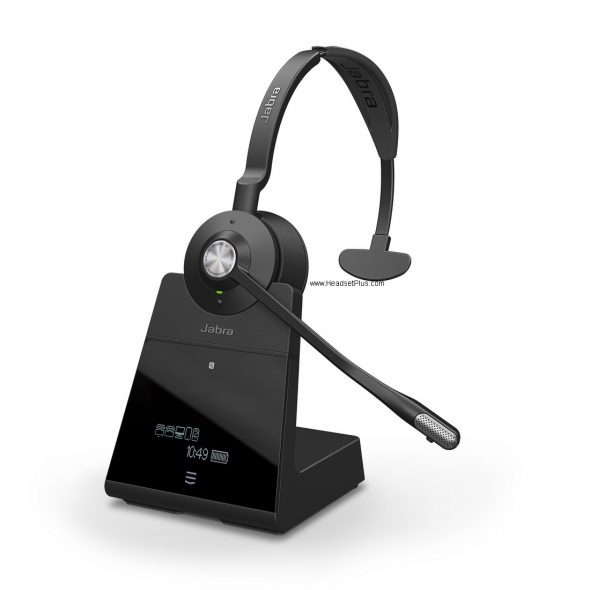 This Jabra Engage 65 headset is the absolute top of the line. Like the Engage 65, you have the exemplary 490ft range and 13 hours of talk time. This headset comes with head band, neck band, and you can connect it to 5 devices at one time. You read that correctly, connect this headset with 1 desk phone, 2 USB devices, and 2 Bluetooth devices. I can't imagine many people needing to connect to that many devices simultaneously, but more is better than less. It also has a convenient touch screen base. Comes with a manufacturer's 1 year warranty. Click here to buy now.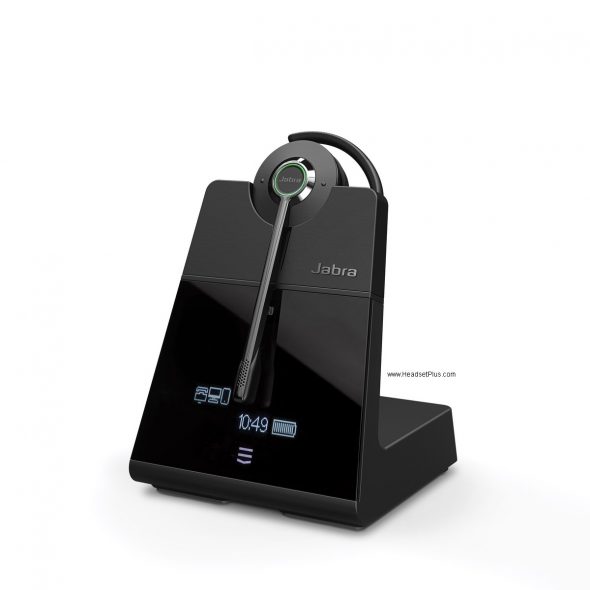 The headset has the same connectivity as the above 2 USB devices, 2 Bluetooth device and 1 desk phone. Unlike the Engage 65 convertible, this headset includes all three wearing styles (headband, ear hoods, neck band). Again the downside to this headset is the loss of wireless range, and decreased talk time. You still have 9 hours of talk time and 330ft of range, which is about the industry standard. Like the 65 Convertible this headset does not have an exchangeable battery. Comes with a manufacturer's 1 year warranty. Click here to buy now.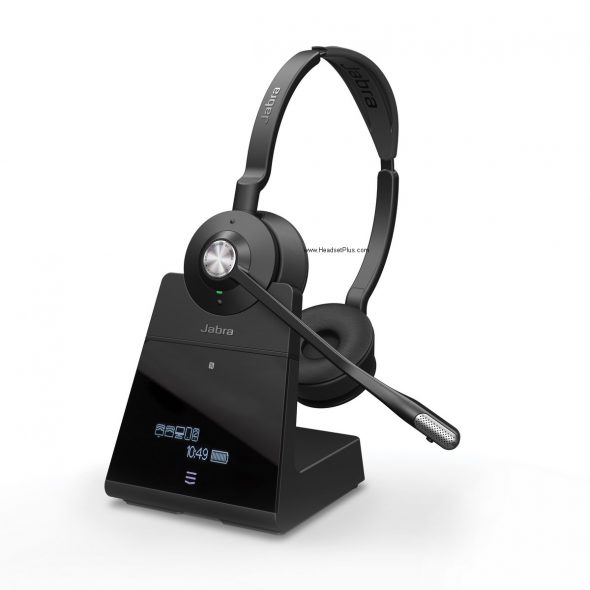 Includes all of the same features as the Engage 75 Mono but comes with 2 earphones. Rock out with this bomb stereo headset up to 490ft. Are you worried about how long you talk straight with this headset? Don't be. You have an incredible 13 hours of talk time. This headset is better if you're in a slightly louder environment. More often than not, my coworkers are talking very loud. We are within close proximity to one another, having stereo helps drown out the noise. Don't fret about the headset being uncomfortable or cumbersome. I wear the Engage 65 stereo for 8-9 hours straight no problem. Do yourself a solid and just buy this headset. It is far better than anything on the market. I prefer the Engage series way over Plantronics. Comes with a manufacturer's 1 year warranty. Click here to buy now.
All of these headsets are truly remarkable. If you choose any of the above, I guarantee you will love them. All of the Engage series are remote answer capable. Remote answering will enable you to answer and end phone calls away from your desk. You can be down the hall or in another room and still be able to answer your calls. Feel free to reach out to me for compatibility.
877-999-3838 or 650-306-9768