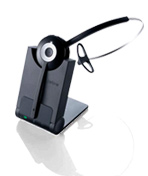 Q. Does the Jabra PRO 920 support electronic hook switch (EHS) for remote answer/end calling away from your desk?
Yes, for a number of popular deskphones including Cisco, Avaya, Siemens, Polycom and Toshiba to name a few. The EHS cord is sold separately as an accessory.
Q. Can the Jabra PRO 920, 930 Series support more than one headset in conference for a multi-shift operation?
Yes, the PRO 900 Series can support up to 4 headsets.  You can order additional headsets here
Q. Does the Jabra PRO 900 Series (920, 930) support a field upgradable replaceable battery?
The headset battery is NOT field-replaceable although you can order a standby headset with spare battery for replacement purposes. This part number is 14401-08.
Q. What is the warranty on the Jabra PRO 900 Series?
One year.
Q. Can the audio be switched between desk phone and PC?
No, the Jabra PRO 900 Series variants support a dedicated desk phone or softphone connection. Our Jabra PRO 9450 is a better solution for providing switching between desk and softphone audio paths, and also allows you to bridge callers together.
Q. How do you pair a second headset to the base of the PRO 900 Series?
Simply dock the second headset and wait until the battery icon indicator turns green (this could take up to a minute) on the base.
Q. Can the Jabra PRO 900 Series be used in a contact center?
Yes, due to robust functionality including the ability to support up to 4 headsets in conference, investment protection through free software enhancements, the PRO 900 Series delvers tremendous price-performance value.
Q. Will there be a standalone charger available for the PRO 900 Series base?
Yes, it is part number 14209-05
Q. What wearing styles are provided with the Jabra PRO 900 Series?
Two styles, headband and earhook are included in the box. The neckband is available as an accessory. Part number 14121-24.
Q. Is the PRO 900 Series a mono headset?
Yes, this is what is currently available.
Q. Are the ear cushions on the PRO 900 Series headset leatherette?
Yes.  you can order them here
Q. Does the Jabra PRO 900 Series support the GN1000 Remote handset lifter?
Yes.
Q. Does the USB to AUX service cable support both the Jabra PRO 920 and 930 platforms?
No, it is only supports the Jabra PRO 920 platform for software updates via Jabra PC Suite. The Jabra PRO 930 already has a USB termination which allows you to leverage Jabra PC Suite for software updates.
Q. How does the PRO 920 and 930 support power level adjustments for range settings?
For the PRO 920 it can be supported through voice prompt commends during set-up. The PRO 930 power range settings can be managed through Jabra PC Suite