Today's wireless technology industry is focused on manufacturing products which offer complete audio streams at once. As a result, users usually find themselves with dozens of wireless headsets and have to add "Quick Change Artist" to their set of skills. Fortunately, the Jabra Pro 9470 wireless headset has come to the rescue. For the first time, a single unit of wireless headset supports your Internet phone, landline phone and PC sound output & offers you the farthest range in ANY wireless headset (350 feet).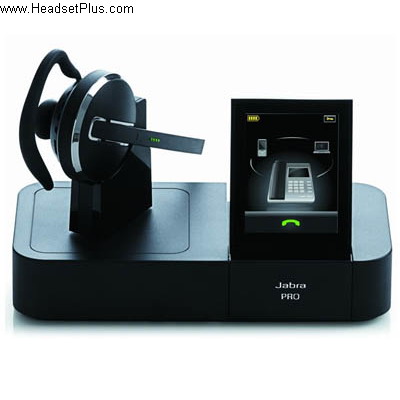 This Wireless headset's installation is very easy and simple. All you have to do is plug the USB cable into your PC, unplug your phones receiver & plug that into the Jabra Pro 9470's base unit, then attach the included phone cable into your telephones handset port. The software driver is already installed on your existing Microsoft Windows or Apple Mac, so there is no need to install any software for this.
Using the Jabra Pro 9470 is simple too. If you're in PC mode, you can hear an incoming ring from your VoIP call through the earpiece, then you can answer the call from your PC's VoIP application. If you're listening to music, it will continue unless you prefer to stop or pause the music you are listening to, to make the voice on the other line more audible. If you are in phone mode, simply press the button on your wireless headset…and with the optional lifter (GN 1000) you can answer your phone call immediately from up to a distance of 350 feet away from the base unit.
The sound and the clarity of voice are great! No one should be able to tell that you are on a wireless headset. The Jabra Pro 9470 comes with a noise canceling microphone which cancels out background noise and helps to deliver a clear voice. It also includes a wideband audio and digital signal processing. Its battery lasts long and the transmission between its base unit and it's wireless headset is digitally encrypted for your security.