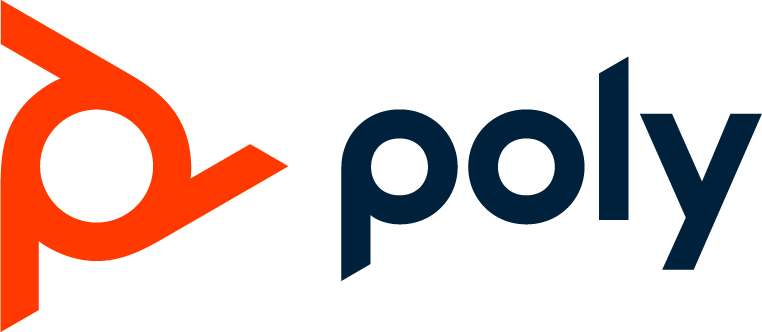 Two mighty giants, one common task: provide the best sound and best performance in telecommunications for the current office employees while keeping everything under one roof. Plantronics and Polycom are now together as Poly. Partner of choice for the communications and collaboration ecosystem. Plantronics is now Poly.
Those are the words from Poly, so from now on some of the well know products from Plantronics will be known as Poly, and the Polycom phones will be know as Poly Desk phones, and today, we will review and analyze some of the products compatible with their respective line of desk phones.
Poly (Plantronics) Savi 7210 Office Wireless Headset, Mono Style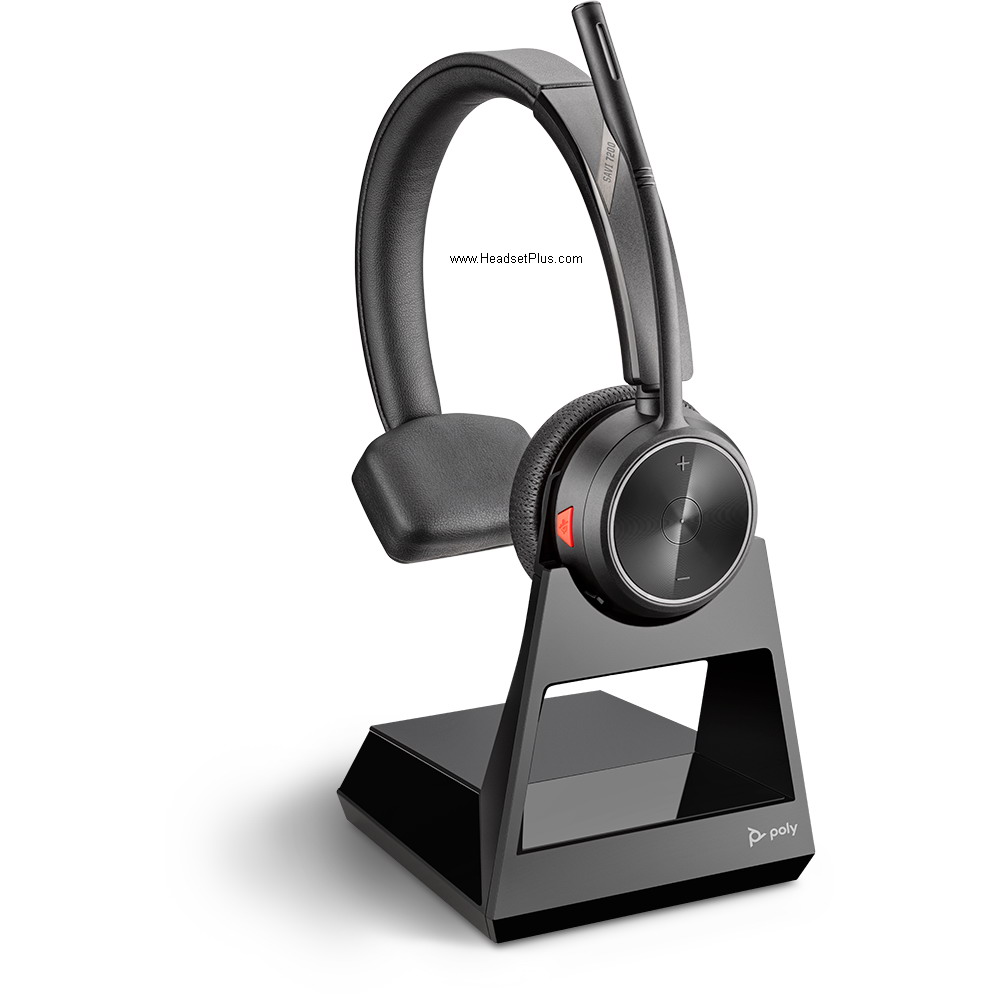 The new Poly (Plantronics) Savi 7210 is one of the first headsets from the new Poly with a new and improved design with an improved range now of up to 400 feet on line of site against the previous generations of barely 300 feet, on a wireless DECT frequency of 64 bit encryption. With an improved talk time on a single charge of up to 12 hours , with a stand by time of 50 hours. This headset comes with the well known Sound Guard technology that protects against sound levels above 118dBA, which can seriously damage the user's hearing. The design is a really elegant and sophisticated design going into a new direction that looks more appealing that before and without compromising a nice design. You can order yours HERE.
Poly (Plantronics) Savi 7220 Office Wireless Headset Stereo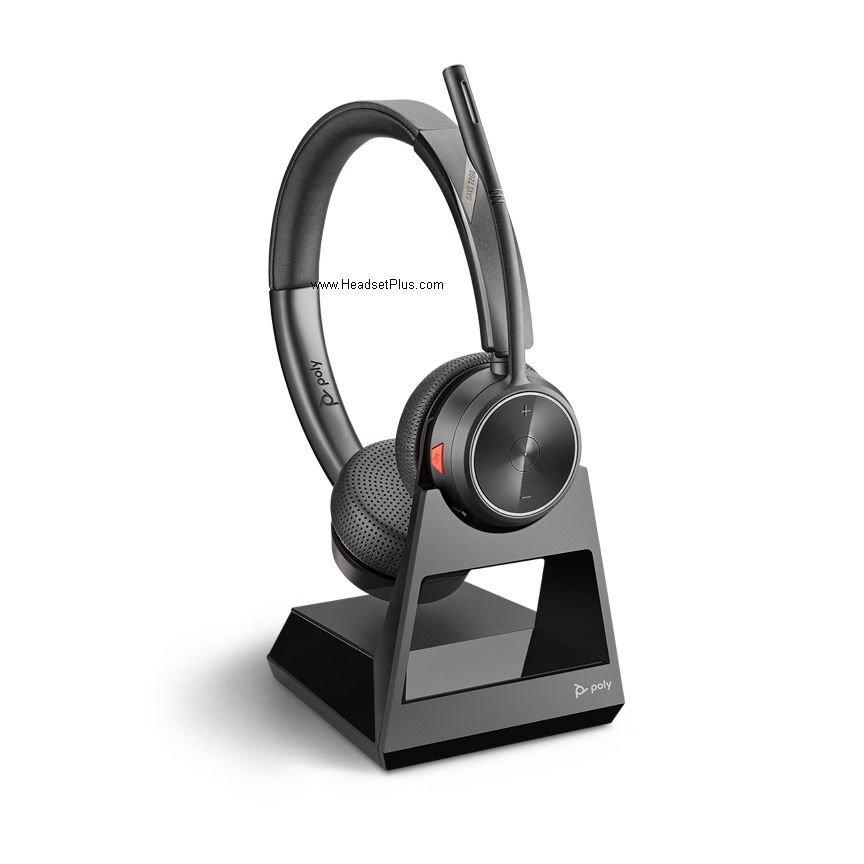 For those that need a stereo sound quality for a loud work environment, Poly offers the new Savi 7220 that comes with an elegant and practical design, covering both ears with a leatherette ear cushions. The well and improved known range of up to 400 feet on line of site, and the talk time of 12 hours as well as the mono sibling. Pretty light headset with a weight of 138g , which is a nice feature, considering this is a stereo headset. Volume controls and call controls built into the headset, making it easy to increase, decrease, mute microphone answer and end calls, when the right remote answer solution is included. Flexible microphone boom arm with noise canceling technology from Poly, easy to setup into your Poly desk phone. Get yours HERE.
Poly Savi 7310 Office Wireless Headset Mono, desk phone and PC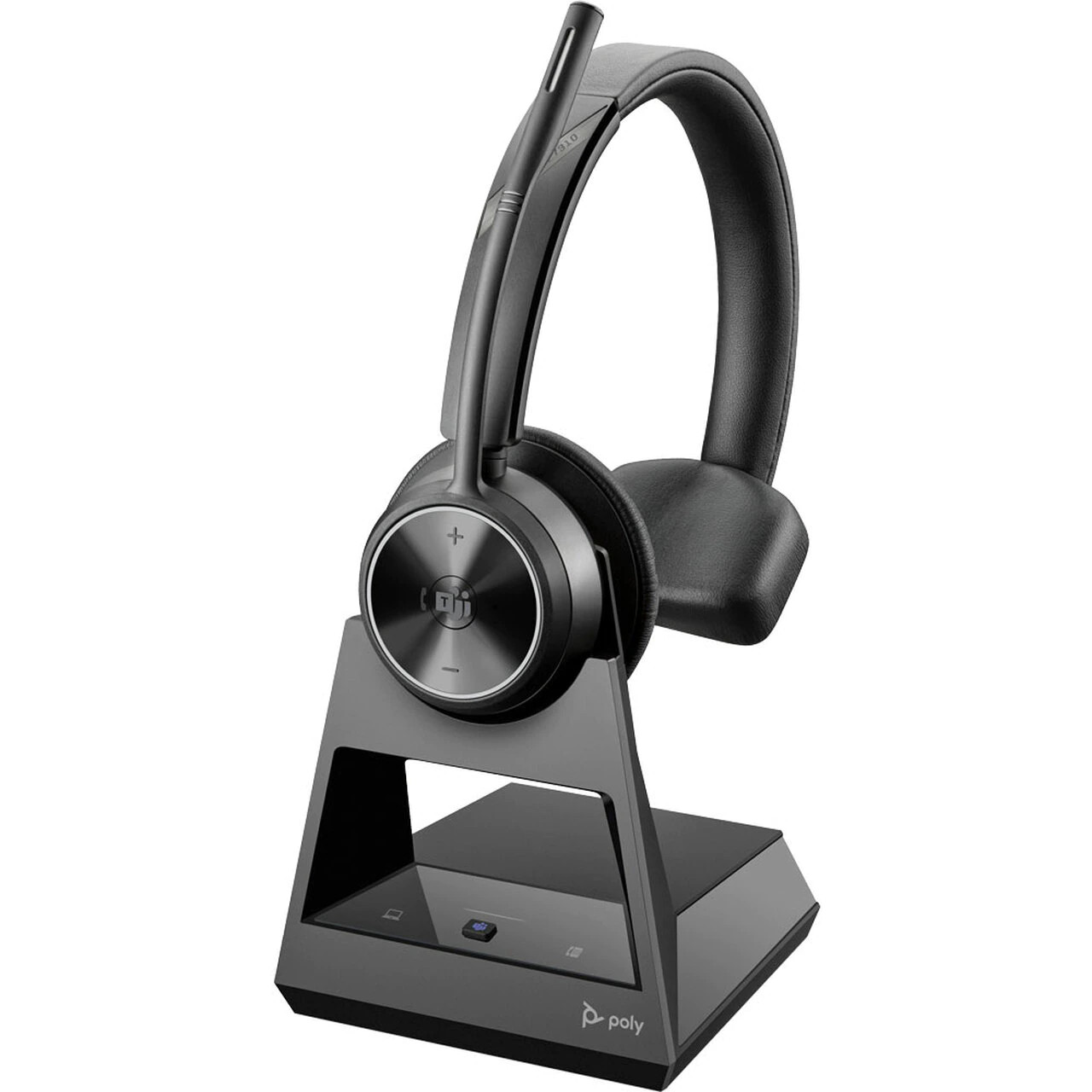 The latest addition from Poly is the new Savi 7310 Office which offers the highest encryption on DECT frequency that is of 256 bit AES encryption, designed specifically for a maximum secure channel in a wireless headset. Thanks to the new encryption, the new Savi 7310 offers you the longest range, that is of 580 feet on line of sight. One feature that I do enjoy of this headset is that you can use it with virtually any Poly desk phone, and you can use it at the same time with your computer, by USB-A or USB-C, this particular model comes with both cables that allows you to choose either of this ports, really convenient as some people use laptops with only USB-C or people that use desktops with only USB-A. The talk time of this new unit is up to 13 hours in a single charge or over 50 hours on standby. Get yours HERE.
Poly Savi 7320 Office Stereo Wireless Headset, desk phone and PC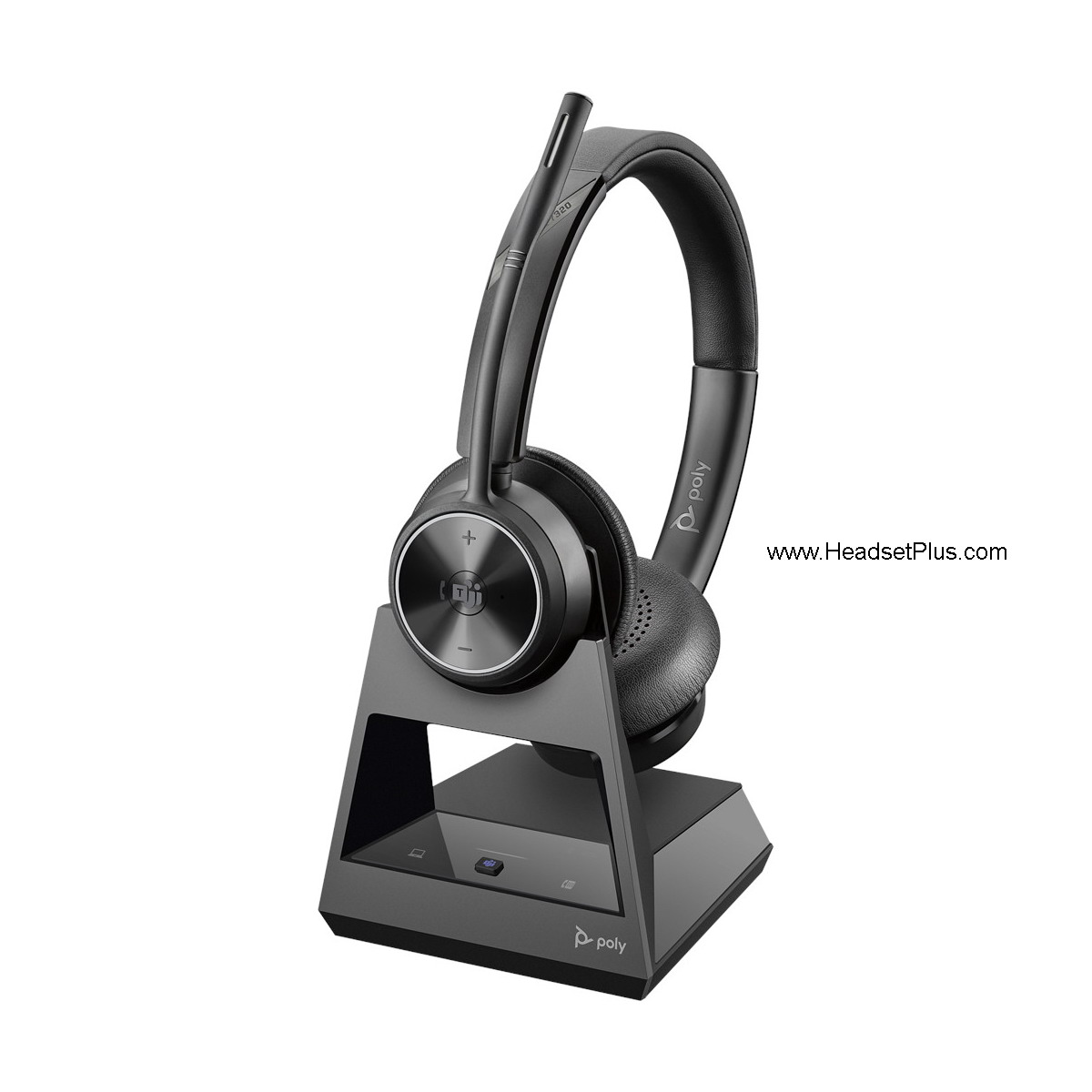 Poly offers the well known stereo sound quality with the Savi 7320, offering the highest encryption of 256 bit AES DECT, with one of the furthest range of roaming of up to 580 feet on line of sight and the amazing 13 hours of talk time, similar to its Mono sibling. Built in volume controls, allowing you to modulate the volume coming out of your headset and mute the microphone with a simply touch, the built in call controls allows you to answer and end calls from the distance, as long as you have your remote answer adapter in your desk phone. The Savi 7320 comes with both connectivity for desk tops and laptops as it comes with USB-A and USB-C cables. The headset is compatible with all major soft phone applications, simply use the Plantronics Hub into your computer that allows you to get the best performance on your headset. Order yours HERE.
Plantronics Savi 8210 Wireless Headset Monaural, Savi 8200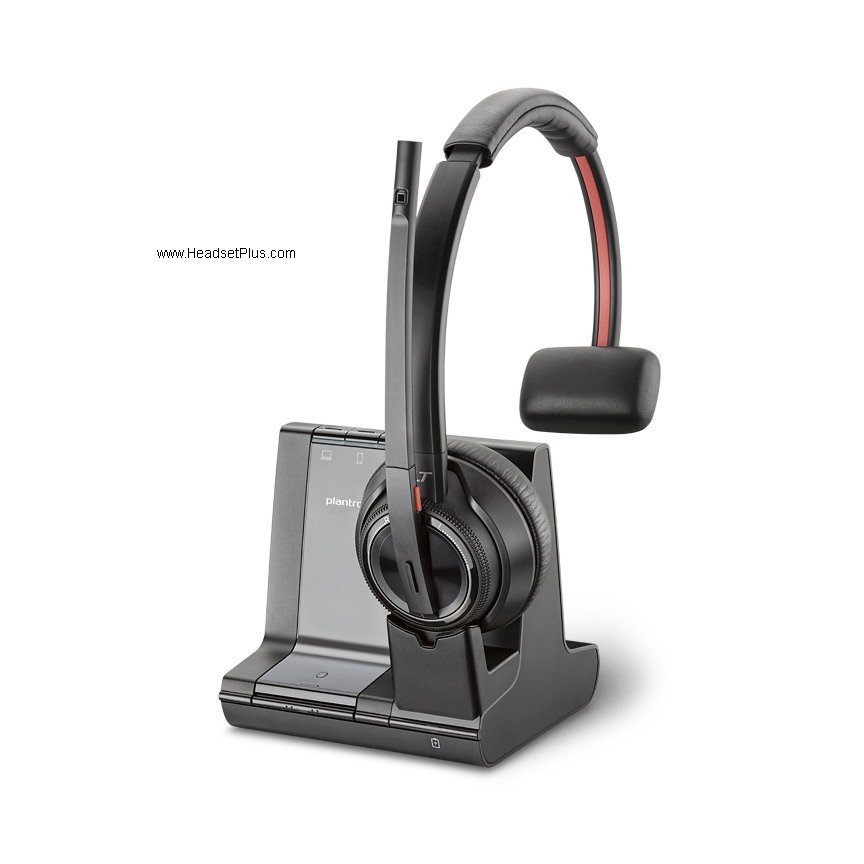 Plantronics offers the Savi 8210 headset with multi connectivity, so this means that the headset can be used with the desk phone, with the computer and with a Bluetooth enable device, thanks to the built in Bluetooth in the base. The Savi 8210 offers a range of up to 590 feet on line of sight, on a wireless DECT frequency, so you can feel free to walk to another room without being cut in and out. Offers a 13 hour of talk time with a single charge and up to 50 hours of standby. Telecoil Hearing Aide compatible and with a flexible microphone boom arm. Built in buys light at the base that let you know which device is bein in use and if you are muted as well. Order yours HERE.
Plantronics Savi 8220 Wireless Headset Binaural Savi 8200 series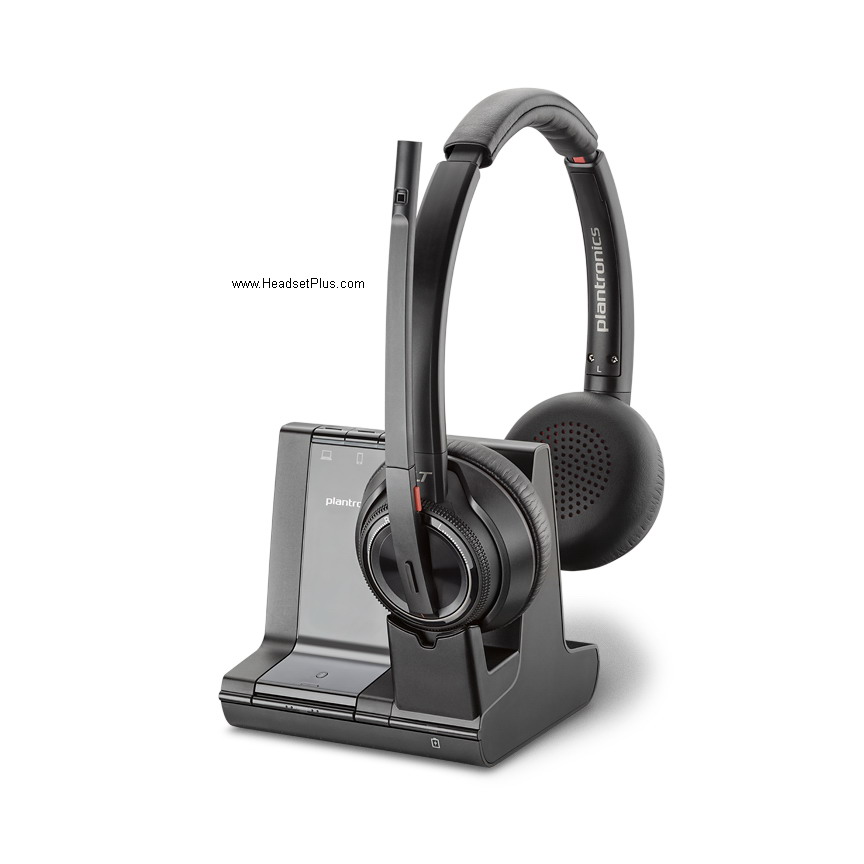 We do have the Plantronics Savi 8220 now, that allows you to use it with any of your Poly desk phones, and with the computer via USB-A, the built in Bluetooth to the base allows you connectivity to your cell phone and the built in busy lights at the base, let you know which device is engage and if the microphone is muted. Active Noise Canceling is found on both ear cups, allowing the user to turn on this feature if its a really noisy environment, noise canceling microphone can be found in the flexible boom arm. Telecoil Hearing aid compatible for users in need of this feature on their headsets. Talk time of 13 hours in a single charge, making it a nice contender for people looking the best performance with noise canceling microphones and with easy setup. The range on this particular unit is of up to 590 feet thanks to its DECT Security certification, compatible with remote answer adapters for Poly desk phones, computers with USB-A ports and any cell phone or tablet with built in Bluetooth. Get yours HERE.
Poly Voyager Focus 2 Office USB-A Bluetooth Stereo Headset  (Staff Favorite)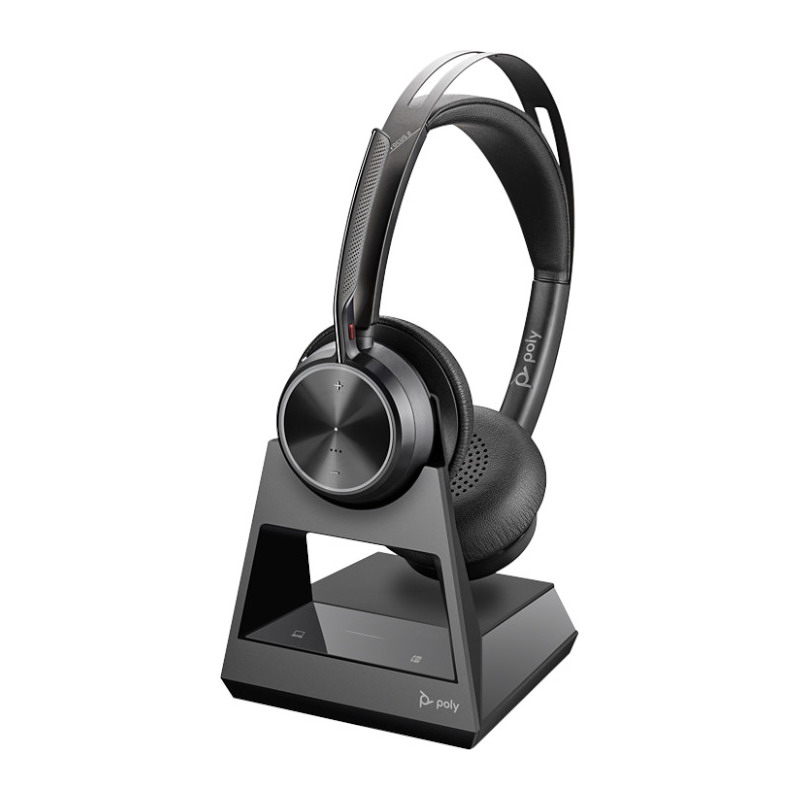 Poly brings this new addition to their line up, the Poly Voyager Focus 2 Office USB-A Bluetooth Stereo Headset. The new Focus 2, offers Active Noise Canceling, with 3 levels of advantage digital hybrid noise canceling technology, being one of its kind allowing the user to determine how much noise canceling is required depending on the location. The microphone boom has the newest technology from Poly known as Poly Acoustic Fence, with two microphones facing the user and one to the outside, with this set up allows the voice of the user be the most crystal clear to the other end. The Poly Voyager Focus 2 Office offers you multi connectivity, as it can be used with virtually any desk phone, computer via USB-A and your smart phone via built in Bluetooth, allowing the user to take the headset down the road and keep using it at different locations with the smart phone paired to. The range of this headset when used with the computer or desk phone is of 300 feet, being a good amount for people that need to roam around the office. Smart sensors know when the headset is laying down or when the user is putting it on, this is helpful if playing music can pause it, or can mute the microphone by taking the headset off. Built in busy light in both sides of the headset, making it really convenient when at open office environment. Talk time of 19 hours with single charge, built in volume controls and answer/end calls as well. Microphone boom can be worn in either right or left side, making it a nice option for people with personal preference of location. Order yours HERE.