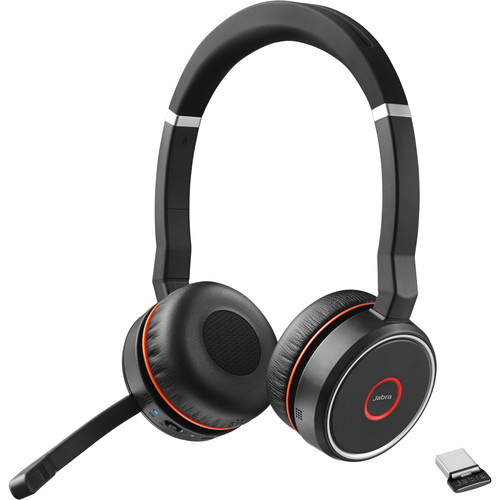 There are so many certified Microsoft Skype for Business, MS Teams (formerly Microsoft Lync) compatible headsets by Jabra, Plantronics, VXi. But which one is the best? We stock over 70 different model headsets that are certified for Skype for Business. Price range any where from $50 to $400 depending on your budget. Obviously it's not fair to compare a $400 to a $50 headset, the $400 headset will obviously be a better headset. It's the old saying goes – "you get what you paid for". Given that there are so many to choose from, I will break these choices down by price – low end, mid range, and the high end:
Affordable – for the price conscious (<$100)
Yealink UH36-Dual Stereo USB-A w/3.5mm Headset Microsoft Teams $99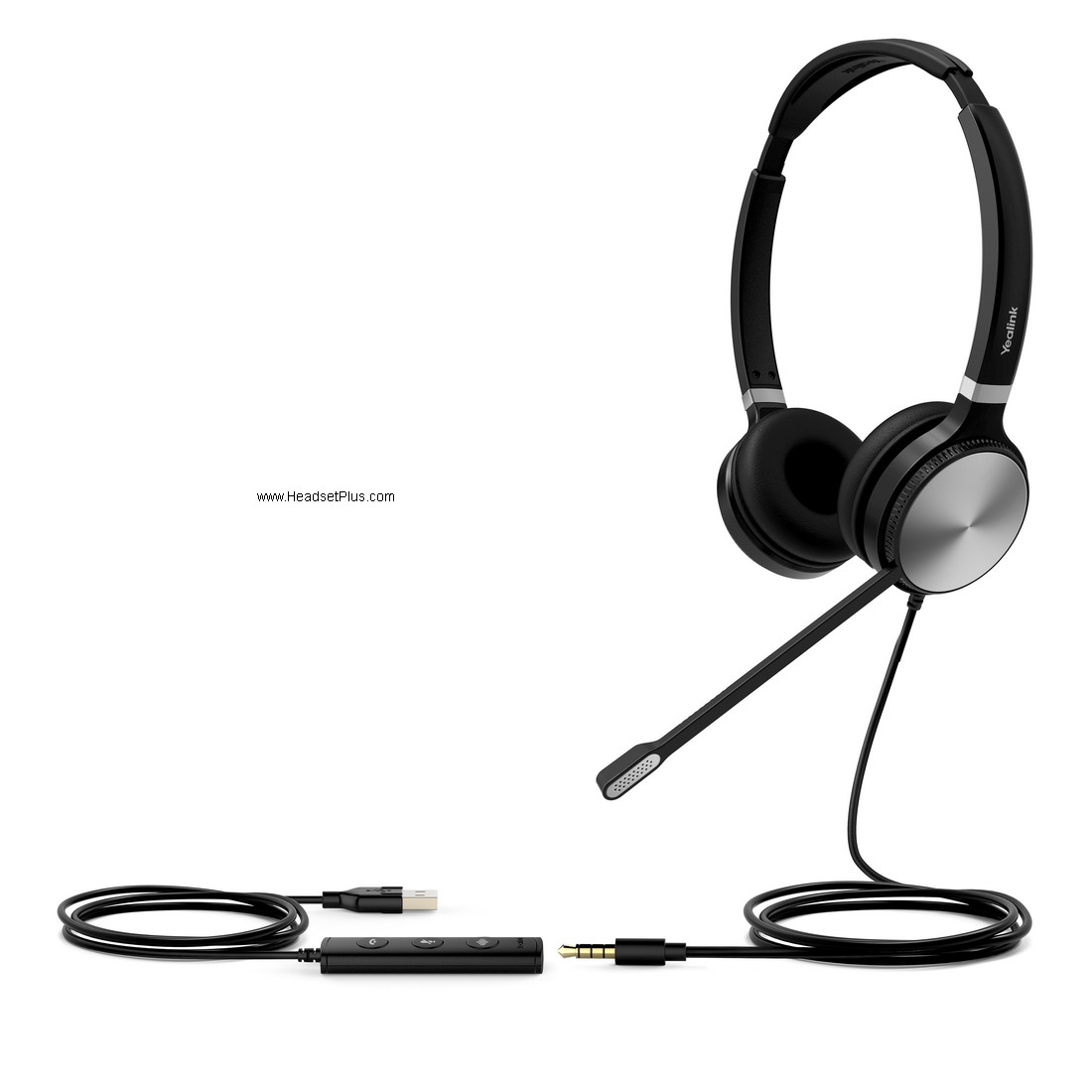 The Yealink UH36-Dual Stereo USB-A Headset is one of the top offers in the affordable corded headsets for Teams, with a nice built quality and firm structure, this headset offers an incredible performance either being used with its included USB-A adapter (YHC20) or by the 3.5 mm jack output. Easy to use as simply plug and play without having mayor issues after starting using it. You can find volume controls, answer/end call and mute control in the USB-A adapter, compatible with PC/Mac as with any smartphone by 3.5mm jack input. The UH36 can be ordered in either Mono version covering one ear or Dual version, in a rich Stereo sound quality. Order yours HERE.
Jabra EVOLVE 30 II MS Stereo USB Headset for MS Lync $79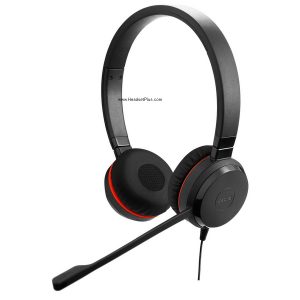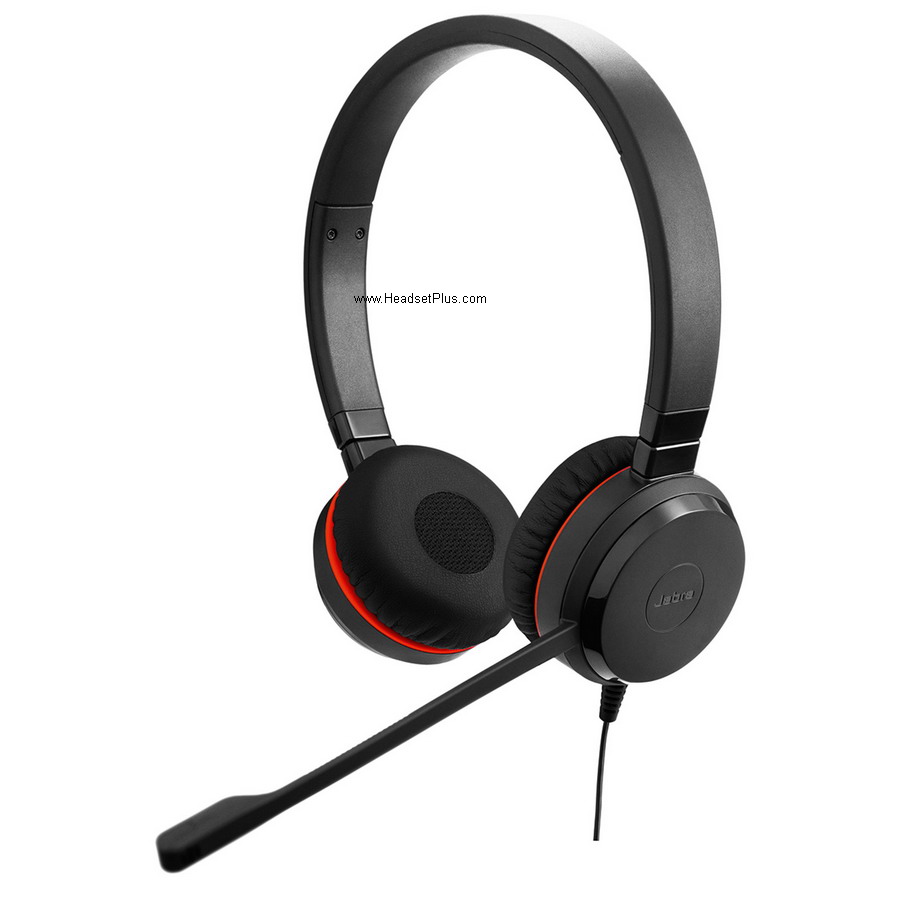 The Jabra Evolve 30 MS is an excellent entry level headset for Microsoft Skype for Business. Very good "bang for the buck", price only at $79. Very well built, high quality construction, best of all – Jabra stands behind its product with a full one year warranty. It's plug and play and certified by Microsoft to Skype for Business. In addition, in comes with a 3.5mm jack for smartphones (ie – iPhone, Android). It has all the features of an high end headset, noise canceling microphone, in-line controls, peak-stop noise protection, etc. and it even comes with a travel pouch. Here if from HERE
Plantronics C3220 Blackwire Stereo USB Headset MS Skype $59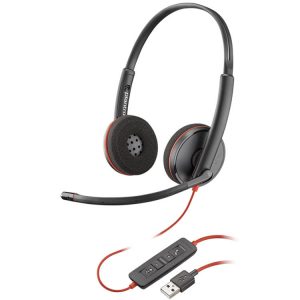 Plantronics C3220 is another very good choice for call centers deploying large amount of MS Skype for Business headsets. This model has hi-fi stereo, covers both ears. So when the agent is not on a call, he and she can listen to music on the computer. The dual ear feature also helps block out background noise in a busy office, so the user can focus more on the phone call and not be distracted by all the office chatter in the background. Plantronics Blackwire C3220 also is backed by a one year warranty. Order it HERE
Mid-Range – ($80-$150)
Jabra EVOLVE 40 MS Mono USB Headset for MS Lync $109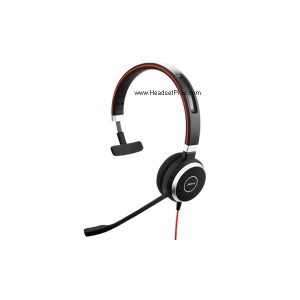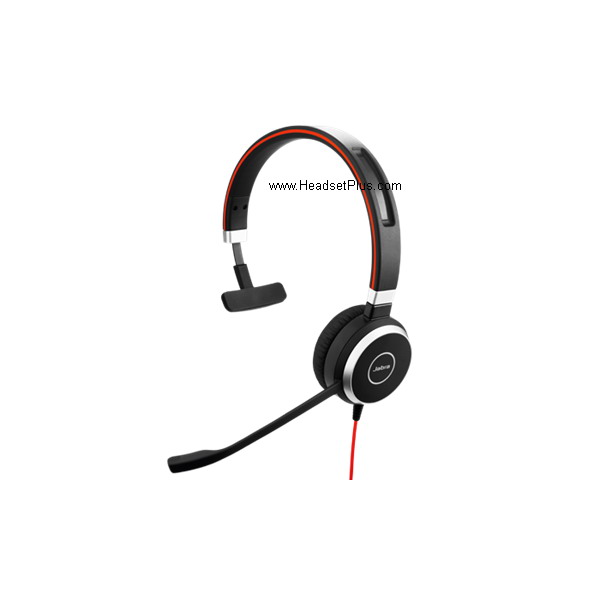 Jabra Evolve 40 is an "all purpose" headset, not only it's a good headset for Skype for Business, you can also use the same headset for your smartphone (like an iPhone). It's integrated with a 3.5mm smart phone adapter. So you can connect it either to the computer via USB or a smartphone or tablet. It has DSP (digital signal process) for clear audio, a feature that the low end models do not have. Of course, plug-and-play compatible with Skype for Business. It also has an built in busy light to alert other workers around that you're on a live call. Order it from HERE
Plantronics Blackwire 5220 USB, 3.5mm Headset, MS Skype Cert $109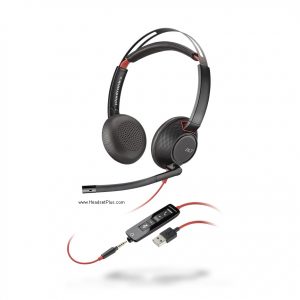 Plantronics Blackwire 5220 is a very good quality "mid-range" Microsoft Skype for Business certified headset. It has a feature that no other headset have – both 3.5mm smart phone plug and USB connection. You can use this headset for Skype for Business as well as a smartphone like an iPhone or Android phone. Dual speakers that offer wideband quality hi-fi stereo sound. Noise canceling microphone. Like the others, it has all the in-line call controls. The Blackwire C5220 is foldable. So you can easily take it with you for business travel and use it on your laptop. It's firmware also up-gradable using Plantronics Spokes software. Of course with DSP (digital siginal process) for the best audio possible. Order it HeRe
High End – ($150+)
Plantronics Voyager 4220 UC Bluetooth Stereo USB Headset, Skype $189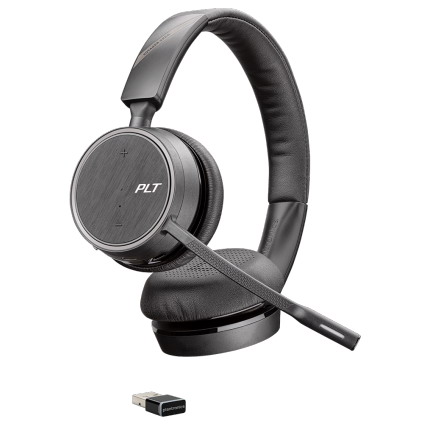 This is the the newest top of the line Plantronics wireless USB headset for MS Skype for Business. It has all the latest technology and bells-and-whistles. Of course Skype for Business plug and play compatibility and certified by Microsoft. It has SoundGuard® DIGITAL technology provides protection against audio spikes. Enhanced voice alerts tell you connection status. Up to 12 hours talk, 15 hours music listen, and 13 days standby time. Up to 98 ft/30 range from supported smartphone or laptop with optional BT600 Bluetooth adapter. You can buy it HERE
Plantronics Savi 8240-M Microsoft USB-A Wireless Headset, Teams $259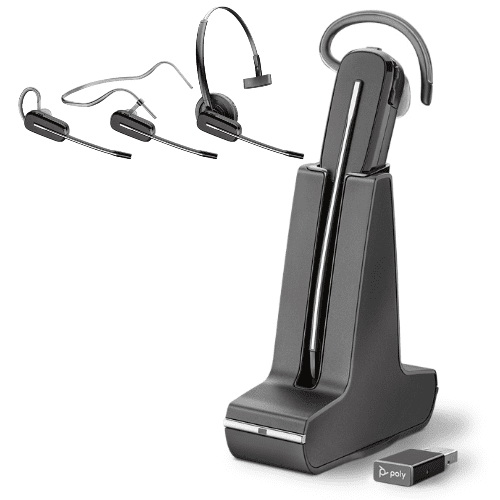 Plantronics Savi Savi 8240-M is a wireless USB Headset and it's the also the most versatile headset certified for Microsoft Teams. It's Plug-and-play compatible with Microsoft Teams (formerly Skype for Business). It comes with 3 different wear styles (over-the-head, over-the-ear, and behind-the-neck). So you're covered regardless of which way you wear your headset. It has a hot-swap-able battery (extra battery sold separately), so you could have an endless hours of talk time if you need it. It has a 300 feet wireless range if you like to wander the office. You can also answer your call or end it at 300 ft away by pressing a button on the side of the headset. This is the ultimate headset for Microsoft Teams. You can order it Here
Jabra EVOLVE 75 MS Stereo Bluetooth USB Headset w/charging stand $249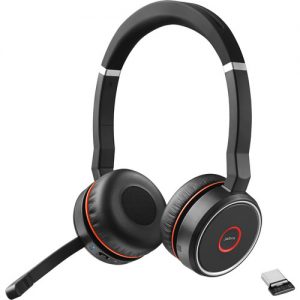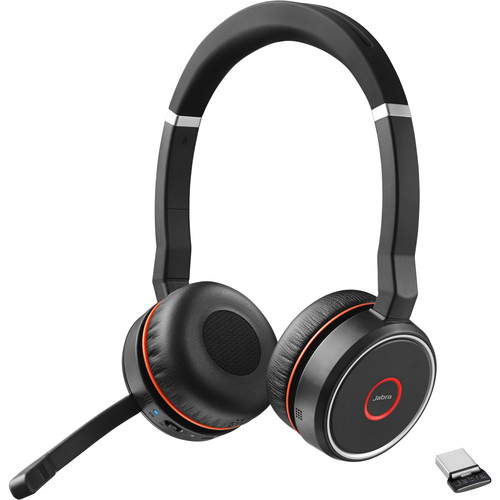 The Jabra Evolve 75 is the newest wireless headset for Skype for Business from Jabra. It designed for noisy call centers. It has a binaural design with double speakers that cover both ears. In addition it includes Jabra's "active noise canceling" technology – engineered specifically to block out additional unwanted noise in the office or contact center. It's been certified by Microsoft for Skype for Business – which means it's plug-and-play out of the box for the MS Skype for Business UC software. the package includes the Jabra Link 370 Bluetooth adapter for the PC. It's a Bluetooth headset, so when you're not on phone, Jabra Evolve 75 becomes a high end HD headphone for music. The boom arm can be fliped up and clipped onto the headband. When needed, you can also use it as a headset for your smart phone (like an iPhone). Once fully charged, it's good for 15 hours of battery life, so it's almost impossible to run out of battery during a business day. Order it HERE
If you also have a desk phone and/or Cell Phone
Plantronics Savi 8210-M Microsoft Wireless Headset (staff favorite)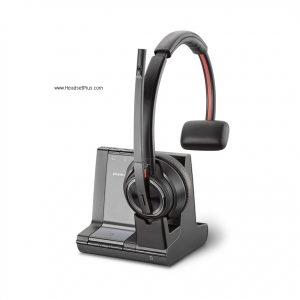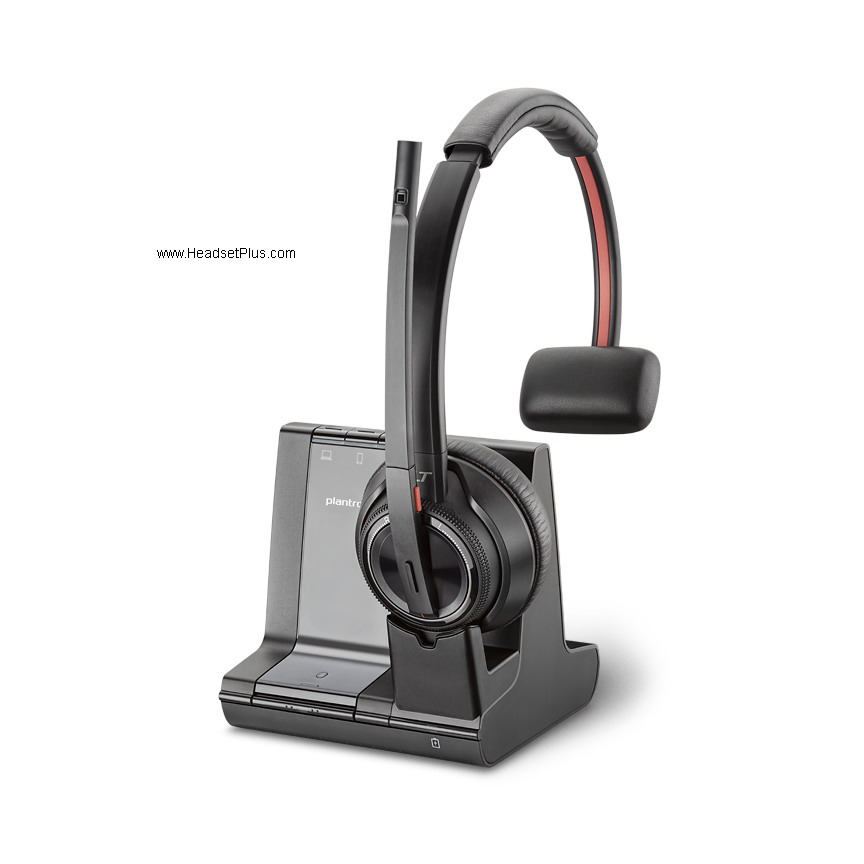 The newest of all the Skype for Business headset is the Plantronics Savi 8210-M. The beauty of this headset is that it's a wireless headset you can use with Skype for Business, desk phone, and your mobile phone (3 devices). If you have an office phone and Skype, you can switch between the landline phone, cell phone and your MS Skype softphone without switching headsets. It has a noise canceling microphone, so it blocks out background sound for your customer. When fully charged, it has 13 hours of battery time. 50+ hours of standby time. So you never run out of battery in a normal day of work.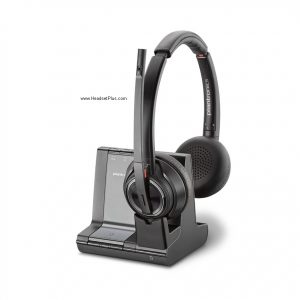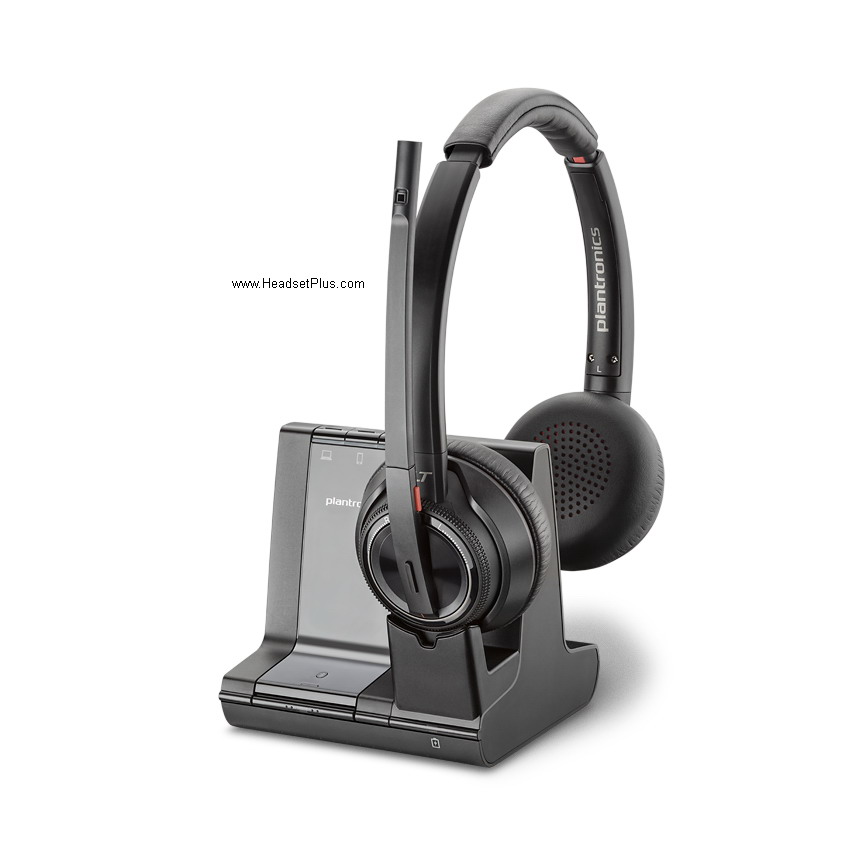 There are two versions, mono Plantronics Savi 8210-M and the binaural Plantronics Savi 8220-M. The Saiv 8220-M is a stereo wireless headset that cover both ears for extremely busy and noisy office or call center, it can also be used as a high quality stereo headphone for music as it has hi-fi quality speakers. Both of Plantronics Savi 8200 series headsets comes complete with USB cable, AC adapter and base for charging. Nothing else is needed for your deskphone or cell phone.
These some of staff picked headsets specifically for Microsoft for Business. There are of course many others. You can see the entire line of Skype for Business Headsets Here You will not go wrong and be very happy with the ones we have recommended on this page. If you have further questions regarding these headsets, call HeadsetPlus.com at 877-999-3838, our headset specialist will answer any questions you may have.