Winston Churchill once said, "We make a living by what we get, but we make a life by what we give," and a company that seems to live by this rule is Plantronics. Ever since its inception, it has done nothing but grow and place new innovative products on the market. Lets take for example the Plantronics CS540 Wireless, this is an innovative wireless headset with bigger and better features than other products they have on the market today.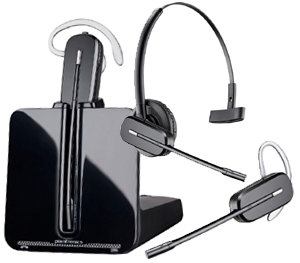 If you have decided to install new wireless headsets for your office, or if you just want a wireless headset for yourself, you need to choose the right one, but how do you choose the right wireless headset? Which one will give you the quality and the sound that you need?
The Plantronics CS540 is the ideal and one of the best wireless headsets on the market today. The Plantronics system gives you the clear sound of a wired phone and yet gives you the great mobility of a wireless phone system. Employees can get up, move about and get to the information they need quickly and efficiently, so they can help the customer. The Plantronics CS540 Wireless, helps them get everything done in just one call. The call doesn't get missed or interrupted because the person in customer service had to ask the manager something. All he has to do with the Plantronics system is get up and ask.
This CS540 has a DECT 1.9GHz DECT wireless technology, which in layman's terms means that it far outreaches in range what others can do. Unique features on the Plantronics CS55 include:
The ability to roam for up to 300 ft

The ability to have hands free talk time for up to ten hours, which means that these are ideal in any customer service area, where the employee needs to be on the phone for eight hours at a time.

Easy controls which allow you to change calls and adjust volume or mute function

Mute and volume control are excellent for those times when you don't want your customer to hear what the employee is asking a supervisor, or when an employee has an external interruption into the call.

The CS55 has three different models which means you can find a style that fits you and which is more comfortable

The Plantronics CS540 uses digital encryption security which ensures that you receive call privacy

An extremely valuable feature on the Plantronics systems is that they only take three hours to fully recharge, which means each unit only has a few hours of needed downtime.
As Albert Einstein once said "technology should be made as simple as possible but not any simpler." and there is no better way to express the simplicity that the Plantronics CS540 system offers its users. Why else would it be one of the most popular wireless headset phone systems in the world.
To see the whole line of Wireless Headsets visit HeadsetPlus.com