Q. How do I pair a Plantronics Bluetooth Headset with a Apple Mac running OS X
Open System Preferences.

Click Bluetooth.

Click the "+" sign to add a new device.

Select "Headset" as the type of device.

Put the headset in the pairing mode.

Click the Search button.

If prompted, enter the passkey, which is "0000" (four zeros).

If pairing a stereo headset, a window with the known services of the new headset may appear.

The Plantronics stereo headsets will display both the headset and headphone options.

Click Continue, and then Finish.
You will be returned to the Bluetooth devices window. Your product appears in the left pane, with its status in the right pane. Note that it will have a status of "disconnected," but that is normal.
Note: If you upgraded to Leopard from a previous version of OS X and your stereo Bluetooth headset was paired for headset use, you may need to delete it in the Bluetooth device window of the system preferences before you can get stereo function. To do this, click the headset in the device list, and then click the " – " sign to remove it from the list. Follow the instructions above to pair it again. also see

Apple OSX Leopard and Bluetooth Stereo Headsets
Q. No Transmit on Apple Mac 10.4.10?  How do I fix it?
If you experience no transmit (microphone doesn't work), try the following:
Make sure your Plantronics microphone is plugged into an open USB  port on your computer.

Launch "Audio MIDI Setup.app." (You will find this application in Applications> Utilities.)

In System Settings, select "Plantronics Headset" as the default input.

In "Properties For:" select "Plantronics Headset."

In the bottom right area of the window, uncheck "Mute."
note: this only to Macintosh computers running OS X 10.4.10
Q. Can I use a Plantronics Bluetooth headsets in Apple Mac OS X?
If your Plantronics Bluetooth Headset has a Bluetooth adaptor (i.e. dongle) plugged into a USB port, you do not need these instructions. The adaptor acts as the Bluetooth radio transmitter to send sound to the headset.  If you wish to use the Bluetooth feature in the Macintosh, use the following instructions:
Apple Mac OS 10.x and Plantronics Bluetooth Headset setup instructions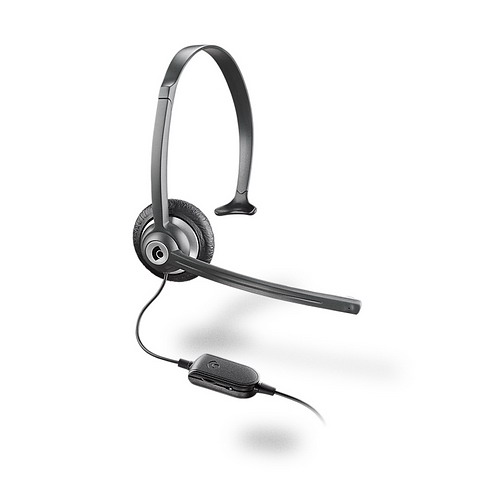 Q. Does Plantronics Analog headsets work with Apple Macintosh computers?
The microphone plug on the Plantronics .Audio analog headsets will not work on a Mac. It will physically fit into the Mic input jack on a Mac; however, it will not function. Basically, the digital sound card does not recognize the analog signal coming in from the headset.
In order to convert that signal for our analog headsets to work completely, you need the following adapter:
A Griffin adapter (I Mic. 2 prong adaptor into USB). Contact your local Apple store.

Plantronics USB Digital headsets do not have this issue.