Plantronics SupraPlus Wideband Headset FAQ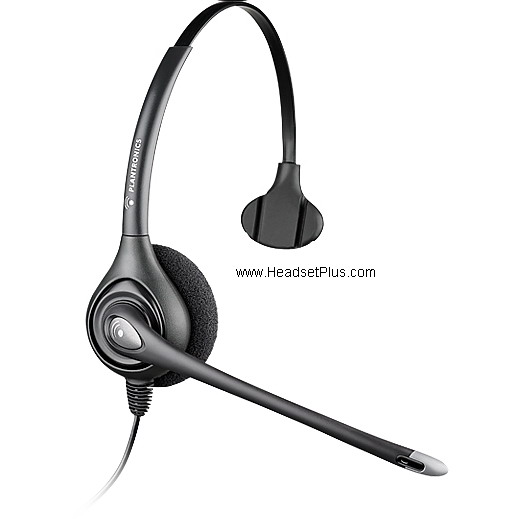 Why should one buy a SupraPlus Wideband headset (Plantronics HW251N & Plantronics HW261N)?
Plantronics SupraPlus Wideband is a critical component to implementing a wideband VoIP system. If you have a wideband network and a wideband phone, then to reap the wideband audio benefits of clearer, more natural speech and richer, more effective communication, they should use a SupraPlus Wideband headset.
What's the difference between the Plantronics SupraPlus Wideband and SupraPlus headsets?
The two headsets are essentially identical in terms of style and functionality. The main difference and enhancement is the SupraPlus Wideband supports wideband technology, specifically for use with wideband phones using the Vista M22 Amplifier or direct connect solution. Additionally the SupraPlus Wideband noise-canceling headset models have a new microphone design with a longer boom to deliver improved echo management and background noise reduction.
Is the Plantronics SupraPlus Wideband a replacement for SupraPlus or SupraPlus SL?
No, it just provides an option for someone who are using wideband VoIP phone communications. The SupraPlus Wideband should only be used by those using a wideband phone, as it could otherwise pick up unfiltered line noise on traditional narrowband phones.
What type of microphone comes with the SupraPlus Wideband Headset?
Plantronics SupraPlus Wideband Headset comes in both voice tube and noise-canceling models. The improved noise-canceling microphone filters out more background noise than even the SupraPlus.
Are there headset options?
Yes, the SupraPlus Wideband Headset lets users choose between Monaural or Binaural options, as well as between Voice Tube and noise-canceling microphone models. The Monaural models allow conversations with coworkers without having to remove the headset, while the Binaural models provide total-focus sound reduction.
WIDEBAND TECHNOLOGY
What is wideband?
Traditional telephone networks (TDM, mobile, older VoIP, etc.) provide audio paths limited at 300Hz to 3.4kHz; this was set many years ago and is limited by the telephone network itself. With the emergence of VoIP (soft phones and new VoIP hard phones) it is now possible to use the data network to provide greater audio bandwidth. The wideband-enabled VoIP systems' now audio path is from 150Hzs to 6.8kHz.
What does wideband mean for me?
If you have a wideband-enabled phone you can now experience improved call quality as the wideband network provides audio that was previously filtered out, giving a more richer and natural sound. – Consider a radio show with a phone-in guest. The host always sounds much clearer and nuanced than the guest because the phone line, with its limited bandwidth, does not carry the whole spectrum of the human voice.
Will I get the improved audio on all calls?
If you have a wideband system installed in your office you will get wideband audio through your own intra-office network. The external telephone network may still be band limited (it probably is today), in which case you will not get wideband audio on external calls. Today most external networks are currently narrowband, but technology advancements are leading to more networks supporting wideband audio.
– Consider the network to be a pipe. If the bandwidth is limited at any point, the overall system becomes limited.
How do I get wideband audio from my headset?
The SupraPlus Wideband headset has been designed to receive and transmit wideband audio, so if you have a wideband phone as part of a wideband network, this will be the correct headset. Internal calls on the wideband network will benefit from the greater bandwidth, and as external networks are improved so too will external calls. If your phone system requires an adapter/amplifier for compatibility, the Plantronics Vista M22 not only delivers wideband quality audio, but also further enhances it with its Clearline audio technology.
Why would I buy the Plantronics Vista M22 Amplifier for my headset?
There are several reasons to purchase an Plantronics M22 Amplifier. If your phone does not support a direct connect headset, an M22 may be necessary to provide the right compatibility. Even if there is direct connect headset compatibility with your phone, the M22 with its Clearline™ audio technology improves upon a direct connect solution.
The Plantronics M22's Clearline audio technology provides many improvements, including:
– Echo management VoIP is susceptible to delays. The echo management feature (or function) included in the Clearline audio technology will help prevent audio issues that would otherwise cause problems.
– Greater safety While all Plantronics professional-grade headsets protect against acoustic shock, the Plantronics M22 delivers greater protection against sudden loud noises, quickly reducing them to comfortable levels.
– Call level management Different calls come in from different sources (cell, Internet, etc…) through the normal course of a day which vary considerably in level. Internal calls are often louder than external ones, and some external calls can be considerably lower having been reduced by network conditions. The Vista M22 equalizes the level of all calls to the same comfortable, preferred listening level that you choose using the volume control on the amplifier. No more adjusting and re-adjusting the listening level on each call.
– Noise reduction The Plantronics M22 also cleans/filters incoming and outgoing background noises, making for clearer conversation.
Why wouldn't I buy a Plantronics wideband headset?
If you do not have a wideband phone you do not want a wideband headset, unless you are expecting to change fairly soon. The extra bandwidth that a wideband headset offers is only of value when you have a wideband phone that supports it. In fact, there may be audio artifacts (noises) from the network that may be heard if you use a narrowband phone with a wideband headset.
Which narrowband phones are likely to introduce noise?
This is very difficult to answer, as even the manufacturers of narrowband phones cannot fully answer, since noise will often be introduced by the line/network.