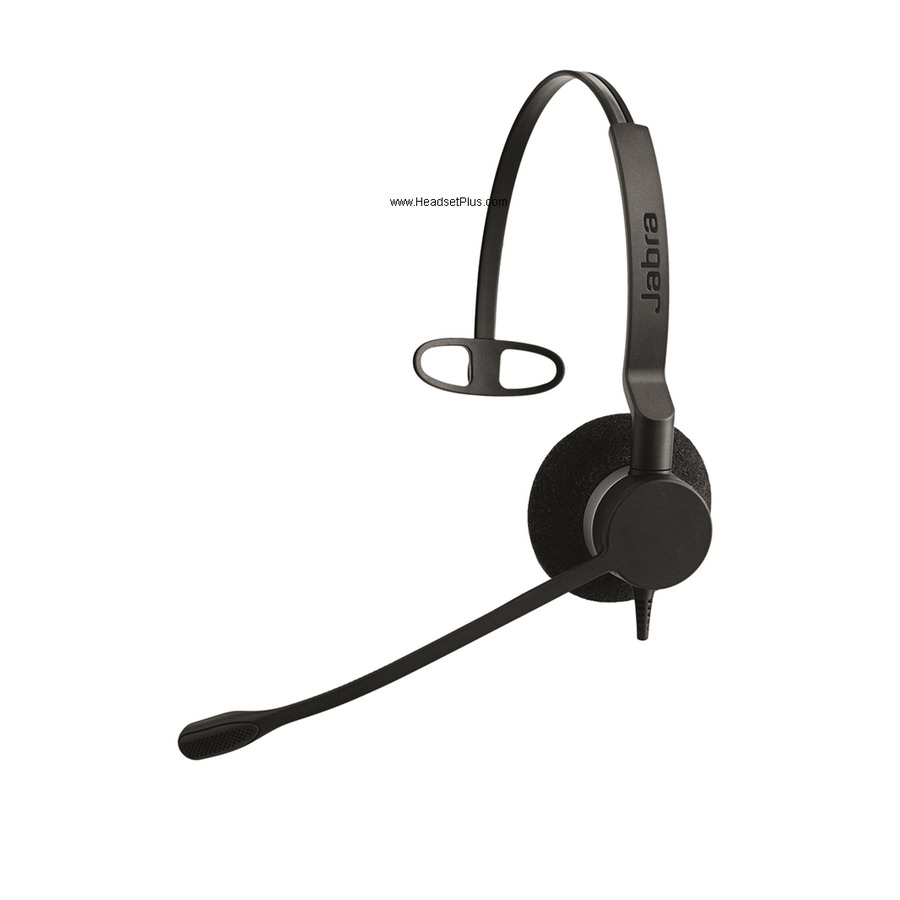 Headphones are becoming more and more popular everyday for any business office. When you think of business headphones, the first thing that usually comes to mind are Bluetooth/corded headphones for cell phones (depending on when you were born). If you were like me, you didn't know there are literally hundreds of different types of headphones available for desk phones. Whether you're using a $500+ multi line or a $50 single line desk phone, there are countless options for you. If you work in a job or business that requires significant talk time on a phone, I suggest you do your research. Not only will a headphone free your hands up, but you'll reduce damage to your posture and your neck. Here you will find some suggestions on which headphone will be best suited for your needs. Lets start off with a great entry level wireless headphone.
The Jabra Pro 920: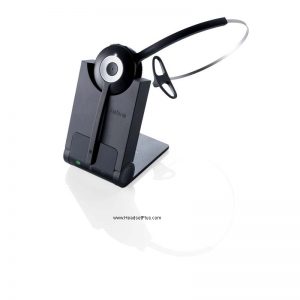 This headphone is an industry standard. It has up to 350ft wireless range, 8 hours of talk time, and noise cancelling microphone. You don't have to worry about others listening in on your conversation because it comes equipped with security encryption. It runs on DECT 6.0 technology, similar to a cordless phone that you would use at home. The battery will charge rapidly (full charge 3 hours). You have the option to convert this headphone into another wearing style if you choose to get the ear hook or neck band. This is a very versatile lightweight unit that is also remote answering capable, see below. Comes with a manufacturer's 1 year warranty. Check for compatibility. 
The Jabra Pro 920 + GN1000 Wireless Headphone Bundle Package :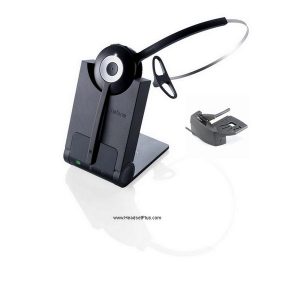 Adds remote answering capability to the Jabra Pro 920. Don't you hate it when you're phone is across the room and you hear it ring? You have to run to the other side potentially injuring yourself or your coworkers. With the addition of the GN1000 RHL, you no longer have to fear leaving your desk or missing a call. This bundle package includes the remote handset lifter. The lifter will sit underneath your handset, when your phone rings, you will hear a beep in your headphone. To answer or end a phone call, you simply press power button on the headphone to activate the lifter. If you want to utilize the full potential of your wireless headphone, purchase this. Comes with a manufacturer's 1 year warranty. Check for compatibility. 
Jabra Biz 2400 II QD Mono Ultra-Noise Canceling UNC 3-in-1: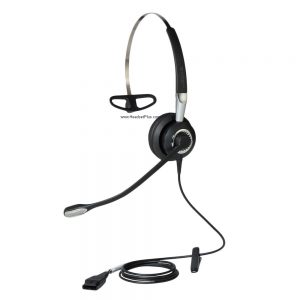 If you work at a job that doesn't require stepping away from your desk, you can get away with a corded headphone. This is one of top of the line headphones on the market. Not only is this headphone superbly comfortable, but to ensure that, it comes with 3 different wearing styles. It comes with a traditional style headband, ear hook, and neck band. Not only is this unit elegantly crafted, and comfortable (larger soft leatherette ear cushions and increased headband cushion), but it's also comes with a Kevlar reinforced cable. These headphones are built to last. This unit has exceptional HD quality sound and one of the best noise canceling mic on the market. Even with all of these features, it still weighs 40% lighter than similar headphones. Keep in mind, all headphones require a cable or an amplifier to work with your desk phone. Check for compatibility, comes with a manufacturer's 3 year warranty.
Jabra Biz 2400 II Duo Ultra-Noise Canceling UNC QD Headphone: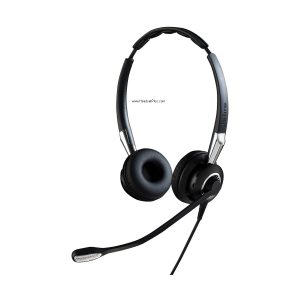 If you work in a louder environment, the background noise can be cumbersome for both you and your customer. You don't want to have to keep asking "what, can you repeat that?" Similarly, you want your customer to be able to hear you clearly. If you work in close quarters, or have loud coworkers, I'd recommend using a binaural (2 ears) headphone. The earphones don't have active noise cancelling like some others, but it definitely helps block out some of that unwanted noise. The 2400 II Duo and Mono 3 in 1 offer the best in class noise cancelling microphone on the market. This is as close as you can get to a complete noise cancelling microphone. Sometimes customers will ask if there is a noise cancelling microphone that will block out 100% of background noise. The answer is no. If it blocked 100%, you wouldn't be heard, but it will block up to 60-70% of the background noise.  Like the above, it has great HD sound, 360˚ rotating microphone, and Kevlar reinforced cables. Check for compatibility, comes with a manufacturer's 3 year warranty.
Switching back to wireless headphones,
Jabra Pro 9470 Wireless Headphone System 9400 series: << the winner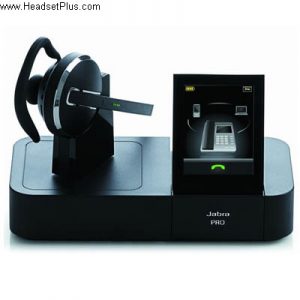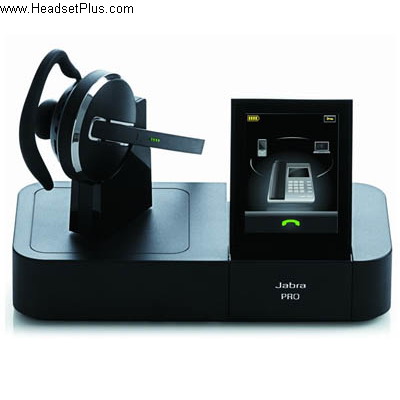 This headphones is the one headphone to rule them all. It has up to 450ft wireless range, 10 hours of talk time, and comes with 3 different wearing styles. Why is this headphone so good you ask? The 9470 allows you to connect your desk phone, computer, and cell phone together through 1 headphone. Majority of people today use some other form of communication i.e Skype, Goto Meeting, Facetime, etc. This headphone unifies all 3 of your devices and allows you to communicate through 1 headphone. If you were to take a call on your desk phone, then suddenly had to hang up and take a call on your iPhone/Android, you don't have to switch headphones. Same thing goes with your computer. Have a long conference call you need to take notes on? This device allows you to record audio on your PC. You will have a great noise cancelling microphone and wideband audio allowing for crystal clear communication. If you're a business professional that spends most of the day on the phone, the Pro 9470 is truly the one. Also compatible with remote answering. Check for compatibility, comes with a manufacturer's 1 year warranty.
Every one of these headphones would be fantastic options for your business phones. Some of the above headphones require additional parts / configuration to work with deskphones. Please feel free to contact us at:
Jimmy@HeadsetPlus.com
Toll Free: 1-877-999-3838 
Or 650-306-9768
Ask for Jimmy Lyang III