Are you in an IP (VoIP) call center using softphones where you need train a new staff using USB headsets?
A Windows computer can only recognize one USB sound device at a time.  So the computer cannot activate two USB headset at the same time.  You can connect two USB headsets, but only one can be turned on.
There are no solution to utilize two USB headsets on a computer as training headsets.  The reason is because your computer OS (Windows or Mac) does not recognize more than one USB headset at one time.  This is a limitation of the computer OS.
With Quick Disconnect (QD), both Plantronics and Jabra (GN Netcom) have a training cable you can attached two headsets to one computer for training purpose
Jabra Setup: Use a Jabra Link 265 USB training cable with 2x Jabra Biz 2300 QD Mono Noise Canceling Headset.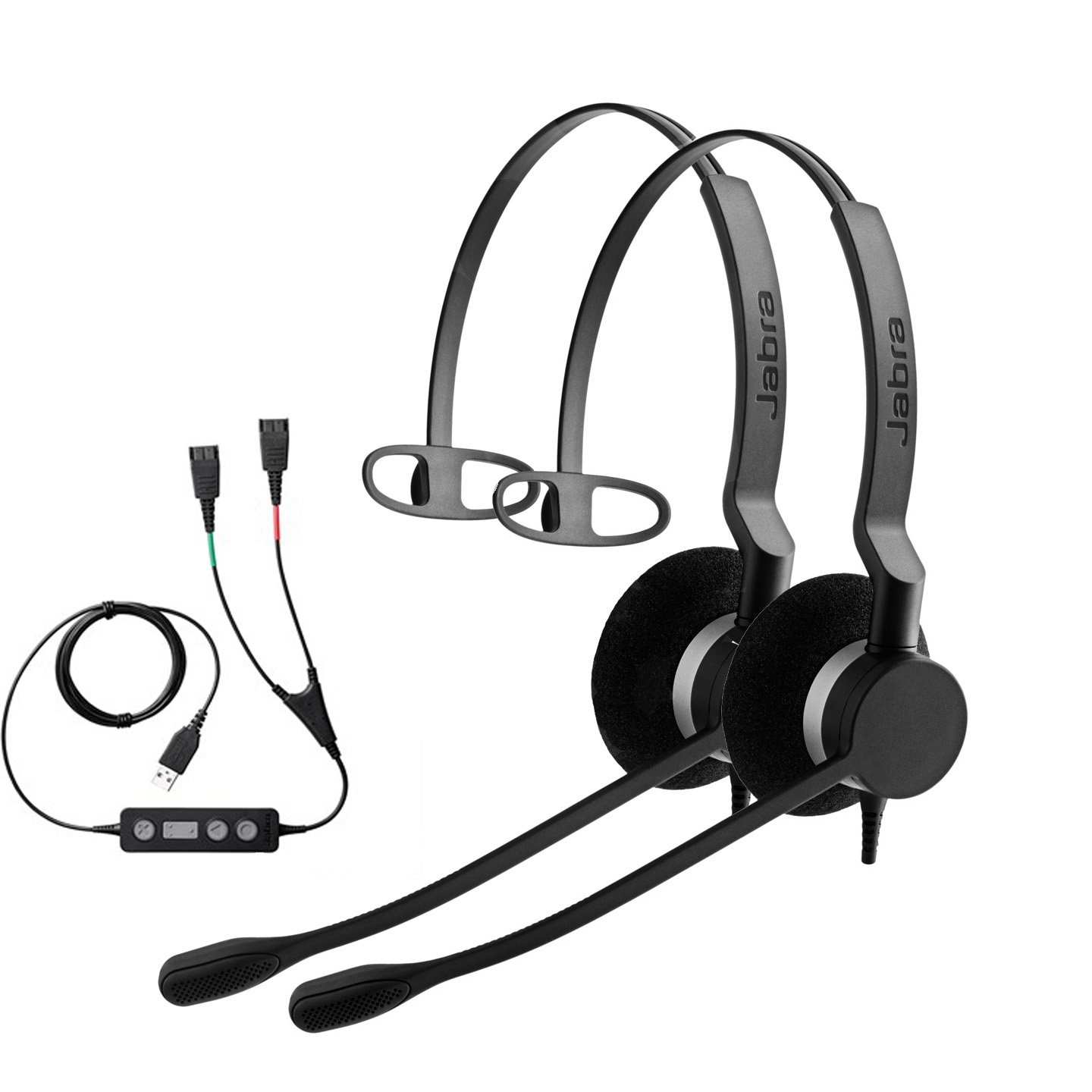 Good option here for training. Great sturdy headsets that cover 1 ear and plug in via USB. Great sound and voice quality, great for training Has a great noise canceling microphone. Click here to buy now.
Jabra (GN Netcom) Setup:
Use a Jabra USB training cable with two Jabra QD Headsets.  We recommend this pre-configured Jabra Computer USB Training Bundle, 2x Jabra Biz 1500 Headset :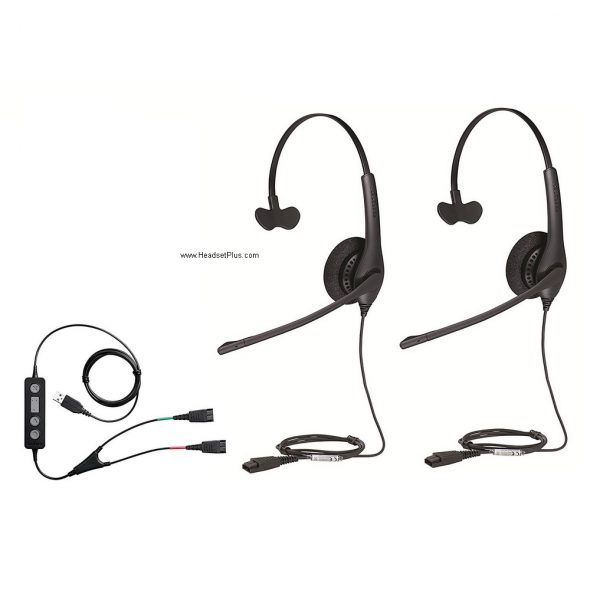 Jabra also offer a better quality training bundle that includes 2 x Jabra Biz 2300 to cover both ears with only a slight increase in price.  Having both ears cover helps the employee concentrate better so the background noise and disturbance doesn't bother him during the phone call. Jabra PC USB Training Bundle with Two Jabra Biz 2300 Duo Headset :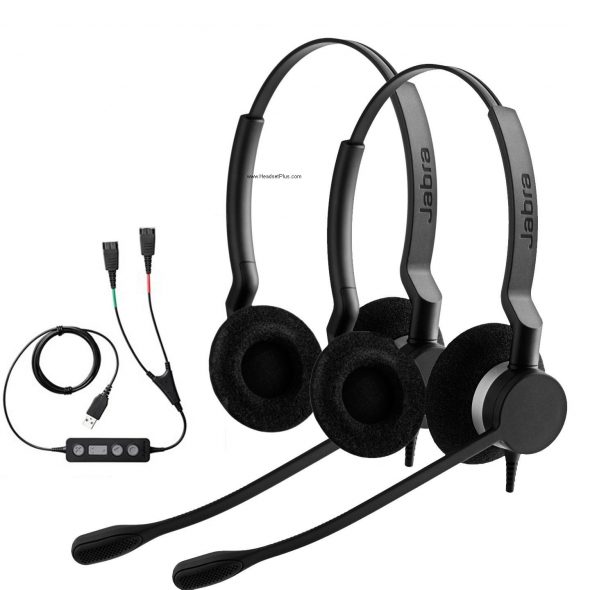 Plantronics Setup: 1 x Plantronics DA70 USB Headset Audio Processor 2 x Plantronics HW510 EncorePro 510 Noise Canceling Headset HAC cert.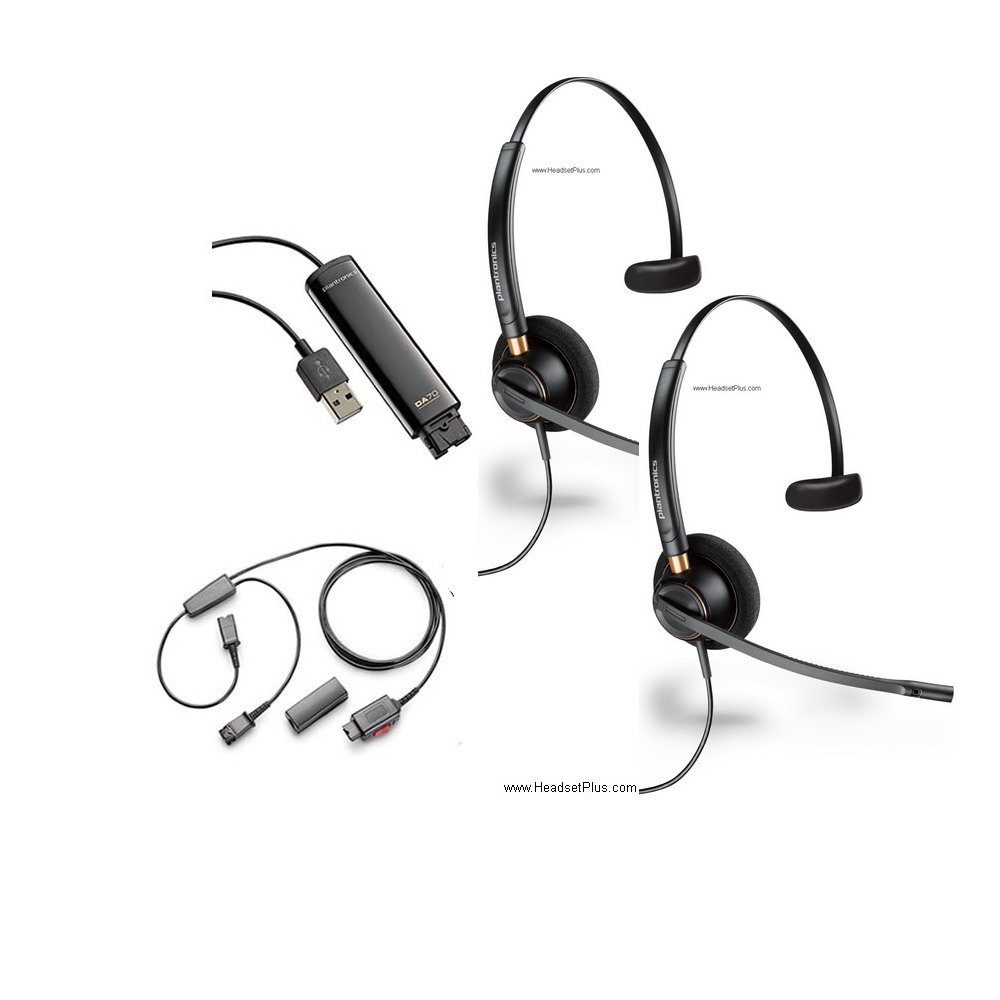 This is a Plantronics training setup for a computer. Comes with everything that you need. Very comfortable and great sound and voice quality. Has a great noise canceling microphone. Very easy setup and great for the price, click here to buy now.
Still not clear, call one of the headset experts at HeadsetPlus.com  877-999-3838. they can answer any questions you may have.