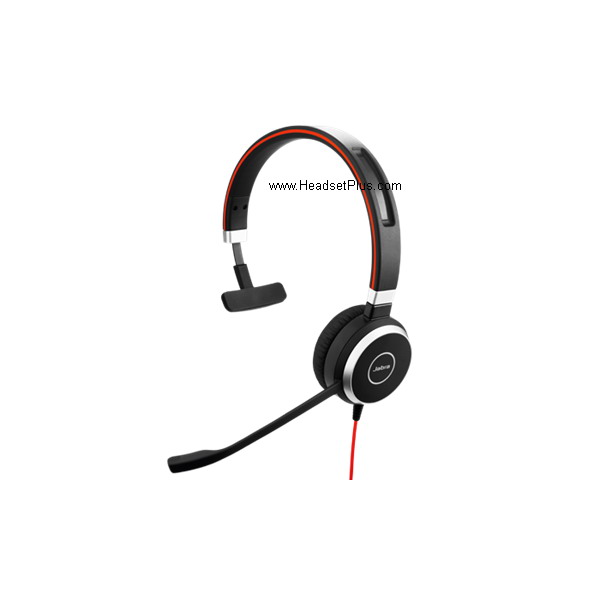 PC VoIP USB Softphone Computer Headsets Review for 2022
Corded
There are a lot of USB Computers headsets for your VoIP softphone, this guide will help you decide which one is right for you, by showing some of the latest headsets with the best features available for your VoIP phone. Almost all of these headsets have Binaural Capability (both ears covered).
Jabra Evolve2 40 UC Mono USB-A Wire Headset ($129.95), Evolve2 40 Stereo ($139.95)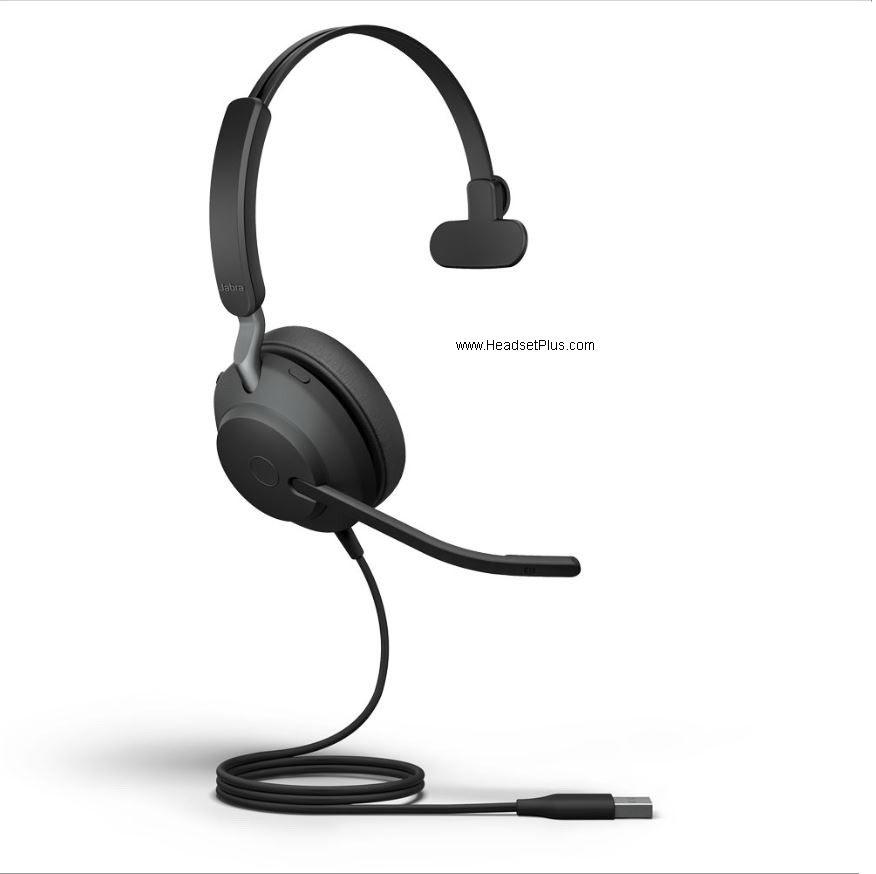 This is a standard corded Jabra USB headset that has a few cool features to set it apart from other headsets.  The coolest feature with the Jabra Evolve2 Series, is starting at the Jabra Evolve2 40, they have a useful 'Busy Light' that lights up red on the side of the headset when you're on a call, turns on automatically.  It has 3 microphones on the boom for the best voice quality pickup.  compatible with both Microsoft Windows and Apple Mac OS.  Large 40mm speakers, design to isolate background noise so you can focus on your task.  Comes both in the mono and stereo versions.
Blackwire 5210 UC USB Headset – $99.95 (Stereo Blackwire 5220 – $109.95)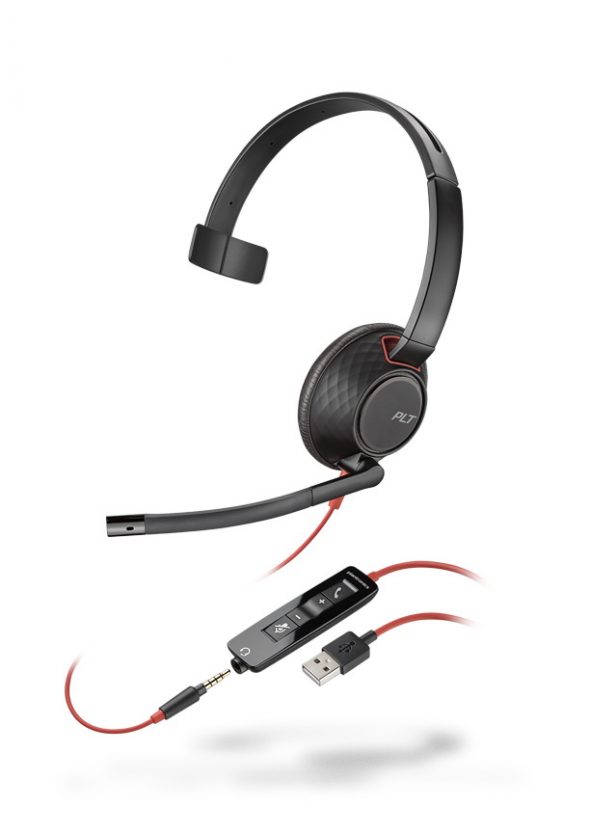 This corded USB headset from Plantronics has a lightweight and comfortable design. Fit with a volume control, it can disconnect there and turn into a 3.5mm headset, usable with a smartphone or tablet. It has a great flexible noise canceling microphone, wide band audio and an affordable price point. The headset can fold into a soft carrying case for easy portability.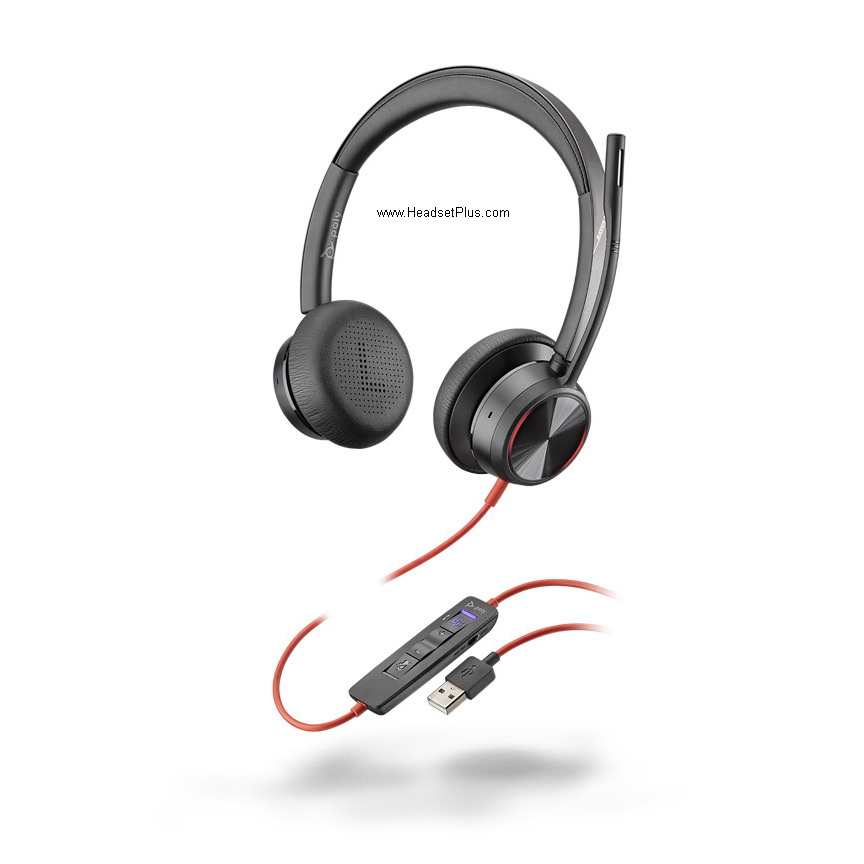 The newest edition to the Blackwire series by Poly, formerly known as Plantronics. The 8225 offers Active Noise Canceling with hybrid technology that can be customized to suit the environment that helps the user to stay on track without outside distractions. Volume and call controls at the fingertips, noticeable busy light helps the user to let people know when on a call. Microphone boom with noise canceling microphone enhanced with Acoustic Fence Technology, one of the newest technologies by Poly. Click here to buy now.
Wireless
Jabra Evolve2 65 UC Stereo Bluetooth Wireless USB-A Headset <= staff favorite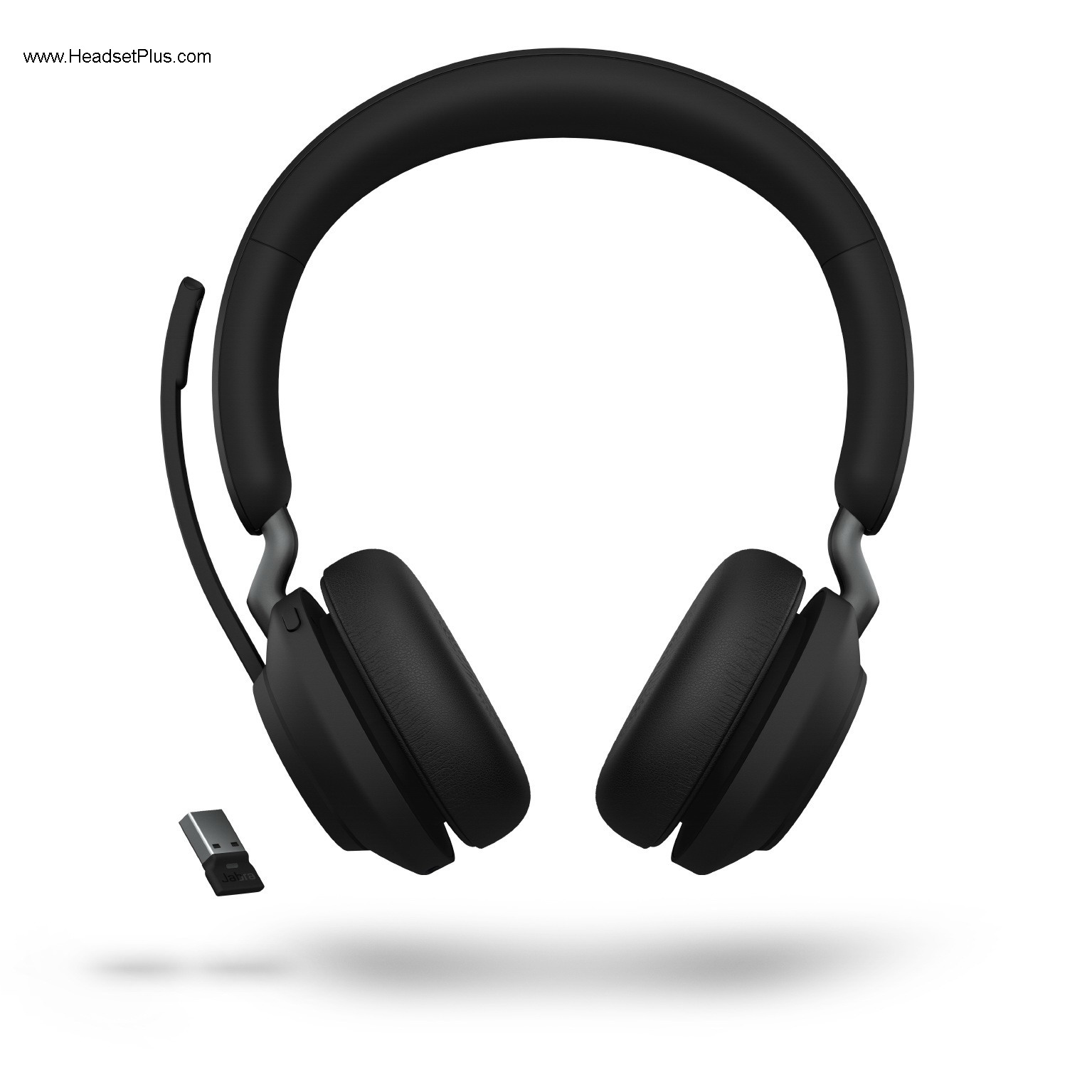 This is the newest Jabra Evolve2 65 Bluetooth USB headset, with similar features to the Evolve 40 above. The Bluetooth USB Dongle, pictured below the headset, allows the headset to connect to your PC with up to 100 feet of range. It also has Bluetooth capability, you can connect to a cell phone or tablet via this headsets Bluetooth Connection. Like the Evolve 40, this headset also has a busy light, that is a red circle around the JABRA symbol, and has a microphone groove on the headband.  Large padded leatherette ear cushions, very comfortable for all day use.  40mm speakers have excellent passive noise blocking to filter out background noise.  The battery when fully charged will last 37 hours of use!  Almost unheard of in a wireless Bluetooth headset.
Plantronics Voyager 4220 UC Bluetooth Stereo USB Headset, Skype $179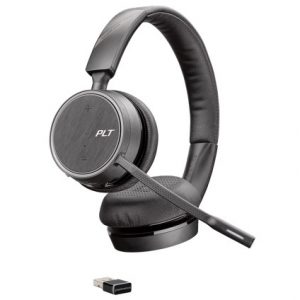 Plantronics Voyager 4220 is the latest of the wireless USB computer headsets with all the latest headset technology.  It comes with a class1 BT600 USB-A dongle (included) allowing 100ft of range (vs. 30ft for regular class 3 Bluetooth).  Compatible with both PC and Apple Mac computers.   Built-in busy light to alert people around you that you're on a live call.  Microsoft Skype for Business Certified to be plug and play compatible.  when fully charged, the battery last for 12 hours of talk time.  the Boom has 2 microphones (1 uni-directional; 1 MEMS-directional) for the best voice pickup possible,  Making the Blackwire 4220 one of the best USB computer headset on the market today.
Plantronics Voyager Focus UC Bluetooth USB Headset with Active Noise Canceling ( $259.95)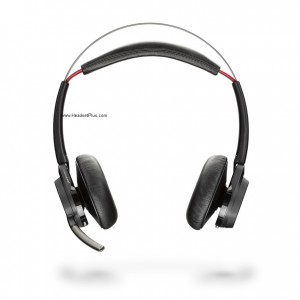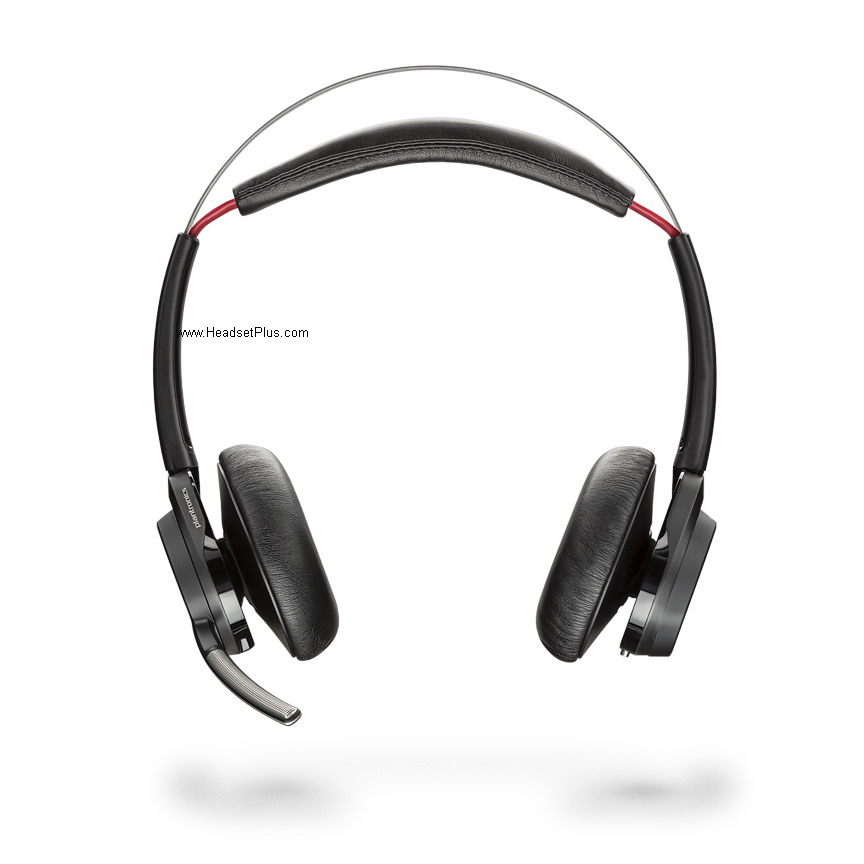 The top of the line as far as headsets go, this wireless headset has it all. Up to 12 hours of talk time or 15 hours of listening time, a best in line noise canceling microphone, and super comfortable headband and ear phones make this headset one of the best out there.  It connects wireless to your computer or laptop, as well as having the ability to connect via Bluetooth to your cell phone or tablet. The sound quality is top notch, with active noise canceling to cancel out more background noise than usual, if you want the best headset available, look no further, this headset is for you.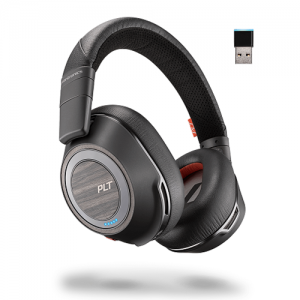 The Plantronics Voyager 8200 UC is the latest (2017) addition to the Plantronics Voyager wireless headset line from Plantronics.  It's the first Plantronics with a "boomless" microphone.  Don't let the missing microphone fool you.  The missing boom and microphone does not mean it was poor sound when you're on the phone (or softphone).  It has 4 total microphone, specially engineered and placed at different locations on the headset for optimal voice pickup.  See below: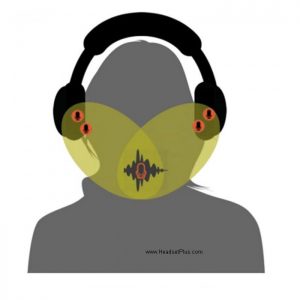 In addition, it comes with leatherette "circumnaural" ear cups and speakers to to surround both ears completely on top the active noise canceling technology to block out just about any background "unwanted" noise you have in your surroundings.  it comes with a USB adapter for your PC/computer, so you can communicate wirelessly up to 100ft away.  The Voyager 8200 is also a Bluetooth headset so you can pair it with your smartphone (like an Apple iPhone).  so it can be used as a cell phone headset or simply use it as a great music headphone when you're not working!  Go HERE for more details.
EPOS Sennheiser Adapt 660 UC Bluetooth Headset USB-A, MS Teams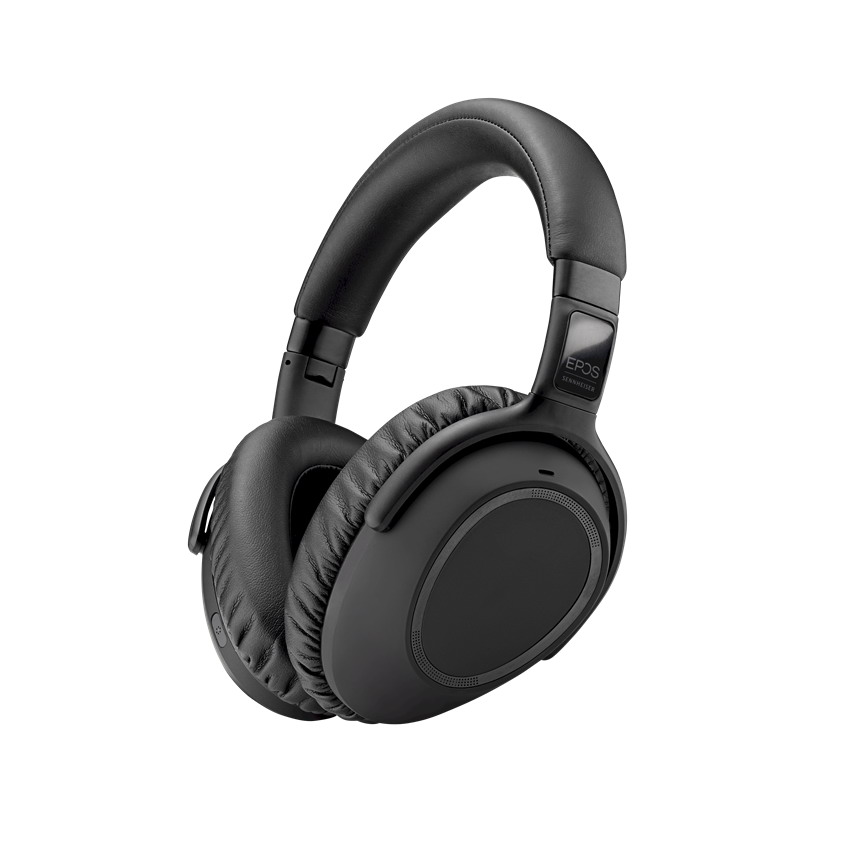 The newest addition to the list comes from Sennheiser (now EPOS), with the EPOS Adapt 660 UC wireless Bluetooth Headset, this headset has NoiseGard Active Noise Canceling. Certified and ready for Microsoft Teams, this headset has a boom less microphone, with 3 digital noise canceling microphones built in to the ear cups. An amazing battery time of 30 hours and a superb 15 day battery life on standby, making it a good option for road warriors that need to have best talk/standby time on their headset for business. If you run out of power, the Adapt 660  has you covered, with a 2.5mm and 3.5mm cable that allows you to use it with virtually any device with a 3.5mm jack. A hard travel case gives it a nice touch when folding it and storing while traveling and the 2 year warranty gives you piece of mind on this headset.  Go HERE for more details.
Poly Voyager Focus 2 UC USB-A Bluetooth, No Stand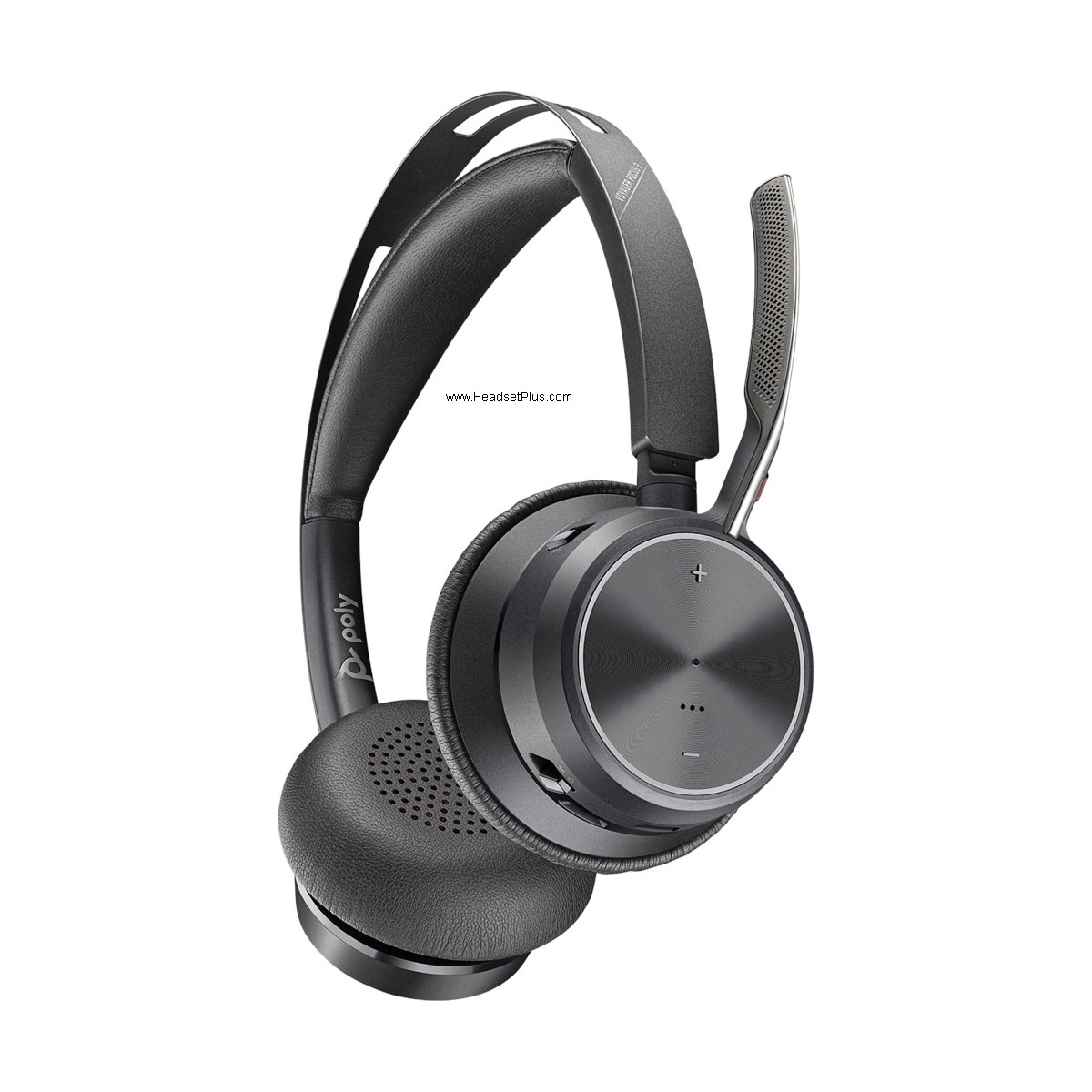 The newest addition from Poly, formerly known as Plantronics. The Focus 2 gives you three levels of Advanced Digital Hybrid Active Noise Canceling, allowing the user to select the required level depending on the location. Microphone boom with Acoustic Fence technology and new for the model muting mode that means that you can rotate the boom up to mute and down to unmute, and that can be worn on either side and maintain location of right / left stereo. Busy light is noticeable from any angle allowing the user to let people know when in a call. Smart sensors that allows you to answer a call by simply putting the headset and mute or pause music by taking it off.
Jabra Evolve2 85 UC Stereo Bluetooth USB-A Headset, black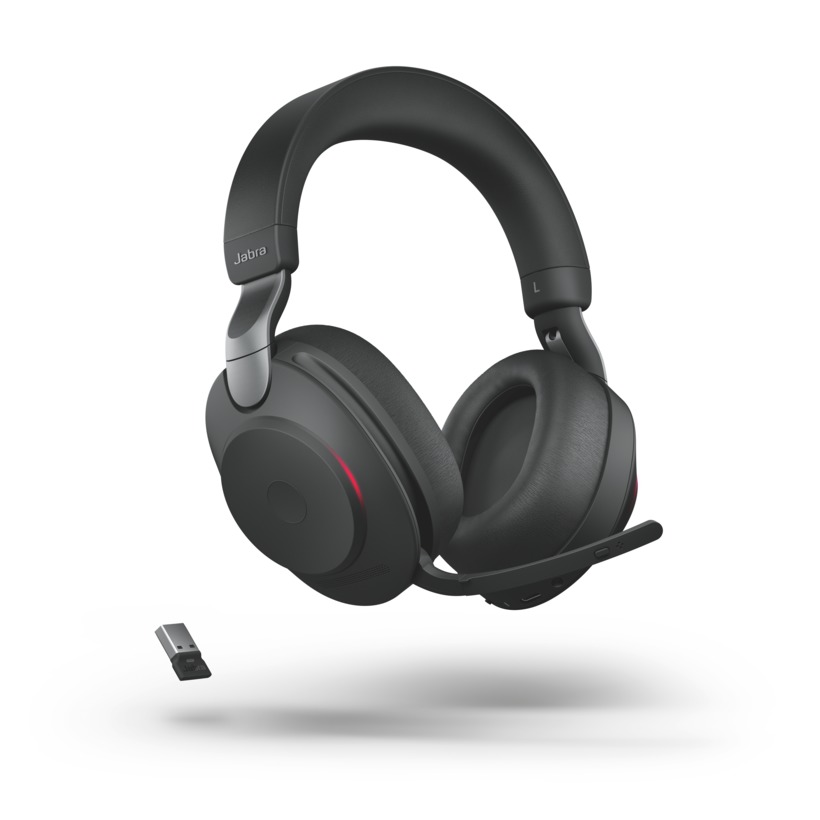 Jabra keeps up with its Evolve2 85 UC headset, the is an over the ear wearing style headset, with Active Noise Canceling and with memory foam ear cushions and headband paddling, making it a nice option for people that needs to wear the headset for long periods of time. Talk time of up to 37 hours with a single charge which gives an outstanding advantage over others. Noise Canceling microphone with muting feature that allows you to mute it by moving the boom up and down to unmute. Busy light in both sides with a very noticeable leds and with a discrete boom that hides inside the headset so can be used for streaming music or watching movies. The Evolve2 85 comes with a 3.5mm jack and cable, so can be used either Bluetooth or with the 3.5mm cable. Motion sensors detect when the headset is worn and Voice Assistant that can be used when not in a call.