Hello class, today we will be looking at headsets that are compatible for your PC (Windows) and Apple Mac OS. Many businesses today are opting to use their computers in lieu of phones to make phone calls. It's a very cost effective method to reduce spending by using VOIP and other soft phone applications. There are so many options out there, but I will list the ones that stand out most to me. The most important things to consider are the call quality and comfort. All of these headsets below are plug and play, and even someone like myself can install them. If you plan on sitting at the computer and don't need to be mobile, I'd recommend getting a corded. If you need to be more mobile, or just don't want to be tied to your desk, go wireless. Let's begin shall we?
This is a great entry level corded headset. It connects via USB and as a bonus, it comes with a 3.5mm jack so you can connect it to your smart phone, tablet, etc. It has a noise canceling microphone, a built in busy light so your colleagues/friends know if you're on a call, and Hi-Fi wideband frequency response. A great headset for the casual user. Comes with a manufacturer's 2 year warranty. Click here to buy now.
Next up we have the….
Plantronics Savi W440-M Wireless USB Headset for MOC/Lync: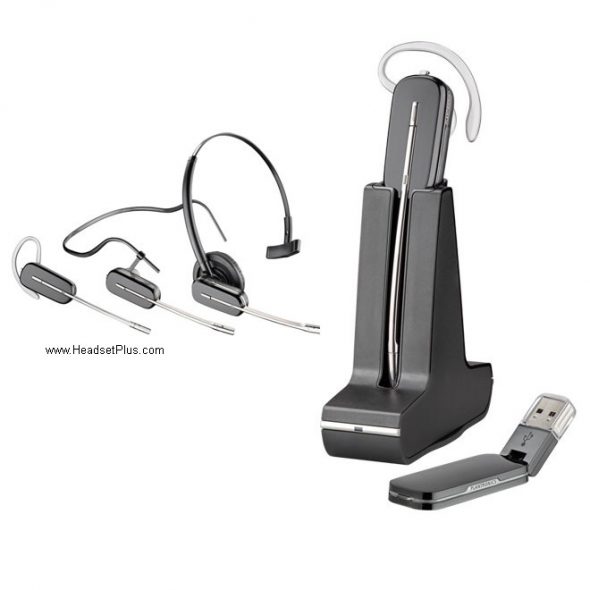 This is quite a unique wireless headset. Generally speaking, wireless USB headsets use Bluetooth connectivity, however, this headset runs on DECT (similar to a cordless phone.) Because of this you get an astonishing range of up to 300ft. This headset has a great noise canceling mic and WideBand audio. As a bonus this headset comes with 3 different wearing styles, headband, ear hook, and neckband. The only downside to this headset is the lack of Bluetooth capability but still an awesome headset. Comes with a 1 year manufacturer's warranty, click here to buy now.
Jabra EVOLVE 65 MS Stereo Lync USB Bluetooth Headset: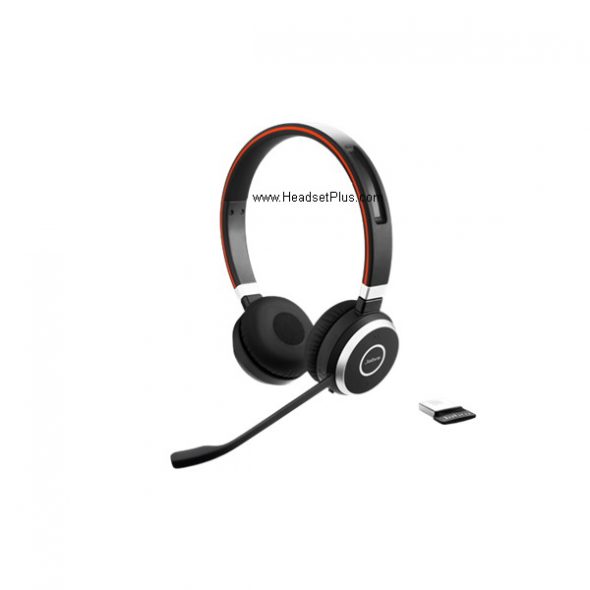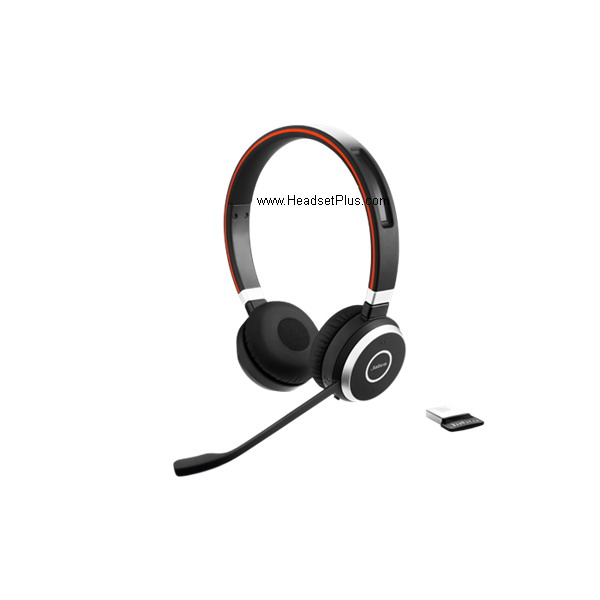 This bad boy is a great wireless headset without breaking the bank. This headset is basically an upgraded version of the Evolve 40. It comes with a Bluetooth dongle that plugs into your PC or Mac via USB and gives you up to 100ft wireless range. You have a great noise canceling mic, and Hi-definition sound, which is great for you and your customers. If you're not on a call, simply kick back and jam to some tunes. The coolest feature of this headset, is you can connect to your cellphone simultaneously via Bluetooth. You have 10 hours talk time so don't worry about those long winded calls. Comes with a 1 year manufacturer's warranty. Click here to buy now.
Plantronics Voyager Focus UC Bluetooth USB Headset B825: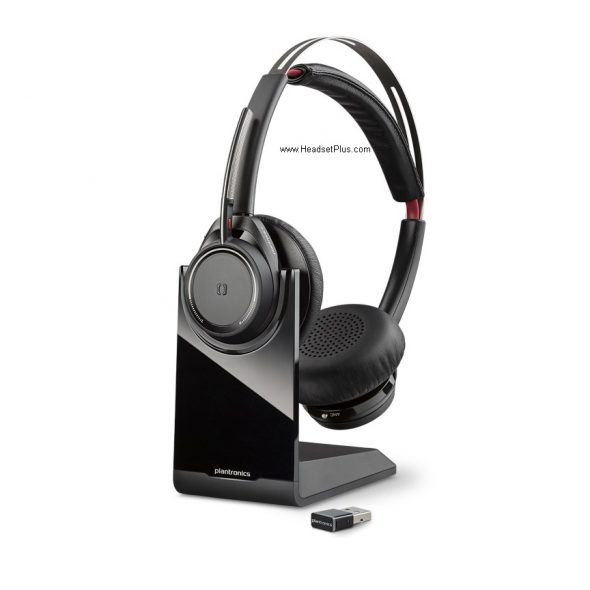 Out of all of the wireless Bluetooth headsets, this headset provides the longest range of up to 150ft through the computer. It has active noise canceling through the ear phones (think of Bose), Wideband audio, great noise canceling microphone, and built in smart sensors which can detect when you put on and take the headset off. You have 12 hours of talk time, and up to 15 hours of music streaming. Comes with a 1 year manufacturer's warranty. Click here to buy now.
And my personal favorite…
Jabra EVOLVE 75 MS Stereo Bluetooth USB Headset w/charging stand: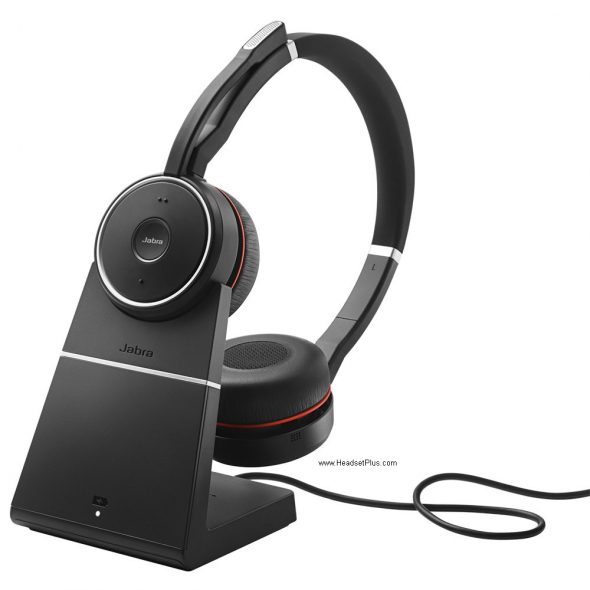 This is a beast of a headset. You have Hi-Fi stereo sound, excellent noise canceling microphone, active noise canceling through the ear phones (think of Bose), and it they just look great all around. Similar to the Evolve 65 you will have up to 100ft wireless range, but an incredible 15 hours of battery on a full charge. Like the above headsets, you just simply plug it in via USB and you're ready to rock. Need to take a long drive or flight somewhere? Take them with you and use enjoy music on your phone! Your customers will love talking to you on this headset. Comes with a 1 year manufacturer's warranty. Click here to buy now.
Pure luxury. . .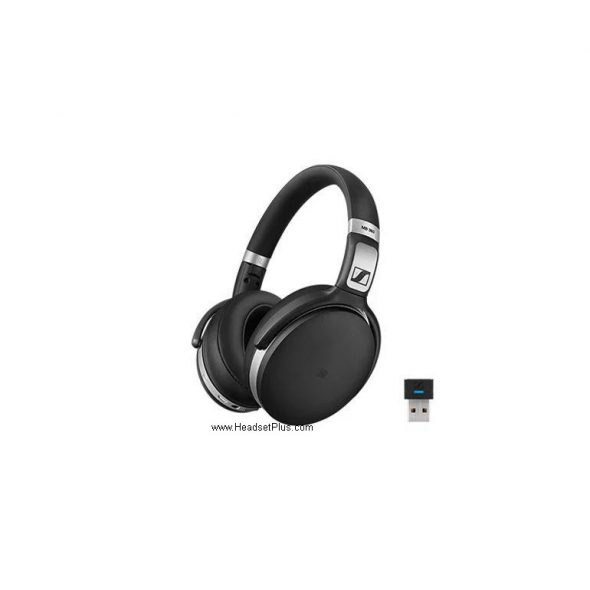 This is a new wireless USB headset by Sennheiser. It's a nice headset for for use with a computer. You can listen to music and take calls. It has a nice dual noise canceling microphone and you get up to 100 ft wireless range. The cool thing about this headset is it has active noise canceling. You can block the unwanted background noise if you're in a loud environment. It has a great battery time of 25 hours. It also comes with a 3.5mm cable for use with a smart phone and a storage pouch. Comes with a 2 year manufacturer's warranty. Click here to buy now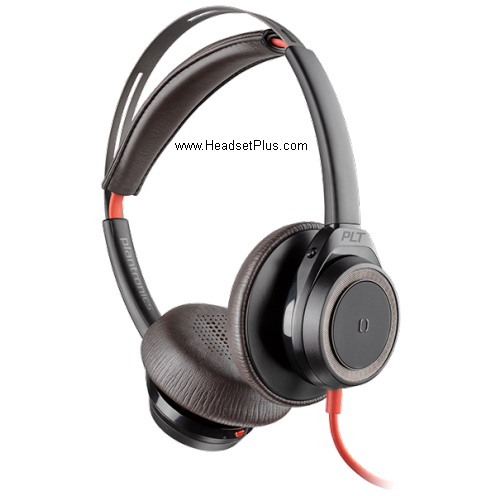 This headset is the newest edition the the Plantronics Blackwire line. It's basically a corded Voyager Focus. This is a corded USB headset with active noise canceling. You don't really see any corded headsets with active noise canceling but here it is. This headset also has a nice omni directional boomless mics to help pick up your voice. The microphones are noise canceling as well. If you're not working, you can still use this headset to listen to music. It has nice Hi-Fi stereo earphones. This wouldn't be my first choice when picking a noise canceling headset, but if you're on a a budget, this might be a good pick for you. Click here to buy now.
PC VoIP USB Softphone Computer Headsets Review for 2019
Corded
There are a lot of USB Computers headsets for your VoIP softphone, this guide will help you decide which one is right for you, by showing some of the latest headsets with the best features available for your VoIP phone. Almost all of these headsets have Binaural Capability (both ears covered).
Jabra Evolve 40 UC USB Headset – $95.95  (Binaural- $109.95)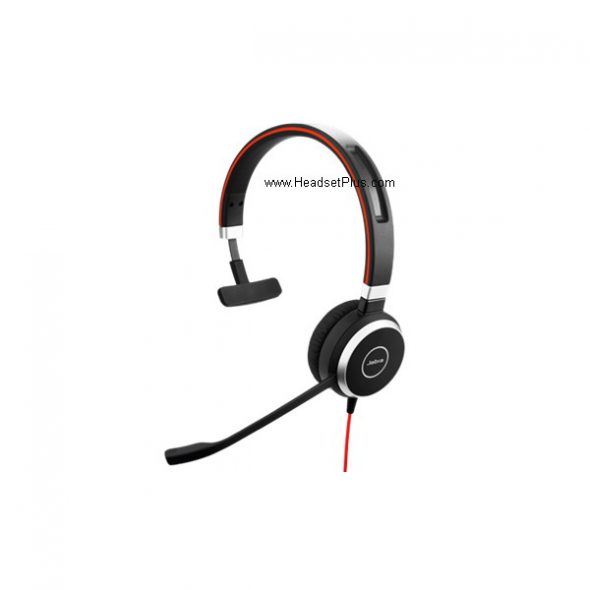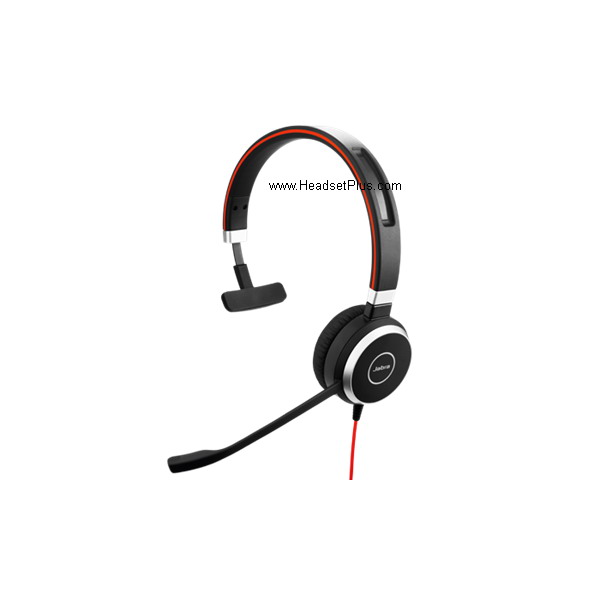 This is a standard corded USB headset that has a few cool features to set it apart from other headsets out there.  The coolest feature with the Evolve Series, is starting at the Evolve 40, they have a useful 'Busy Light' that lights up red on the side of the headset (the circle around the JABRA symbol). This headset includes an in-line volume control, at this volume control the headset has the ability to disconnect into a 3.5mm plug, which allows you to use this headset with cell phones and tablets. A groove on the headband allows for the microphone to be stored more discreetly when not being used.
Blackwire 5210 UC USB Headset – $99.95 (Stereo Blackwire 5220 – $109.95)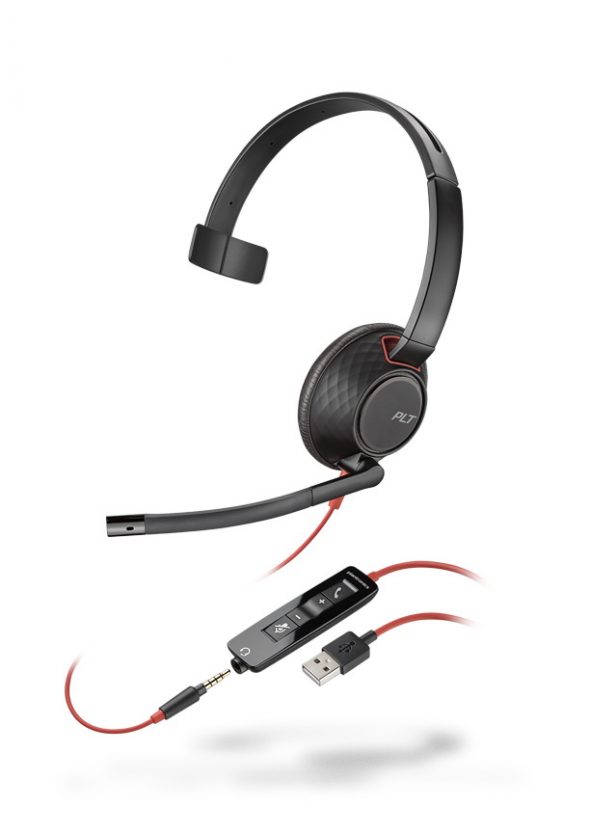 This corded USB headset from Plantronics has a lightweight and comfortable design. Fit with a volume control, it can disconnect there and turn into a 3.5mm headset, usable with a smartphone or tablet. It has a great flexible noise canceling microphone, wide band audio and an affordable price point. The headset can fold into a soft carrying case for easy portability.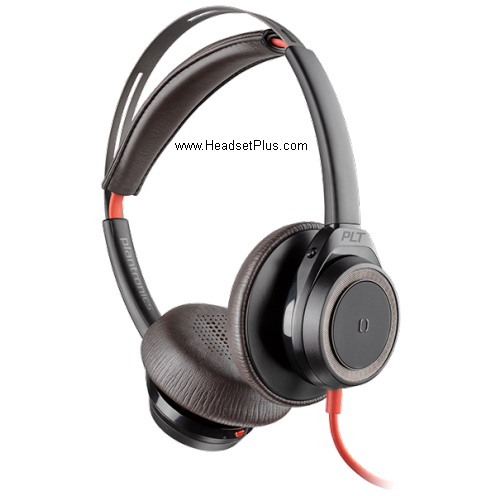 The newest edition to the Blackwire series. This is a unique corded usb headset. Not only is it great for communication, it is great for listening to music. You have Hi-Fi stereo sound! The best feature of this headset is the newly added active noise canceling. So not only do you have a nice noise canceling microphone, you can also block out the noise of your co workers. It has a 4 boom-less microphones that will help pick up your voice. Click here to buy now.
Wireless
Jabra Evolve 65 Wireles USB/Bluetooth Headset – $189.95 (Binaural – $200.95)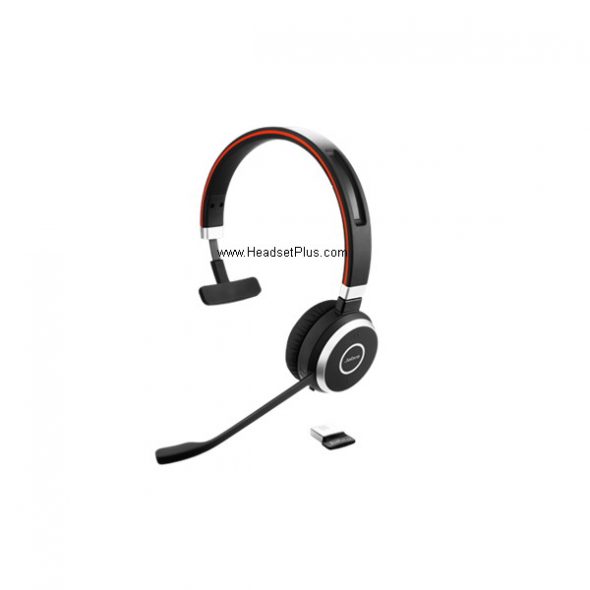 This is a Wireless USB headset, with similar features to the Evolve 40 above. The wireless USB Dongle, pictured below the headset, allows the headset to connect to your PC with up to 100ft of range. It also has Bluetooth capability, you can connect to a cell phone or tablet via this headsets Bluetooth Connection. Like the Evolve 40, this headset also has a busy light, that is a red circle around the JABRA symbol, and has a microphone groove on the headband.
Plantronics Voyager 4220 UC Bluetooth Stereo USB Headset, Skype $179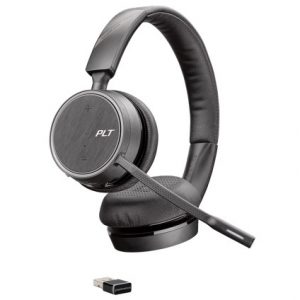 Plantronics Voyager 4220 is the latest of the wireless USB computer headsets with all the latest headset technology.  It comes with a class1 BT600 USB-A dongle (included) allowing 100ft of range (vs. 30ft for regular class 3 Bluetooth).  Compatible with both PC and Apple Mac computers.   Built-in busy light to alert people around you that you're on a live call.  Microsoft Skype for Business Certified to be plug and play compatible.  when fully charged, the battery last for 12 hours of talk time.  the Boom has 2 microphones (1 uni-directional; 1 MEMS-directional) for the best voice pickup possible,  Making the Blackwire 4220 one of the best USB computer headset on the market today.
Plantronics Voyager Focus UC Bluetooth USB Headset with Active Noise Canceling ( $259.95)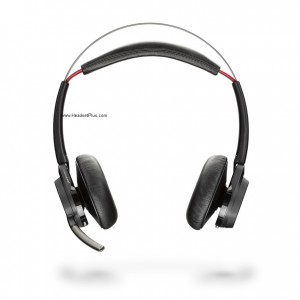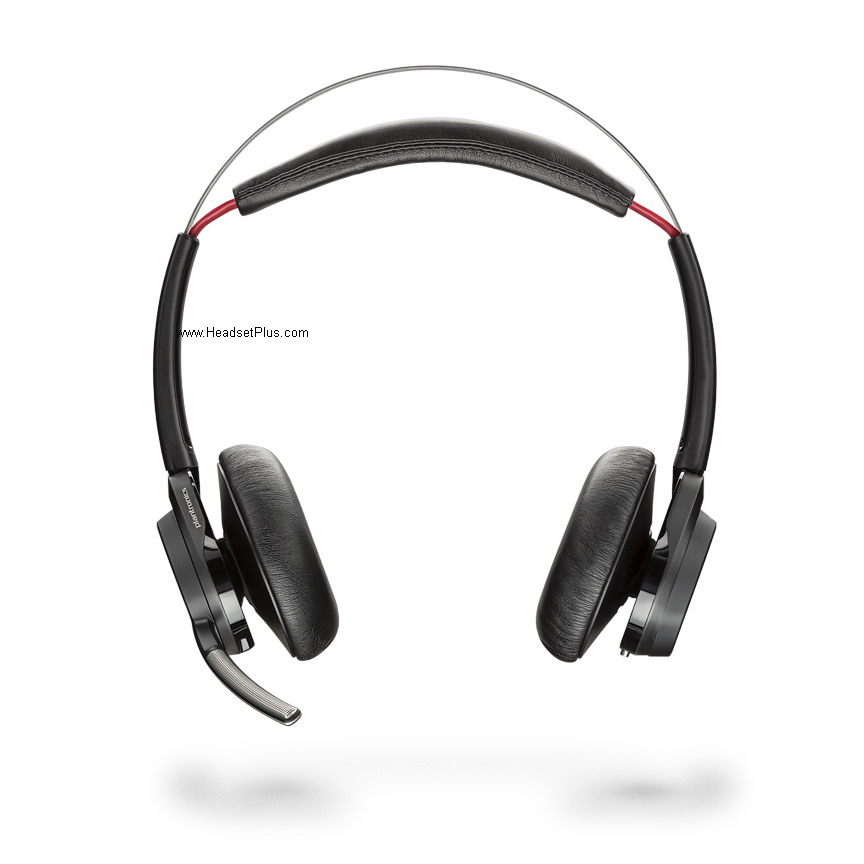 The top of the line as far as headsets go, this wireless headset has it all. Up to 12 hours of talk time or 15 hours of listening time, a best in line noise canceling microphone, and super comfortable headband and ear phones make this headset one of the best out there.  It connects wireless to your computer or laptop, as well as having the ability to connect via Bluetooth to your cell phone or tablet. The sound quality is top notch, with active noise canceling to cancel out more background noise than usual, if you want the best headset available, look no further, this headset is for you.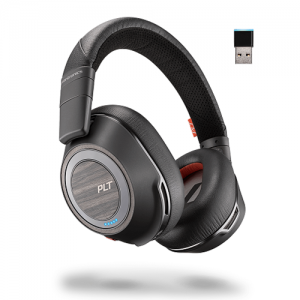 The Plantronics Voyager 8200 UC is the latest (2017) addition to the Plantronics Voyager wireless headset line from Plantronics.  It's the first Plantronics with a "boomless" microphone.  Don't let the missing microphone fool you.  The missing boom and microphone does not mean it was poor sound when you're on the phone (or softphone).  It has 4 total microphone, specially engineered and placed at different locations on the headset for optimal voice pickup.  See below: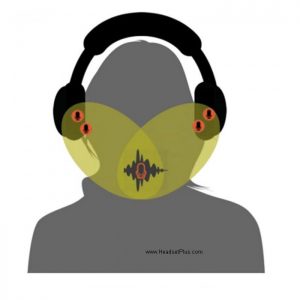 In addition, it comes with leatherette "circumnaural" ear cups and speakers to to surround both ears completely on top the active noise canceling technology to block out just about any background "unwanted" noise you have in your surroundings.  it comes with a USB adapter for your PC/computer, so you can communicate wirelessly up to 100ft away.  The Voyager 8200 is also a Bluetooth headset so you can pair it with your smartphone (like an Apple iPhone).  so it can be used as a cell phone headset or simply use it as a great music headphone when you're not working!  Go HERE for more details.
Sennheiser MB 660 UC Wireless Bluetooth Headset MS Skype Cert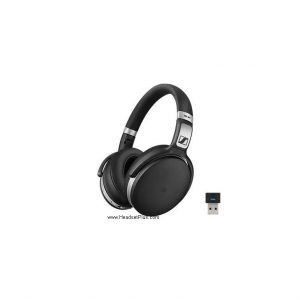 The newest addition to the list comes from Sennheiser, with the Sennheiser MB 660 UC wireless Bluetooth Headset, this headset has NoiseGard Active Noise Canceling. Certified and ready for Skype for Business, this headset has a boom less microphone, with 3 digital noise canceling microphones built in to the ear cups. An amazing battery time of 30 hours and a superb 15 day battery life on standby, making it a good option for road warriors that need to have best talk/standby time on their headset for business. If you run out of power, the Sennheiser MB 660 UC has you covered, with a 3.5mm cable that allows you to use it with virtually any device with a 3.5mm jack. A hard travel case gives it a nice touch when folding it and storing while traveling and the 2 year warranty gives you piece of mind on this headset.  Go HERE for more details.