Call centers are notoriously loud (fact). It's makes it difficult to hear and be heard in such a crowded environment. Even if there are only a few people in the same room, talking over one another can be a serious problem when dealing with customers. Let's take a look at some of the best rated and wallet friendly headsets. Keep in mind that compatibility will vary by phone.
Jabra Biz 1500 Duo QD Headset: (available in mono)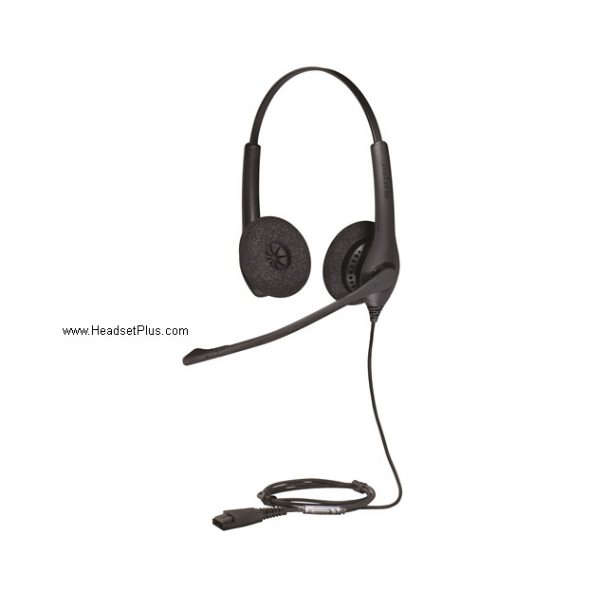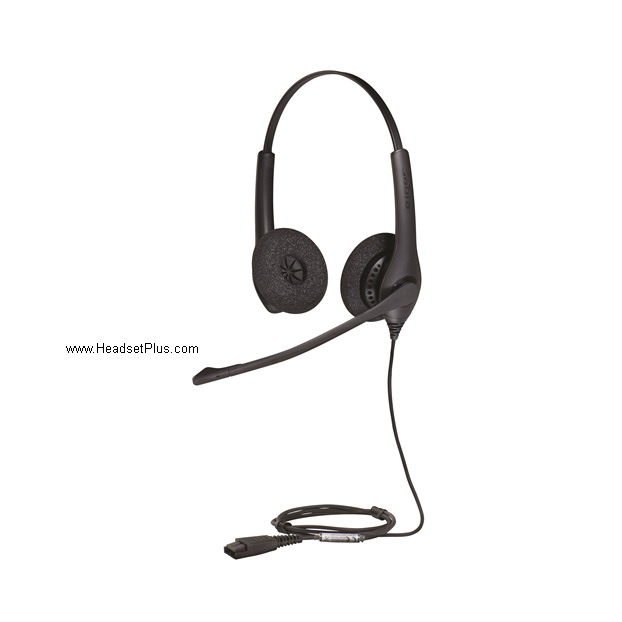 At such a modest price, this is the perfect entry level headset. It is very light, has an adjustable headband/mic, provides great audio, and comes standard with a noise canceling microphone. It has a 270 degree bendable boom mic, and you'll hear your customer clearly and be heard by them because of the HD Voice and Wideband sound. Just in case your customers are yelling at you, it comes with a PeakStop technology that will protect your hearing from sudden loud spikes in audio. This headset requires a bottom cable / amplifier. Comes with a 2 year manufacturer's warranty.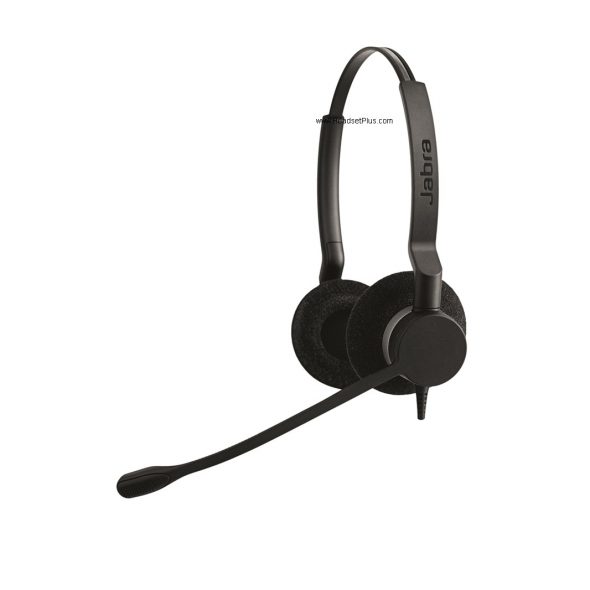 This headset is a big step up from the above Biz 1500 model. You'll have all the same standard features, i.e noise canceling microphone, wideband audio, PeakStop technology, but even more goodies with this one. The Biz 2300 is a beefier version of the above with a Kevlar reinforced cord and an unbreakable 360 degree spinning boom microphone. You won't sacrifice any comfort for toughness. Better noise cancellation, higher quality audio and voice, and much tougher. You cannot go wrong with this headset. This headset requires a bottom cable / amplifier. Comes with a 2 year manufacturer's warranty.
Plantronics HW520 EncorePro Noise Canceling Binaural Headset: (available in mono) – My Favorite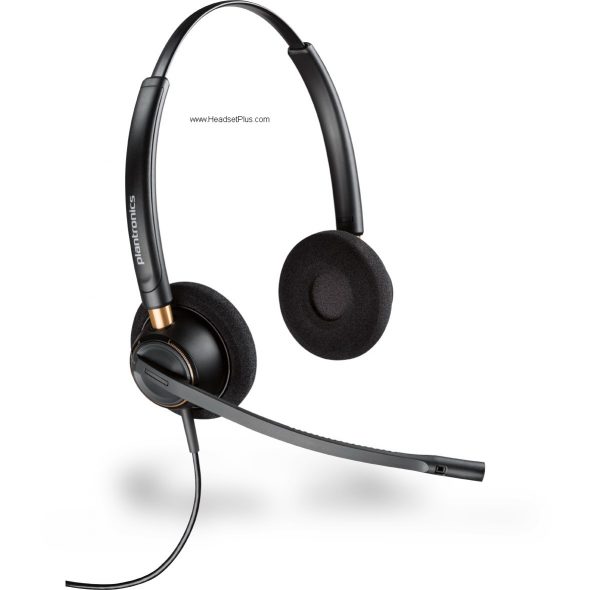 The Plantronics EncorePro series headsets are very similar to the Jabra Biz series. They also come with a great noise canceling microphone, Wideband audio, and hearing protection VIA SoundGuard technology.  To boast its toughness, Plantronics laser welds its joints, has a flexible unibody boom, and uses aircraft grade aluminum. It comes with very comfortable foam ear cushions and a lightweight adjustable headband. This headset requires a bottom cable / amplifier. Comes with a 2 year manufacturer's warranty.
Plantronics HW720, HW301N EncorePro Noise-canceling Headset: (Available in Mono)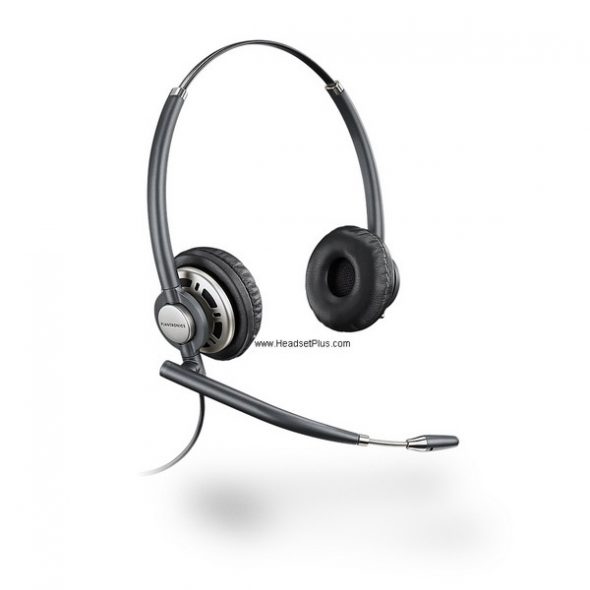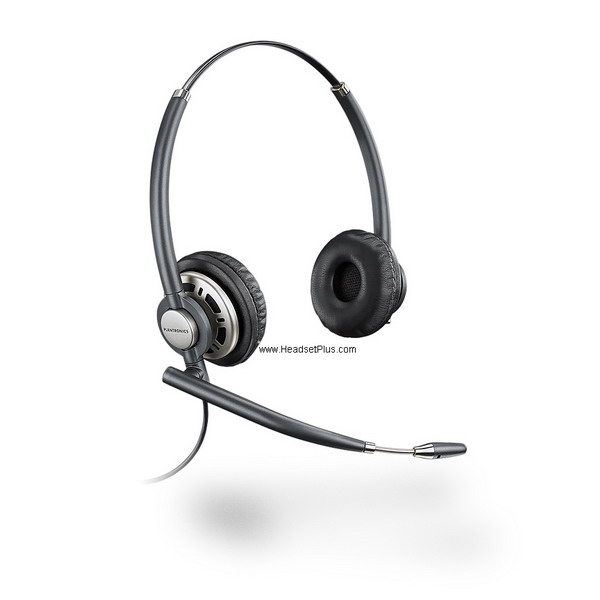 The HW720 is the top of the line corded headset that Plantronics offers. It's designed to give more luxurious feel to its users. It comes with plush leatherette ear cushions, an extendable microphone, and reinforced lightweight headband. Noise canceling microphone, Wideband audio, and SoundGuard technology are standard. The audio will be more crisp and the noise canceling microphone with reduce more noise with the HW720. In addition to all of the features, it's just an overall good looking headset.
In conclusion, I would recommend the Jabra Biz 2300. It's a huge step up in quality than the Biz 1500 and HW520, and connecting and disconnecting of the cords makes the Kevlar reinforced cables and important factor. Voice/sound quality difference between the HW720 and the Biz 2300 is negligible. If you're looking for form over function, I'd recommend the HW720 but we ultimately want something that's high quality and durable. Do yourself a favor and ask about the Jabra Biz 2300.
Note: I've excluded the top of the line Jabra Biz 2400 II Duo Noise Canceling QD Headset due to the cost of the unit for a call center. Of course, if you're in a very high end call center, you definitely want to look into it. After all, the Jabra Biz 2400 II is the best corded headset on the market.
Please call for compatibility or any questions 1-800-999-3838 or 650-306-9768
Ask for Jimmy, Jimmy@headsetplus.com