Call centers (Contact Centers) are notoriously loud (fact). It's makes it difficult to hear and be heard in such a crowded environment. Even if there are only a few people in the same room, talking over one another can be a serious problem when dealing with customers. Let's take a look at some of the best rated and wallet friendly headsets. Keep in mind that compatibility will vary by phone.
Jabra Biz 1500 Duo QD Headset: (available in mono)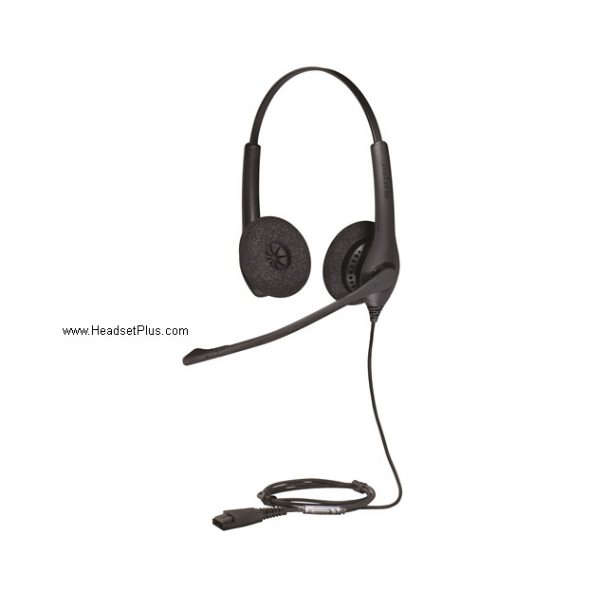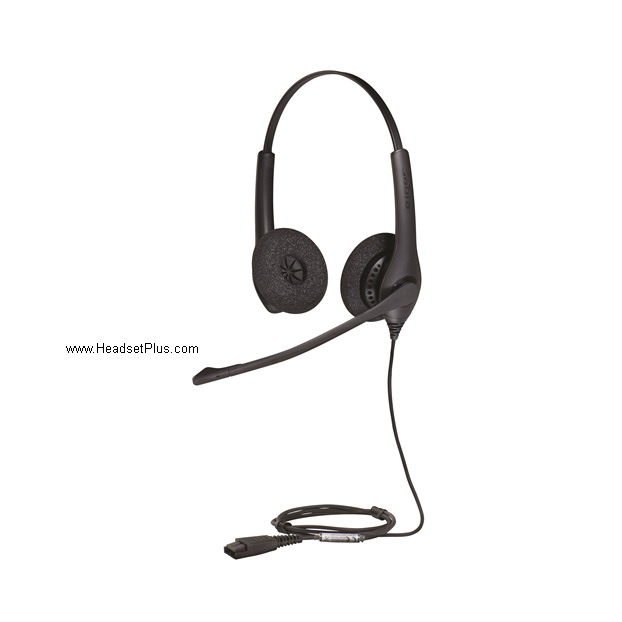 At such a modest price, this is the perfect entry level headset. It is very light, has an adjustable headband/mic, provides great audio, and comes standard with a noise canceling microphone. It has a 270 degree bendable boom mic, and you'll hear your customer clearly and be heard by them because of the HD Voice and Wideband sound. Just in case your customers are yelling at you, it comes with a PeakStop technology that will protect your hearing from sudden loud spikes in audio. This headset requires a bottom cable / amplifier. Comes with a 2 year manufacturer's warranty.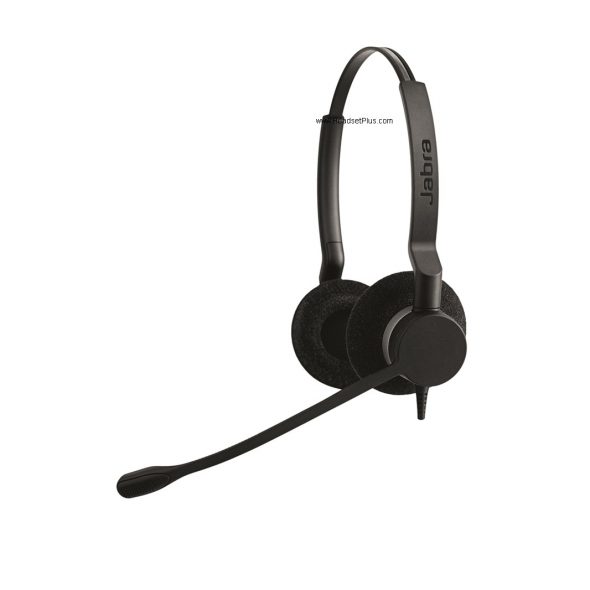 This headset is a big step up from the above Biz 1500 model. You'll have all the same standard features, i.e noise canceling microphone, wideband audio, PeakStop technology, but even more goodies with this one. The Biz 2300 is a beefier version of the above with a Kevlar reinforced cord and an unbreakable 360 degree spinning boom microphone. You won't sacrifice any comfort for toughness. Better noise cancellation, higher quality audio and voice, and much tougher. You cannot go wrong with this headset. This headset requires a bottom cable / amplifier. Comes with a 2 year manufacturer's warranty.
Plantronics HW520 EncorePro Noise Canceling Binaural Headset: (available in mono)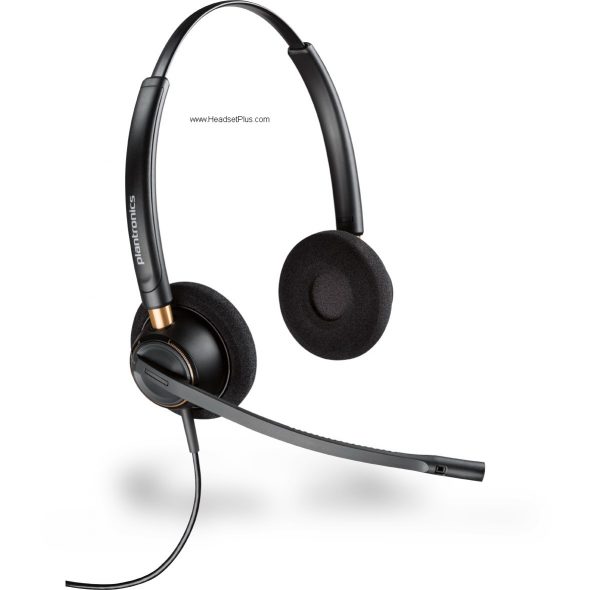 The Plantronics EncorePro series headsets are very similar to the Jabra Biz series. They also come with a great noise canceling microphone, Wideband audio, and hearing protection VIA SoundGuard technology.  To boast its toughness, Plantronics laser welds its joints, has a flexible unibody boom, and uses aircraft grade aluminum. It comes with very comfortable foam ear cushions and a lightweight adjustable headband. This headset requires a bottom cable / amplifier. Comes with a 2 year manufacturer's warranty.
Plantronics HW720, HW301N EncorePro Noise-canceling Headset: (Available in Mono)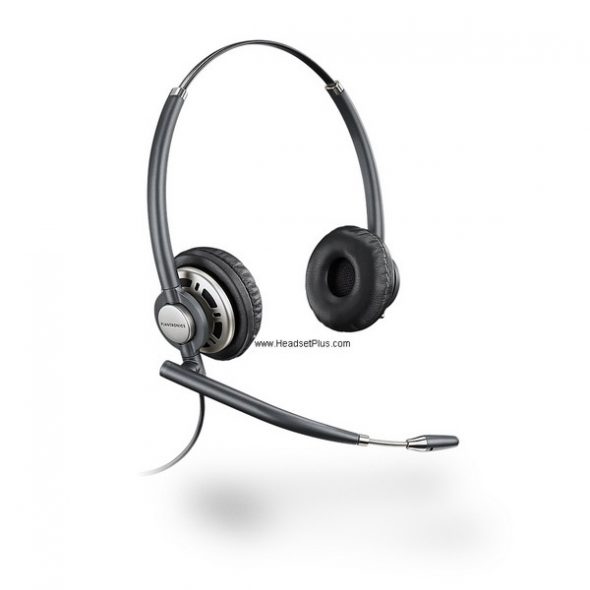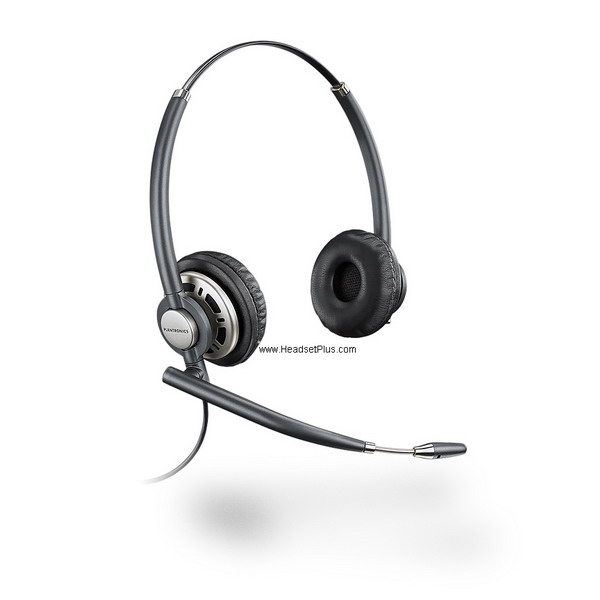 The HW720 is the top of the line corded headset that Plantronics offers. It's designed to give more luxurious feel to its users. It comes with plush leatherette ear cushions, an extendable microphone, and reinforced lightweight headband. Noise canceling microphone, Wideband audio, and SoundGuard technology are standard. The audio will be more crisp and the noise canceling microphone with reduce more noise with the HW720. In addition to all of the features, it's just an overall good looking headset.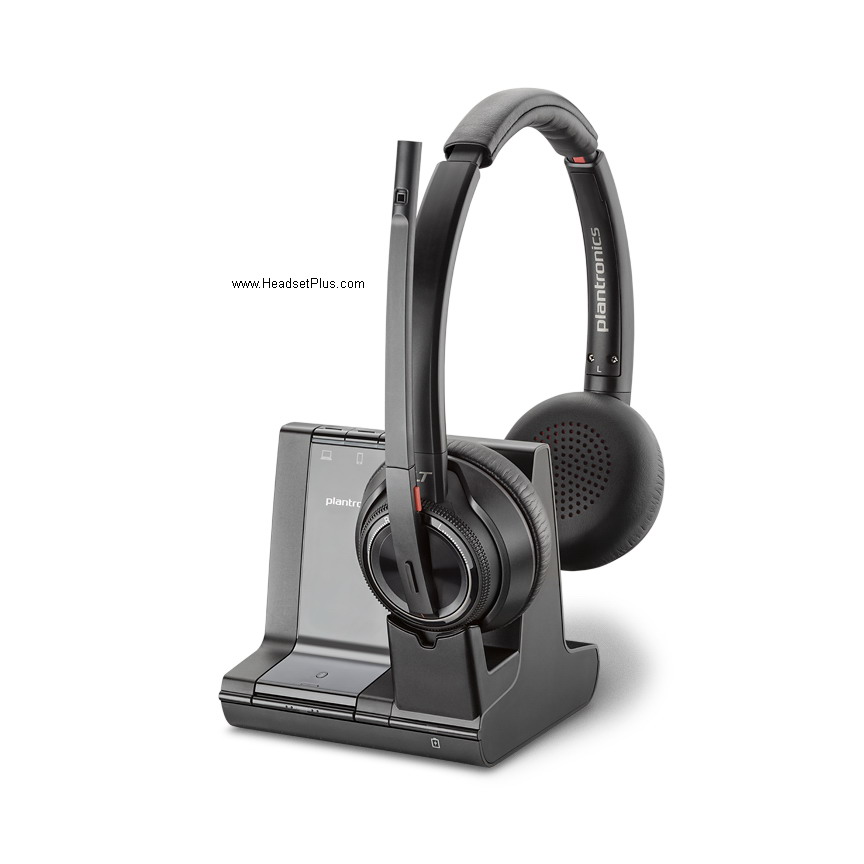 The Plantronics Savi 8220 Wireless headset is one of the newest headsets on the market. It has some of the best options available. You can connect this headset to 3 devices at the same time. You can connect it to a desk phone, a computer via USB, and a cellphone via Bluetooth. You will have some of the best wireless range on the market at almost 500ft line of sight. Another really great feature of this headset is the active noise canceling it has in the earphones. It will block out noise if you are in a loud place. Not only will it block out noise for the user but it has a great noise cancelling microphone. Comes with a 1 year manufacturer's warranty. Click here to buy now.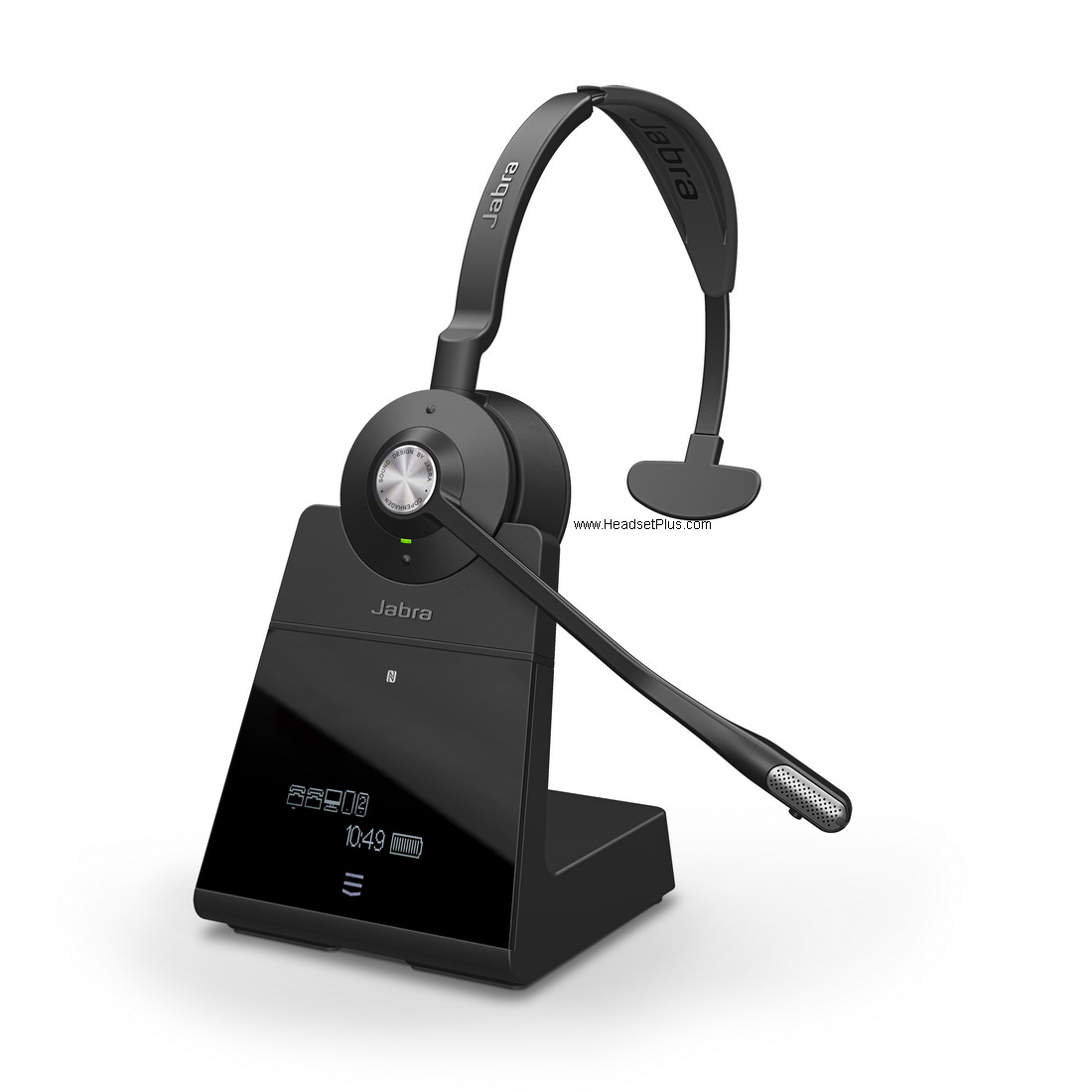 The Jabra Engage 75 Headset is one of the newest additions to Jabra. It has some very nice features such as connecting it to 5 devices at once! You can connect it to your desk phone, 2 computers via USB, and 2 Bluetooth devices. Crazy right? It has a great noise canceling microphone, and great audio quality so you and your customers can communicate well. You will have great range and talk as well. You will get around 500ft line of sight wireless range, and around 13 hours a talk time. Another great thing is you have a built in busy light on the headset so your coworkers won't bug you when you are on a call. This headset also has some of the best security available, with 65-bit AES encryption, and 128-bit authentication. This headset is very light and comfortable to wear all day. Comes with a 1 year manufacturer's warranty. Click here to buy now.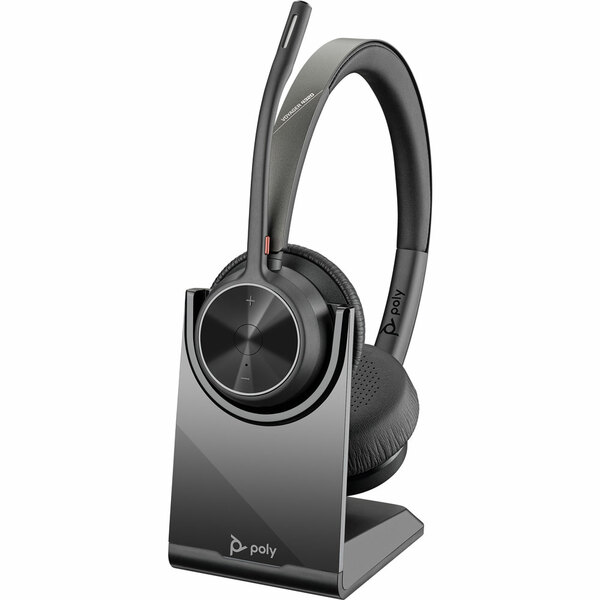 Poly offers the new Voyager 4320 with a fresher and updated design , the headband has more paddling and the earcups blocks most of the unwanted noise in the environment. The bendable microphone boom arm has the newest Acoustic Fence Technology from Poly that makes a terrific job by blocking most of the unwanted noises in the environment and can block most of the unwanted noise from the user (like the munch of chips for example), the headset can be used as a wireless headset or as a corded headset in your computer. The battery talk time is amazing as it offers up to 24 hours of continues talk time, that can be translated in 47 hours of streaming and up to 50 days of standby time. Get yours HERE.
A nice addition to the new Voyager 4310 or 4320 headset is the new Poly Voyager Office Base , that allows you use your Voyager headset with virtually any desk phone, plus use the headset with your computer and still can take your headset out of the office and keep using it with your smart phone or tablet. Get your base HERE.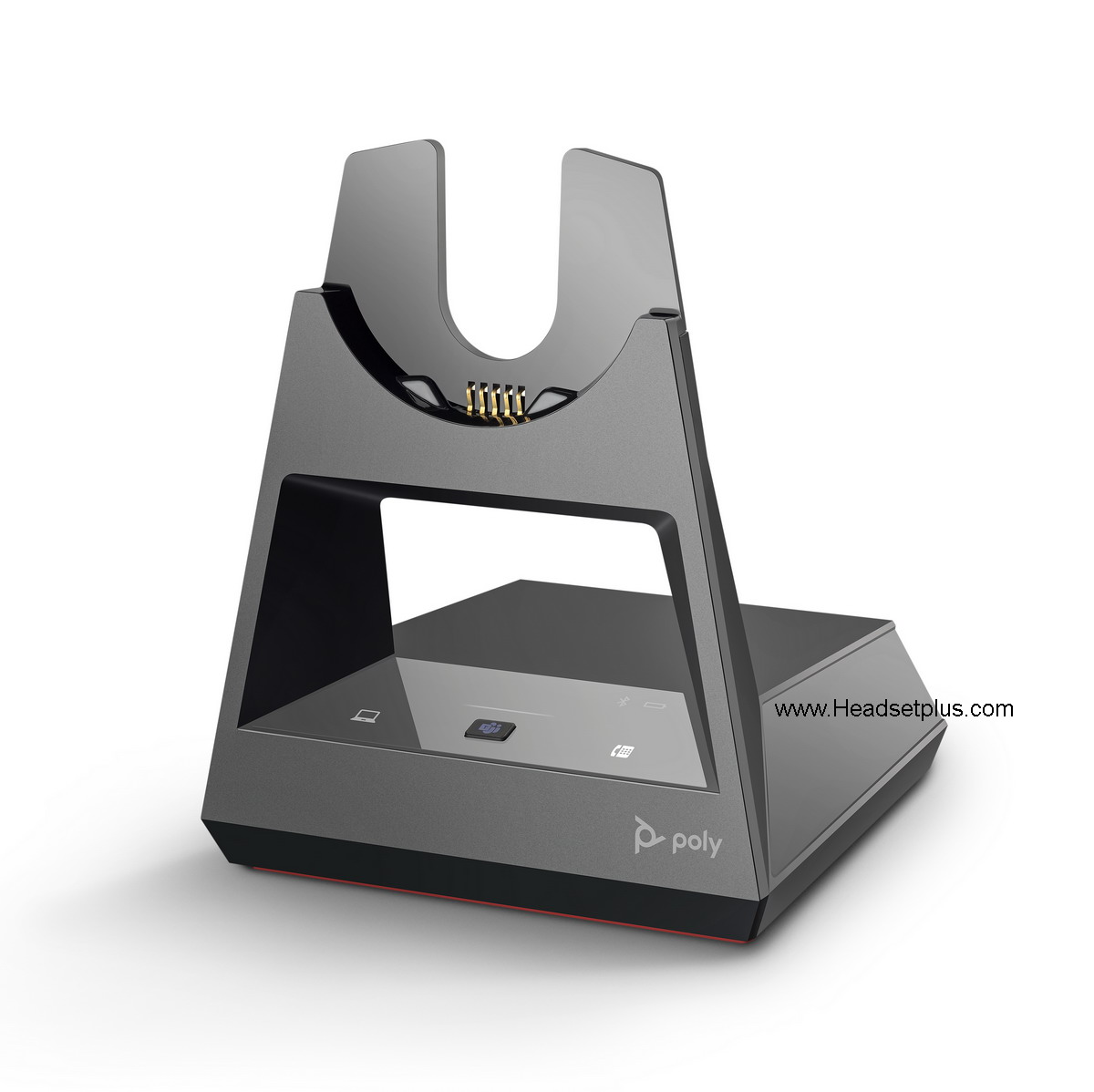 >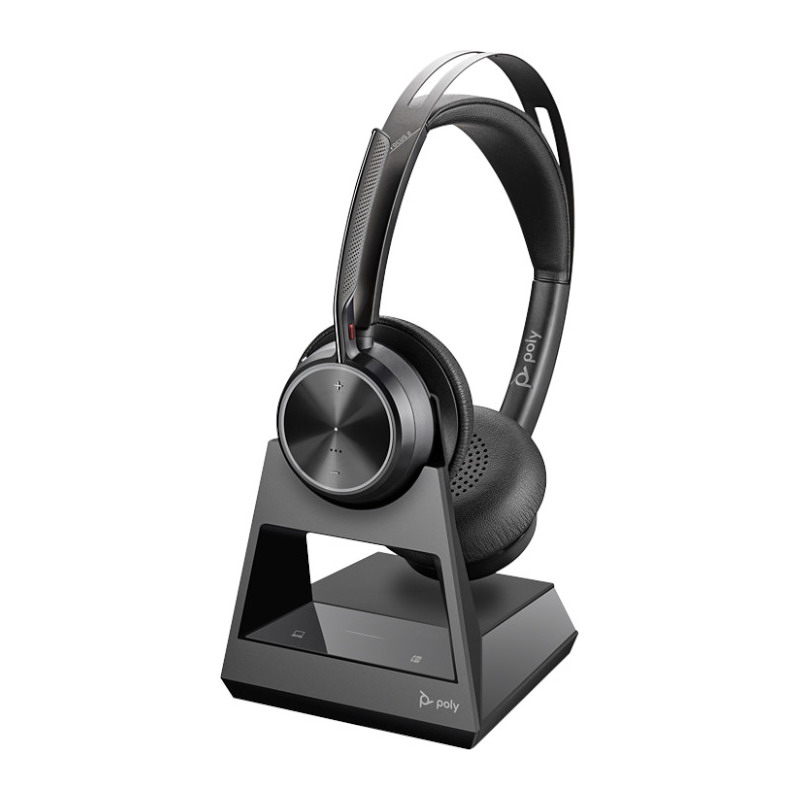 Poly offers the Voyager Focus 2 Office covering both ears with the new Digital Hybrid Active Noise canceling with different levels of graduation allowing the user to choose how much ANC to use depending the situation. The Focus 2 Office is a Bluetooth Class 1 headset with a range of up to 300 feet on line of sight, discrete microphone boom arm with mute action by swinging the boom arm up or down and can be used on either side. The microphone boom comes with the latest Acoustic Fence Technology allowing the user to virtually avoid almost all the noise of the user environment. The Focus 2 Office can be used with the desk phone, with the computer via USB-A and with your smart phone and can be used out of the office as was designed for those people that need the best sound quality on any place. Get yours HERE.
Active Noise Canceling Explained:
Polys Acoustic Fence Technology explained:
In conclusion, I would recommend either the Jabra Engage 75 or the Poly Voyager Focus 2 Office. Both are great headsets for your call/contact center, if you need a headset for a loud environment, go with the Focus 2 Office. If your office isn't too loud, go with the Engage 75. Either way they are both great choice.
Please call for compatibility or any questions 1-800-999-3838 or 650-306-9768