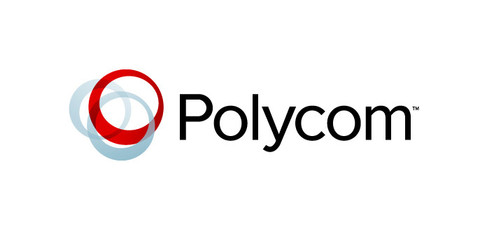 The Best Polycom IP Phone Compatible Headset Reviews:
Do you use a Polycom Soundpoint IP Phones (300, 301, 335, 430, 450, 500, 501, 550, 560, 600, 601, 650, 670, CX300, CX500, CX600, CX700, VVX 101, VVX 201 VVX 300, VVX 310, VVX 400, VVX 410, VVX 500, VVX 600, VVX 150, VVX 250, VVX 350, VVX 450) in your office.  We have the perfect match headset for your phone system.  Depending on your budget, style and features.  At headsetplus.com we have some of the best professional quality Polycom certified headsets. Below are some of our best Polycom compatible headsets and explanations and short review why they're the best Polycom Headsets available:
Corded Polycom Headsets
1.  Plantronics HW251N-POLY SupraPlus Voice Tube – $129.95
The Polycom HW251N headset is one of the most popular Plantronics corded headset option on the market today.  The HW251N combines lightweight design with high definition audio to improved voice quality along with a noise-canceling microphone.  This headset is pre-bundled with a certified Polycom adapter cable to ensure 100% compatibility with your Polycom phone.  In addition, it's backed by a full "bumper-to-bumper" 2-year warranty from Plantronics.  They will simply replace it for you if it fails within the 2 year period.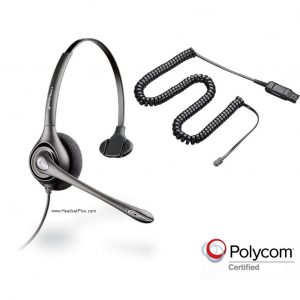 2.  Plantronics HW510-POLY Polycom IP Phone Compatible Headset – $129.95
The Plantronics HW510 EncorePro is the next generation of the popular Plantronics over-the-head monaural headset.  This headset  has soft ear cushions for all-day wearing comfort, and a flexible mic with visual and tactile positioning guides for precise positioning and for clear conversations. The HW510-Poly is also pre-bundled with a certified Polycom adapter cable to guarantee compatibility with most Polycom phones (see list above).  It weights only 52 grams, making it one of the lightest headset on the market.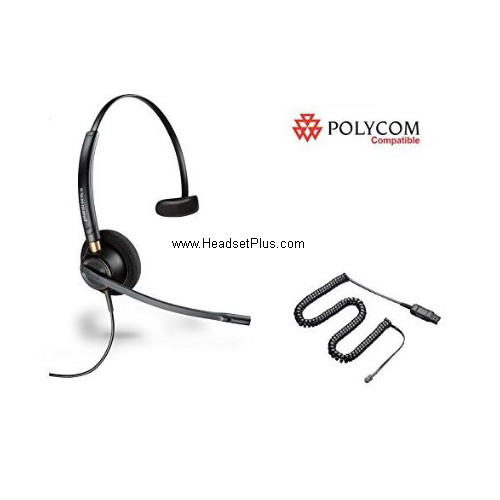 3.  Jabra Biz 2400 II Mono NC 3-in-1 Direct Connect Headset – $219.00
This is Jabra newest, and top of the line corded headset. The 3-in-1 wearing option allows the user to wear the headset in multiple positions, over the head, behind the head, and over the ear. Jabra Biz 2400 II includes acoustic shock protection for hearing protection, extra padding in the headband as well as a 360 swiveling boom arm that automatically eliminate breathing noise for the caller.  This is the top of the line headset for any work environment.  It is pre-packaged with a Polycom adapter cable to ensure compatibility with your Polycom phone.  Jabra so confident of their headset quality they offer a 3 year warranty for all the Biz 2400 II series headsets.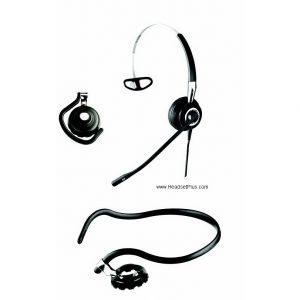 Polycom Wireless Headsets
4. Jabra Pro 920+EHS Polycom IP Phone VVX Wireless Bundle – $259.95
Jabra PRO 920 is an affordable professional entry-level wireless headset designed for use with Polycom desk phones. It is pre-bundled with a Polycom certified EHS cable ( Electronic Hook Switch) which allows you to answer your phone remotely.  The headset comes with 2 wearing style options, an over the head-band, and an over the ear.  The Jabra PRO 920 offers all the important features of a wireless headset in a simple design at an attractive price.  Once the headset is fully charged, you can talk for up to 8 hours without running out of juice.  Very light weight, only 27 grams.  It has a 325 ft wireless range so you can wander the office and still answer the phone.  The conversation is very secure with digital encryption technology. It operates with the latest DECT technology so it does not interfere with any wi-fi in your office.  It's backed by Jabra's one year warranty.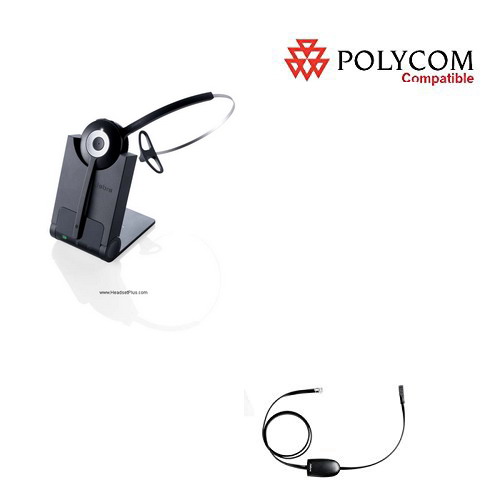 5) Plantronics CS540+EHS Remote Answer Bundle for Polycom IP Phones
This is Plantronics version of the Polycom compatible wireless headset.  the Plantronics CS540 is their best selling wireless model for the last 3 years.  It's pre-bundled with a Polycom certified EHS (electronic hook switch) adapter to enable remote answer with the CS540 wireless headset.  You can roam the office up to 350ft and still answer the phone 350ft away – a very convenient feature if you're not always at your desk.  The CS540 is a convertible headset.  You have the choice of wear it either over the head with a headband or on the ear.  Both options are included in the package.  Behind-the-neck option is also available but it's not included if you don't like the other wearing styles.  When the battery is fully charged, you have up to 7 hours of talk time.  So it's almost impossible to run out of battery during the course of a work day.  It's very light weight – only 0.7 oz (less weight than a letter).  High definition sound quality and noise canceling microphone provide the caller with natural voice and eliminates any unwanted office background noise – like your co-workers around you.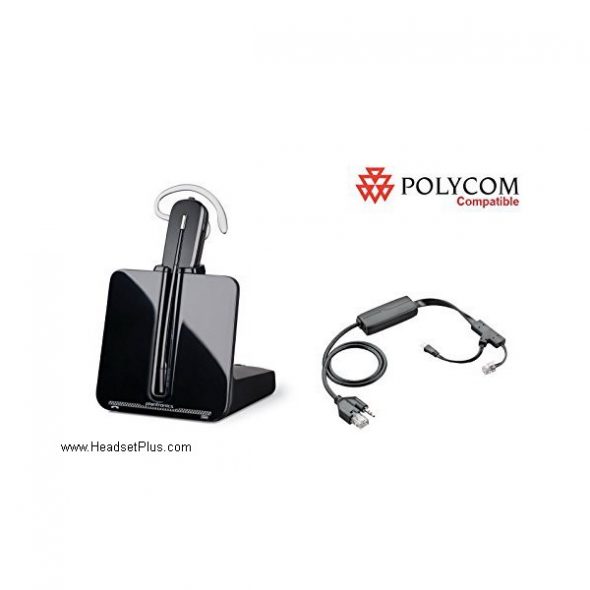 6) Plantronics Savi 8220+ EHS Wireless Stereo Headset Polycom Phone <==my pick. 
The newest addition to the Savi Family from Plantronics, with one of the best wireless range of up to 590ft line sight. Compatible with desk phone, computer (via usb) and cell phone (via Bluetooth), allowing you to switch between devices at will.  In addition, if you work in a noisy office, it offers the active noise canceling  in the speakers can block most of the background noise. The noise‐canceling microphone also filters out  unwanted background noise for your voice to your caller. You can use the Plantronics Hub in order to change settings and select ringtones, volume controls and more.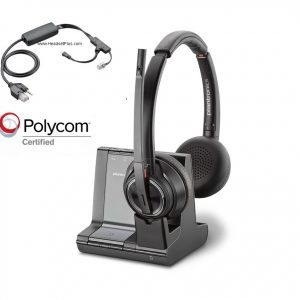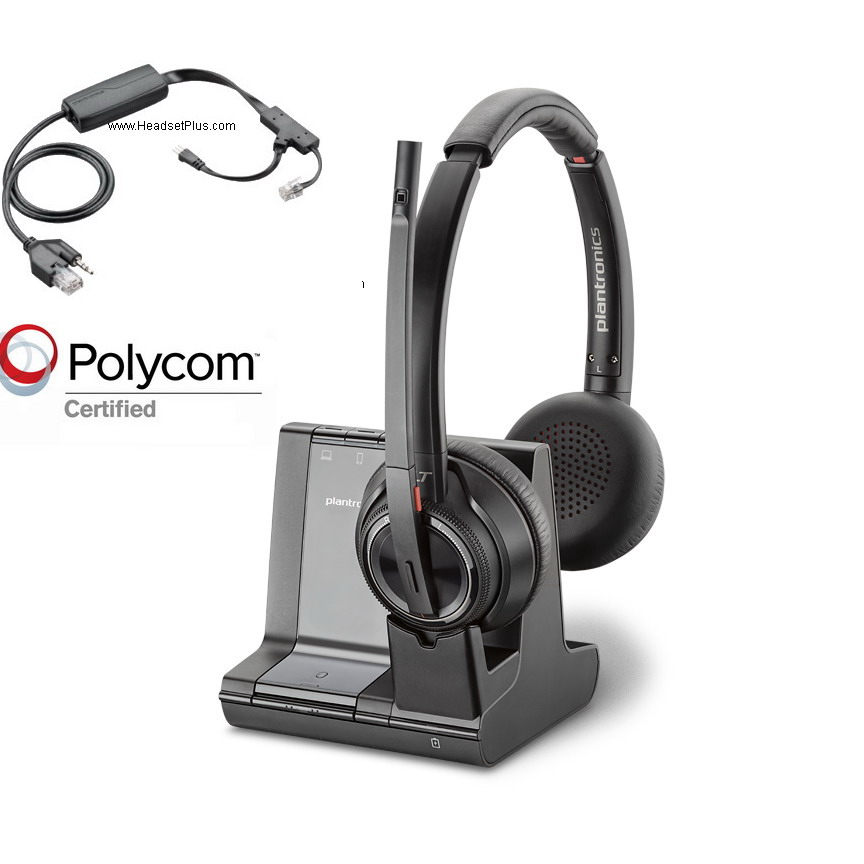 To view a full list of Poylcom Compatible headsets, visit www.headsetplus.com or you can call us at 1-877-999-3838.