If for some reason you have and use 2 desk phones of different brands on your desk, and you would like to use 1 headset with them, there's a way that allows you to have a corded headset with both desk phones at the same time, however this option has its ups and downs and will described them next. First you will need the SMH 1783 from Plantronics.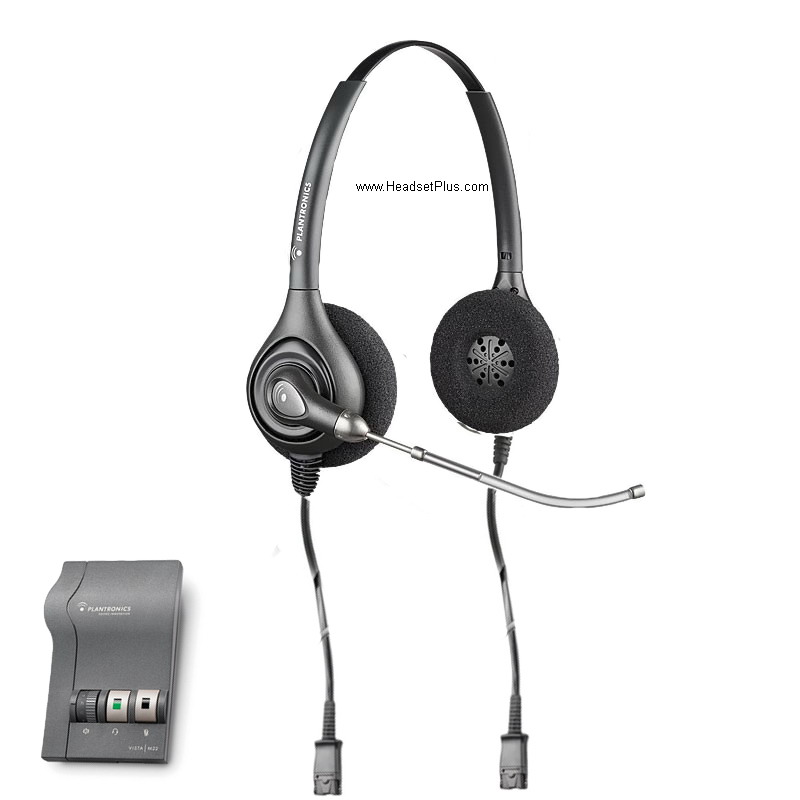 While this headset is for the visual impaired, its capability of having 2 QD on each side of the headset allows you to plug it to 2 devices simultaneously, the purpose of this headset is that the user can be in a phone call in one ear at the same time that is receiving instructions from a different source on the other ear. For the same nature of this specialized headset one of the cons in this setup is that its sales are final, so can't be returned if the user don't like the feeling of the headset. Another step back with this setup is that for the same nature, this particular headset is not available right away most of the time and its leading time can take 8-10 weeks.
Now with that being said, you still need 2 adapter cables for the respective phones. So once you have the adapter cables, just plug them in the respective desk phone and you will be good to go. The SMH comes with a M22 amplifier already in the box, depending in how the user wants to have the setup, he/she can use the M22 with one desk phone and just 1 adapter for the other phone, depends on preferences over there. (Please contact us with compatibility questions)
After mentioning the cons, let's mention the pros here; one of them is that the headset has a 2 year warranty with replacement from Plantronics, which means that you have piece of mind that even if it is a specialized product you have support for it. Another good point is that it will work out of the box, you will have just one single headset to be used with 2 desk phones, less parts needed than before as it makes everything simpler as just plug and play. Less trying to figure out or trying to experiment with confusing parts. This solution is only for Plantronics adapters, at the time of this review, Jabra unfortunately has no set up that allows you to do this as they used to have a few years ago.
For more information or compatibility, please contact Andrew @ 1-877-999-3838 or andrew@headsetplus.com