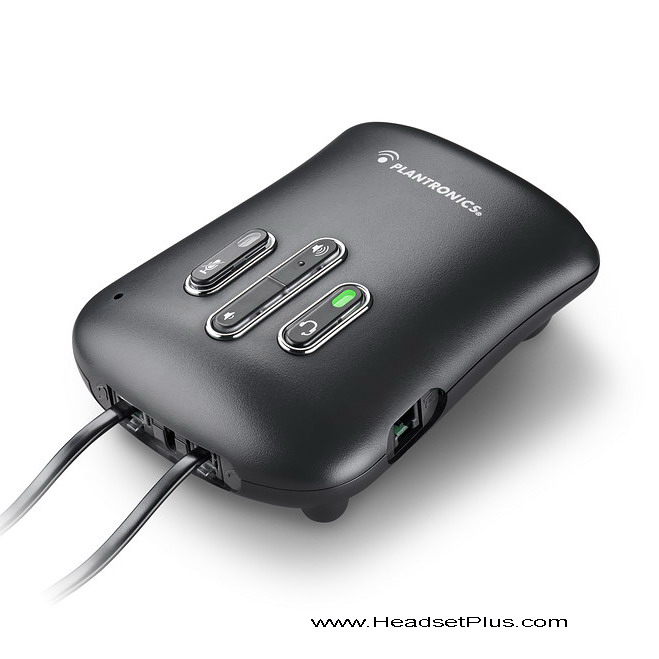 New Improved Audio Processor for Contact Centers with built-in DSP-based with AudioIQ technology (see below for explanation)..
Features:
Multiband compression for improved intelligibility (new)
Background noise compensation (new)
Echo canceller (new)
Incoming & outbound noise reduction
Automatic call volume leveling
Startle protection
Supports all of Plantronics QD headsets (Plantronics H-series)
What is Plantronics AudioIQ Technology:
Multiband compression for improved intelligibility (new): Corrects for signal loss anywhere in the bandwidth.
Background noise compensation (new): Automatically adjusts to compensate for varying levels of background noise throughout the day delivering clearer audio even in a noisy contact center
Echo canceller (new): Outstanding echo cancellation ensures great audio even on VoIP systems
Startle protection: Reduce loud incoming noises (whistles, fax tones, etc.)
Automatic call volume leveling: All calls, no matter what the source, come in at the same user-controlled, comfortable level
Incoming noise reduction: Reduces line noise when agent is talking
Background noise reduction: Reduces transmission of background noise when agent is listening
Plantronics Headset Support: AP15 supports all Plantronics professional grade QD headsets. H-series and Polaris Series. Customers can upgrade direct connect sites without replacing headsets.
Multiband Compression
Frequency bandwidth is split into sections: 16 bands of 250Hz. Analog audio processors treat the whole signal as a single band.
This DSP algorithm, part of AudioIQ, strives to deliver the optimum frequency response at all times. Mobile & cordless phones and long line lengths contribute to loss in the bandwidth, i.e. poorer audio quality received by the agent.
This DSP algorithm reviews the incoming signal in its component parts & compensates each 250Hz band to deliver an overall signal that is corrected for loss anywhere in the bandwidth. Not just the level at 1kHz (traditional level compensation)
Replacement of lost frequencies clears up speech, making it crisper and clearer – thus reducing errors and repeats.
Background Noise Compensation
Agent selects their preferred listening volume.
This DSP algorithm, part of AudioIQ, uses background noise from the headset mic (there will be some even with a NC mic) and adjusts the receive level automatically to compensate for changing levels. The level of background noise inside the contact center will most likely change during the day (e.g. different numbers of agents work at any given time). AP15 adjusts the receive level for the agent automatically
There is no need for the agent to try to compensate by making adjustments at the volume control; the algorithm does this automatically!
Results in better receive sound – especially in noisy contact centers – so agents can hear better.
To see the whole line of Plantronics Headsets visit HeadsetPlus.com