Polycom phones are some of the most popular phones out on the market right now and are used by hundreds of companies around the world. One of the many advantages of the Polycom phones is that a majority of them are compatible with electronic hook switches.
For those who are not familiar with an electronic hook switch, EHS for short, they are cables that connect your wireless headset to your desk phone which then enables you to answer calls away from your desk i.e. remote answering. Below are examples of both a Plantronics EHS and a GN/Jabra EHS, both for Polycom phones:
Plantronics EHS: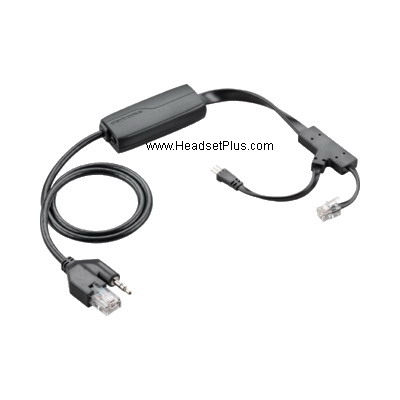 GN/Jabra EHS:
Although most Polycom phones are able to use EHS cables some aren't in which case a handset lifter is the other option for remote answering.
Here is a checklist of three things one should know before getting and using a EHS:
1) Make sure your Polycom phone is compatible with a EHS cable, you can find that out here or here.
2) Make sure you get the right EHS cable. There are multiple different EHS cables and not all of them will work with your specific headset. (For help call Jeremy at 1 877 999 3838 or email jeremy@headsetplus.com)
3) Make sure you know how to switch your Polycom IP phone to EHS mode, by selecting:
Menu
Settings
Basic preferences
Headset
Hook-switch Mode
Select Specific EHS Mode
As long as you know these three things you will be able to make sure your phone is EHS compatible, pick out the correct EHS and then use it.
For aditional information and help please either call or email Jeremy at 1-877-999-3838 or jeremy@headsetplus.com