Ergonomics issues has witnessed much spotlight off late, the press has labeled the modern workplace as being "dangerous". The office employees of today-; be it time spent in huge offices or operating from household offices-; are getting to know the hard facts of health disorders originating via work.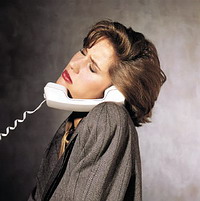 One office employee can have to work nearly 25 – 40 hrs during a week seated on the computer operating position. Then to get back home, travel via a bus or train either standing or sitting for some duration of time in congestion. Once you have reached home complete relaxation is what one would seek but exercising is not thought of for giving the muscles some stretching.
Amongst the highly common health issues arising from such work environment is back pain, which can be comfortably prevented. In the UK, BackCare charity guesses back pain & linked illness to toll firms ten billion dollars each year via non-attendance.
Fresh ergonomic hazards are filled up in new age workplace plus there aren't enough safeguard measures taken. Similar to IT being a dangerous source, is also has the cure. Headsets for phone like those made by Plantronics, is what is best applicable for safety which can be entailed to any workplace scenario to get better ergonomics.
Back in the 60's it was primarily used by just the telephone operators, but it is useful in almost work scenarios today and there's a good reason for that. As per a Medical Study carried out by Santa Clara Valley, headsets help subside shoulder, upper back, and neck tension by about forty-one percent. One more research done through H.B. Maynard & Co., Incorporation found that if headsets that are hands-free are used in phone in the office then it bettered efficiency by nearly forty-three percent. Such headsets can diminish possibilities of work originating physical hazards, more so upper body & neck injuries, he result being lesser employees' compensation expenses.
"Dissimilar to safety for manual workers, the subject of work originating injury with regards to office work force is yet to be considered as a serious matter", these are the views of Elizabeth Simpson SRP, MCSP EIHMS (the European Institute of Health and Medical Sciences). "Reason being such injuries originating from bad telephone habits is not visible immediately plus takes time to show complete effects. Research results show that using headsets for telephone helps lessen neck ache, headaches and back ache in people who work on the PC & phone together for less than 2 hours in a day."
Phone handsets (receiver) could bring about high work originating hazards for the neck. Placing the receiver between the neck and shoulder regularly at length could lead to distress and damage structural tissue. Well when using a phone headset the posture is stable and there is no frequent bending of the back to attend or place a call. So for those who are constantly connected to the phone & computer the headset is a great piece of equipment.
Disorders of the upper body which medical terms is termed as "musculoskeletal disorders," stands for various troubles related to tedious stress damages of the nerves, muscles, tendons & holding structures. Their severity could range from infrequent to quite frequent.
Extreme disorders of the upper body have been a matter of research for a length of time now, mostly focusing on elbows, wrists, hands, arms & shoulders. There have been tons of pages written on particular hazards related to the for mentioned body parts, like wrists being affected by carpal tunnel syndrome, elbows being affected by epicondylitis, and hands being affected by DeQuervains aliment.
NIOSH in the year 1997 reviewed in excess of 230 studies work originating hazards higher side extremities. Of those eighty-nine had investigations factors leading to work related hazards concerning the shoulders & neck. The publication's review committee gave the verdict that there being "enough matter to state – high intensity of motionless contraction, at length motionless weight or intense working stance . . . enlarged the danger for shoulder & neck upper body hazards."
Yes workplace ergonomics awareness is in the rise but yet it is still far away from creating a big different that it needed to address this problem. We do not know the actual numbers of suffers who might be already facing the effects of such disorders. There are a lot of new technologies that have come in this area to address and to try and eradicate this issue. Awareness can only be spread if the right knowledge is imparted to those employers who have such functioning offices.