The Best Headsets for Cisco IP Headsets from HeadsetPlus.com
From one corner of the world to the other, call centers and sales floors alike rely on Cisco for many of their calling and online needs. Why wouldn't they? Cisco has been one of the most trusted phone and data carriers for many years. Their popularity is cemented in business culture, and it is sure to remain that way for many more years to come. It's more than just their services across any number of platforms that make them so popular, however. They also make some outstanding equipment like quality headsets and office phones through which businesses can make contact with their associates outside of the main office as well as their client base.
As far as headsets are concerned—you would probably know this already since you came to HeadsetPlus.com to look for great deals on top quality headsets for your business—the go-to program many businesses use is Cisco. If you use this popular program that gives access to many different features such as instant messaging, video conferencing, and voice messaging, you want a headset which is compatible with this program while also being comfortable and versatile.
There are many options available on HeadsetPlus.com, which can help you and your team members have a pleasant experience using Cisco 6900, 7900, 8900 phones for your business communication. However, there are a few which stand over the pack as the best wireless headsets for Cisco, based on charge time, individual features for increased call quality, and the final price tag.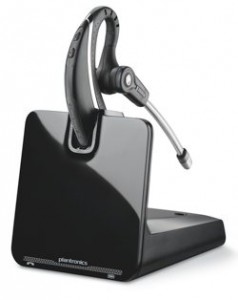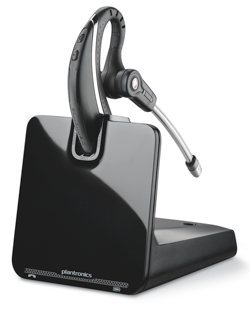 First Option: Plantronics CS530 Over-the-ear Headset
The first Cisco compatible headset we want to talk about is the CS530 headset from Plantronics. This set truly is a fantastic system with many features that anybody on your service floor is sure to appreciate. Using Plantronics DECT 6.0 technology, this headset is able to filter out and completely eliminate interference which might be generated by the Wi-Fi. This allows your representatives to serve their client easily without a great deal of trouble from feedback or static. One of the best wireless headsets for Cisco  on the market, the CS530 also comes with a noise-canceling mic, allowing the client to hear every word the representative is saying without having to strain.
This quality and affordable wireless headset for Cisco IP Phones has a lot of other great features attached to it as well. It has fantastic sound quality, able to generate up to 6800 Hz on either a narrow or wideband connection so the user will not have to strain to hear their client, either. Of course, this leads to better customer service, something your business can always use. The CS530 also features an industry-leading 350 ft. of wireless roaming, so you can wander around the office and still be able to accept and administer phone calls. This set would normally be available at a retail price of $319.95. However, buying this set from HeadsetPlus.com will only cost you $219.95 for what is truly a fantastic product.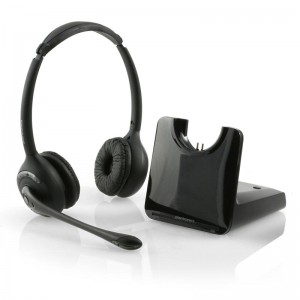 Best Option: Plantronics CS520 Binaural Headset
The CS530 is not the only quality headset for Cisco  available on the HeadsetPlus.com listing. There is one other we really want to talk about which is liable to make any call center manager excited to introduce to their floor. The CS520, also produced by Plantronics, is in many ways superior to the CS530 despite it coming from an earlier point in the production cycle for this current series.
Just like the CS530, it comes equipped with Platronic's DECT 6.0 technology which eliminated Wi-Fi interference for increased call quality. What distinguishes the CS520 from the CS530 is the former's use of binaural sounds, making it the best wireless headset for Cisco phone and an affordable quality wireless headset for the office. If you are not familiar with binaural sounds, then understand this much: Binaural sound is what is produced when a set of headphones produces sound on two different frequencies. Using binaural sound increases the complexity and depth of sound coming from the other side, making it more realistic and easier to process.
Though this may sound like a lot of technical jargon, the CS520's use of binaural sound rather than monaural sound, like many headsets use, is a huge advantage to how the user is able to interpret what the person on the other side of the line is saying. With a headset able to reproduce real-life sound, you can practically guarantee great reception without a loss of information due to technical limitations. You get a higher quality sound than you can get with most other quality headsets for Cisco 7900 series phones.
Everything else is really just icing on the cake. The CS520 also has a far superior charge time than the CS530. At full charge, the CS520 is capable of holding enough for charge for 9 hours of talk time and 5 days on standby—more than enough battery power to make sure your employees and floor managers are able to take calls all day without interruption. Just like the CS530, the CS520 is also capable of 350 ft. of wireless roaming. Normally retailing at $349.95, this Cisco  compatible headset is available on HeadsetPlus.com for $219.95.
Look Around
Both of these quality headsets for Cisco Phones have some fantastic benefits and features tacked onto them for a great value, but they certainly aren't our only ones. Look around our listing for even more options for the best headsets compatible for Cisco  as well as best Bluetooth headsets for your business.
Ask Around
HeadsetPlus.com is one of the Internet's leading providers of high-quality headsets at discount prices. You may reach us at any time with all your nagging questions you want answers for, such as our billing policy, shipping times and prices, and the overall quality of our products. Representatives are standing by to take your call and help you find the best headset for your home or business.