Wireless headsets are inconceivably advantageous and simple to utilize. The purpose of wearing a headset instead of being connected with a telephone or computer through a wire is, obviously, for mobility and multitasking. Not only will the wearer's hands be free to perform different assignments, but they will also be desk free ready to work different tasks at the same time and increase productivity. Choosing an affordable and quality wireless office headset is very important to ensure work productivity.
Some offices use Bluetooth enabled phone systems to allow their workers to multitask. Finding good Bluetooth headsets with great sound quality is very important to ensure mobility and work efficiency. It helps increase your client's trust and confidence on your ability to work efficiently with them. Here are is a list of our 7 Wireless Headsets that have the Best Quality:
The Cs540 is the lightest DECT headset available, it has a newer streamlined outline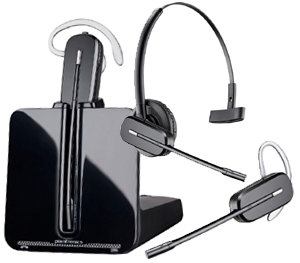 and enhanced performance all with the same ultimate quality for multitasking work productivity that has made the CS family the most trusted brand for over 10 years.
The maximized range of this Plantronics headset gives the user greatest versatility and mobility. It has one-touch controls, effective power conservation and very simple plug and talk installation process making it the best office headset.
Key Features
Range up to 350 feet away for maximum mobility
Premium wideband audio quality
Smart power management system optimizes for range and talk time
Use with Electronic Hook Switch Cable or Handset Lifter to remotely answer/end calls
The Cs530 offers an enhanced range of up to 350 feet from the 300 feet of the Cs70n. The battery life stays at up to 6 hours, which is incredible for workers with tasks that don't focus on the telephone. Its little size and Over-the-Ear wearing style makes this superbly discreet and lightweight.
In addition to the enhanced reach, the Cs530 is compatible with up to three extra CS Series or Savi headsets to the same base for telephone calls perfect for conference and meetings. This makes the CS530 one of the top choices for quality office headsets today. You can also check the best Plantronics office headsets to find a headsets that works well for you.
Key Features
Range up to 350 feet away for maximum mobility
Premium wideband audio quality
Conference in up to three additional CS500 or Savi headsets for enhanced collaboration
Smart power management system optimizes for range and talk time
New headsets can subscribe to a base by simply docking the headset
The single ear Savi W740 has three diverse wearing styles, it features a state of the art noise-canceling microphone that decreases interruptions from background noise and static, and triple integration compatibility with desk, mobile phone as well as desk phones.
The Plantronics Savi 740 is enhancing the way productivity-focused office workers communicate with their clients. With three-way network, easy and comfortable switch between PC, desk phone, and mobile calls from a solitary wireless headset it is a perfect fit for a fast-paced and multitasking work environment.
Improved for Unified Communications, the Plantronics Savi 700 Series upgrades your status to "occupied" on PC, mobile phone and even on your work phone so associates can see your accessibility. This state of the art intelligent system consolidates best-in-class sound quality, mobility to multitask and hours of talk time to make it a perfect tool for effective productivity. We also have a lit of our top choices for the best office headset from Plantronics you can choose from to find the one that best suits your working style.
Key Features
One intelligent headset to manage your PC, mobile and desk phone calls
Energy efficient adaptive power system optimizes for range and talk time
Conference in up to three additional headsets and guests can continue through multiple calls
Advanced wideband audio using CAT-iq technology for high definition voice quality
Voice-dedicated DECT technology eliminates Wi-Fi interference
Noise-canceling microphone reduces background noise interruptions
Enhanced Digital Signal Processing (DSP) provides more natural voice sounds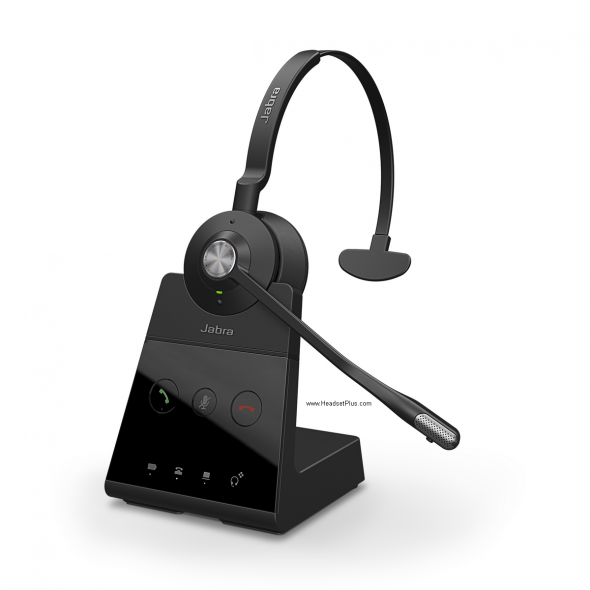 The Jabra Engage 65 is the replacement for the old Pro 9450. The main upgrades are the talk time wireless range. You can connect it to two devices, desk phone and computer via USB. You get about 13 hours talk time and a big 490ft wireless range. Another cool feature about this headset is how many of these you can use in a single room without interference. You can use 50+ in the same room without and problems.
This headset has superior quality and function which makes it compatible with all leading brands of communications applications as well as office desk phones. Click here to buy now.
Key Features
Great noise canceling microphone
Microsoft Skype for business compatible
Dual connectivity: simple and user-friendly handling of calls from either desk or soft phone
Built in busy light indicator
Easy installation and upgrades
Multishift compatible
Up to 490 ft range from the base
Up to 13 hours talk time between charges
A professional entry-level wireless headset intended for utilization with office desk telephones and incorporates DECT connectivity. The PRO 920 offers all the key features one is looking for in a wireless headset in a simple design at a very affordable rate.
Jabra PRO 920 offers a completely clear sound and quality upgrading features, like the Jabra Safetone that secures hearing by cutting off loud noises and securing safe normal sound levels. The noise-reducing mouthpiece blocks off undesirable background noise from the workplace.
This headset is compatible with all work area telephone systems. Easy to understand voice prompts allows a very comfortable and easy setup process combined with a reliable sound and performance makes it the ultimate quality office headset. You can also choose from our top picks of the best Jabra headset systems to find the one that suits your working style.
Key Features
Crystal clear sound and safe sound levels
Noise-canceling microphone
Dedicated button to answer/end calls
LED display with Battery, Mute and Audio link indicators
Separate buttons to mute call or turn volume up or down
Jabra Motion Office UC Bluetooth Wireless Headset
With state-of-the-art audio technologies, the Jabra Motion Office UC conveys such superb sound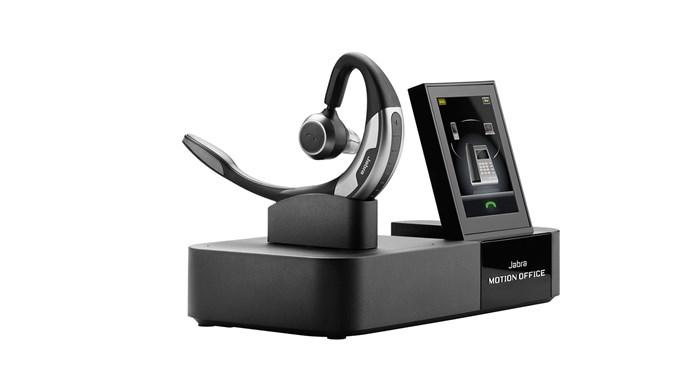 quality. A double microphone Noise Blackout program with cutting edge Digital Signal Processing ensures all background noises are eliminated especially in a noisy environment. Wideband HD audio quality guarantees that the sound you hear is perfectly clear, while Safetone technology secures your listening ability.
With Bluetooth, USB and phone support, the trendy Jabra Motion Office UC touch screen base is the way to uniting all your telephones. A Smart setup wizard helps you associate telephones and select preferences to begin. Once you're up and running, the screen's bright symbols and instinctive menu make call handling very easy and comfortable.
Key Features
Multiuse connectivity: mobile, desk and softphone
Touch screen base with SmartSetup wizard
Wideband sound (150 Hz – 6,800 Hz)
Full hearing protection with Jabra SafeTone
Up to 300 feet wireless Bluetooth range
Fast charging
Minimal energy consumption with Jabra IntelliPower
The Plantronics CS545-XD wireless headset System with unlimited talk time (package includes hot-swap-able battery). CS545-XD incorporates the clarity of conventional corded telephone with the versatility of wireless, so workers can move around the workplace to wherever business takes them without interrupting on or missing a call.
Continuing with its custom as an innovation pioneer, Plantronics presents CS55 as the first headset in the United States to use 1.9ghz UPCS voice-dedicated wireless engineering. With the included Plantronics Hl10 handset lifter, remotely taking or ending calls is as basic as pressing a button with this Plantronics headset.
Key Features
Roam hands-free up to 300 feet
Ensure call privacy with digitally encrypted security
One-touch control over calls and volume
Reduce the wait: battery recharges in three hours
Extended hands-free talk time up to 10 full hours