Wireless headsets are inconceivably advantageous and simple to utilize. The purpose of wearing a headset instead of being connected with a telephone or computer through a wire is, obviously, for mobility and multitasking. Not only will the wearer's hands be free to perform different assignments, but they will also be desk free ready to work different tasks at the same time and increase productivity. Choosing an affordable and quality wireless office headset is very important to ensure work productivity.
Some offices use Bluetooth enabled phone systems to allow their workers to multitask. Finding good Bluetooth headsets with great sound quality is very important to ensure mobility and work efficiency. It helps increase your client's trust and confidence on your ability to work efficiently with them. Here are is a list of our 7 Wireless Headsets that have the Best Quality:
The Cs540 is the lightest DECT headset available, it has a newer streamlined outline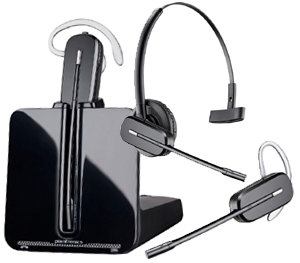 and enhanced performance all with the same ultimate quality for multitasking work productivity that has made the CS family the most trusted brand for over 10 years.
The maximized range of this Plantronics headset gives the user greatest versatility and mobility. It has one-touch controls, effective power conservation and very simple plug and talk installation process making it the best office headset.
Key Features
Range up to 350 feet away for maximum mobility
Premium wideband audio quality
Smart power management system optimizes for range and talk time
Use with Electronic Hook Switch Cable or Handset Lifter to remotely answer/end calls
Plantronics Voyager 5200 Office Bluetooth Headset 2-Way Base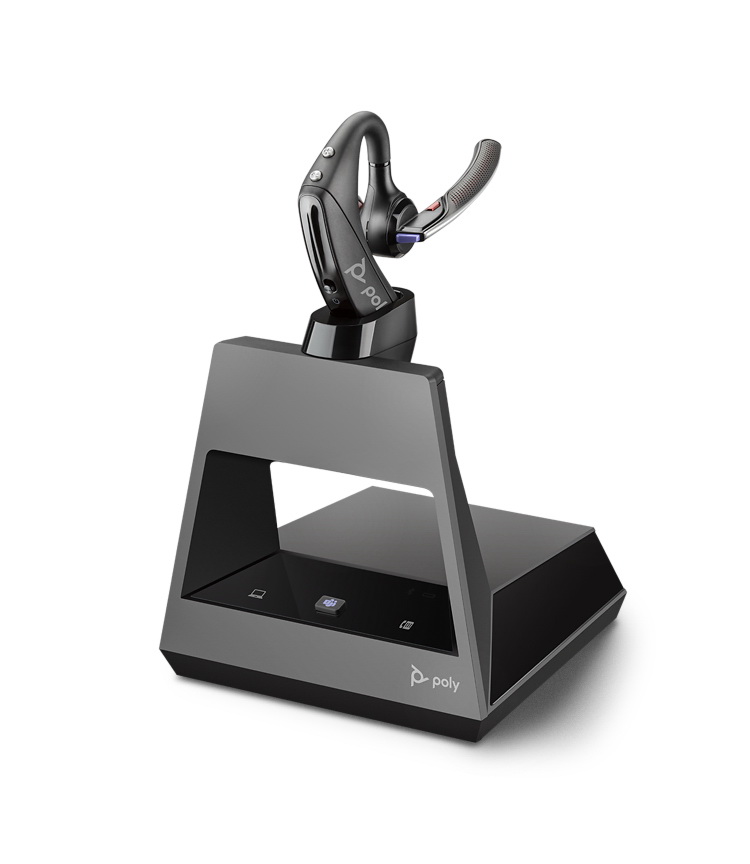 The Voyager 5200 Office offers an enhanced long Bluetooth range of up to 250 feet, making it an improvement from the standard range of 100 feet. The battery talk time of up to 7 hours, or 9 days of standby which is incredible for workers with tasks that don't focus on the telephone. Its little size and Over-the-Ear wearing style makes this superbly discreet and lightweight.
In addition to the long reach, the 5200 Office 2-Way is compatible with your computer via USB and can be paired with your cell phone and take it down the road, making it a convenient solution for people wanting only one headset without having the switching back and forward to different solutions for different devices.
Key Features
Range up to 250 feet away on Bluetooth connection
Triple connectivity, connect to desk phone, computer and mobile phone
Over the ear wearing style with a weight of 20 grams
Six layers of WindSmart technology that blocks the wind sound when the user is moving
Call control on the headset
Plantronics Savi 8240 Office Convertible Wireless Headset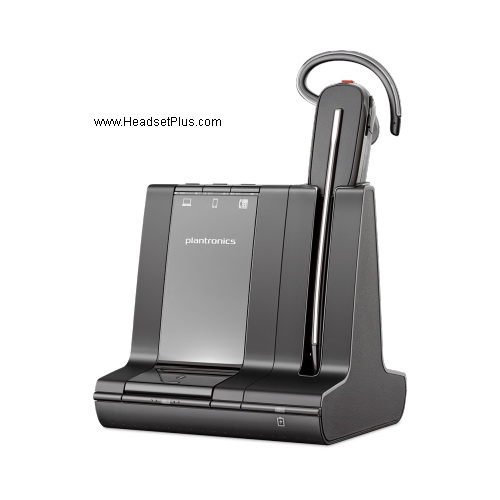 The single ear Savi 8240 has three diverse wearing styles, it features a state of the art noise-canceling microphone that decreases interruptions from background noise and static, and triple integration compatibility with desk, mobile phone as well as desk phones.
The Plantronics Savi 8240 is enhancing the way productivity-focused office workers communicate with their clients. With three-way network, easy and comfortable switch between PC, desk phone, and mobile calls from a solitary wireless headset it is a perfect fit for a fast-paced and multitasking work environment.
A nice improvement over the previous Savi W740 is the new improvement range that now offers up to 590 feet from the base on DECT wireless technology, allowing the user to be hands free wile in a call with no interruption thanks to it. We also have a lit of our top choices for the best office headset from Plantronics you can choose from to find the one that best suits your working style.
Key Features
One intelligent headset to manage your PC, mobile and desk phone calls
Energy efficient adaptive power system optimizes for range and talk time
Improved range of up to 590 feet on line of site
Up to 7 hours fo talk time in a single charge or 30 hours on standby
Voice-dedicated DECT technology eliminates Wi-Fi interference
Noise-canceling microphone reduces background noise interruptions
Enhanced Digital Signal Processing (DSP) provides more natural voice sounds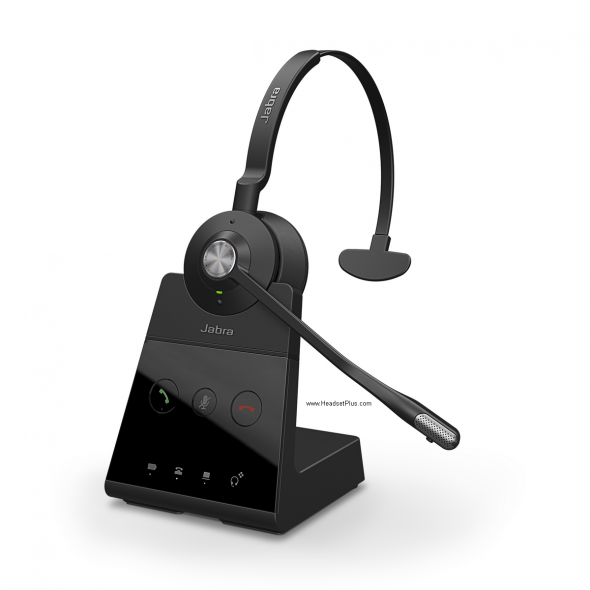 The Jabra Engage 65 is the replacement for the old Pro 9450. The main upgrades are the talk time wireless range. You can connect it to two devices, desk phone and computer via USB. You get about 13 hours talk time and a big 490ft wireless range. Another cool feature about this headset is how many of these you can use in a single room without interference. You can use 50+ in the same room without and problems.
This headset has superior quality and function which makes it compatible with all leading brands of communications applications as well as office desk phones. Click here to buy now.
Key Features
Great noise canceling microphone
Microsoft Skype for business compatible
Dual connectivity: simple and user-friendly handling of calls from either desk or soft phone
Built in busy light indicator
Easy installation and upgrades
Multishift compatible
Up to 490 ft range from the base
Up to 13 hours talk time between charges
A professional entry-level wireless headset intended for utilization with office desk telephones and incorporates DECT connectivity. The PRO 920 offers all the key features one is looking for in a wireless headset in a simple design at a very affordable rate.
Jabra PRO 920 offers a completely clear sound and quality upgrading features, like the Jabra Safetone that secures hearing by cutting off loud noises and securing safe normal sound levels. The noise-reducing mouthpiece blocks off undesirable background noise from the workplace.
This headset is compatible with all work area telephone systems. Easy to understand voice prompts allows a very comfortable and easy setup process combined with a reliable sound and performance makes it the ultimate quality office headset. You can also choose from our top picks of the best Jabra headset systems to find the one that suits your working style.
Key Features
Crystal clear sound and safe sound levels
Noise-canceling microphone
Dedicated button to answer/end calls
LED display with Battery, Mute and Audio link indicators
Separate buttons to mute call or turn volume up or down
Jabra Engage 75 Convertible Wireless Headset System
One of our favorite headsets at the office. The Jabra Engage 75 offers a convenient convertible style, allowing the user to wear t over the ear, over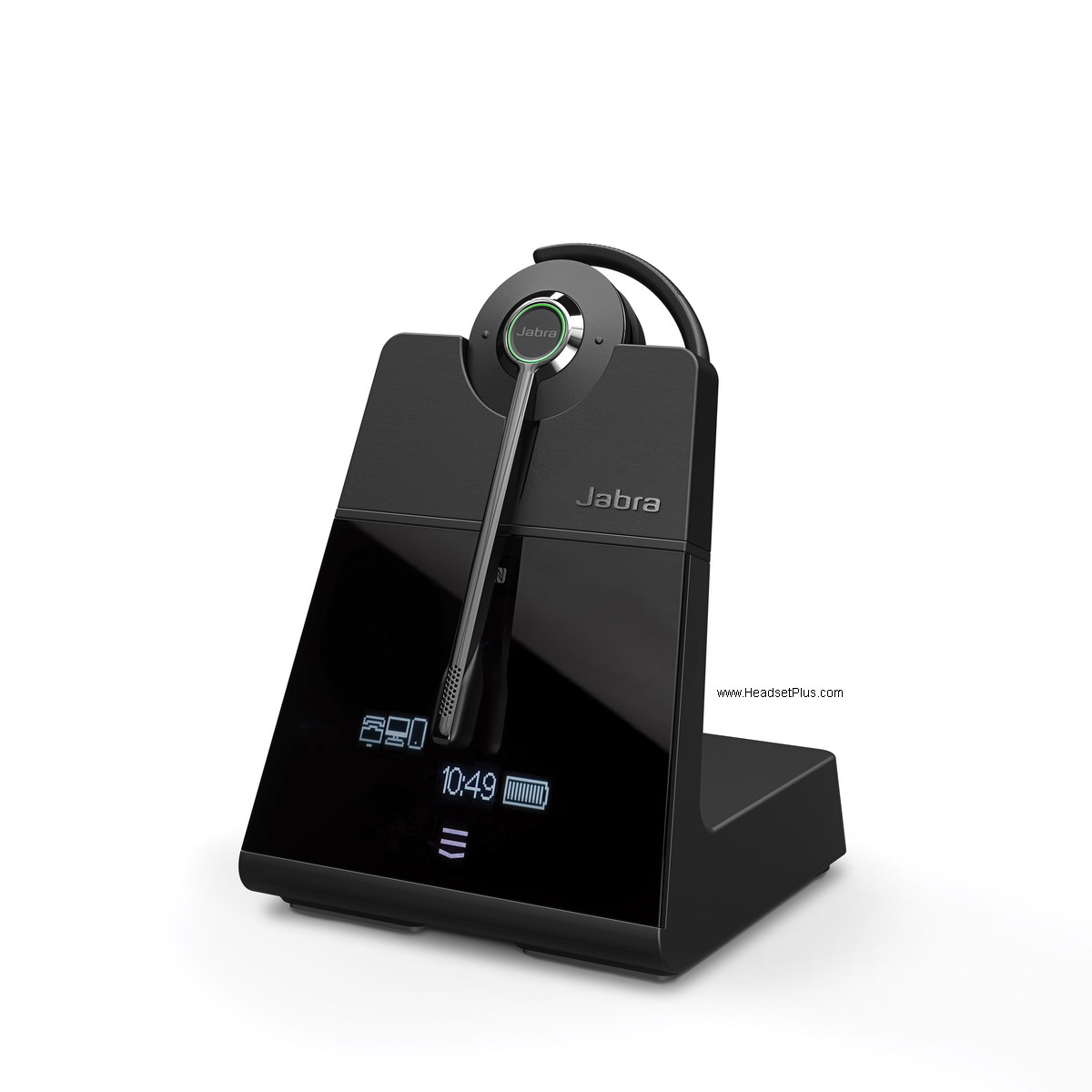 the head or behind the neck with the included accessories. This unit allows you to use it with virtually any desk phone, plus 2 computers via USB and 2 Bluetooth enable devices such as cell phones or tablets, the base has the built in capability. With a range of up 490 feet in a 256-bit encryption, giving extra security for people worried if someone can hack into their headset. Thanks to this technology the Engage 75 allows to have up to 3 times more headsets in office space with no loss in connection quality.
Key Features
Multiuse connectivity: mobile, desk and softphone
Touch screen base with SmartSetup wizard
Built in Busy Light
256-bit AES encryption. 128-bit authentication
Up to 490 feet wireless DECT range
3 wearing styles (headband, ear hook, neck band)
Microsoft Skype for Business compatible
Poly (Plantronics) Savi 7210 Office Wireless Headset, Mono Style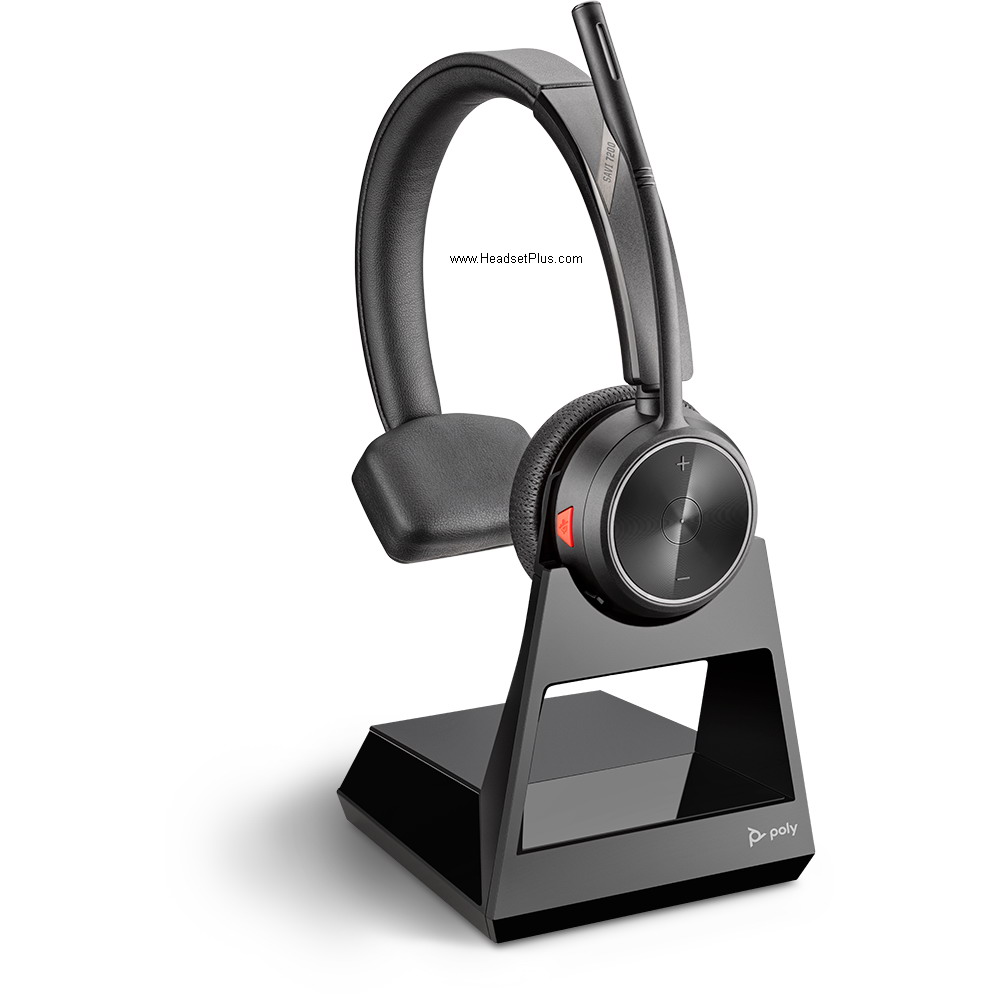 The latest addition from Poly, formerly known as Plantronics the Savi 7210 is a nice option that offers a talk time of up to 12 hours, with a range of up to 400 feet on line of site. The new design offers a discrete and modern look and feel, and with a light weight of 104 grams and a fast charging set up, with a full charge of 3 hours. Flexible microphone boom with noise canceling technology. Over sized speakers with leatherette cushions welcome the user with rich sound quality.
Key Features
Roam hands-free up to 400 feet
Flexible microphone noise canceling boom
One-touch control over calls and volume
Reduce the wait: battery recharges in three hours
Up to 12 hours of talk time in a single charge or 50 hours of standby