Looking to use your CS500 series (CS540, CS510, CS520, CS530) wireless headset on your softphone or PC?  Here is a solution for you!!!
Plantronics has released the NEW APU-76 that will convert any Plantronics CS500 wireless headset to be compatible with your softphone/pc.  With this cable you will no longer be tied to the desk/pc and you will be able to answer calls away from the desk.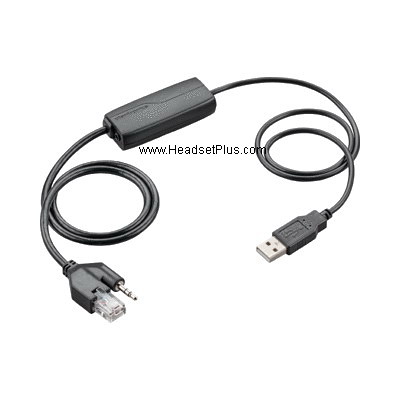 NOTE: This cable will only work for the Plantronics CS500 wireless headsets.  You can also use this cable and wireless headset combo if you have the Mitel 6867 and Mitel 6869 HID1 desk phones.
This alternative is recommended if you are going to make a switch from your physical desk phone into a softphone based application on your computer and want to keep using your Poly (Plantronics) wireless headsets such as the CS540 or the Savi 7200 Series.
However, if want to get an upgrade on your wireless headset there are going to be some models from Poly that allows you to use it with your desk phone AND your PC as the bases come with the proper cables/adapters that allow to have both devices plugged simultaneously. We will discuss them next:
Poly Savi 7310 Office Wireless Headset Mono, deskphone and PC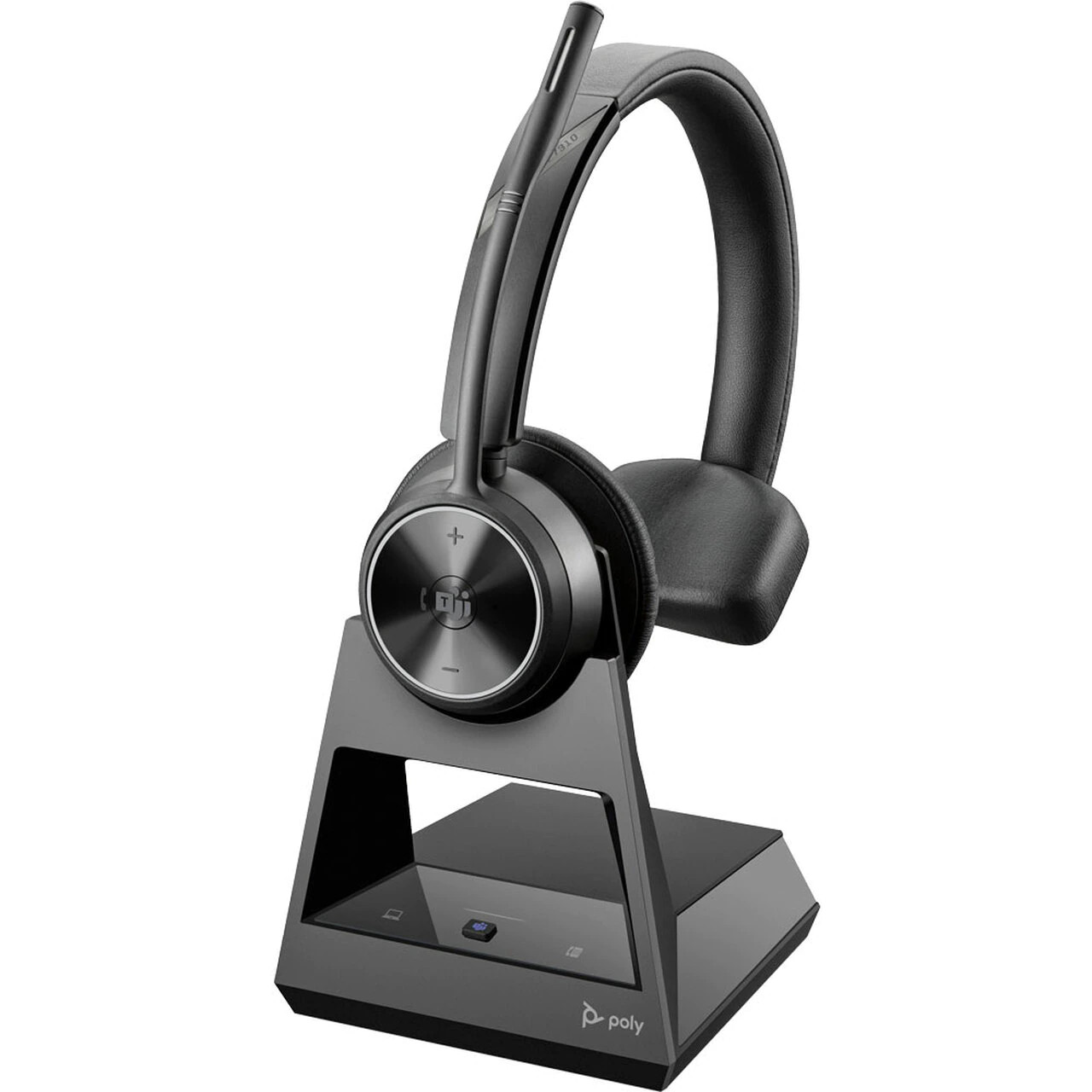 Poly offers the 7310 wireless headset in a Mono style covering one ear with an over the head headband wearing style. The headset has the latest chipset that allows to get a further range versus traditional DECT headsets of up to 580 feet on line of sight and thanks to this it offers a higher encryption of 256 bit AES encryption, which is one of the highest secure DECT frequencies, designed for more secure calls while using the wireless headset. The Savi 7310 has Acoustic Fence technology on the bendable microphone boom arm which takes a step further on noise cancelation of the place where it is used. Comes with both USB-A and USB-C cables, allowing to be used with virtually any desktop or laptop. PC and Mac compatible as with any desk phone on the market.
Poly Savi 7320 Office Stereo Wireless Headset, deskphone and PC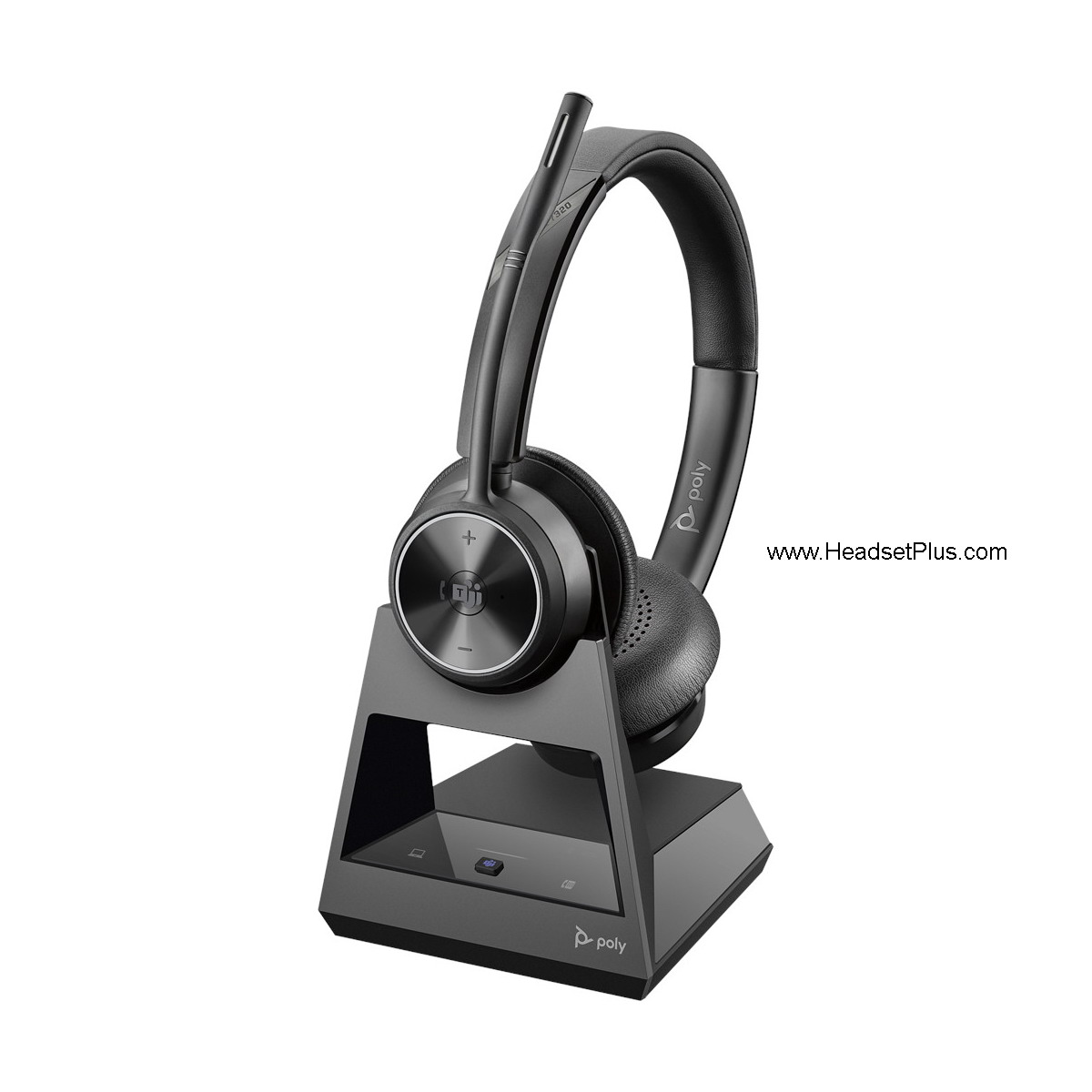 For people looking a true binaural stereo sound wireless headset for phone conversations and/or computer webinars or streaming, Poly offers the Savi 7320. This wireless headset as same as the sibling has a higher encryption, thanks to its advanced chipset. Offering the range of up to 580 feet on line of sight and higher AES encryption making it one of the most secure wireless headset to keep calls confident when in use. Acoustic Fence technology can be found with advanced microphones to substract those loud noises as fans or machinery. Use the Savi 7320 with your PC or Mac with the included USB-A or USB-C cable and with easy to use call controls built in to the headset. The Savi 7320 comes with a 2 year manufacturer warranty out of the box.
Poly Voyager 5200 Office Bluetooth Headset 2-Way Base, USB-C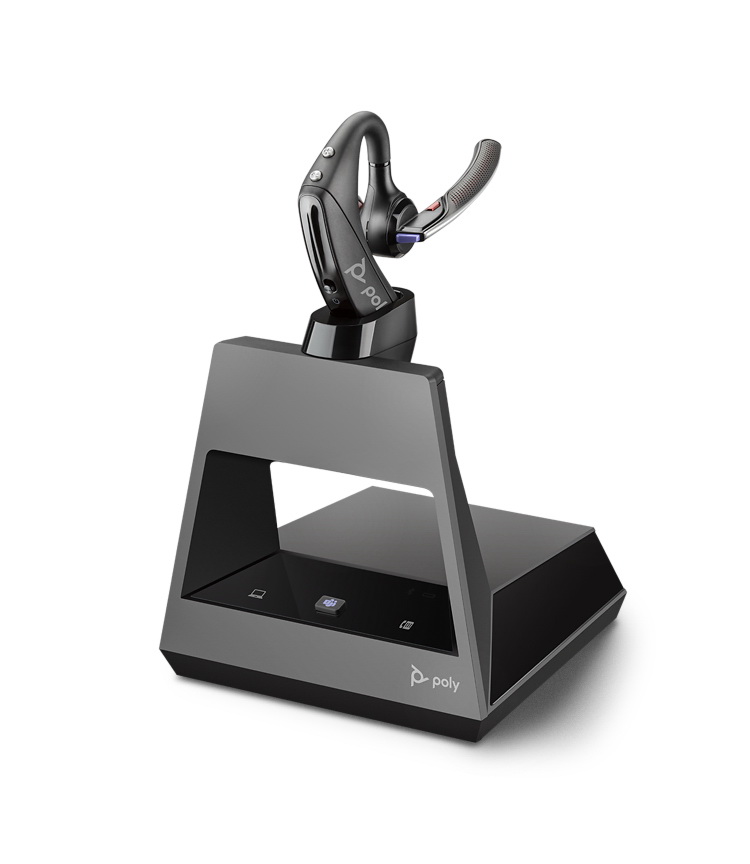 Poly offers the 5200 Office Bluetooth headset as the replacement of the CS530, with an over the ear wearing style only. The 5200 Office is a Bluetooth Class 1 headset with a range of up to 250 feet on line of sight. This unit can be used with any desk phone on the market, with a PC or Mac and with a Bluetooth enable device such as a cell phone or tablet. For same reason this Bluetooth headset's nature, you can take the headset out of the office and keep using it on your mobile device. When out of the office you can charge the headset with a micro USB cable so no need t take the base with you at all. WindSmart technology can be found in the discrete boom arm which is designed to compensate with the wind noise when walking around. Battery talk time of up to 7 hours in a single charge or 9 days of standby.
Poly Voyager 4245-M Office Convertible Bluetooth Headset MS Team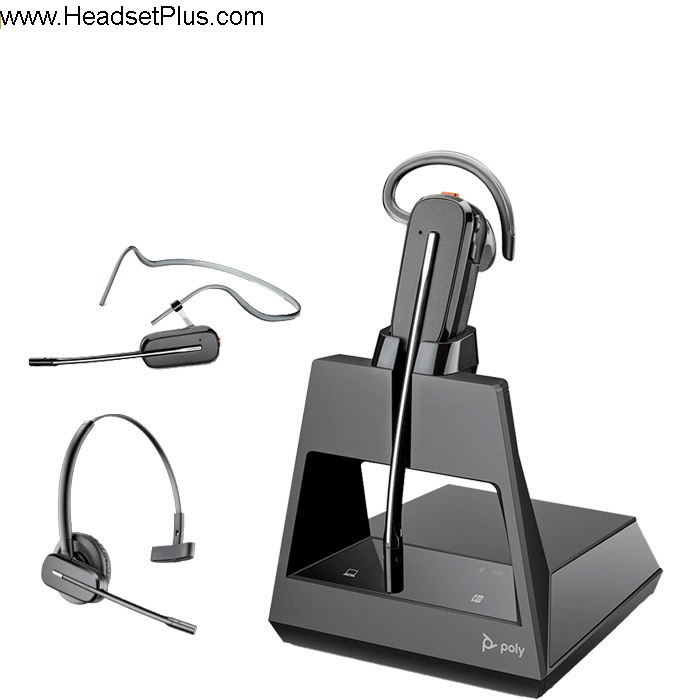 Poly offers the new 4245-M Office headset as a Convertible style Bluetooth Class 1 headset. For reference, Poly took the design of the well known CS540 and turned it into a Bluetooth headset, allowing it to be used with your desk phone, PC or Mac and your Bluetooth enable device and even take the headset out of the office and keep using it with mobile devices. For the same reason this headset comes with an additional battery and a USB charge for it so its considered a Unlimited Talk time hot battery swappable, allowing the user to replace a deployed battery even in the middle of a call without dropping it or hanging up. Noise canceling microphone can be found on the boom arm and coming with headband, ear hook and neckband so can be worn on different styles. Voice prompts are a nice touch and let you know notifications like battery life or if base got disconnected.
Poly Voyager Focus 2 Office USB-A Bluetooth Stereo Headset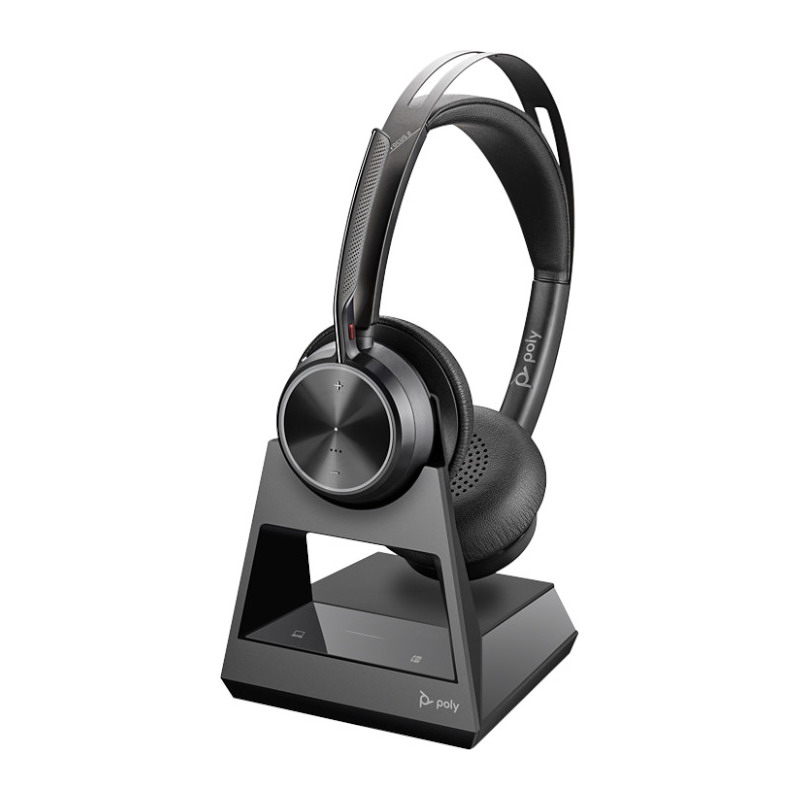 Poly offers the Focus 2 in a stereo sound quality headset, this unit is a Bluetooth Class 1 headset with a range of up to 300 feet on line of sight. Designed for really loud environments as it has Digital Hybrid Active Noise Canceling with 3 levels of graduation. The discrete microphone boom arm offers Acoustic Fence technology and allows to mute the microphone by bringing it up and down and can be worn on either side. Can be used with your desk phone, computer and your Bluetooth enable device, for the same reason you can take the headset out of the office too and can be charged with a micro USB cable. Built in busy light on the earcup making it useful if working on a open office environment letting the user another people when engaged in a call. Smart sensors that can detect when the headset is on or off, allowing to either mute microphone, pause a streaming or answer a call by putting the headset on or off.
*** Not sure if it will work for you? Just give us a call ***
---