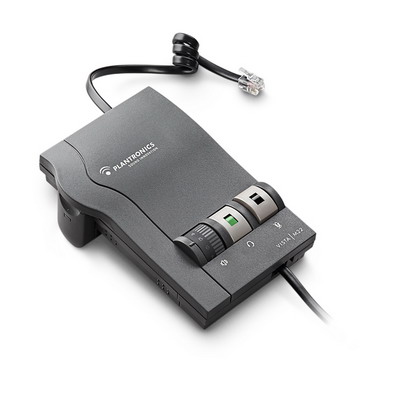 Do I need an amplifier (Plantronics M22) for my phone? Most telephones do not provide adequate power for a headset.  A headset amplifier will provide additional power for the headset via batteries or an AC adapter.  Amplifiers also offer volume (incoming and outgoing) and mute controls.
Although most telephones require an amplifier, some do not. Check our list of office phones that do not require an amplifier in our direct connect headset page.  You can also check our Compatibility Guide  to learn whether or not your telephone will require an amplifier in order to work with your headset.  (After selecting a headset model, please check the amplifier/adapter section on the right side of the page.)
Plantronics M22  and Plantronics M12 (older model) headset Amplifier connects Plantronics H-Series headsets to just about any single or multi-line "office" type phone and offer ergonomically designed volume, headset/handset, and mute controls. Connects Plantronics headsets to most single or multi-line telephones.
Plantronics M22 Installation instructions – The line cord coming out of the wall stays in your telephone. The hand receiver cable is the only cable to be removed from your telephone. Unplug the Hand receiver from the base of the telephone and connect it to the back of the Plantronics Vista M22, where it shows a picture of just a hand receiver. Then the short cable that came with the Plantronics Vista M22 gets plugged into the back of the Vista M22 where it shows a picture of a full telephone and the other end plugs into where the hand receiver used to be.
Switch Setting information
1 = Carbon
2 & 3 = Phone specific such as AT&T Merlin
4 = Electret test setting. Noy fully functional
5 = Electret w/batteries installed
Battery location
The battery compartments of the Plantronics Vista M22 amplifier is located on the left side of the units. Both have a U shaped door. To remove this battery door, simply apply pressure while pushing down. The door will slide off of the amplifier. see picture below: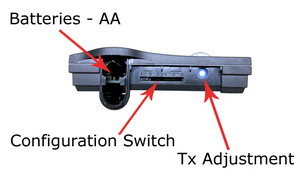 Plantronics M22 Specifications:
Uses 2 x AA batteries or optional Plantronics M12/M22 AC adaptor Compatible with most modular phones Installs in the telephone handset jack Supports carbon handsets (or equivalent), standard electronic handsets including Electret, Dynamic and ceramic Includes mute, Outgoing (Tx) volume adjust, and Receive (Rx) volume adjust 6 position configuration switch Handset/Headset switch. The AC adapter for the M10/M12 & Plantronics M22 amplifiers is 7.5 – 12 volts 200 milliamps, DC center positive.