Headsets nowadays do way more than just using them for your desk phone, VoIP softphone. We have headphones that can now be connected to 5 devices at the SAME TIME. I'm talking desk phone + computer + cell phone. Pretty crazy stuff now. Anyway, here is a small list of some very nice headsets that will enable you to listen to music while you work when you're no talking on the phone (desk phone or VoIP softphone)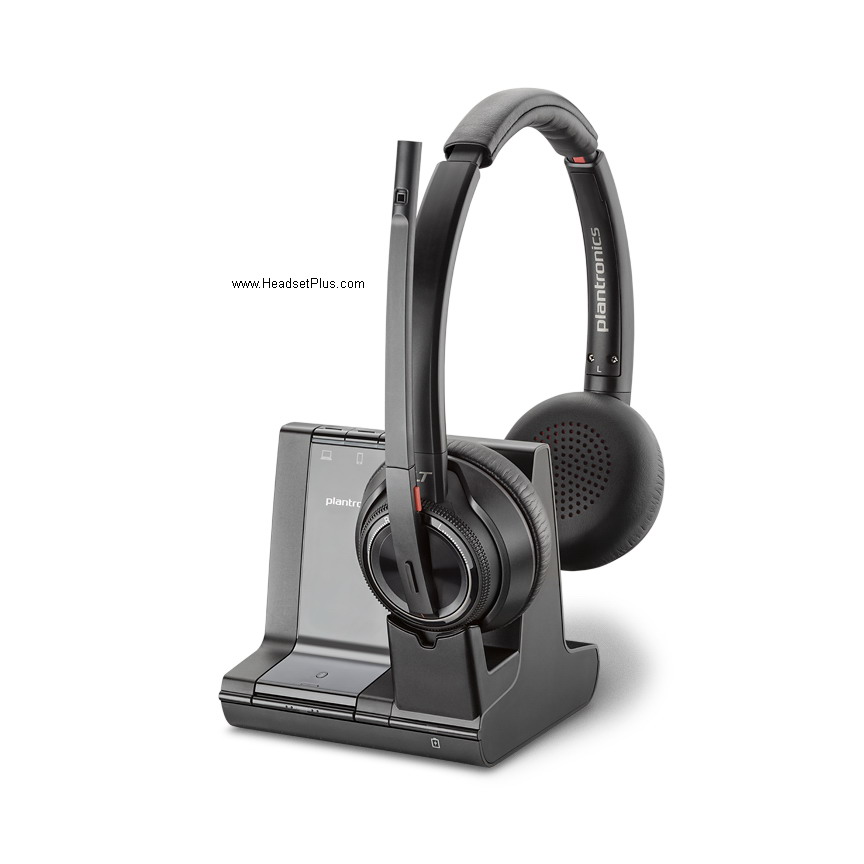 The Plantronics Savi 8220 is the newest wireless headset on the market. This is the upgraded version of the already fabulous Plantronics Savi 700 series. The main difference between the old and new is the active noise canceling in the headset. That's right, on top of all the same features of the old Savi, you will get more range, talk time, and active noise canceling for those loud environments. Because of the triple connectivity, you can enjoy streaming music to your headset when you're not on a call. This is an excellent choice for a desk phone computer combo. 590ft line of sight range, 13 hours of talk time you can't go wrong.  Comes with a 1 year manufacturers warranty, click here to buy now.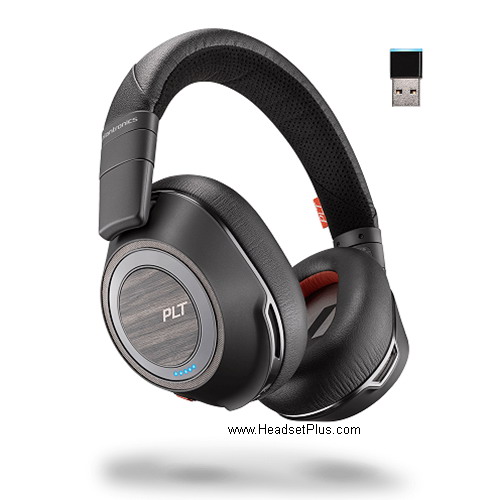 The Voyager 8200 is one of the newest wireless headsets on the market. Even though this headset wasn't designed for use with desk phones, we can still make it work. An interesting feature of this headset is the noticeable lack of a boom microphone. But don't worry, your customers will still be able to hear you with the dual-paired (4 total) omni-directional microphones. This powerful headset has active noise canceling earphones and a great noise canceling microphones. You will get about 100ft of wireless range from a deskphone or computer. the 8200 has about 24hours of music/movie streaming. To use this headset with a desk phone, you will need an adapter. This will enable you to use this with your deskphone, computer, and cell phone. Pretty awesome huh? Comes with a 1 year manufacturers warranty, click here to buy now.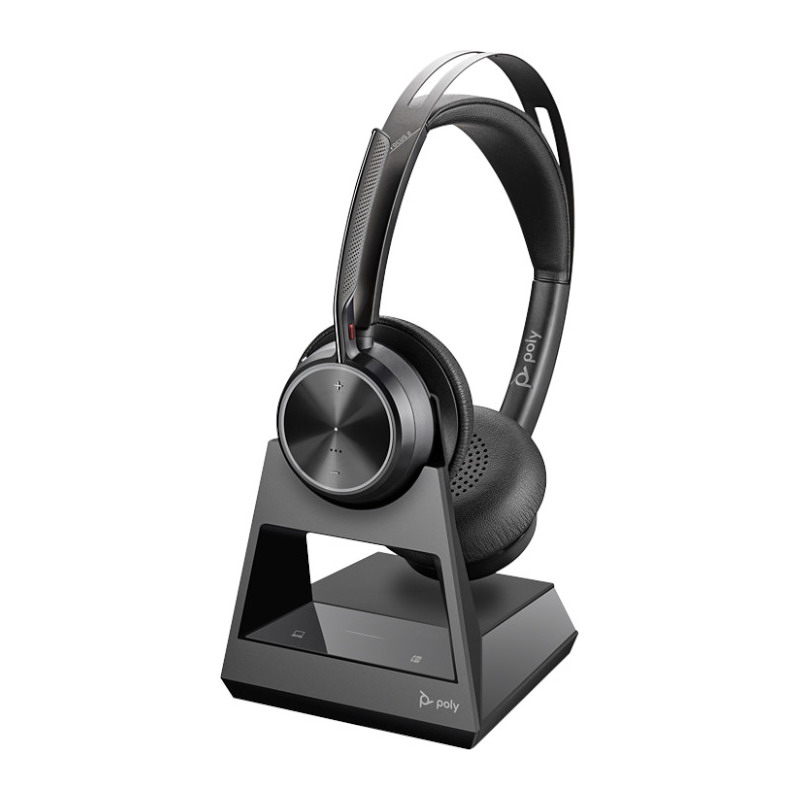 One of the newest additions from Poly, with the new Hybrid Digital Active Noise Canceling and with the amazing Acoustic Fence technology in the microphone boom arm that blocks almost all noises in the user's environment. A nice feature is that allows you to use the mic boom to mute the microphone by bringing the boom arm up and can be worn on either side without compromise. If needed can be used as a corded headset as well if Bluetooth can't be used in a location. Order yours HERE.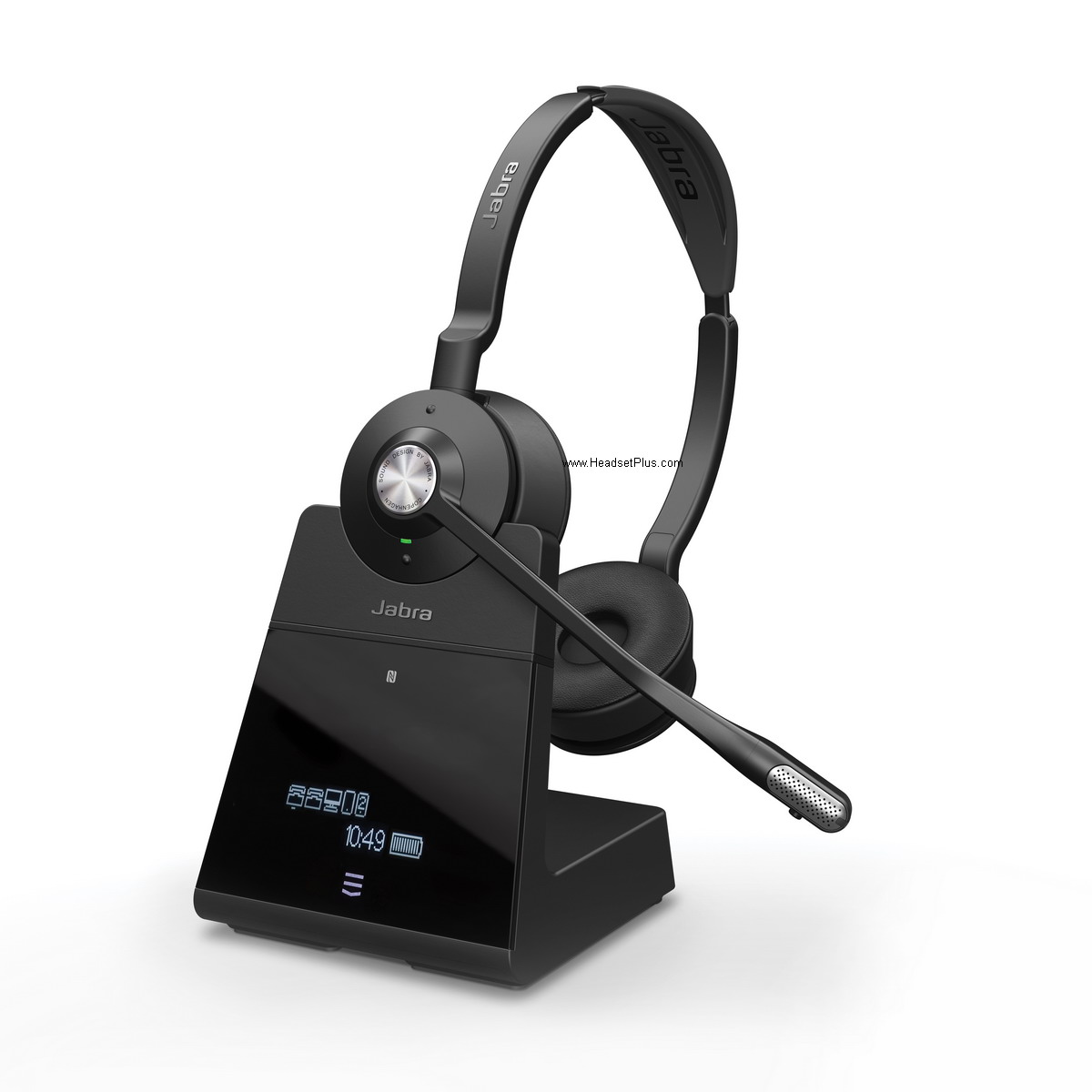 This is my favorite headset. I currently use the Jabra Engage 65 Stereo. Think of the Engage 75 as the big brother of the 65. This headset is absolutely beastly. You can connect this monster to 5 devices at the same time. 1 desk phone, 2 USB devices, and 2 Bluetooth devices. A bit overkill if you ask me, but hey, it's better to have more than less. As I type this, I'm listening to some heavy metal, on my Engage series headset. Considering these headsets were not designed for the enjoyment of music, these are damn good quality speakers. This headset has the best wireless range, talk time, and just overall quality out of all the others that I've used before. If you want to save some money, you can always go for the Engage 65 Stereo. The 65 will only connect to your desk phone and your USB device, but that's where we stream music from right?. Comes with a 1 year manufacturers warranty, click here to buy now.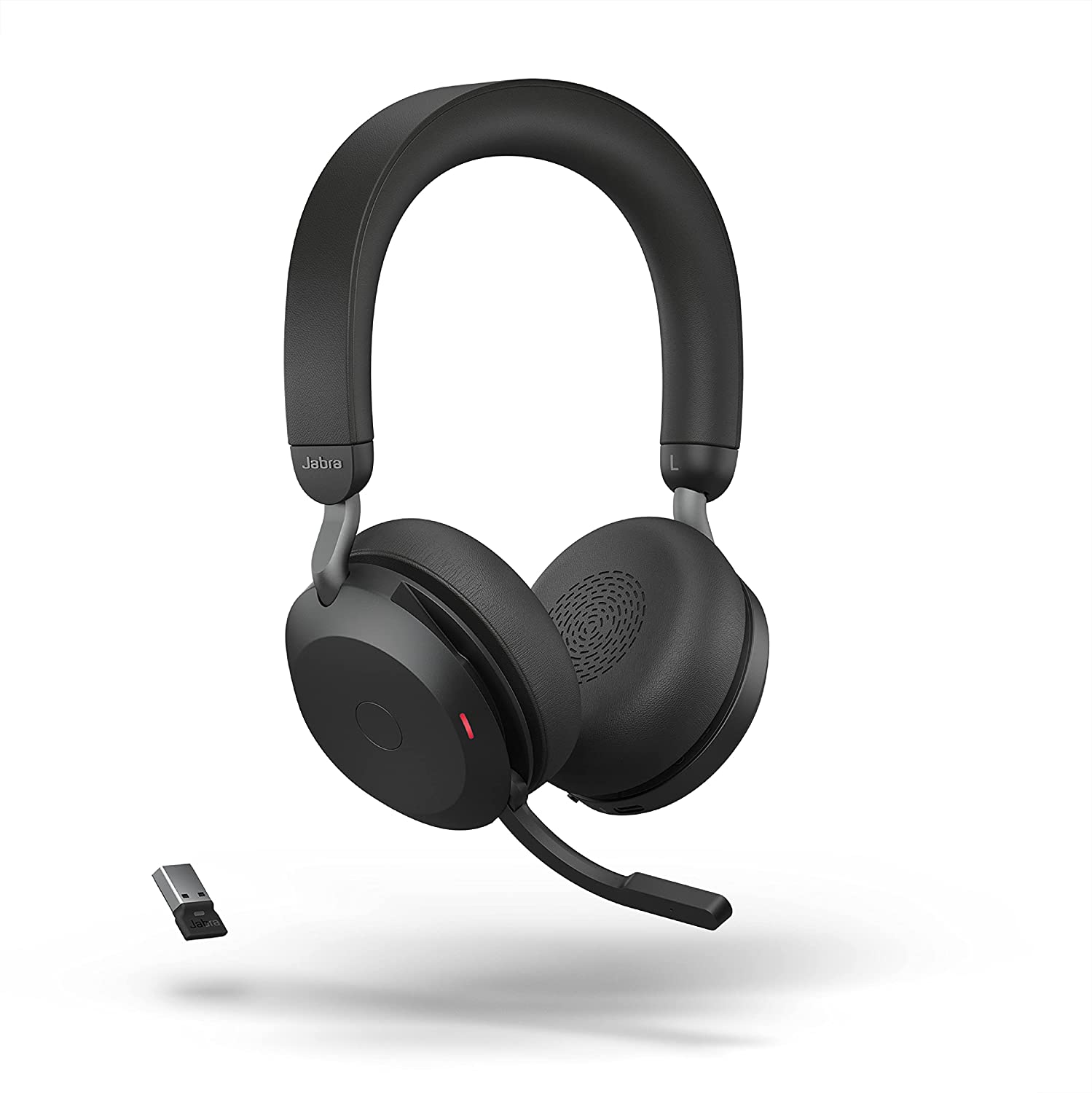 Jabra offers its new integrant of the Evolve2 family, the Evolve2 75 offers the new fully adjustable Jabra Advanced Active Noise Canceling and with a mix of 2 different foams in the earcups, that translate in better noise blocking, better performance on sound quality and improved cooling for the user when in use or wearing. The Evolve2 75 has 8 microphones the meet Microsoft's Open Office requirements and has 2 mode of use, Discreet that let you to hide the mic boom arm in the headset and wear it as boom less headset and Performance mode that with the mic boom in place gives you the best sound with a crystal clear quality for your calls . Order yours HERE.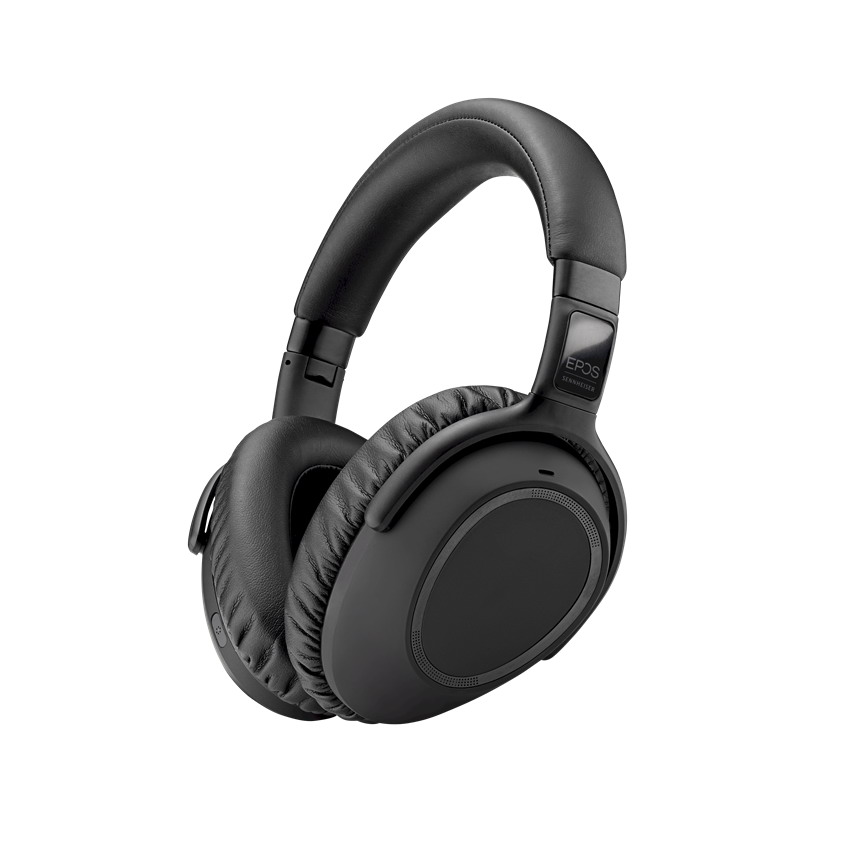 EPOS offers its boom less mic Adapt 660 UC headset, that allows the user to stay focus in the call, thanks to its AITM Adaptive Active Noise Canceling which means a rich sound quality. And thanks to the EPOS AI that is literally a learning machine that optimize the voice pickup for the best and most natural sound from the microphones. You can roam around the office up to 100 feet thanks to its BTD-800 dongle that is fully compatible with either PC or Mac. Get yours HERE.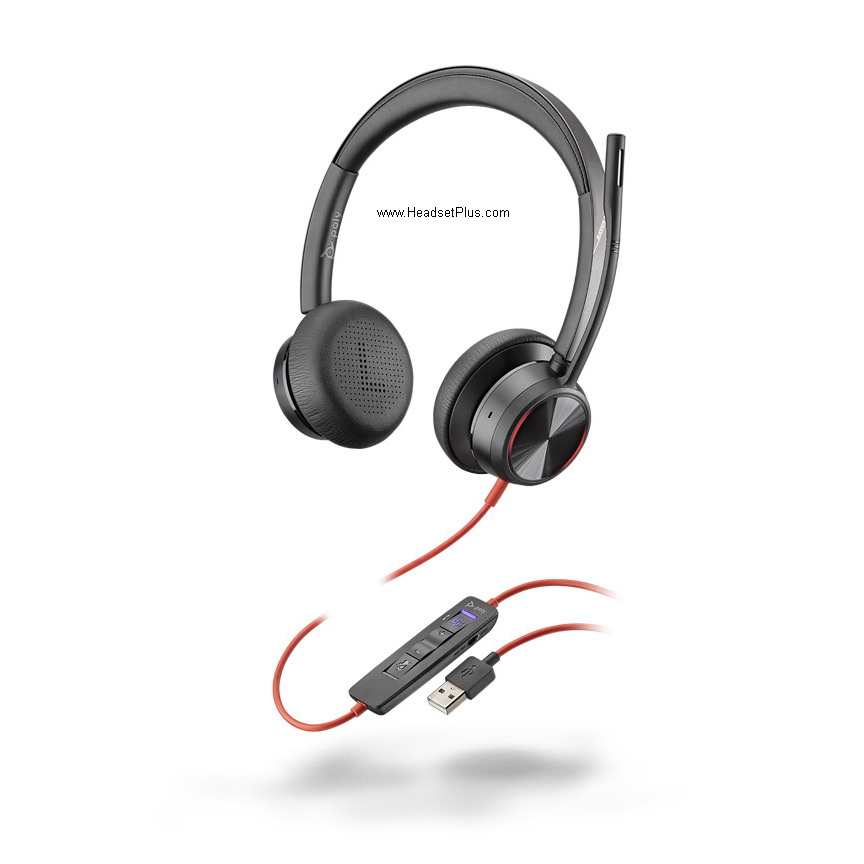 Poly offers the Blackwire 8225 in a corded solution, with Digital Active Noise Canceling, and the well know Acoustic Fence technology that allows the user even to have a blender on without affecting the sound quality from the microphone. Built in Busy light that turn on when on a call, being really useful when working remotely as can let people know when not to interrupt. In line volume controls that let the user answer/end calls, adjust volume, mute microphone and put calls in hold, depending on the application. Order yours HERE.
The headsets that connect to desk phones are remote answer capable. There are tons of solutions out there for every phone. If you're interested in purchasing one of these items and have questions, feel free to call or email me.