As a big fan of technology, I always like the latest accessories for my devices either at home or on the go, this includes my cell phone, tablet, laptop and desktop. And if you are as picky as me on getting the best of the best, then you have find the right blog to help you choose the Best Noise Blocking USB headset for your computer.
This time, we will analyze and talk about 2 kinds of USB headsets available in the market, corded and wireless, I know that the wireless headsets will be a lot of people's choice mainly of the versatility of letting you move around, and I am not taking that from them, personally I love my wireless ones when I am on the go, on my desktop personally I have a corded headset, because on a desktop environment you have more space and diversity on how to have your set up at will.
Plantronics Blackwire 7225 USB Stereo Corded Headset, Black
First one to recommend on a corded style comes from Plantronics, the Blackwire 7225 USB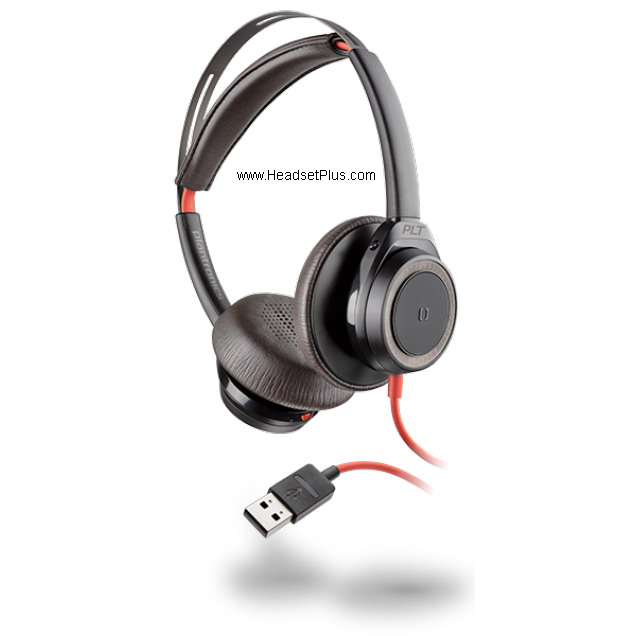 is one of the best options i the market for a USB corded headset with Active Noise Canceling at an affordable price, its clean design is one of the best ones with leatherette ear cushions, and a boom-less microphone, with 4 built in microphones with digital signal processing, a nce feature to mention here is that this headset is Telecoil Hearing Aid Compatible, making it a nice option for people with the need of a telecoil compatible headset. Built in busy light in the USB port allows you to let people know when you are ina call adn the Volume/Answer controls on the side make it a very intuitive and easy to use unit. Order yours HERE.
Jabra EVOLVE 80 UC Stereo USB Headset
Personally, I enjoy the the Jabra Evolve 80 with my desk top, it gives you the best of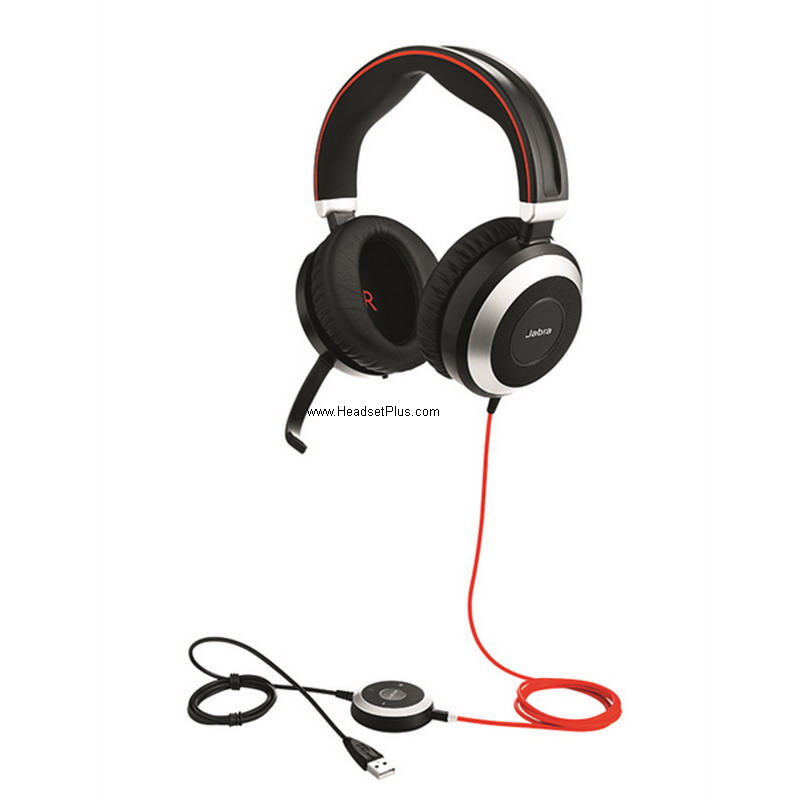 combining Active Noise Canceling with an around the ear cups, which reduce drastically the noises around the user, making it one of the best options for a really loud environment. The Evolve 80 offers Jabra's amazing Listen-In feature, that allows you to hear the environment at will with the touch of a key, amazing feature that let you keep your headset on and still be able to listen "thru" the ear cups without interruption, allowing you to leave your headset on without the hassle of taking it on and off. Built in busy light alerts people when you are on a call or headset being used, Noise Canceling microphone that improves the call clarity. Can be used with its USB adapter with built in volume controls or by the 3.5mm jack which allows you to use it with virtually any device with a 3.5mm input. Learn more of Evolve 80 here.
Now we will analyze the wireless options available.
Jabra EVOLVE 75 UC Stereo Bluetooth USB Headset (staff pick)
The Evolve 75 is one of the best wireless headsets in market, similar features as the Evolve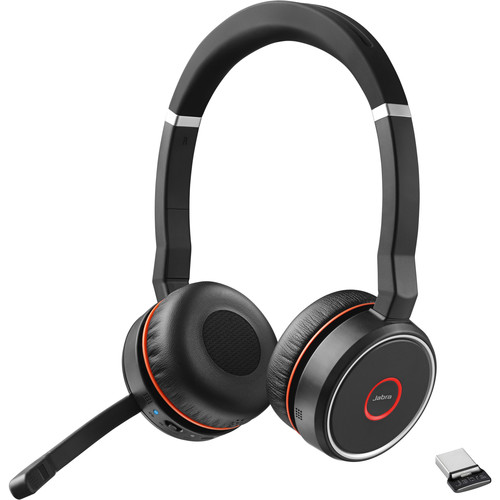 80 before mentioned, in a little more compact and easy to carry portable style, comes with built in Active Noise Canceling, Built in busy light into the microphone boom that can be clipped to the headband when not in use, making it an option for people that want to have a wireless headset with their laptop while traveling and still have to be productive and want to stream music or movies on the go. The Bluetooth Dongle that comes with it is a Class 1, giving you a nice range of up to 100 ft when plugged in. One special mention on this headset is the Dual connectivity from Jabra, that allows you to have 2 devices paired at the same time, allowing you to have it paired with your laptop at the same time with your smart phone, which avoids the user to be switching headsets for different devices. Order yours here.
Plantronics Voyager 8200 UC Bluetooth USB Wireless Headset
Plantronics give us the Voyager 8200, a nice boom less microphone headset, with 4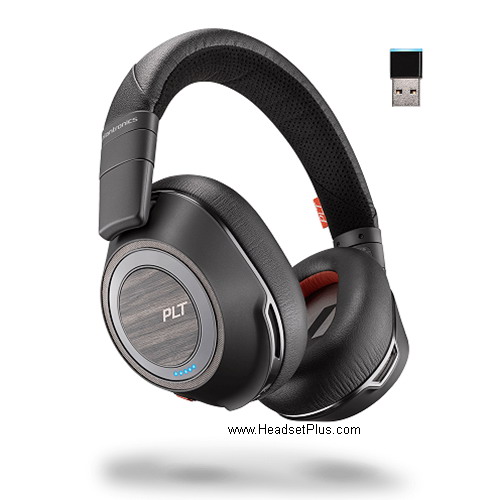 omni-directional microphones allows you to wear the headset and talk at will without the need to have  boom microphone close to the mouth, nice solution for people that don't like to have anything close to their mouth. Well known Active Noise Canceling coming from both ear cups making it a nice option for people looking for a wireless headset that can block most of the surround noises from the user, allowing him/her to focus on the call. The Open-Mic button lets you to hear your surroundings at will, making it another nice feature allowing you to keep your headset on without the tedious taking off every time when not in use. Built in volume and answer controls into the headset making it an easy to use, and pair headset. The Plantronics Voyager 8200 UC Bluetooth USB Wireless Headset comes with its designed Class 1 Bluetooth Dongle allowing you to get a range of up to 100ft and a 3.5mm audio cable, letting you use your Voyager 8200 with any device with a 3.5mm input.
Plantronics Voyager Focus UC Bluetooth Wireless, No Stand B825
The Voyager Focus is going to be more affordable option for a wireless headset with Active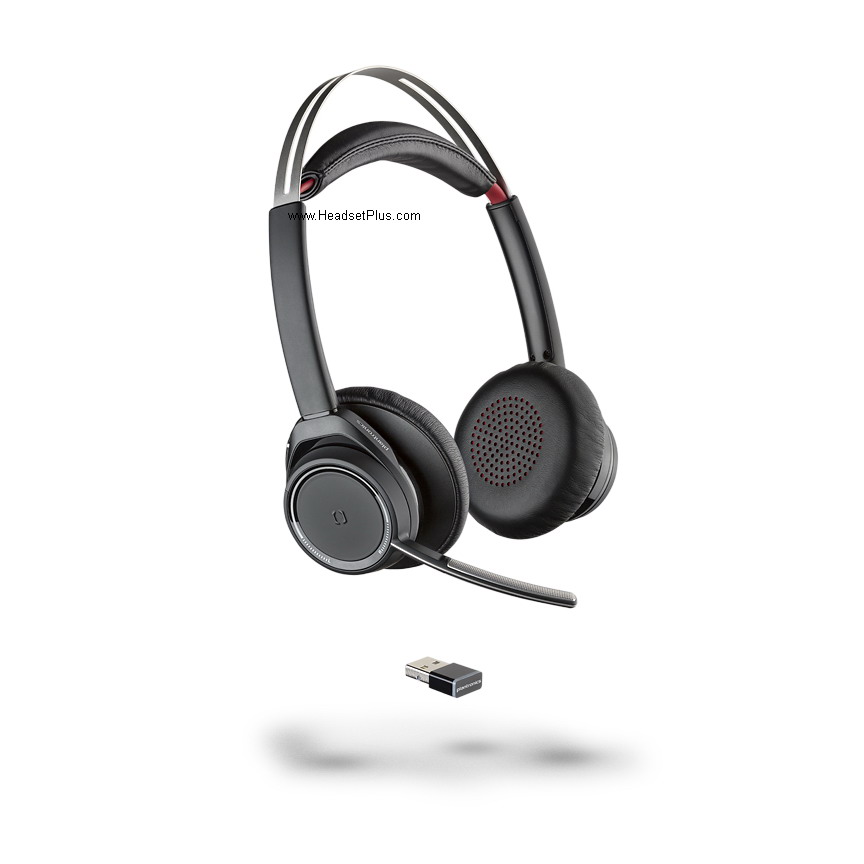 Noise Canceling, this headset has a microphone boom, folding ear cushions allowing you to put in its carrying case for traveling, the Voyager Focus has built in sensors that automatically mutes the headset if you take it off, comes handy when you need to mute your microphone without having to press any button in the headset, in the case of playing music it will automatically pause the track. The USB Bluetooth Dongle that comes with it is a Class 1 , which gives you up 100ft of range. It comes with caller name voice announcement, really nice if you are not able to reach out to your smartphone or computer to view who is calling in.A fully charge will give you up to 12 hours of talk time, and 15 of music streaming. Get yours here.
Sennheiser MB 660 UC Wireless Bluetooth Headset MS Skype Cert
Sennheiser enters now with its new line up, starting with the MB660 UC, this is one of the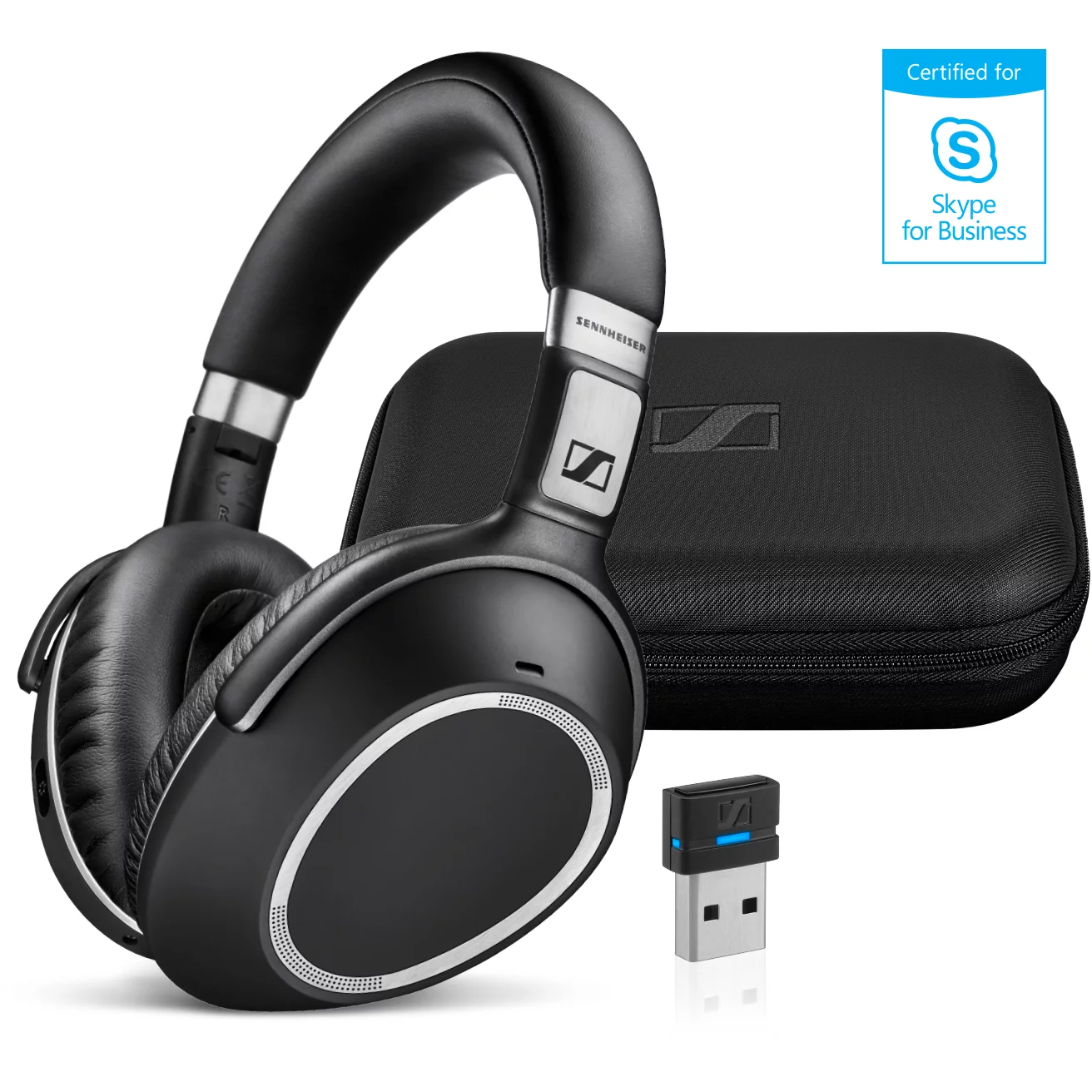 latest additions from them, with a boom less microphone design, with 3 digital noise canceling microphones built into the headset, Active Noise Canceling with NoiseGard, which constantly monitors the background noise and adjust the the noise reduction to the headset ear cups. The Bluetooth Dongle included gives you a range of up to 100ft and the battery life is one of the best ones in the market, with astonishing 20 hours of battery time with noise Canceling activated when using the Bluetooth Dongle and up to 30 hours when using the audio cable included and with the Active Noise Canceling activated, making special mention of the 15 days of battery standby time. Making it a good competitor for people that are always traveling and can't afford to loose power on their headsets when on the go. The MB660 comes with all the adapters and plugs needed for traveling people, even comes with in-flight adapters, making it a nice option for people flying all the time. Get your MB660 clicking HERE.
Sennheiser MB 360 USB Wireless Bluetooth Headset w/dongle
Lastly we have the Sennheiser MB360 USB, as the older sibling, the MB 360 is going to be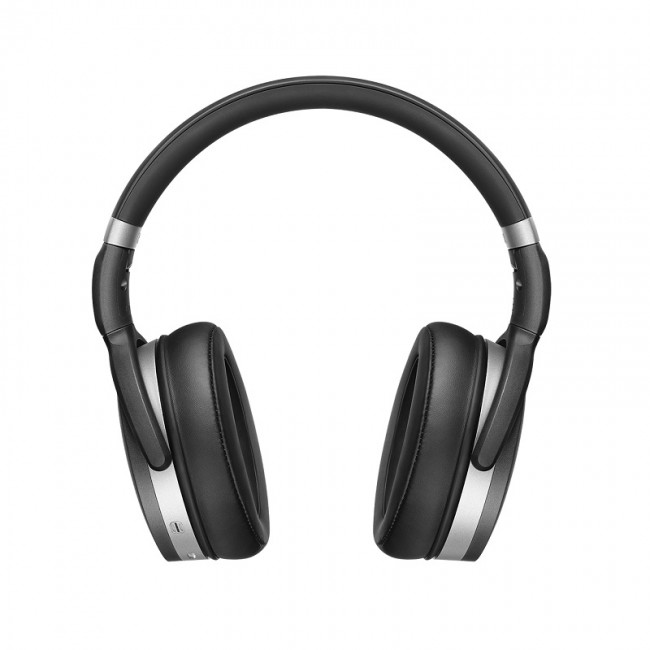 a boom less microphone design headset with built in microphones, with foldable Active Noise Canceling ear cups, this headset includes its respective Bluetooth Dongle that will let you get up to 100ft of range, making it another option for travelers looking for a wireless headset that gives the versatility of being carry around and with a strong and reliable  battery time, with up to 25 hours in use and up to 300 hours on standby. One of the lightest headsets in the market as well, with a weight of 8.4oz/238 grams, making it a considerable headset when movign all day long or being always on the road. Sennheiser has one of the best warranties in the wireless headsets in the market with a full 2-year waranty. Learn more about the MB360 USB here.