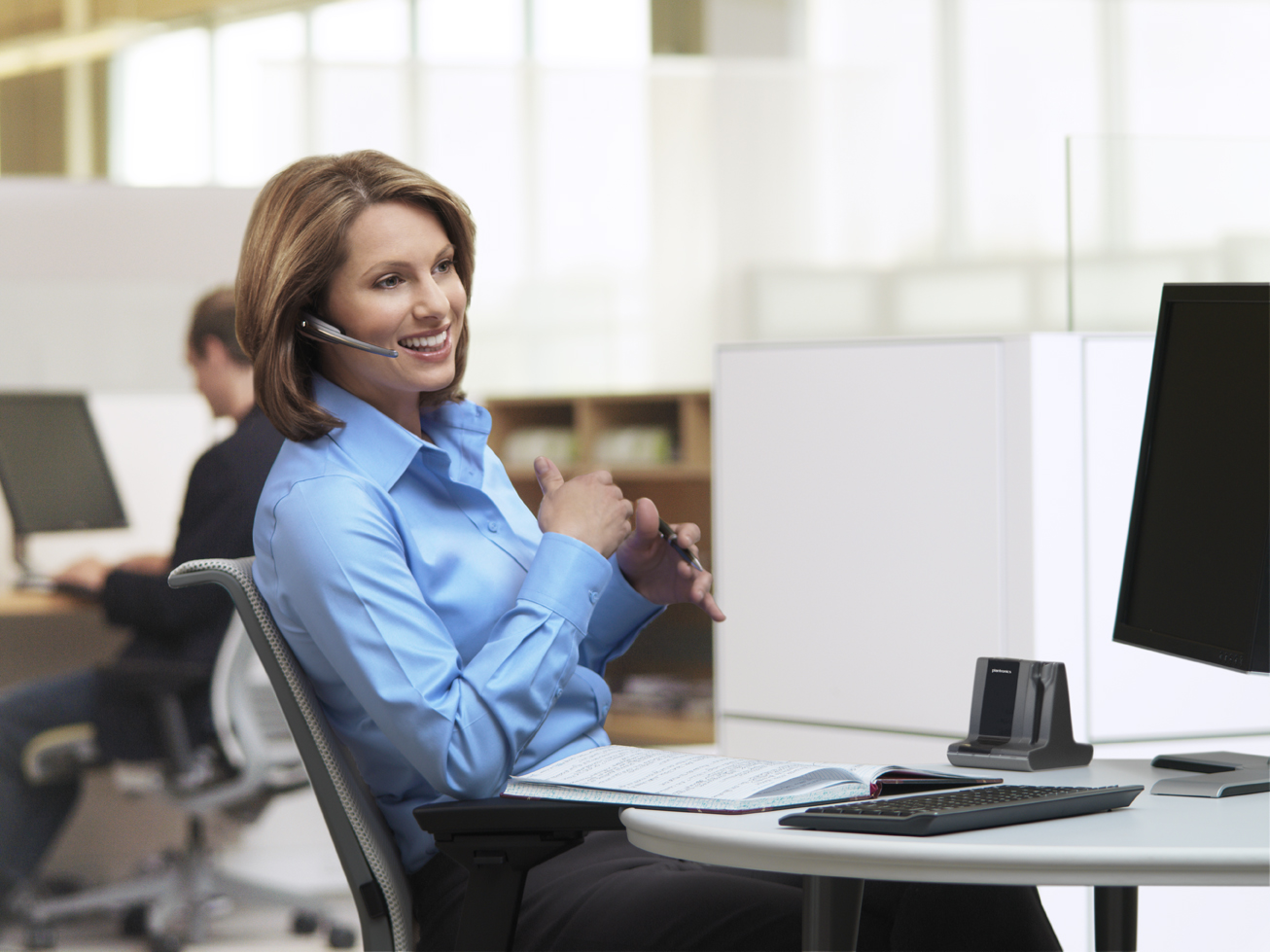 The Best Quality Headsets for Conference Calls
It wasn't long ago when you would have to travel every time you needed to attend a business meeting. Thankfully, technology has changed that. With the advent of high-tech computers, cell phones, and the internet, travel isn't always a must anymore. Conference calling has made life so much easier using the best conference phones for the office!
The tools used to accomplish conference calling have changed quite a bit over the years as well. Take as an example, the ever humble headset. Years ago, everything was connected with wires. Today, due to the requirement of multi-tasking, most headsets are wireless, and you can do work up to 350 feet away from your desk!
Conference calls aren't just for the office anymore either. Many home business entrepreneurs, whether in the health and wellness field or the industry of inspiration, are incorporating conference calls into their repertoire reaching people. Whether you are such an entrepreneur or you just want to listen to one of their conference calls or webinars, a quality headset for conference calls is a must.
The top wireless headphones for the office and for conference calls will allow you to listen to a speaker with ease, whether it's your boss in New York or the inspirational speaker who will change your life. If you're a speaker, you understand how important a quality headset for conference calls really is – it can mean the difference between achieving your goal  or not – whether it be a new client, making a deal, or inspiring someone.
Plantronics is one of the top headset companies out there. All of their products are high quality and last for years. You won't be disappointed with a Plantronics product. That being said, there are a wide array of Plantronics products to choose from.
Here are three of the best headsets for conference calls: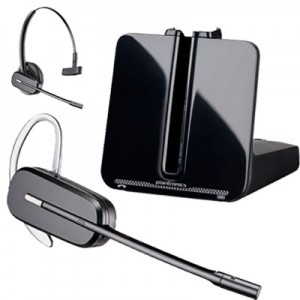 1. The Plantronics CS540 Wireless Headset, Convertible Headset
This is one of the best headsets for conference calls available. This wireless headset system is fairly new, but it has the same dependability as any Plantronics product. It offers a convertible headset, allowing you to wear it three different ways, whatever way is most comfortable for you.
Another amazing fact about this headset – you can talk for seven hours! And, the sound you get during that time is rich, quality sound, even when you're up to 350 feet away. This quality headset for conference calls also has a noise canceling microphone, so if you're the one speaking, your listeners will not have to strain to hear you.
One more point about this great product – it allows three additional headsets to conference in with your headset, allowing for comfort and efficiency for each listener.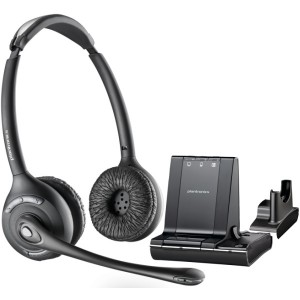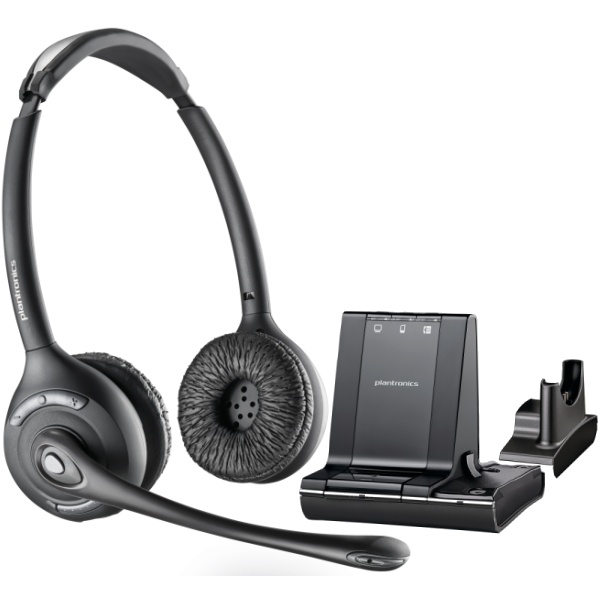 2. The Plantronics W720+HL10 Combo Wireless Headset Package
This Plantronics package is pure comfort. The binaural headset is cushioned, giving your ears the comfort they need while on a long conference call. This is one of the best headsets for conference calls because it allows for multi-device connectivity. With this one headset, you can manage all of your devices – your PC, cell phone, and your desk phone. Talk about convenience and improved efficiency!
Like the Plantronics CS540 Wireless Headset, you can also conference with three other headset users with this headset package. This is a great feature because it is a way to make sure everyone involved in the conference call is not only comfortable, but also able to efficiently multi-task while listening.
This wireless headset combo is one of the highest quality headsets for conference calls and also perfect for webinars, video conferencing, and multimedia uses. And, another great feature of this and most, if not all, Plantronics devices is it provides listening protection for your ears. A concern of most people who use headphones is how the headphones are going to affect their hearing. These quality headphones for conference calls protects against damaging sound levels.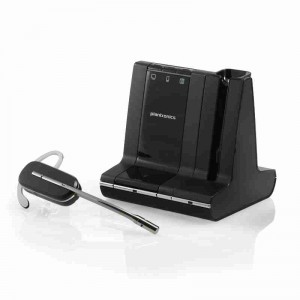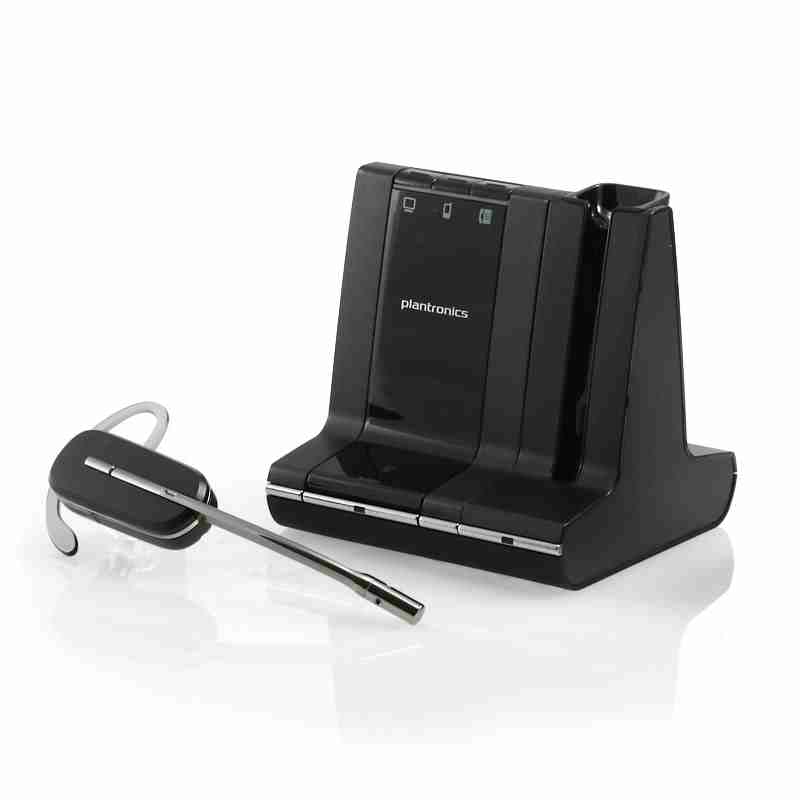 3. The Plantronics Savi W740 Wireless Headset 700 Series W02
This is one of the more sleek and stylish headsets of the bunch. You have three ways to wear the headphones – either over your head, over your ear or behind your neck. This is not only one of the best headsets for conference calls, it is great for podcasts, streaming music, and watching videos online. It's a headset which is definitely multi-media friendly. You can manage all of the calls from your cell phone or desk phone with this device, too. PC, cell phone, desk phone – all connected with a single device.
If you need to speak during your conference call, because you are the webinar expert speaker or you have to communicate with your boss and co-workers, this is the best headset for conference calls because it has noise canceling technology a perfect match for conference phones in your office. Never again will anyone have to strain to hear what the speaker has to say!
And last, but definitely not least, this product has a hot swap battery, allowing you to change the battery mid-conversation without ever running out of power and therefore missing some valuable dialogue.
Traveling for work can be a blessing but it can also seem like a curse at times. Fortunately, we don't necessarily have to travel as frequently as we used to. Technology has made sure of this! And, isn't it nice, too, that we don't have to leave our homes to attend a class or workshop? We can attend via an internet workshop or a conference telephone call.
Whatever situation you're in, a good, quality wireless headset for conference calls will make your listening or speaking experience even better. If you're a speaker, having the best headset for conference calls will allow your listener to hear you without interruption and interference.  If you're a listener, having the best headphones for conference calls will allow you to grasp every point the speaker is trying to make, or allow you to take note of everything your boss is asking of you.
Here we have discussed just three of the best headsets for conference calls. Take a look at what your speaking or listening needs are and then invest in these invaluable tools.