Best Conference Phone for the Office
In almost any type of corporate work today, you're going to have to invest in a conference call. Conference calls usually allow business to proceed easier between multiple different parties by allowing everyone to have their say. Voice communication is one of the ways that humans establish a communication link between one person and another. With the use of quality cordless office phones and the best conference wireless headsets conference meetings are now easily done. Many businesses require a conference call with their business partners to let everyone be on the same page. Because of the unambiguous nature of audio communication it is much harder to be duplicitous and that leads to an increased sense of trust between participants.
What Makes for a Great Conference Phone?
Conference phones come in a wide variety of configurations and formats. A good conference phones manages to balance a handful of different characteristics to make it stand out from the crowd. A conference call requires that both parties are able to communicate in real time and a phone that facilitates this most effectively should be the phone you should be aiming of acquiring for your office conference calls. Having the best quality office headsets is also important in making sure that you get the best sound quality for private conference meetings. If you want mobility during conference meetings you can also use Bluetooth headsets with the best sound quality with your Bluetooth enabled office conference phones. In order to figure out the best conference phone system for you, you need to look at the things that make a conference phone good. A Well-investigated conference speaker phone can go a long way towards saving you money in the long run by making sure you don't have to buy a new one too soon. But what exactly does a good conference phone have going for it
Noise Suppression
Probably one of the most important things that the best conference phone for office use should have is a means of limiting the background noise. Background noise can make it very hard to get a message across and because of that it can lead to some serious problems with clarity. Repeating oneself is not the kind of thing you want to do on a regular phone call, much less a conference call. Like the best wireless headsets for customer service a great conference phone works around the problem of unwanted pickup and background noise to deliver a crisp, clean-sounding phone call to both parties as far as it can. It should be noted that the phone itself can only handle local interference and having a good connection is a problem all its own.
Interconnection
Many times you're probably not going to use the included receiver with the system, but rather have multiple connection options for use with all members available at the meeting to get their points of view in. Interconnection with multiple other input and output devices is an integral part of creating a proper conference phone system that is able to be used by everyone at the meeting. Because conference calls usually involve multiple users on both ends, having technology that doesn't limit speaking to one person at a time is essential in getting a conference call done right. For conference calls that require a wireless headset it is always best to get an affordable but good quality office headset to make sure that you save on office expenses without sacrificing the quality of your calls.
What Sort of Room?
Another major concern for offices when they're looking at buying an office phone for conference use is the type of room the meetings are likely to take place in. Room types affect acoustics and some phones are better suited to certain acoustic anomalies than others. Investigating what type of phone works for your type of environment allows you to make an educated choice. Room types are easily defined:
Small Office of Conference Room
Usually a simple sized room, comparable to a home office and holding no more than a handful of people at best. Phones that work best in these kinds of situations use available technology to limit the noise from the room while at the same time delivering quality audio that isn't overbearing. In such small quarters, feedback can be a real issue.
Standard Conference Room
These can vary in size from medium to relatively large. Because of the acoustics of a room of this size, microphones employed by the conference phone system should be sensitive enough to pick up speaking around the room. In larger rooms, these systems are usually paired with connectable external microphones.
Boardroom
These are among the largest conference rooms and need systems that have the options of connecting external microphones. An audio system needs to be installed specifically for the conference call system, preferably one that has full-duplex transmission and wireless microphones to enable everyone present to participate.
Offsite
Convention centers usually fall into this layout, having a massive central room with an arranged layout of tables, usually in a U-shaped or L-shaped pattern. These also require the use of multiple wireless receivers and a series of installed audio systems to facilitate communication around the room.
The Best Conference Phones for the Office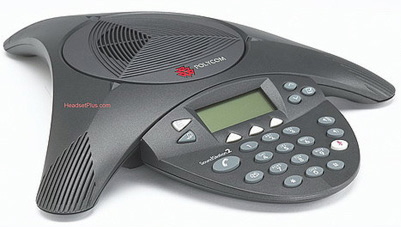 One of the leaders in the world of conference phones is the Polycom Corporation and their systems are usually designed to give the users the most flexibility in their conference phones. Polycom Soundpoint systems are designed for small office usage and fit this niche perfectly allowing for easy communication in a limited environment. Polycom Voicestation systems are designed for slightly bigger offices, and can be utilized by standard conference rooms. Polycom Soundstation2 systems are created for standard conference rooms as well as boardroom use. The Soundstation2W incorporates wireless technology to make for a much more flexible conferencing system. Polycom's collaboration systems make it easy to get connectivity solutions across the board by providing end user support in terms of peripheral connectors both wired and wireless.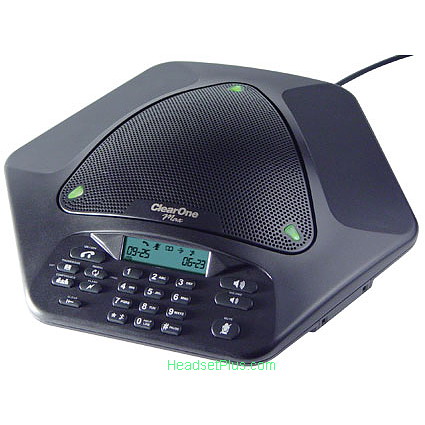 For companies that are less inclined to pay excess money for installing a brand new phone system, the ClearOne Max EX Conference Phone installs directly over existing phone systems' analog port saving time and money in the installation process.
In order to determine which phone system works best for you, you need to outline the possible needs of your company and see which one of the available systems fits those needs. There are a lot of available systems so it will require some narrowing down of the options. The best place to start is quite obviously the size of the room you will be conferencing in, and then factor in the amount of people you need to keep connected in a conference call and how much freedom they will be allowed during the conference call. The final factor that must be considered when choosing the best conference phone for office work is the cost of installation and peripherals and how easy new or replacement units will be to find. Taking these factors into account will help you decide which conference phone will be best suited to your type of business.
For more Conference phone Reviews. Also see our Top 5 conference phone review blog, with more detail information and reviews