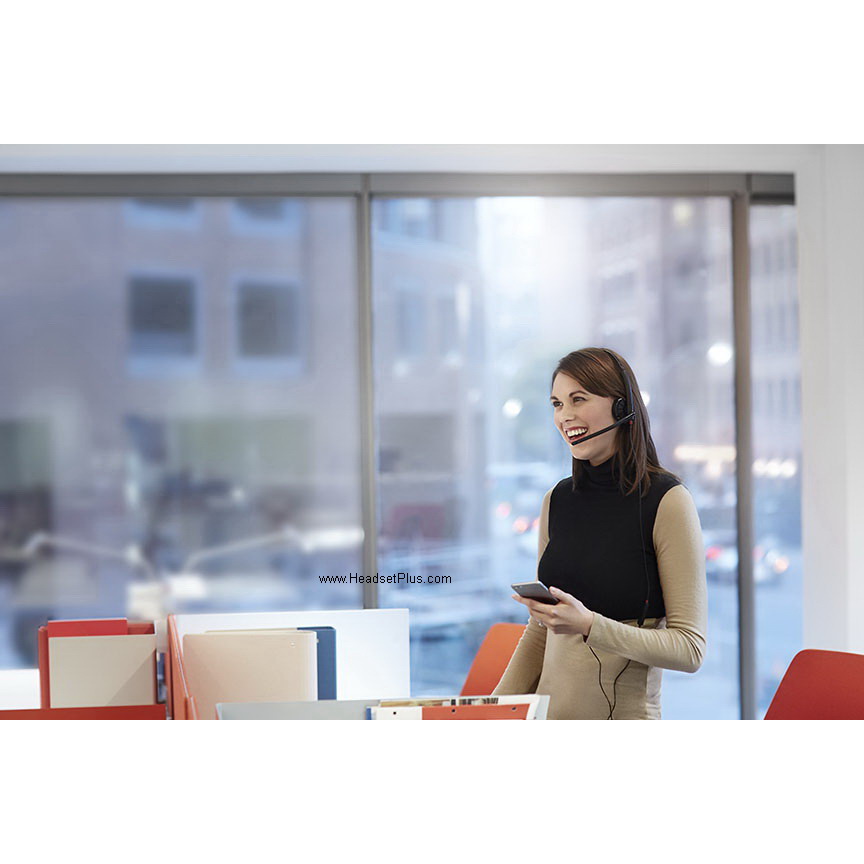 The Top Bluetooth Wireless Headsets – the Multi-Tasker's Best Friend
Whether you work in the corporate setting or own a home business, utilizing technology is going to make your life so much easier. Send a message to a colleague in a flash via instant message. Email a question to a client or customer and get a response back within hours or minutes instead of days or weeks, as in the days when snail mail was our only option. Thank goodness for technology!
Another great invention is the headset. In fact, the headset, especially the best quality wireless headset, is a multi-tasker's best friend. The best Bluetooth Headsets for the office will allow you to talk to a colleague or your boss while filing, typing, taking notes or any of the tasks you have to get done during your day. These lovely inventions are life savers when you're short on time, and who isn't short on time these days?
Bluetooth technology is not only helpful when you're in the office, but away from it, too. Imagine taking your work out of doors. Many entrepreneurs are big on personally spreading their message to all four corners of the globe. While this requires a lot of travel, what's amazing – because of technology – is they can take their business with them.  They can sit on the beach or the veranda of their hotel room in some far off country and host a webinar or conference call using the best conference phones for the office. Or, they can communicate with those back in the office, giving them vital updates on their latest foreign business meeting. Business travel is no longer restricted to in-person business meetings because of the wonderful technological tools, such as the Bluetooth headset.
There are a variety of reasons we need the best sounding Bluetooth headsets. Here is a breakdown of four of the highest quality, best sounding Bluetooth headsets:
Poly Offers: 
Poly Voyager 5200 Office Bluetooth Headset 2-Way Base
This is one of the best Bluetooth headsets available and great for talking on the phone in or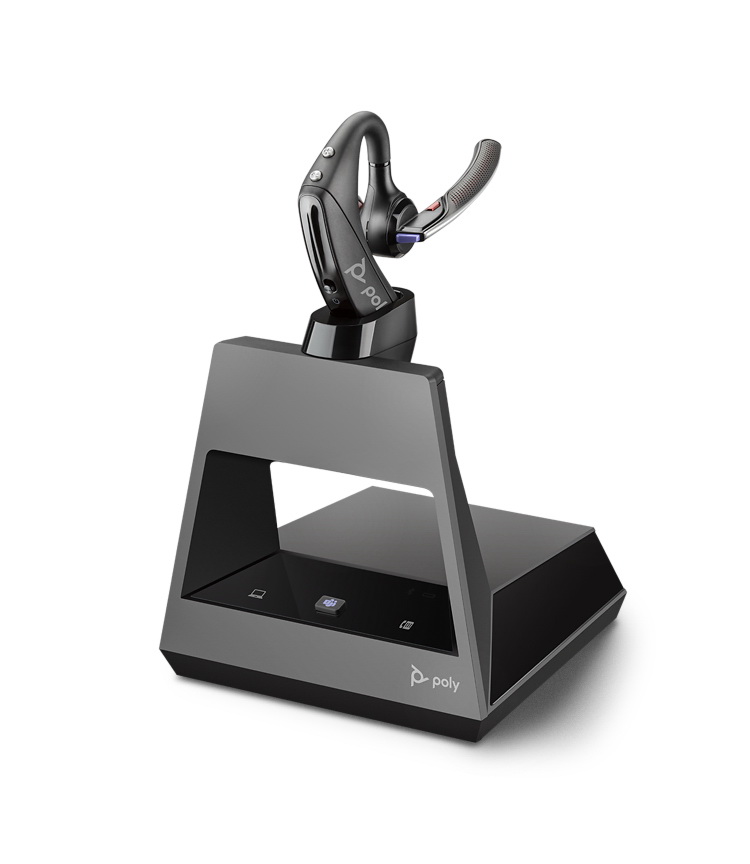 out of the office. The Voyager 5200 Office allows you to get calls on your desk phone, take webinars or stream from your computer and take it outside the office and keep using it with your mobile device or tablet.
Having one of the best and more comfortable designs to be worn all day with a discrete microphone boom arm that can be swivel up and down in order to get the best microphone performance for calls. If decided to take the headset out of the office and keep using it with your mobile device the Voyager 5200 headset offers fast charging thanks to the included cord allowing easy to charge at any place.
If you're looking for one of the best Bluetooth headsets – this is it!
One of the newest additions from Poly, formerly known as Plantronics, the Voyager 4310 is a Bluetooth class 1 unit in the newest Bluetooth v5.2 version, offering an outstanding range of up to 160 feet on line of sight. This model was created for people looking for a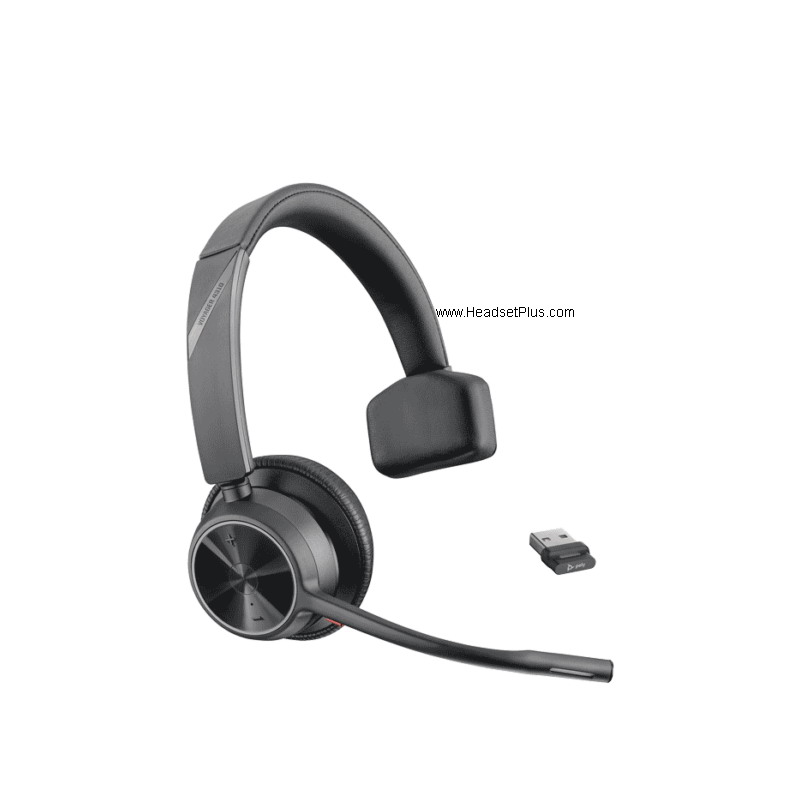 wireless headset compatible with their computer and mobile device without breaking the bank. With an impressive talk time of up to 24 hours in a single charge which means up to 50 days of standby mode, built in busy light can be found and turning on when engaged on a call. Bendable microphone boom arm with Acoustic Fence technology that creates the best background noise canceling feature and that helps to have a crispy clear call. Easy to find call controls and with the voice over USB feature allowing to use the headset as a corded headset on your computer if the Bluetooth dongle is not available or if need to charge the headset while on use without compromising the microphones performance on any of the mayor UC platforms.
Poly Voyager Focus 2 UC USB-A Bluetooth, No Stand
Poly offers the Focus 2 as a huge improvement over the first generation, with a discrete microphone boom arm with Acoustic Fence technology and the new Digital Hybrid Active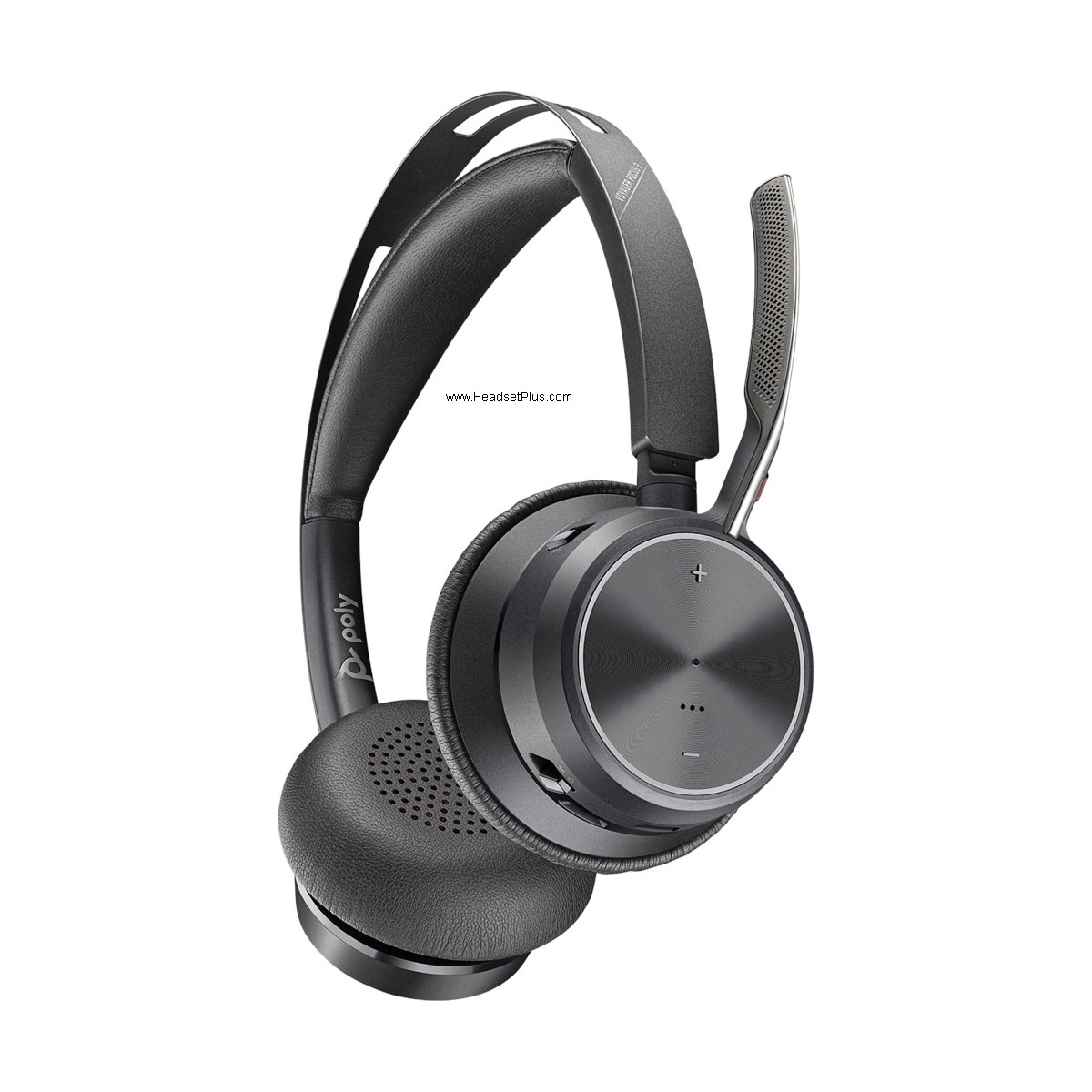 Noise Canceling (ANC) with different levels of graduation for those lousy environments. Redesigned headband and earcups find a really comfortable spot to the user and to be worn all day long. Being a Bluetooth class 1 headset offering a range of up 160 feet using the BT700 Bluetooth dongle included. Smart sensors make their way and can detect when the headset is worn or put down, making it grateful when answering/ending calls or pause/resume streaming on your computer. Fully compatible with any Bluetooth enable device such as cell phones or tablets and certified for all the mayor UC platforms including among Cisco WebEx, RingCentral or Microsoft Teams among others. 19 hours of talk time and up to 40 hours of listening gives the Focus 2 an impressive battery time in a single charge. Voice over USB can be found as well for when the dongle is not present or if need to charge the headset while in use with the computer. Microphone muting feature that activates by bringing the boom arm up or down and can be used on either side of the head.
Poly Voyager Focus 2 Office USB-A Bluetooth Stereo Headset
Poly offers the Office variant of the Focus 2 headset that allows you to use the Focus 2 headset with any desk phone and with your computer at the same time and for the same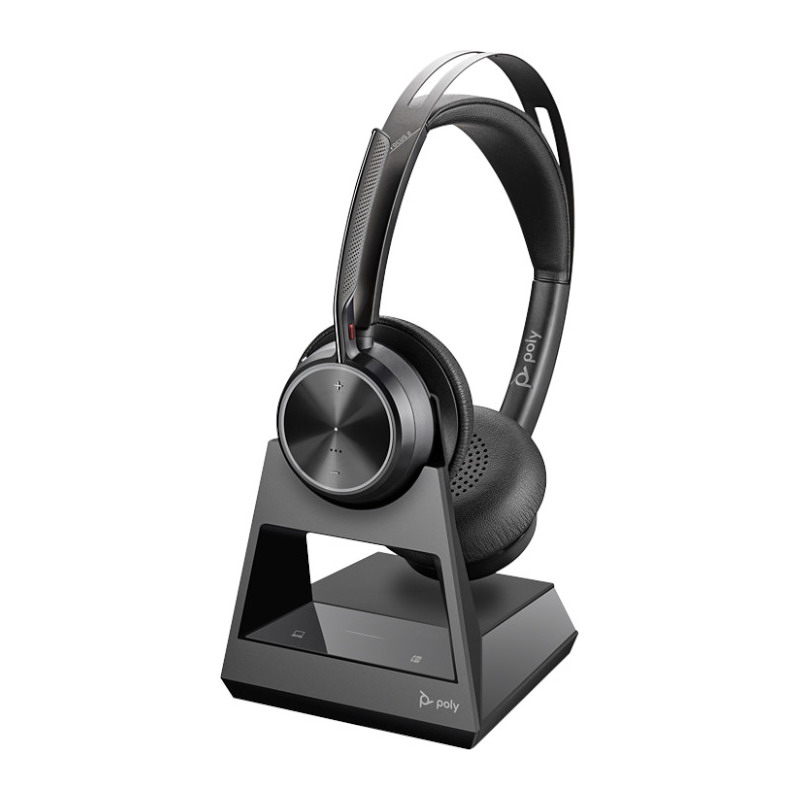 reason it's a Bluetooth headset you can still use it with your mobile device and can take the headset out of the office. The range gets increased when compared with the UC variant which goes from 160 feet to up to 300 feet as the base takes the place of the BT700 Dongle and the base works as a range booster for the Bluetooth connectivity. Comfortable to be worn and use and compatible with Plantronics external busy lights as well, fully compatible with remote answer adapters for desk phones from Plantronics.
Poly Voyager Free 60+ UC Earbuds Bluetooth Headset USB-C
Poly recently launched their newest earbuds for people on the go with the need to have a UC certified microphone for their mayor platforms. The Free 60+ offers a really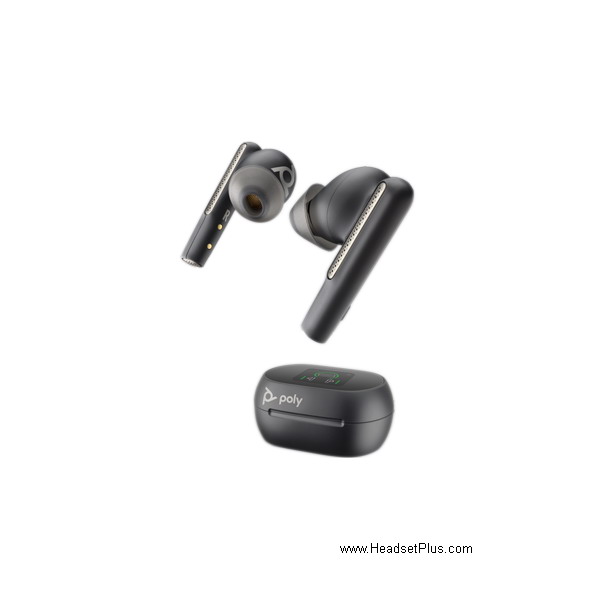 comfortable wearing style and despite the size, it offers digital and adaptive Active Noise Canceling (ANC) which helps the user to focus on the call without the lousy background noises of the environment. The carrying case offers view of the status, charge the earbuds and control the calls or music from its touchscreen. Offering a talk time using both earbuds of up to 16.5 hours and a full charge of earbuds of 2 hours and 3 hours for the case with fast charging if in needed, being up to 1 hour and 12 minutes of talk time with a 15 minute of charge. Each earbud comes with 3 microphone with WindSmart technology for protection against wind noise and with adjustable sidetone, the Free 60+ offers the flexibility of only using one earbud if needed.
Jabra Offers:
Jabra Evolve2 55 UC Stereo USB-A Bluetooth Headset
Jabra offers its newest addition as the Evolve2 55 Stereo headset in a practical and economical presence with Active Noise Canceling (ANC),  the newest design of the
headband offers a more comfortable wearing style that splits in 3 parts instead of one part. Thanks to its new and slimmer design the 28mm speakers offer a true rich sound quality and with the ANC feature that helps the user to stay on track of a call or if on a webinar when in a really loud environment, newer chipset with a smart algorithm helps the microphone to separate the user's speech from the background noise so the other end of the call can have a clear sound when engage on a call. Built in busy lights are easily noticeable when on a call and UC certified for all mayor platforms on the market.
Jabra Evolve2 65 UC Stereo Bluetooth Wireless USB-A Headset
Without a doubt, this is the best Bluetooth headset for the multi-tasking, performance focused employee or entrepreneur. This Bluetooth device is formulated to work with internet services such as Skype and Facebook video or audio only calls. It is also able to connect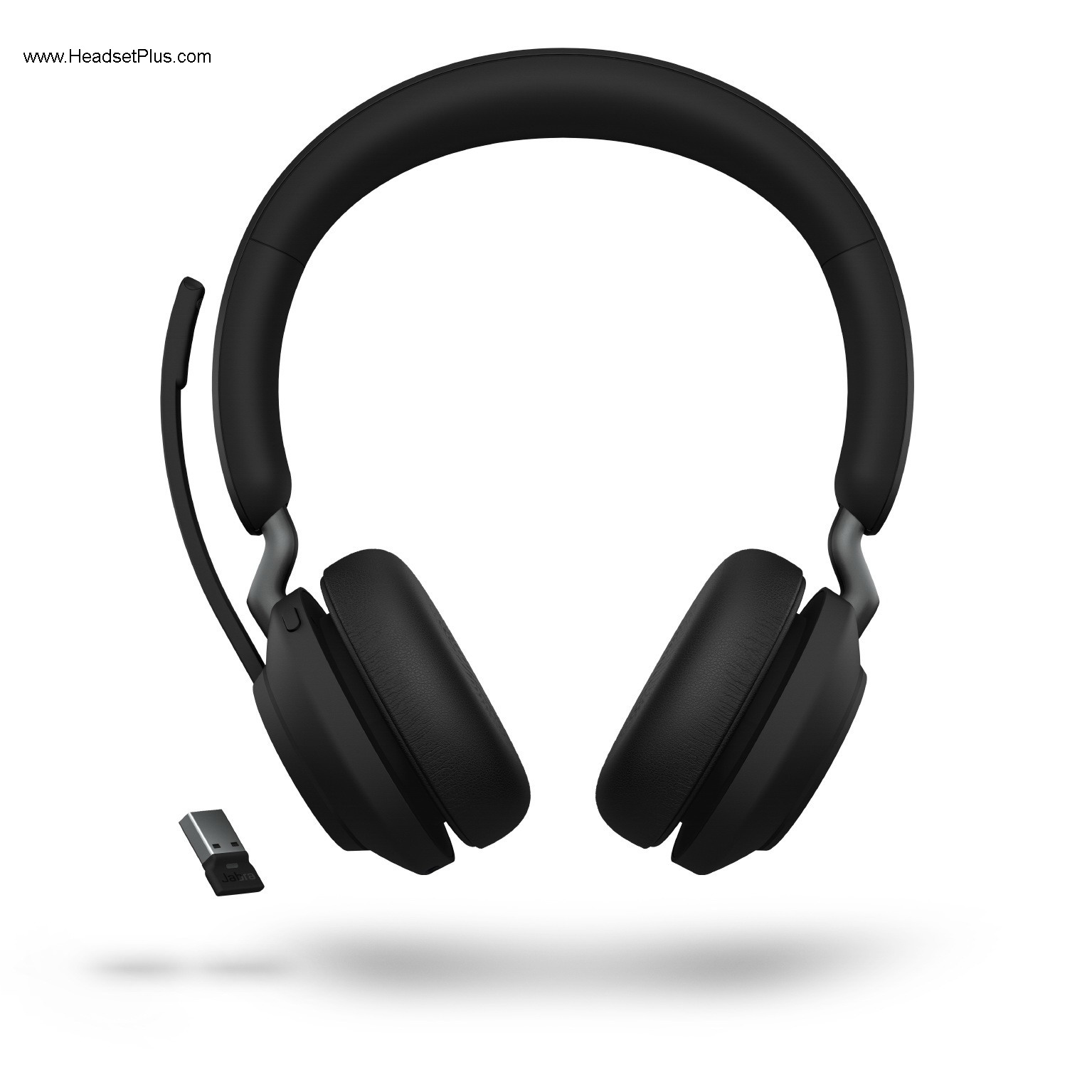 simultaneously to two Bluetooth devices. You can also choose from our top picks of the best Jabra headset system to find the one that suits your office needs.
As with the other headsets in this review, this headset offers exceptional sound quality because of its noise canceling technology. It also has options which make the hands-free experience safer and even better, such as voice control.
Besides all of this, the battery life is absolutely amazing – up to 37 hours of talking time and over 350 hours of stand-by time. Plus, an added bonus for the music lovers out there, you can stream music for up to 37 hours.
These are just some of the features making the Jabra Evolve2 65 one of the best Bluetooth headsets for your money.
Jabra Evolve2 75 UC Stereo Bluetooth Headset USB-A w/Stand
With the Jabra Evolve2 75 you get the best for work or leisure use on a Bluetooth headset. The Evolve2 75 offers Jabra Advanced Active Noise Cancelation (ANC) with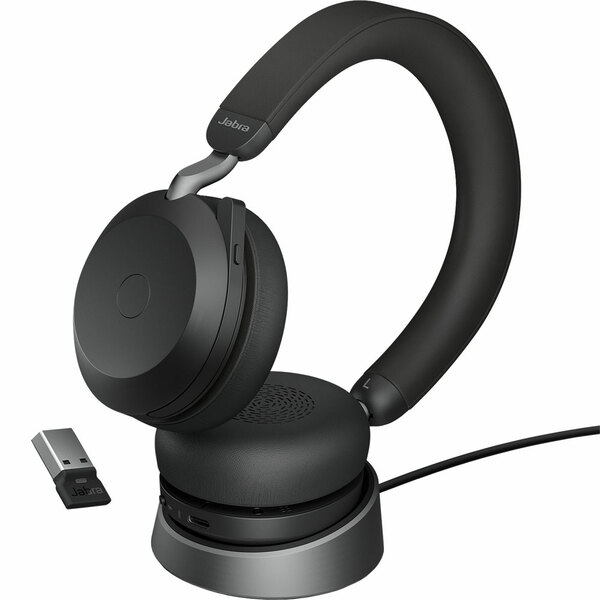 different levels of graduation and with a mix of 2 different kind of memory foams on the earcups helping this to stay cool when used all day long. The Evolve2 75 can be worn as a boom less microphone headset as it offers two mode, Discrete Mode with the boom arm hided using built in microphones allowing to make calls on the road and the Performance Mode with the boom arm out, making it a good ally for mayor UC platforms. Offering up to 36 hours of battery time in a single charge with voice over USB feature with your computer and with smart sensors that can detect when the headset is worn allowing auto playing and pausing audio.
Jabra EVOLVE2 Buds USB-A Bluetooth Earbuds MS Teams
Jabra offers EVOLVE2 Buds as an alternative for people on the go that are looking for the best performance of a headset in a compact size, making it a good alternative for people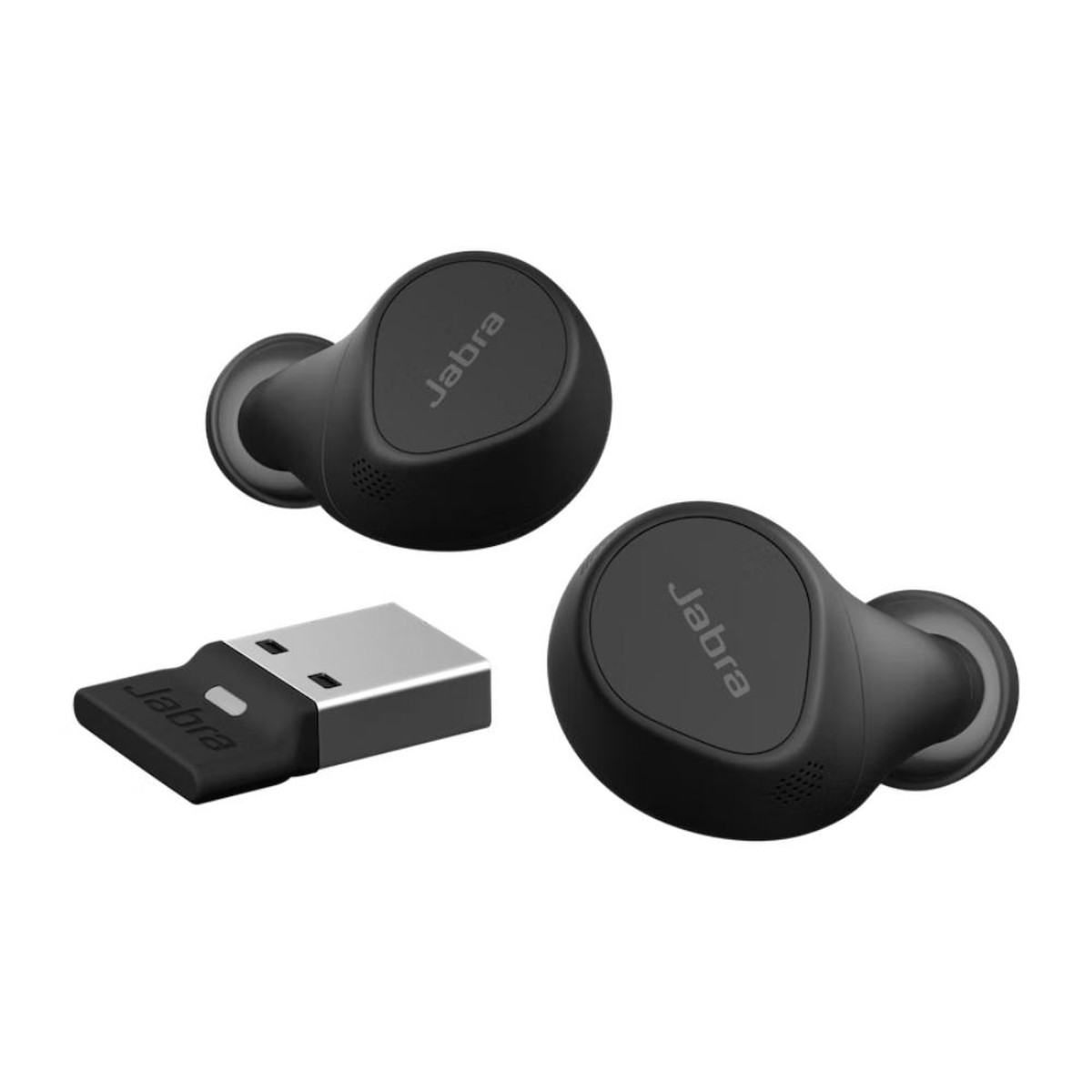 in the market needing a fast and easy option for when taking virtual meetings. Adjustable Active Noise Canceling (ANC) is found just as the bigger siblings and with an up to 33 hours of talk time when using the case. A nice improvement is that the case now can store the USB dongle making it easier to transport and offering the flexibility to use one earbud at the time, as one earbud can start a streaming and if running out of power simply put the other fully charged on and then take the one depleted off and the new earbud will automatically switch over and take over where the other left. Fully Microsoft Teams Certified and compatible with all mayor UC platforms.
Shokz OpenComm2 UC Bone Conduction Bluetooth Headset, USB-C
Shokz offers this really interesting option, the OpenComm2 is a bone induction headset, which means that it lays on top of your ear and nothing goes into the ear canal, this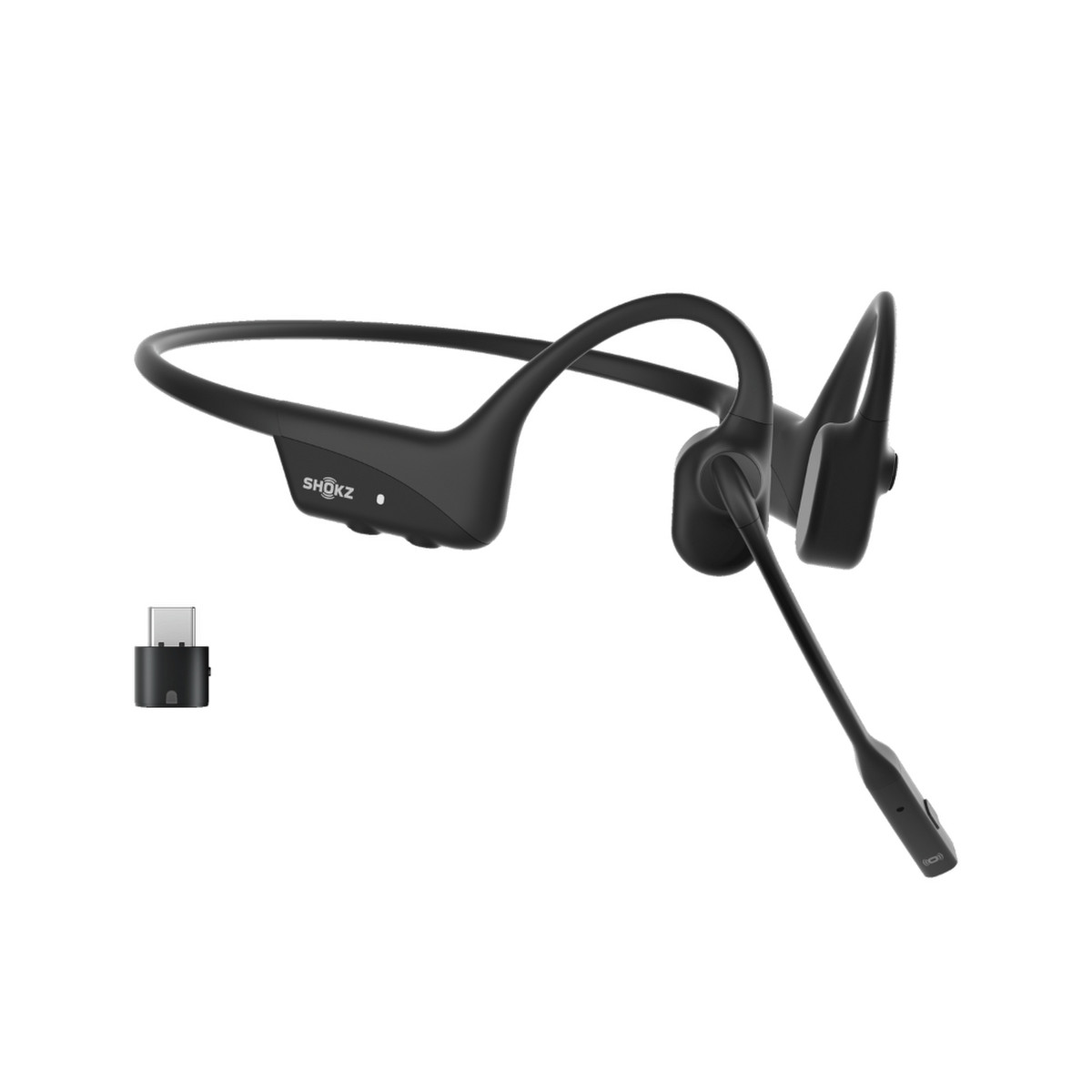 technology is greatly appreciated by users wanting a Bluetooth headset on stereo sound and wanting to keep an eye on the environment. We have a discrete noise canceling boom arm and the headset is IP55 Water-Resistant that repels dust, sweat and moisture making an interesting alternative to be worn all day and still being to have face to face conversation even while streaming on your computer or mobile device.
If you're a multi-tasking enthusiast and are looking for some tools to help you become the most efficient version of yourself, these top Bluetooth headsets are just the thing you need. They add a bit of convenience to hectic lifestyles. They're also an exceptional efficiency tool, something most office workers or business owners would find extremely helpful in enabling them to get all of the tasks on their To Do list finished. Bluetooth headsets can also be used with cordless office phones with the best quality to enhance phone range and sound quality.
Of course, these are just four out of many varieties of top Bluetooth headset products available. Whatever business you're in, take a look at the top Bluetooth headsets and see if they might help bring a little sanity to your business life.