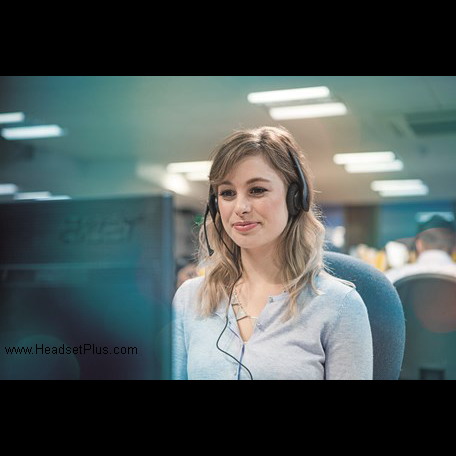 Office workers often can't figure out what headsets to use to use with their office phones and when search the internet, there are so many options out there.  What are the best wired headsets out for my office phone and its workers?  The answer isn't that simple.  The 'best' wired headset for me doesn't mean it's the best headset for you or the next person.  It's a personal preference.  However, I can provide a list of a few headsets that are most popular depending on your budget and wearing style.  These headsets are the most popular (best selling headset) from Headsetplus.com the last few years as well as some new ones just released from Plantronics and Jabra – the two top office headset manufacturers in the world.
Note: All corded headsets required require either an bottom cable or headset amplifier to work with the desk phone (any desktop office phone).  If you're not sure which adapter cable (or amplifier) you need, be sure to contact a headset specialist at HeadsetPlus.com at 877-999-3838, they can make sure you get the correct cable (or amplifier) for your phone.
 1) Plantronics HW540 EncorePro 540 –  This Plantronics corded headset is probably themost flexible headset of all the headsets available for any office phone. It comes standard with three (3) different wearing styles (over the head, on the ear, and behind the neck), so you are covered regardless of the wearing preference of the office worker.  The is also the best headset if the employees are not sure which style they like especially if they have never worn a headset before and not sure which way they like to wear the headset.   The Plantronics EncorePro 540 is also one of the newest and lightest headset out there.  Engineered with the latest technology – such as advance noise canceling microphone, laser welded components, wide band audio sound.  It has it all.
2) Plantronics HW510 EncorePro 510– The Plantronics HW510 is the the replacement of then SupraPlus and as its predecessor has the same quality, reliability and one of the best seller headsets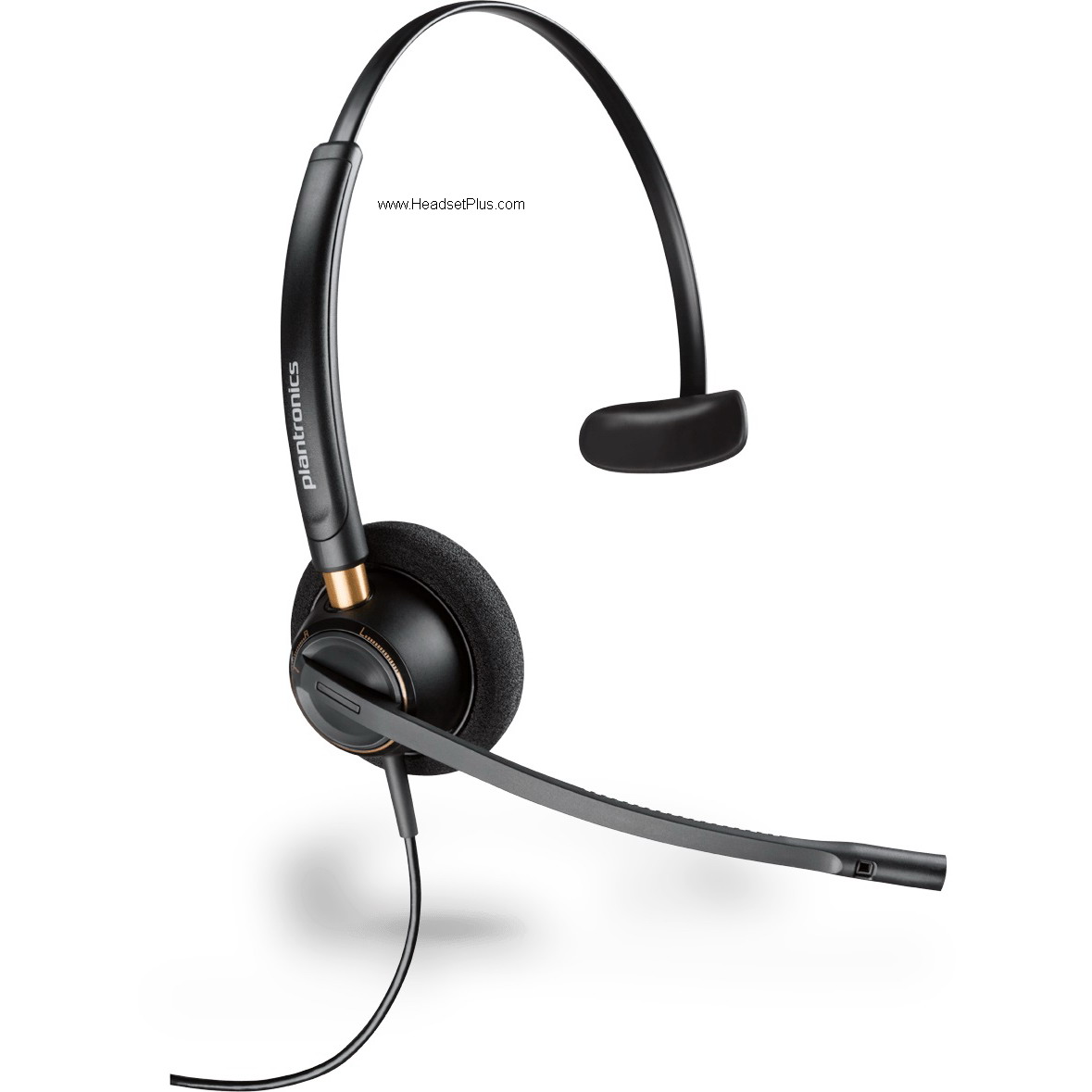 at HeadsetPlus.com the last since its introduction.  HW510 is a solid product, very well constructed with 2 year warranty.  So it's built to last and built to take the abuse at a busy call center office.  It has wideband audio (wider frequency) for today's modern IP phones (such as Cisco, Avaya, and Polycom).  So the caller's voice is more natural sounding then the traditional headsets without the wideband audio support.  This headset cable ends in a Plantronics quick disconnect (QD), so you can use it for many different applications such as a softphone and Voip phones, even for an Apple iPhone if needed – all you need is to get an Apple iPhone adapter cable.
3) Plantronics EncorePro HW710 –  This headset is the top-of-the line Plantronics corded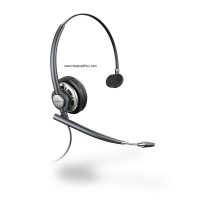 headset.  It has all the bells-and-whistles and latest technology you could possibility want in a corded office headset.  Features found from no other models – large ear cup for extra noise cancellation. telescoping microphone at the tip of the boom, carbon composite light weight material reinforced headband.  Of course high definition wideband audio and leather ear cushions for extended wear.  This is probably my favorite headset among all the corded headsets available on the market.  It's probably also the most comfortable.
4)  Jabra Biz 1500 Mono QD Headset – Jabra Biz 1500 series is the newest of all the corded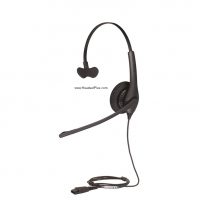 headsets.  It's also the most affordable.  Priced only at $70.  Making the price point very attractive for large contact centers or customer service centers where large number of headsets are needed.  It's still a professional grade headset with full 2-year Jabra warranty.  Jabra will replace it if it fails within the 2 year warranty period.  It has the HD wide band audio like the others mention in this article, standard noise canceling mic.  In addition, a 270 degree bendable boom arm.  Peakstop technology to block any loud sound spikes.  Plus it only weights 1.9oz.  Foam ear cushions making it very comfortable and breathable to wear all day.
5)  Jabra 2400 II 3-in-1 Ultra Noise Canceling Headset – This is the Jabra version of the "all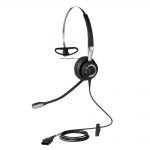 purpose" headset.  It comes with 3 different wearing styles – thus the name 3-in-1.  In addition it has an "ultra-noise-canceling" microphone, the best in in the industry.  It claims to remove 80% of the unwanted background noise. This top-of-the line Jabra office headset has all the bells such as kevlar line cords, leatherette ear cushions,  and Jabra so sure that this is the best headset they make, it offers a 3 year warranty. For employers who needs to deploy many headsets in a single office, this is also a great choice because of the flexible 3 wearing styles to choose from.
Also check out our top wireless headsets for office blog instead if you're looking for a wireless headset solution instead of corded headset.  Any questions, please don't hesitate to call any one of the headset specialists at 877-999-383 (650-306-9768 outside the USA).