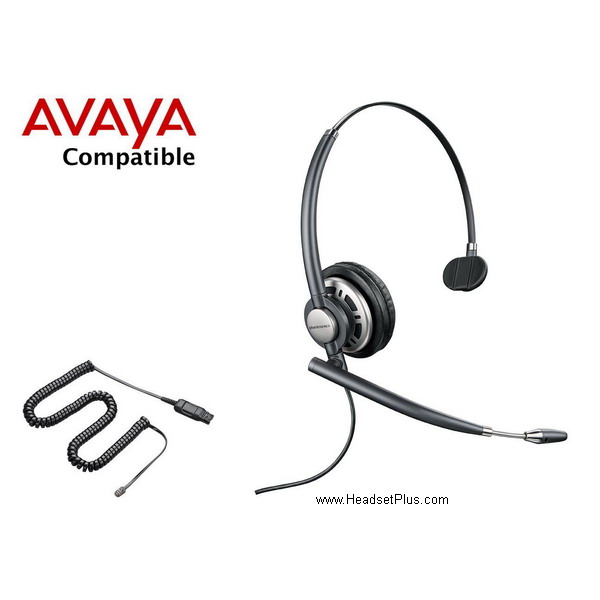 If you have any of the following Avaya Phone models 1408, 1416, 2410, 2420, 4606, 4610, 4610SW, 4612, 4620, 4620SW, 4621, 4621SW, 4622SW, 4624, 4625SW, 4630, 4630SW, 5410, 5420, 5610, 5620, 5621, 5625, 6416D+M, 6424D+M, QE4610, 9404, 9406, 9408, 9504, 9508, 4406D+, 4412D+, 4424D+, 4424LD+. This guide will help you pick out which headset is right for you.
The first thing to figure out is whether or not you prefer having a wired headset to your desk phone, or a wireless headset. For wired options, the headset will plug directly into the desk phones' 'headset jack.' To use the headset, you simply need to press the 'headset button' on the phone, then the headset will be activated and you can speak and listen through your corded headset.
Next you should consider your budget. Corded headsets are the cheapest option, ranging from $120 to $185+. Wireless headsets start in the $260 range, and rise from there depending on your wireless needs (wireless options below).
Lastly and just as important, consider your working environment and how you would prefer to wear your headset. If it is a noisier work area, having a Binaural (2 ears covered) headset would be needed. Most headsets these days already have a noise canceling microphone, and every headset (except for over the ear headsets) can come with 2 headphones. Headsets can also come with different wearing styles, the over the ear option I just mentioned, over the head via headband, or even behind the head with a neckband. Now I'll get into some headset information to help you choose which is right for you:
Corded Headsets Options
1) Jabra Biz 1500 Mono Avaya Headset – $119.96
This is the most affordable corded headset option that still has features of many higher priced headsets. It is lightweight, can be worn on either ear, editable microphone placement and has a noise canceling microphone. A lightweight headset and comfortable to wear all day. It also comes with a 2-Year Manufacturer's Warranty.
Binaural option headset here ($139.96)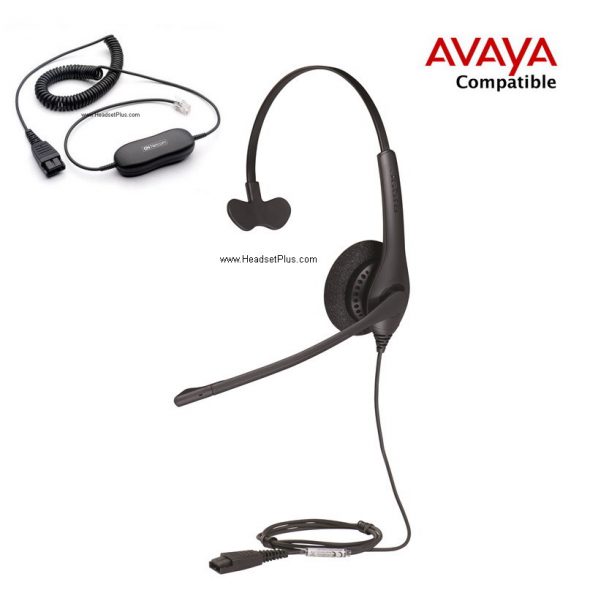 2)Jabra Biz 2300 Mono Headset – $174.96
This dependable, durable Jabra headset includes a noise-canceling microphone with 360° of swivel range, and Air Shock prevention (no breath noise). HD/Wideband audio to allow for a natural sounding voice. It is kevlar reinforced, and comes with a 2-Year Manufacturer's Warranty.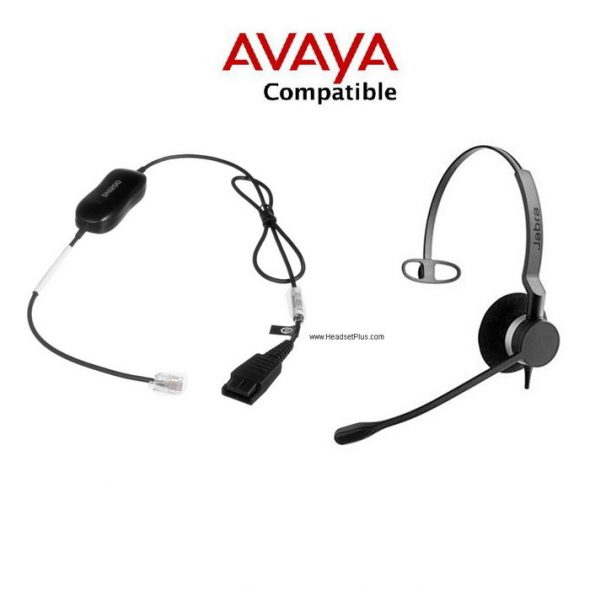 3) Plantronics HW540 Avaya 3-in-1 Headset – $159.96
A headset featuring 3 wearing styles, if you don't prefer the headband- this is the headset you need. This headset can be worn over the ear, over the head, or behind the head, features a noise canceling microphone and leatherette ear cushion. It is lightweight, and features HD/Wideband Audio for a natural sounding voice.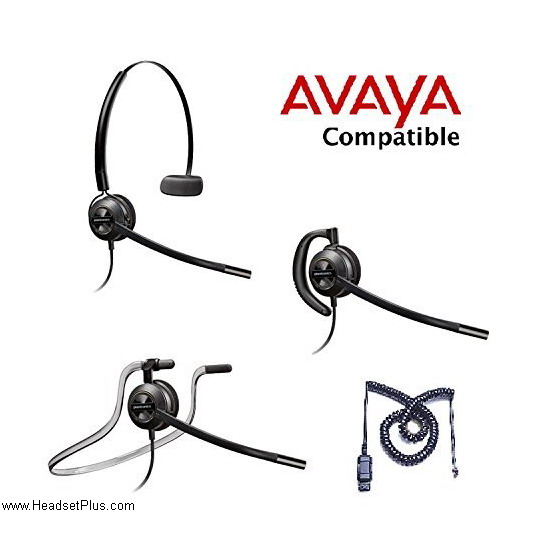 4) Plantronics HW710 Avaya Headset – $179.96
At the top of the Plantronics corded headsets is this HW710 Encore Pro headset. This headset features a best-in-class noise canceling, extendable microphone. With a leatherette ear cushion and it's lightweight design, it is one of the most comfortable headsets to wear. It also features HD/Wideband Audio for a natural voice sound to the client.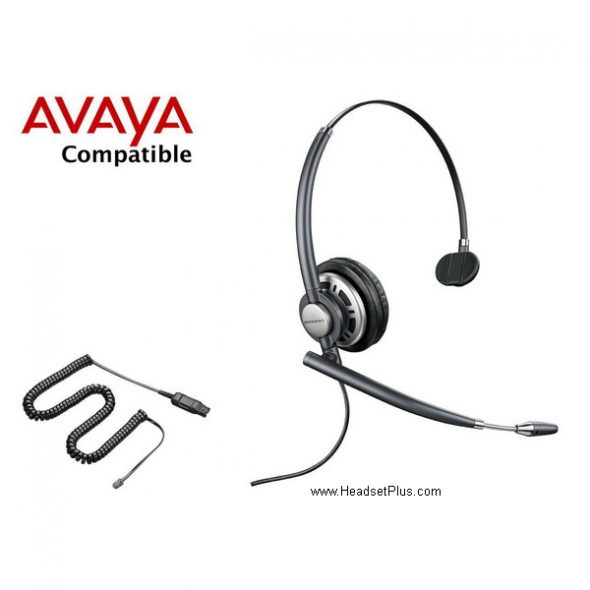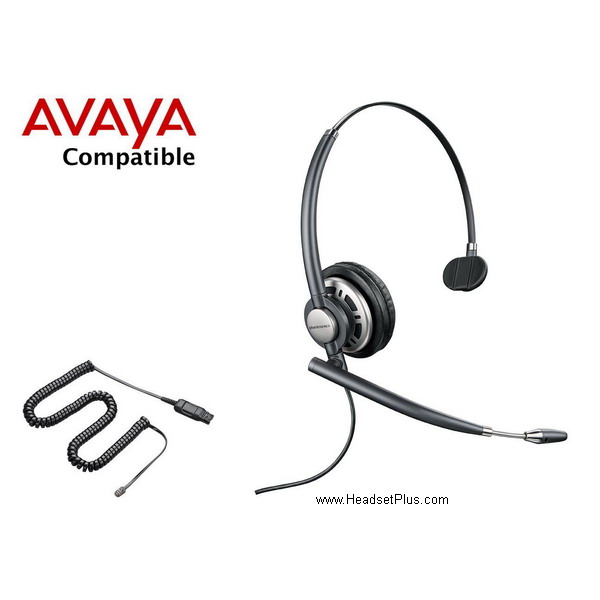 Wireless Headsets Options

For wireless headsets, one major feature to consider is whether or not you want the ability to answer calls away from the desk phone. Most of the time the answer to this question is- YES.
The Wireless Headset System needs an EHS cable to complete this necessity:
Plantronics CS540+AVAYA EHS Headset System – $349.96
This is the most popular wireless headset, paired with said EHS cable. The headset comes with 2 wearing style options, an over the head-band, and an over the ear-hook. It is the most comfortable and lightest headset on the market, and includes all the features you would expect from a great headset: On-headset volume control, as well as additional volume control options underneath the charging cradle. With this bundle, you will have the ability to field calls anywhere within 350ft. of the desk phone.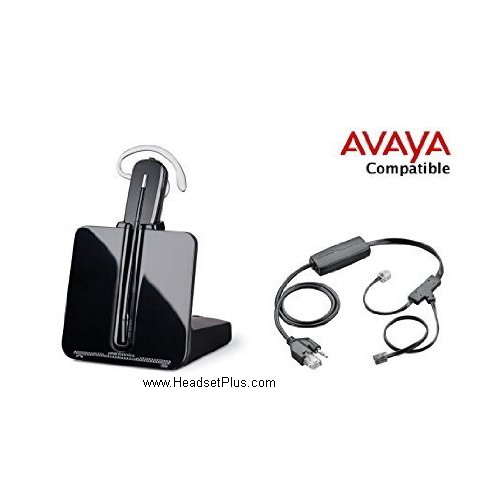 Plantronics Savi 8220 +EHS Avaya J100 1400 1600 9400 9500 9600  .. $429  <== my pick
The Plantronics Savi 8220 is by far my favorite. It comes with large ear cups and active noise canceling technology in the speakers so you can focus on the phone call without the distraction of the office noise.  The top of the line Plantronics Savi 8200 series allows connect to 3 devices (desk phone, computer, and cell phone).  It allows you to use the same headset for any of the 3 devices.  Certified for most the Avaya phone models, so you can answer calls up to 500 ft away from your desk as well as hear the phone ring (beeping sound) when you're not near the desk phone. It as a large battery capacity of 13 hours talk time (50+ hours of standby).  It's also a great headphone for music when working in the office.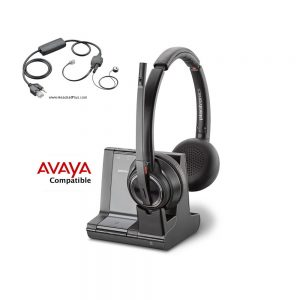 To view a full list of Avaya Compatible headsets, visit www.headsetplus.com or you can call us at 1-877-999-3838